Documents from the Alaska Department of Natural Resources Recorder's Office show that Brett Huber, Senior Policy Advisor to Governor Mike Dunleavy (R – Alaska), purchased Clark Penney's Anchorage home last summer. The Warranty Deed confirms that the deed transferred from Penney to Huber on 7/22/2019. Municipal tax records confirm that Huber is now the owner.
Penney was awarded a $441,000 sole source contract from the Alaska Industrial Development and Export Authority (AIDEA) last spring. The contract pays him $8,000 per month plus travel costs. The Landmine broke the story last in March. Since then other Alaska media outlets including the ADN have written about it.
Clark Penney's grandfather, Bob Penney, was a major donor to the independent expenditure group Dunleavy for Alaska. He donated over $350,000 to the group.
In a hearing today of the House Finance Subcommittee on Commerce, Community and Economic Development both DCCED Deputy Commissioner John Springsteen and AIDEA CEO Tom Boutin provided little information about who supervises Penney or how he got the contract. Boutin said no one in Dunleavy's office ordered him to give Penney the contract and "the buck stops with me."
Real estate sources confirm that Huber appeared to pay fair market value for the house. In Alaska, property sale transaction amounts are not public information. The listing showed that it spent zero days on the market, so it was never officially put up for sale. That is not all that surprising, however. Penney worked on the Dunleavy campaign and Huber was campaign manager. Huber is also a longtime friend of the Penney family. It's not uncommon for two people to agree to a real estate transaction and do it privately in order to avoid paying real estate commissions.
I was hesitant to run this story after I found out that Huber appeared to have paid fair market value for the home. However, both DCCED and AIDEA continue to give ambiguous answers about the origins of the sole source contract to Penney, as well as who supervises him. Huber also bought the house four months after the Clark Penney contract became public. The story was widely shared and talked about. It would have been prudent for him to disclose that he purchased Penney's home.
During the hearing today Springsteen repeatedly referred to Penney as "the contractor." Boutin said no one from the Governor's Office spoke to him about Clark Penney yet continued to be vague about how Penney was awarded the sole source contract.
After the hearing I approached Boutin to try and get more information about how he came to award Penney the sole source contract. He refused to speak to me if I was recording him. I explained I was recording the conversation so I could be accurate in my reporting. He only agreed to speak with me if I was not recording him. Here is the audio of our interaction:
After, Boutin told me he recalls some people at AIDEA told him about Clark Penney. He did not recall who exactly that was. During his testimony he told Representative Jonathan Kreiss-Tomkins (D – Sitka) that the reason the contract was sole source was because it was such a good deal that no one could possibly duplicate the kind of work he is doing for twice the amount, and possibly even three times the amount.
Here is a document Boutin showed me that shows how much Penney has been paid so far. He mentioned the document in the hearing but could not find it.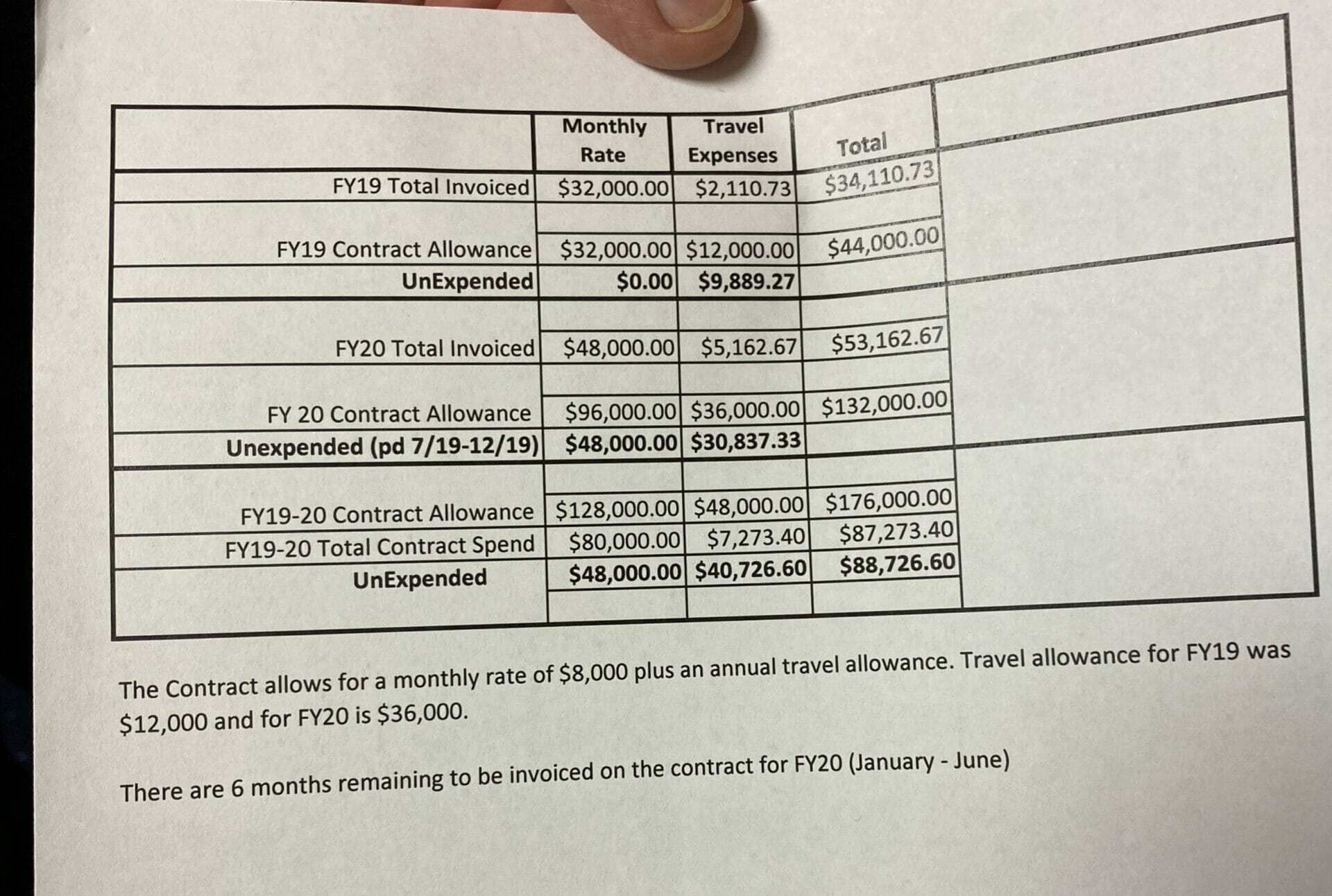 During our conversation he told me it would require three times what Penney is being paid, or $288,000 a year, to get the kind of value Penney is providing. He then told me a story about how he recently had to approve an invoice for 300 hours to replace a tower hoist and said how crazy that was. I asked him what that had to do with the Penney contract. He explained that Penney was providing a ton of value to the State. During the hearing Springsteen referred to Penney as a "catalyst and facilitator."
During the hearing, Brandon Brefczynski, a Special Assistant to Governor Dunleavy, came in and had a note given to Representative Colleen Sullivan-Leonard (R – Wasilla). Later, Sullivan-Leonard called a point of order and said the hearing had turned into "political theater," and added that this is not a Clark Penney committee. Not surprisingly, Suzanne Downing just published an article titled, "Obsessed: House Democrats fester over AIDEA contract." It dismisses all of this as witch hunt from Democrats. It's worth a read if you want some cheap entertainment.
Brett Huber declined to give a comment for this story.
A previous version of this article stated that Tom Boutin referred to Clark Penney as a "catalyst and facilitator" at the hearing. It has been updated to reflect that John Springsteen made that comment.