The Department of Public Safety (DPS) recently made a deal with the City of Palmer to build a new 911 dispatch center in Palmer. It was announced at a May 12 meeting of the Palmer City Council. But the origins and background of this deal reveal there is much more to the story.
DPS operates a 911 dispatch center in Fairbanks, known as the Northern Operations Center. They also operate a 911 dispatch center in Ketchikan, which serves Southeast Alaska. In Wasilla and Soldotna, they contract to the City of Wasilla and the Kenai Peninsula Borough, respectively. The dispatchers in Wasilla and Soldotna determine if the call coming in is under local or state jurisdiction.
In 2018 an initiative was started under former Governor Bill Walker to enhance 911 service in Alaska. When a person makes a 911 call in rural Alaska it can often be difficult to determine where they are. Even when they know where the person is it can often take hours or days to get a trooper to a village. The cost to telecom providers to upgrade their networks with geo tracking is significant. For some smaller telecoms it would put them out of business.
As the last legislative session was getting underway many legislators became aware that the Department of Public Safety was planning on consolidating the Ketchikan, Wasilla, and Soldotna centers to one dispatch center in Anchorage. Legislators had a hard time getting a straight answer or response from DPS. As word got out local officials from the affected areas grew concerned. On February 24 several city and borough mayors, as well as EMS officials sent Governor Mike Dunleavy (R – Alaska) a letter laying out their concerns. You can read the letter here.
The letter lists a myriad of concerns ranging from safety to technology to cost. One issue with consolidating the three locations to Anchorage is redundancy. If the Anchorage center were to go down due to an earthquake or natural disaster, many Alaskans would not be able to reach 911. Another issue is local expertise. When someone in Southeast Alaska or the Kenai Peninsula calls a dispatcher in Ketchikan or Soldotna, the dispatcher is likely to be familiar with the area. If they were speaking to someone in Anchorage they would likely not have the local knowledge. There were also several technology issues raised. One is the cost of carrying a call to and from dispatch centers. Telecom providers would be responsible for carrying these calls back and forth around the state to Anchorage. That adds costs and also increases the risk of dropped calls due to outages.
Members of the House Finance Committee, which include Representatives Gary Knopp (R – Kenai), Colleen Sullivan-Leonard (R – Wasilla), and Dan Ortiz (I – Ketchikan), grew frustrated at the lack of information from DPS and Commissioner Amanda Price. The Committee pulled funding for the project from the budget. Intent language was also added into the budget on the Senate side. Senator Bert Stedman (R – Sitka), who co-chairs the Senate Finance Committee, represents Southeast Alaska. The intent language is clear:
It is the intent of the Legislature that the Department of Public Safety not implement a new Anchorage Emergency Communications Center without legislative approval.
DPS was unphased by all of this and proceeded with the project. On April 17 a job posting came out for an Emergency Services Dispatcher in Anchorage. On April 20 an RFP was issued by the Department of Public Safety for a 911 system for the Fairbanks facility as well as a future Anchorage emergency communications center. Multiple references were made to the Anchorage center. Palmer did not appear once in the RFP. The budget, which included the intent language, was passed in late March. The RFP included:
The current procurement will provide a replacement 9-1-1 system for FECC, DPS Fairbanks, and a future DPS Anchorage emergency communications centers. The interconnection with Ft. Wainwright will continue in its current analog configuration with the selected vendor's application software.
On April 21 an email was sent to dispatchers in Soldotna and Ketchikan informing them the dispatch center would be moving to Anchorage in July 2021. The email even says they are moving forward "despite significant hurdles in the legislature."
Several months ago AST dispatchers in Ketchikan and Soldotna were told of plans to open a DPS operations/ dispatch center in the Anchorage area in July 2021, and moving AST dispatch services from Ketchikan and Soldotna. Despite significant hurdles in the legislature we are still moving ahead with this project. AST dispatch positions (PCNs) in Soldotna and Ketchikan will be moved to this Anchorage area, Southcentral Dispatch/ Operations center. AST is interested in keeping all of our AST dispatchers and continuing to work with you in the new center.
We have been working for the past several months on a document that would help answer your questions relating to how a move would work for you and your family, among other considerations that have been brought to our attention. As we have worked with human resources and the Department of Administration surrounding issues related to moves for your collective bargaining unit, other questions have come up. We are nearly ready to send each of you the documents that will hopefully help you have meaningful conversations about moving with your positions to the Anchorage area.
Two of the PNC's slated to be moved to Anchorage have been vacant for a few months and are now open for recruitment. We want to retain as many experienced dispatchers as possible in this process, and also recognize these two vacancies needed to be filled as soon as possible to start a training cycle for them to be prepared for work in this new center. When we are ready to open the doors of this center, we need all of the positions trained to work in a center already.
We should be able to provide you with the move information in the next week or so as we continue to work to iron out a couple of more details. In the meantime, please prepare to communicate with your command staff and headquarters about your future plans. Again, we have room for all of you that are interested in moving and are working on trying to answer as many of your questions as we can. We sincerely appreciate your patience with this ongoing process.
Sincerely,
Colonel Bryan Barlow
At some point during all of this someone in DPS must have become aware of the intent language in the budget. This explains the sudden move of the dispatch center to Palmer. Representative Knopp told me, "The intent language was not specifically about Anchorage. Everything coming from DPS indicated they were planning on moving it to Anchorage. It was about preventing a bad decision from being made. DPS thinks they are being clever by moving it to Palmer but they have clearly acted in a way that is against the intent of the legislature."
On April 27 Knopp sent a letter to Commissioner Price where he raised concerns about the RFP. He references the intent language in the budget. The letter referenced Anchorage, there was no mention of Palmer. He concluded by requesting a meeting with Price and Dunleavy. Price's assistant responded and said she was unable to meet due to COVID-19.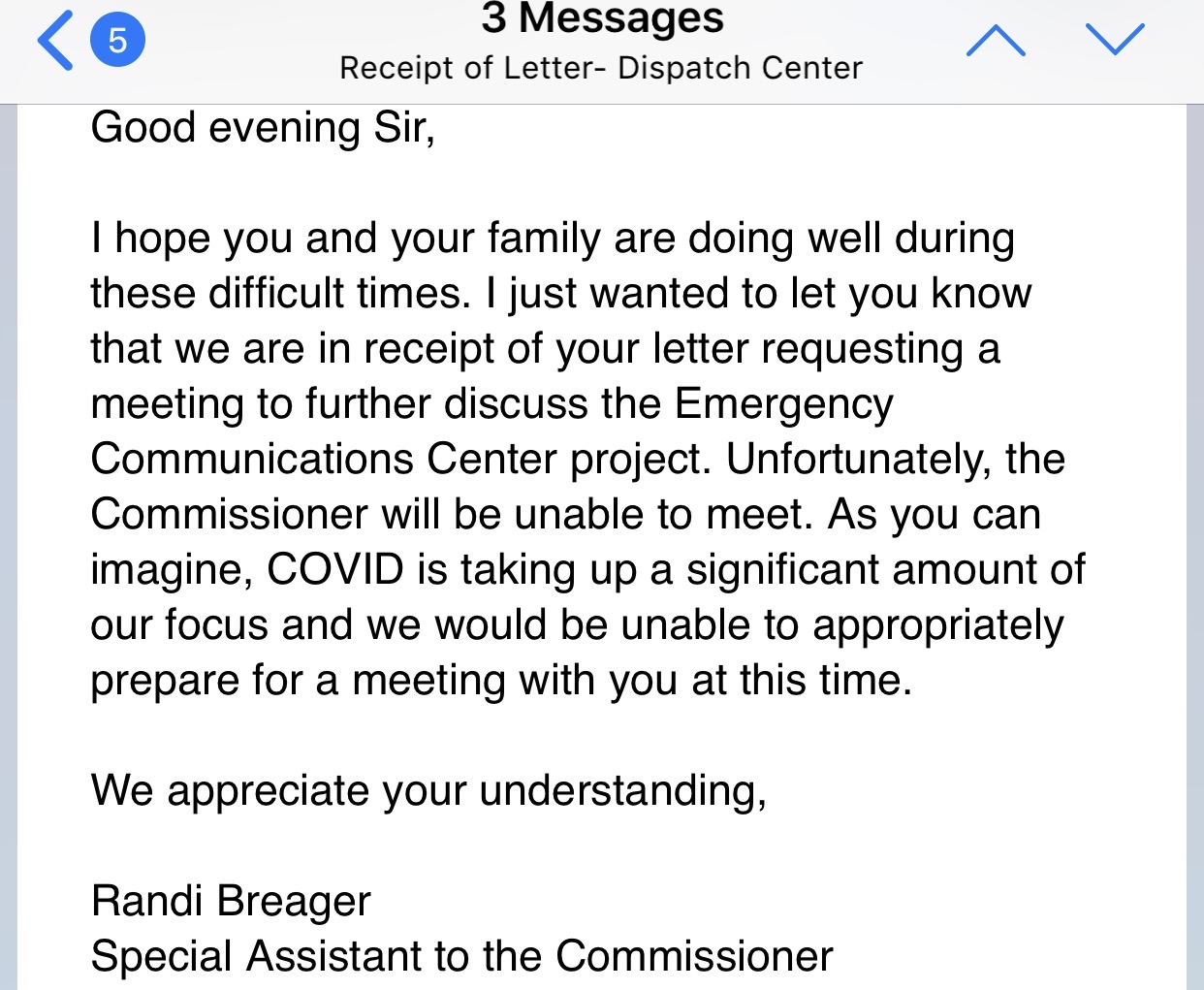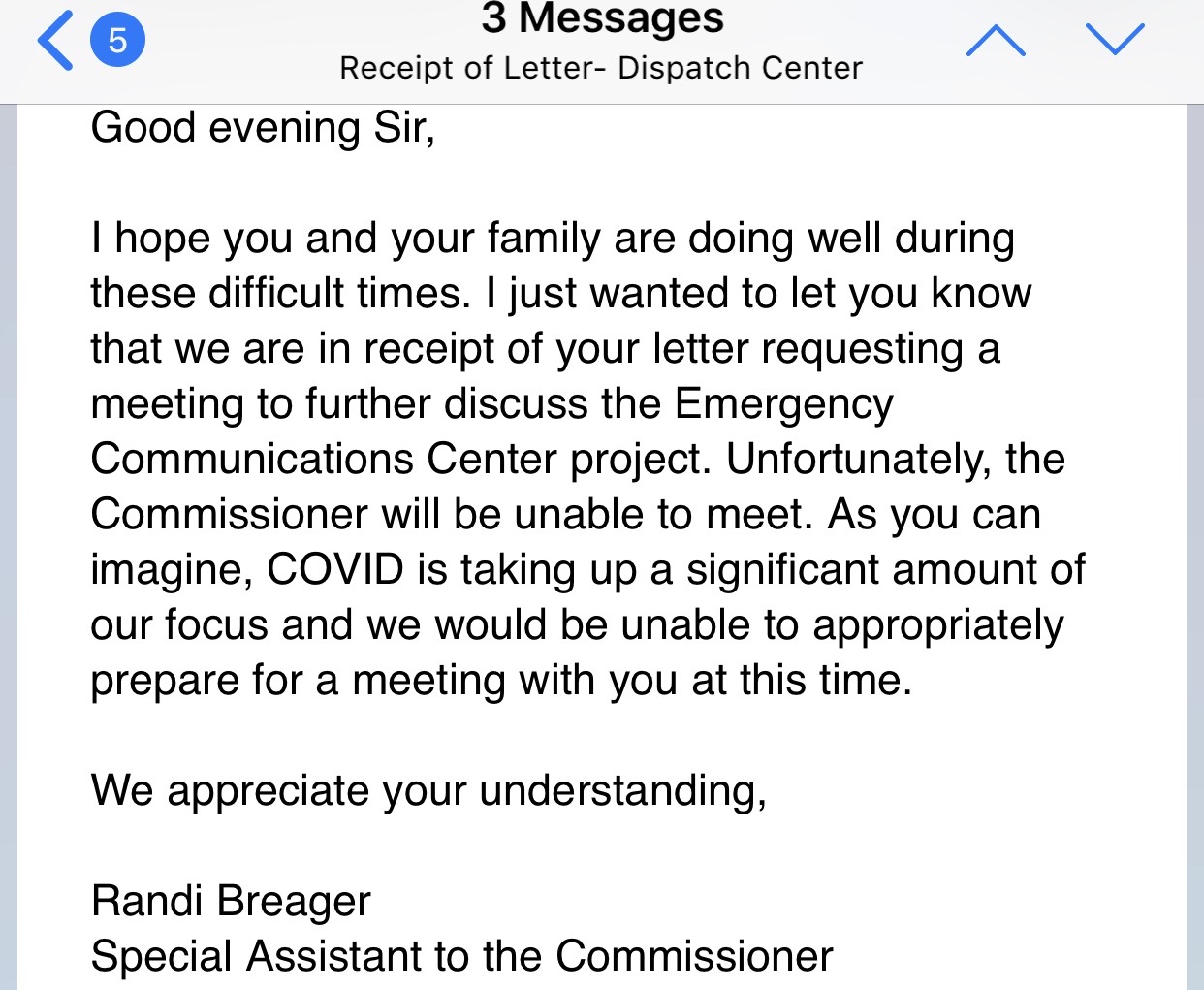 On May 6 Christine O'Connor, the Executive Director of the Alaska Telecom Association, sent a letter to Price that raised significant concerns with the RFP. O'Connor asked that the RFP be withdrawn and instead a non-binding RFI be issued so DPS could get input from all of the stakeholders. There was still no mention of Palmer. The letter also referenced a March 5 meeting with Price and Deputy Commissioner Morgan. She stated:
Instead of pursuing the workshops we discussed to develop critical information needed for a successful project, DPS has issued an RFP which contradicts the assurances we received in your office March 5th.
Price responded to O'Connor's letter the next day. Her letter is something else. The first paragraph stated:
We found the letter to be inflammatory and rife with factually incorrect information provided to the executive and legislative branches of Alaska government which we must now correct. I hope that the narrative that follows is instructive and otherwise puts your concerns to rest.
Price went on to accuse O'Connor's members of being "elusive and unwilling to commit to any meetings." The letter included:
The State 911 Coordinator, Mr. John Rockwell, has found individuals representing the affected carriers to be elusive and unwilling to commit to any meetings. In fact, when Mr. Rockwell recently requested your assistance in developing a distribution list, you refused to participate. Given the impacts of the current pandemic, we allowed this behavior to continue for a short time.
When asked about Price's letter, O'Connor told me, "ATA stands by the concerns we've repeatedly raised about this project over the past 5 months, including most recently in our May 6th letter to Commissioner Price."
Less than a week after this exchange Price appeared before the Palmer City Council, where the deal with Palmer was officially announced. I reached out to multiple people at DPS asking when the decision to move the dispatch center to Palmer was made and who made it. I have yet to hear back. The article will be updated if and when they respond.
This cost of this project is significant. In an April 27 email from Jacob Butcher, the Communications Manager for Matcom, to legislators and city officials, he stated:
The other attachment is the RFP which DPS has put out for an 9-1-1 phone system. The important thing to notice on this is the $1.4 Million price tag for Bundles 1 & 2 which only provide a basic E911 system. Bundles 3 and 4 which are to be addressed later by DPS include a GIS repository and an NG911 ESInet Core Services. Bundles 3 and 4 can easily run upwards of $12-15 Million as evidenced through other PSAPs in the states which have gone through similar transitions.
In February DPS entered into a contract with 911 Insight, owned by William Doolittle, for consulting services for the 911 project. The contract is not to exceed $960,000 over three years. Ketchikan Borough Mayor Rodney Dial, who spent 25 years as an Alaska State Trooper and retired as acting detachment commander for Southeast Alaska, said, "Alaska is facing very tough fiscal challenges. I will not be at all surprised when DPS comes back to the legislature next year and asks for more money to finish this project."