A man convicted of stalking Bristol Palin is now working in the Capitol in Juneau. Peter Paul Ferrero, who goes by Peter Paul on Facebook, was convicted of stalking the daughter of former Governor Sarah Palin in 2014. According to Court View, he pled guilty to the charge. This ADN article, Florida man arrested for stalking Bristol Palin, explains what happened. According to the article:
A 25-year-old Florida man who showed up in Bristol Palin's Wasilla driveway Sunday evening after climbing off a third-floor balcony was arrested on felony stalking charges, court documents show.
Palin recognized Ferrero's name right away because he has sent her "approximately 1,000 Facebook messages," according to a sworn affidavit accompanying the charges from Wasilla police officer Brandon Gray.
Ferrero was originally hired to work as a page for the Alaska State Legislature for the legislative session. He posted this on his Facebook page on January 8, 2019.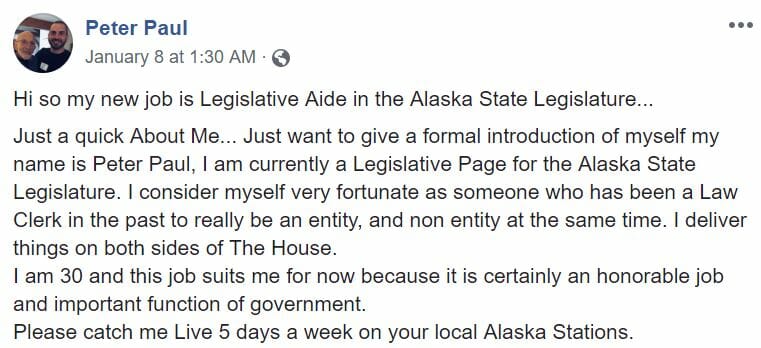 But not long after he was hired as a page, he was let go. Sources say the House Sergeant at Arms authorized the hire. The Landmine has been unable to determine the exact reasons he was let go, but it was likely due to his criminal history. Ferrero is now doing contract work for Senator Tom Begich (D – Anchorage), who says he has known Ferrero since 2016. I asked Senator Begich how he knows Ferrero and how Ferrero came to work for him. He sent me this response:
I met Peter when he volunteered on my campaign in 2016. He was on probation and working on putting his past behind him and moving forward with his life. I've always believed in second chances and encouraged him to go back to school, and to develop his skills. In the end he made the Deans list, found employment and, despite some setbacks, never gave up. He's completed his probation, earned a law clerk certification, and, when he found himself out of work here, I gave him a small contract to research crime statistics and to help me better understand how gangs get into Alaska, drawing on his own experience in the system and his research. His research and writing has been good and I've been satisfied with his work. If we truly believe in giving people a chance to be productive in society after they've served their sentence, then Peter is a good example of those who deserve a chance to be successful.
Ferrero was arrested again in 2017 for violating his parole. According to this Blast article:
According to court documents obtained by The Blast, Peter Ferrero was arrested in Alaska near the Palin home after police responded to a call for a man exposing himself and urinating at oncoming traffic. When cops arrived, Ferrero was sans shirt and shoes and admitted he had smoked crack cocaine.
While cops began to take Ferrero into custody, he became combative and allegedly assaulted two police officers. Cops say he also attempted to steal an officer's handgun twice and was also tased while being locked up.
According to Court View, he pled guilty to both violating his probation for stalking and Assault 3 – cause fear of injury with a weapon. Both are Class C Felonies.
Ferrero is not new to politics in Alaska. He is Facebook friends with many well known Alaska Democrats, including Democratic legislators. His profile picture is of him and Vic Fischer. He recently worked as Representative Chris Tuck's (D – Anchorage) campaign manager for his 2018 re-election. Tuck's Alaska Public Offices Commission campaign disclosures include payroll expenses of $1,600 to Ferraro. I asked Representative Tuck how we knows Ferrero and how he became his campaign manager. He sent me the following response:
I first met Peter Paul at one of my fundraisers in 2016. I later bumped into him this last summer and hired him to do some work around the house. Working with him, I was impressed with the insight he had on politics and decided to hire him on my campaign. He his a big heart for people and he did a fantastic job.
I recently heard rumors about his past and did a search on him. I was very surprised. Mostly, because he isn't the same person that I was reading about. He is a changed man.
I asked about his past and it is obvious that he wants to move on, so I let it go. He deserves to move on in his life. I thank God for forgiveness and for second chances in my life and I believe everyone deserves a second chance in life as well.
He is a great testament to the success of our rehabilitation programs.
Update: Representative Tuck sent me the following statement the day after the story was published:
The more I learn about Peter Paul Ferrero's past the more I feel like I have been used. Peter's lack of candor with me and others is not something I can overlook. I failed to do my due diligence. For that I am incredibly sorry.
Ferrero was in the Capitol on Tuesday at an impromptu House hearing on crime and recidivism in Alaska. He could be seen taking notes. At the end of the meeting he asked a question about keeping track of sex offenders in rural Alaska. There was a strange interaction at the end when he was asked whether he was representing an office or himself. After some back and forth, he said he was there as a private citizen. The video clip can be seen here.