A mailer that went out last week from candidate Christopher Kurka has created controversy in the District 7 Republican primary. The mailer included a quote from Senator Mike Shower (R – Wasilla) that criticized Kurka's primary opponent Lynn Gattis. In the quote Shower questioned whether or not Gattis favored a binding caucus. Part of it stated "she will join the likes of Lance Pruitt who has told republicans they "must" have a binding caucus when they organize next year." Interestingly enough the mailer also included a picture of me an Gattis in Juneau. Very loose!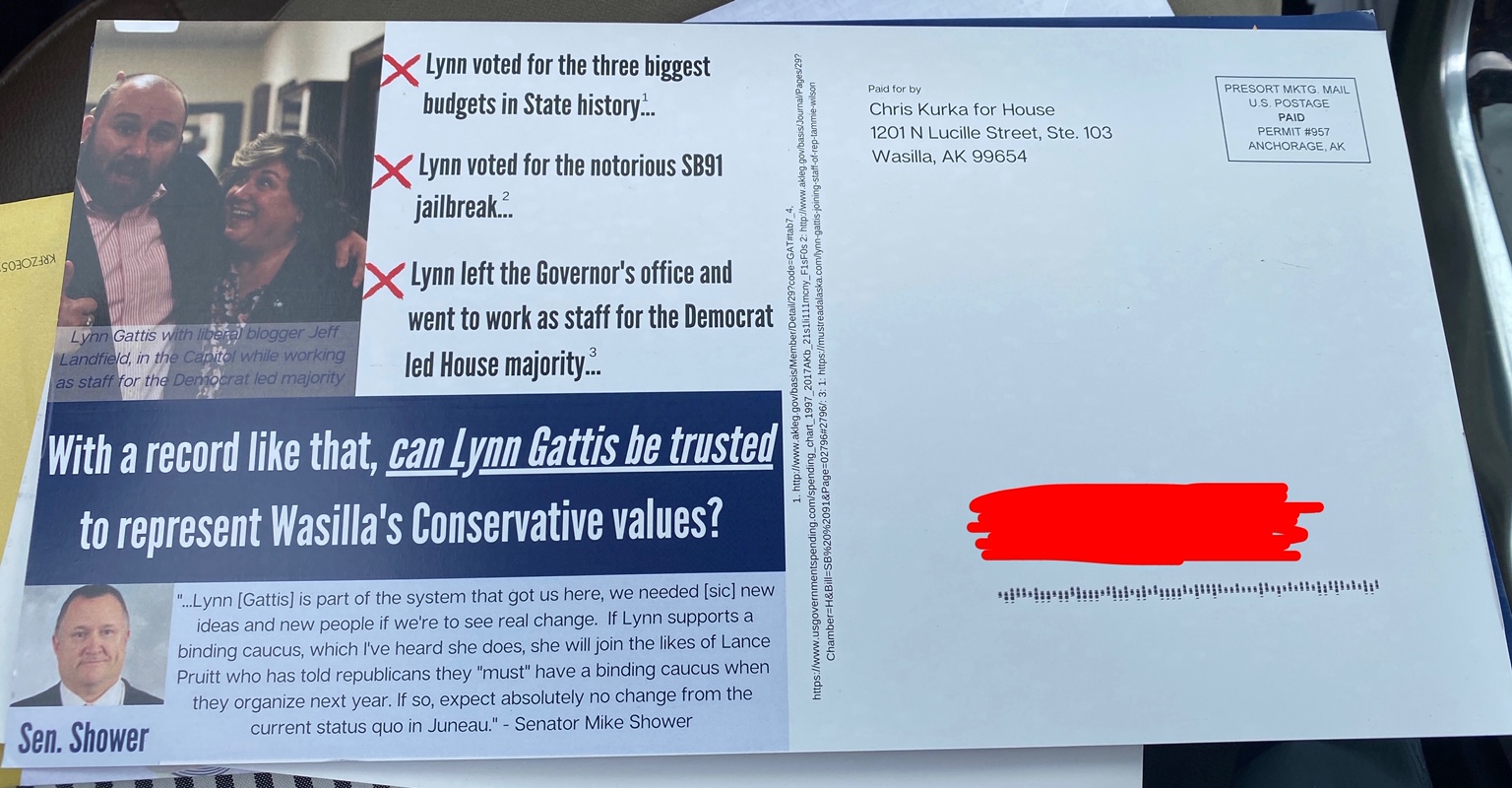 Yesterday Shower did a Facebook Live video where he stated he has not endorsed Kurka, did not want the quote used in the mailer, and did not give his permission to use his picture. The quote came from a June 2 Facebook post by Rob Yundt where he announced he was withdrawing from the District 7 Republican primary. Here is the comment and subsequent exchange with Gattis. Gattis stated she would never sign her vote away and also thanked Shower for calling her.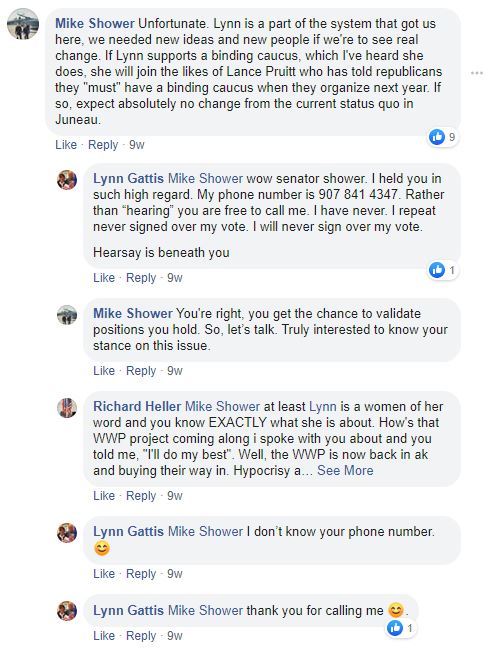 Last night, after Shower's Facebook Live video, Kurka's mother-in-law made a Facebook post where she stated that Kurka "asked AND received permission from Senator Mike Showers (Shower) to use that quote." Gattis also commented on the post. It has since been deleted.
I contacted Kurka to ask about the post. I started the conversation by joking, "Hi, this is Jeff Landfield. The liberal blogger you referenced in your mailer." We had a laugh over that. When I asked him about this controversy his comment was, "I have talked with Senator Shower and we have moved on." I asked Kurka if he would send me the text messages. He declined but added Shower could send them if he chooses to. I also reached out to Gattis. Her comment was, "It's not my issue, it's theirs." I reached out to Senator Shower via phone and text but have not heard back from him. I will update the article if he gives a comment.
Update: Senator Shower contacted me later in the evening. He was flying earlier. He provided the following quote, "It was a misunderstanding. There was an assumption that because it was in the public domain it was ok to use, but I never gave permission to use it as an endorsement. I spoke with Kurka. We are clear and have moved on."
The primary election is next Tuesday August 18. Absentee and early voting are underway. The winner of the primary will face Jamin Burton, a Non-Affiliated petition candidate, in the November 3 general election.