Documents published by the Alaska Department of Revenue – Tax Division show the NRA Foundation was the top beneficiary of charitable gaming in Alaska in 2019. Reports for 2020 have not been published yet. Legalized gaming in Alaska is limited to pull-tabs, raffles, lotteries, and bingo, and proceeds must provide "a means for permittees to generate net proceeds for political, educational, civic, public,charitable, patriotic, and religious uses in the state."
According to the "Net Proceeds and Detail by Permittee Report," the NRA Foundation took in over $815,000 in net proceeds. The top 10 beneficiaries in 2019 were:
The NRA Foundation
Akiak Native Community
Alaska Airmen's Association
City of Savoonga
Ducks Unlimited
Iditarod Trail Committee
Kuskokwim 300 Race Committee
Alaska Eskimo Whaling Commission
Aleutian Pribilof Island Association
Kodiak Area Native Association
From 2000-2017, the Division only published the annual charitable gaming report. This report provides a broad overview of charitable gaming, but not specifics. In 2018, they published a report titled "Net Proceeds by Permittee Report," but it's a PDF that only shows the net proceeds for each permittee. The NRA Foundation was the top beneficiary in 2018 as well, listing over $927,000. But for 2019, the Division published a detailed report that lists the gross receipts, cost of prizes, AGI, total expenses, and net proceeds for each permittee. I sorted the report to show the net proceeds from highest to lowest. You can view that here.
Advertisement. For information about purchasing ads, please click here.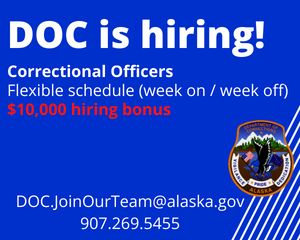 In 2019, charitable gaming was worth over $385 million. This includes pull tabs, raffles, lotteries, and bingo. But of the $385 million, only $36 million was paid out to permitties, or just under 10%. Of the $385 million, the cost of prizes was $292 million, or 76%. The money remaining after the cost of prizes, or the take, was over $92 million. Of that $92 million, over $55 million, or 60% of the take, went to expenses. This left $36 million for permittees, or 40% of the take.
Alaska statutes allow permittees to deduct certain expenses for charitable gaming. For pull-tabs, it is 70%. Alaska statute 5.15.160 lists authorized expenses.

The report shows a stark difference in how much each permittee deducts for expenses. For example, the NRA Foundation had a take of over $826,000 after prizes were paid out, most likely a raffle. This was based on over $1.3 million in gross receipts and $543,000 in prizes. They only listed $11,000 in expenses, or just over 1% of the take. Compare that to the Aleutian Pribilof Island Association, Kodiak Area Native Association, and Native Village of Nikoloski, who all list identical amounts. They all list over $4.1 million in gross receipts and over $3 million for cost of prizes, which in this case are pull-tabs. They were all left with over $1 million in take, but all deducted over $729,000 for expenses, leaving just $304,000, or 29.5% for net proceeds. In this case, each one of them deducted the statutory maximum of 70% (it was 70.5% to be exact). The list shows a wide difference in how much each permittee deducts for expenses, but as listed above, the total amount of expenses for all charitable gaming is 60%.
The 2019 Charitable Gaming Report includes a breakdown of net proceeds by game. Pull-tabs are 66%, raffles and lotteries are 22%, bingo is 10%, and 2% is other. Other includes things like fish derby and ice classic. The report lists a full breakdown.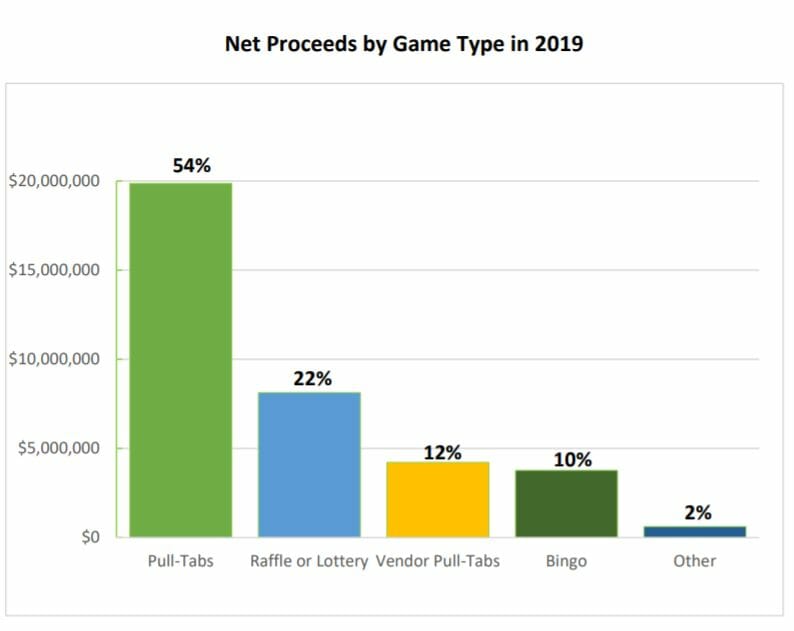 Gaming in Alaska has been a topic of discussion in recent months. Governor Mike Dunleavy (R – Alaska), and some legislators, have suggested that expanding gaming could lead to more revenue for the state. In 2019, the State of Alaska received over $2.6 million from charitable gaming. Estimates for expanded gaming, like card rooms or casinos, are in the tens of millions. The Department of Revenue recently awarded an RFP for gaming consultants to provide information about expanded gaming in Alaska.