In a letter obtained by the Alaska Landmine, addressed to the Senate Joint Finance State Affairs Committee, Anthem Coffee & Tea and Elements Frozen Yogurt co-owner Janie Reynolds disputes claims made by Department of Administration Commissioner-appointee Jonathan Quick about his ownership and role in her business. Quick was appointed to serve as Commissioner by Governor Michael J. Dunleavy in late November.
According to their website:
The Department of Administration provides centralized administrative services to state agencies in matters of finance, personnel, labor relations, leasing of space, central mail distribution, property management, risk management, procurement, retirement and benefits programs, information and telecommunication systems, and operation and maintenance of 18 state-owned buildings in Juneau, Anchorage, Nome, Palmer and Fairbanks.
According to Reynolds, Quick included fabrications in both his resume and his 1/22/2019 confirmation hearing testimony before a joint meeting of the Senate Finance and State Affairs Committees. On his resume, Quick lists Anthem Coffee & Tea and Elements Frozen Yogurt under "MULTI-LINE BUSINESS OWNER & INVESTOR | 2010 – 2017."
His resume can be seen here: John Quick resume
Reynolds' letter can be seen here: Senate Joint Finance State Affairs Committee AK
In her letter, Reynolds states that she and her husband are co-owners of the Washington business and always have been:
"I am Janie Reynolds, 50% owner of Anthem Coffee & Tea and Elements Frozen Yogurt. My husband, Larry Reynolds, owns the other 50%. There has never been anyone else except my husband and me on the ownership structure."
This was confirmed by a search of the Washington State business license. Every license under that name shows only Janie and Larry Reynolds as owners.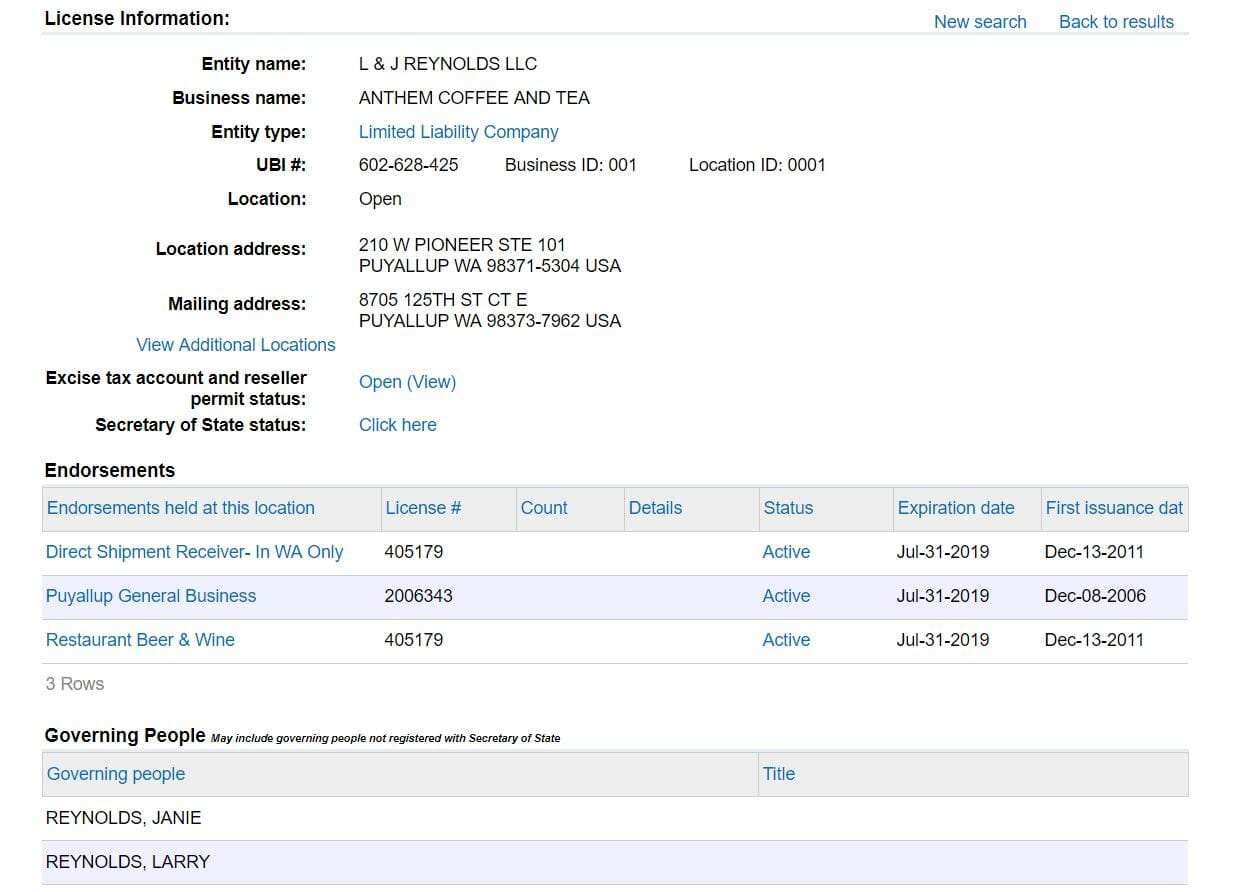 A Spring 2012 Northwest University Alumni magazine states that Quick "co-owns and and is the COO of three businesses that have four locations: Anthem Coffee and Tea, Elements Frozen Yogurt, and Joeseppis on the Go!" The entry can be seen on page 30-31 by clicking here.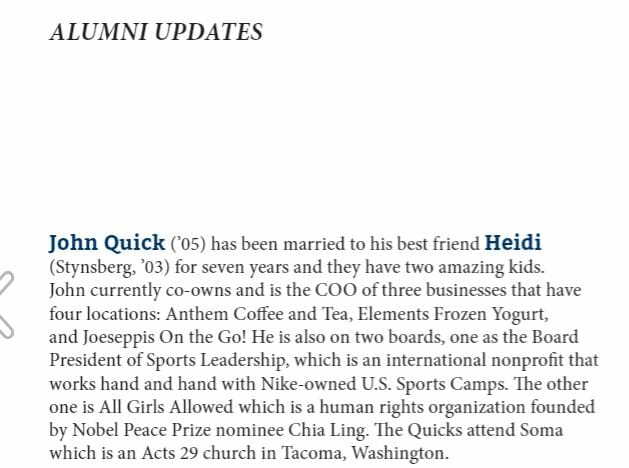 During his confirmation hearing, Quick responded to a question from Senator Scott Kawasaki (D – Fairbanks) about his ownership in the three businesses he lists in his resume under the Business Owner and Investor section. Reynolds included this in her letter about Quick's response:
When he was asked how being the CEO of the above mentioned businesses will help him to guide the Department of Administration, John replied that "starting a business and owning a business is figuring out how to do it on the ground running. That experience lended itself to what it looks like to become a successful small business owner and entrepreneur".
I would like to make it known that John Quick was hired in July 2011 to organize and structure our small family business. His degree in business and our understanding that he earned an MBA qualified him for this position. He was a W2 employee at our company. After many months of promises to organize and bring structure our company, we fired him in June 2012. John never had any percentage of ownership. He had hopes of being part of the ownership structure, and would verbalize it as his reality. Several times during his year with us, he would ask, almost insist, that I sign a contract that would put him into part-ownership. I declined each time.
His confirmation hearing can be seen here.
His resume also states that he "Helped recruit and secure investors and capital sources." In the letter Reynolds responded to that claim by saying:
His resume goes on to say that he helped to recruit and secure investors and capital sources for Anthem Coffee and Elements Frozen Yogurt.
This is a false statement. No one invested in our company. All capital sources were applied for and secured by me.
Public testimony was not allowed at the hearing. Quick's appointment was referred to the Senate Finance Committee and Senate State Affairs Committee by Senate President Cathy Giessel (R – Anchorage). Because the House has yet to organize, he has not been assigned to any House committees for a confirmation hearing. After confirmation hearings, appointees must be approved by a majority of representatives and senators during a joint session. There are 60 members in the legislature.
Update
Jonathan Quick has provided an odd explanation for the irregularities in his claims he was a part owner in Anthem Coffee & Tea and Elements Frozen Yogurt. It can be seen in the following letter:
Comm John Quick Letter 1.24.19
Quick claims to have entered into a "verbal agreement" with the owners. He also describes the arrangement as an "equity-stake business venture." Does this mean he put cash or sweat equity into the business, all on a hand shake deal? You would be hard pressed to find a good business person who would ever suggest doing that.
KTOO has reported on other inconsistencies with Quick's resume. A January 24 story titled Dunleavy appointee accused of lying about his credentials includes the following passage:
Quick claims that he attended Wayland Baptist University in Texas for two years and received an MBA; the school's registrar said he attended for about nine months and did not graduate.