In a bizarre series of events, Anchorage Assembly member Jamie Allard and her supporters are now engaged in a fierce battle with Providence Hospital to compel the hospital to give Ivermectin to a comatose or near-comatose COVID-19 patient named William Topel.
Some time late last week, Allard was given advance directive powers over Topel, allowing the Assembly member to make unilateral healthcare decisions regarding Topel's care. A source at Providence told the Landmine that for days, Allard and her supporters have been relentlessly harassing nurses, doctors, and hospital administrators, compromising their ability to provide medical care for other patients.
According to the Landmine's source, on October 9, a small group including Terrence Shanigan, who serves as the legislative affairs director for Mayor Dave Bronson, was repeatedly turned away while attempting to gain entry to Providence. The group claimed that they were attempting to visit "a friend," who the Landmine's source presumes to be Topel. The group was then caught by security attempting to sneak into a back door.
William Topel admitted to Providence with COVID-19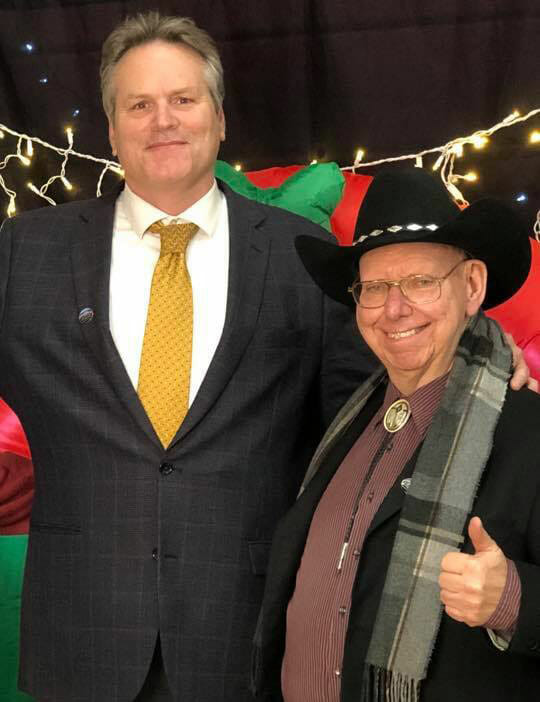 Some time last week, Providence Hospital admitted William Topel for treatment for COVID-19. Topel is a well-known Anchorage conservative and opponent of COVID-19 public health measures, including what he termed "so-called COVID-19 vaccination." Topel attended at least one of last week's chaotic Anchorage Assembly meetings, which were packed with almost entirely unmasked individuals protesting a proposed mask mandate. Shortly after attending the meeting, Topel was admitted to the hospital with symptoms of COVID-19.
Late last week, Topel gave advance directive powers to Assembly member Jamie Allard. Advance directive powers (which are often referred to as "power of attorney," though that term is a slight misnomer) give Allard sole discretion to make healthcare decisions for Topel in the event of his incapacitation.
Following his admission to the hospital, Topel's condition quickly deteriorated. Topel is now widely reported by his supporters online to be in a comatose or near-comatose state.
Allard demands that Providence provide Ivermectin
According to a source at Providence, Allard and her supporters have barraged Providence nurses, doctors, administrators, and even the HR director with demands that Topel be given Ivermectin or transferred to a hospital that will give him the anti-parasitic drug. The source claims that Allard is "harassing all of our people and we have to stop dealing with our patients because we're dealing with her."
In the conservative Facebook group HAC & SAC, members posted numerous messages about Topel, one of which requested that members contact Providence to demand that Topel be given Ivermectin.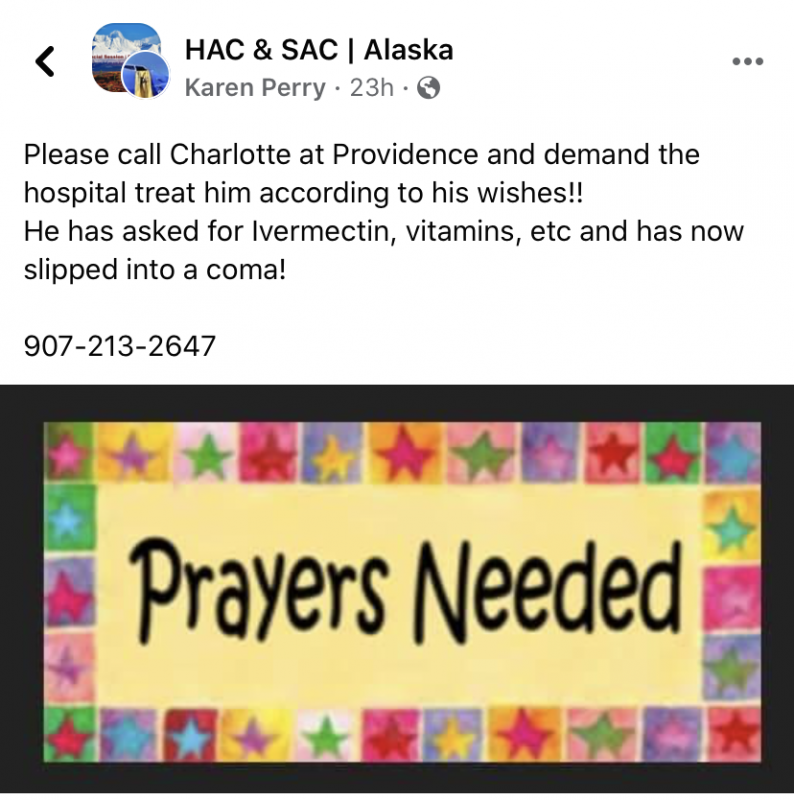 Providence has repeatedly stated that they do not give Ivermectin to COVID-19 patients. In an October 12 email, Providence Hospital Sr Manager of External Communication Mikal Canfield told the Landmine, "Based on a preponderance of evidence and guidelines from multiple national authorities, Providence Alaska Medical Center does not use Ivermectin to treat COVID-19."
Internal memo from Providence regarding treatment with Ivermectin
Merck, the maker of Ivermectin, has publicly stated that use of Ivermectin to treat COVID-19 is not supported by evidence and that Ivermectin should not be used to treat the disease.
The Landmine obtained a Monday afternoon email that appears to have been sent from Jamie Allard to Ella Goss, the Chief Executive at Providence Alaska Medical Center. In the email, Allard castigates Providence for not treating Topel with Ivermectin and vitamins, and blames Providence's refusal to pursue these treatments for deterioration in Topel's condition. Allard closes by stating that "If you do not comply, the family will proceed with legal action and get a court order."
The Landmine reached out to Stacey Stone, an attorney at the well-known Anchorage law firm Holmes Weddle & Barcott who is CC'd in Allard's email. Stone responded that she is traveling and does not represent anyone involved in the situation.
In a since-deleted Facebook post made later on Monday night, Allard stated that she has power of attorney over Topel, and claimed that Topel "has been asking since Thurday when he was admitted to have life saving meds and Providence Hospital has ignored Bills requests." Allard stated that she hired Eagle River attorney Mario L. Bird to move for a court injunction against Providence, and included a letter from Bird to the hospital.
The Landmine contacted Canfield, the Sr Manager of External Communication at Providence, to ask whether the hospital had any comment on the actions of Allard and her supporters. Canfield replied that the hospital cannot comment due to state and federal privacy laws.
"They are killing people there!"
Claims that Alaska hospitals are intentionally withholding proven treatments and killing their patients have proliferated in right-wing, anti-mandate online communities such as Save Anchorage, Open Alaska, and Must Read Alaska. Commenters regularly accuse staff at Providence and other Alaska hospitals of murdering those under their care and deliberately withholding Ivermectin, which many believe to be a "miracle cure."
Screenshots of comments from Must Read Alaska and Open Alaska
On September 23, Dr. Anne Zink, Alaska's chief medical officer, told reporters that "Our public health team has literally been under attack." Zink said that medical workers had been sent threatening letters, spit on, and harassed for attempting to address the state's COVID-19 crisis.
The Landmine's source at Providence expressed concern that if Topel dies, Allard will publicly blame Providence for his death and further inflame an already-volatile situation for healthcare workers.
Bronson Legislative Affairs Director and others attempt to sneak into Providence
According to the Landmine's source at Providence, on October 9, a small group including Dustin Darden and Terrence Shanigan, who serves as Legislative Affairs Director for Mayor Dave Bronson, were caught attempting to sneak into Providence. The group initially attempted to gain access to the building from main entrances in order to visit "a friend," the source said. After being turned away, they attempted to enter the hospital through a back door in the garden area.
After these attempts were rebuffed, the source said, the group approached the ER ambulance bay. There, they were confronted by security and told to leave the premises. APD were contacted but a police report was not filed.
The Landmine has contacted Providence, APD, and Mayor Bronson's Communications Director, Corey Allen Young, to request any information regarding Shanigan's alleged attempt to sneak into Providence. Responses were not received in time for publication.
Multiple requests to Allard for comment did not receive a response.
This is a developing story. Check back for updates.