The top two compensated executives at Arctic Slope Regional Corporation (ASRC) earned a combined $17,877,743 in 2021. Butch Lincoln, executive vice president and chief operating officer, earned over $9 million. Rex Rock Sr., the president and CEO, earned just under $9 million. The bulk of their compensation came from short-term and long-term incentive compensation.
Their 2021 compensation is a substantial increase from 2020. Lincoln's more than $9 million salary was a 54.7% increase from 2020. Rock's nearly $9 million salary was a 49% increase from 2020.
Alaska Native Corporations are required by law to list the names and compensation amounts of their top five compensated employees. According to their annual report sent to shareholders, ASRC's earnings before interest, taxes, depreciation, and amortization (EBITDA) in 2021 was up $34 million from 2020 and $15.5 million from 2020. But average shareholder employment went from 474 in 2019 to 345 in 2021, a decrease of 27%.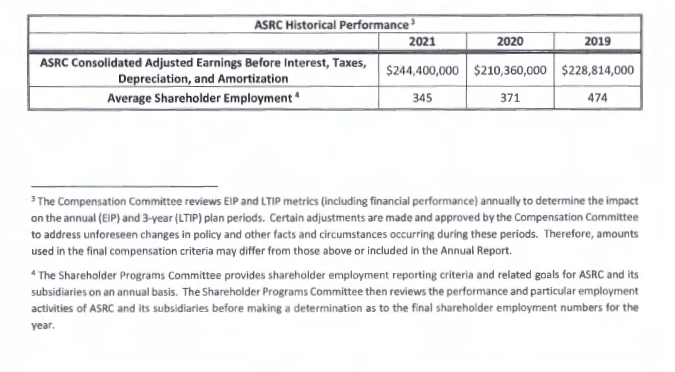 Pages 36-40 of the annual report describe how their short and long-term compensation is structured. Short-term measures a one-year period and long-term measures a three-year period.