"We have a simple message for all countries: test, test, test," said Dr. Tedros Adhanom Ghebreyesus, the director-general of the World Health Organization (WHO), at a press conference where he called testing the "backbone" of containing the COVID-19 virus.
"Test every suspected case, if they test positive, isolate them and find out who they have been in contact with two days before they developed symptoms and test those people, too," he said.
As the novel coronavirus spreads throughout the country and the state, patients with symptoms are running into roadblocks to get tested, despite WHO recommending testing and isolating as the most effective way to prevent infections and save lives.
"You can not fight a fire blindfolded, and we cannot stop this pandemic if we don't know who is infected," he said.
During a Tuesday press conference, Alaska Chief Medical Officer Dr. Anne Zink said that the state lab had 1,650 testing kits. She said they are expecting more testing, and that she had been on federal calls to secure additional swabs and reagents for testing, which are required to perform the tests. As of 12:30 p.m. Thursday, 513 tests had been completed across the state, 451 at the state lab and 62 in commercial labs, with nine total confirmed positive cases, according to the Alaska Department of Health and Social Services.
"If we could have all the testing in the world, we would not test everyone, but we would be testing a lot of people because it's a very useful tool for us to understand who has the disease and who does not have the disease," Zink said on Tuesday. "It's most useful in someone we think is high risk in spreading it to others."
The state has turned over testing decisions to physicians, Zink said, but this can be a really big challenge because a lot of people want to be tested.
"We are seeing some tests come in of just people who are all in the same room," she said. "This isn't super useful for the testing. We want to make sure we're using this limited resource as wisely as possible. The testing is really a tool for us to help identify who we need to self-isolate, versus who we need to hospitalize, and who is safe to go back out into the community."
A Family Struggles to Get Tested 
However, one person in Juneau ran into many difficulties getting their provider to sign off on testing, despite being immunodeficient and having severe symptoms for over ten days. 
"You would think with my level of exposure in the community and the symptoms that I had that I would have qualified, but I didn't," said Mika Morford. She owns The Arts For Youth (TAFY), a dance studio in Juneau, and said she canceled most of her classes at her studio on March 3 after she started having severe symptoms and a fever. But she said she was worried she might have spread the virus in the days before she stopped teaching, when her only symptoms were fatigue, weakness and some pain. 
"I didn't think it was contagious because it was mostly just pain," she said. 
Morford has ankylosing spondylitis, an inflammatory disease, so she's used to being sick and in pain. 
"I am a person that gets sick a lot, and I have never been this sick in my life," Morford said. "The muscle aches were so bad I felt like my organs were aching."
She came down with a fever the night of Wednesday, March 4. Six days later, on March 10, it hadn't let up and her 20-month-old son and 16-year-old daughter started having symptoms, too, so she went to the doctor.
Morford said her primary care physician at Family Practice Physicians, Inc. in Juneau said she legally wasn't allowed to test her, even though she had symptoms of COVID-19 and tested negative for the flu, since she hadn't traveled to China or another high-risk country or been in contact with a confirmed case of COVID-19. 
As a dance teacher, she was exposed to hundreds of people in the community, and she said any of those people could have traveled from the Lower 48 or out of the country recently.
After attempting to go through her primary care provider once more on Friday, March 13, Morford decided to call Bartlett Regional Hospital on Sunday, March 15. 
They took her symptoms pretty seriously at the triage tent setup outside the hospital after hearing her cough, she said. They did a chest X-ray and determined she had pneumonia and respiratory syncytial virus (otherwise known as RSV). RSV is a common, and very contagious, virus that infects the respiratory tract of most children. But Morford said they told her she did not qualify for COVID-19 testing since she hadn't been exposed to a confirmed case or traveled recently. 
"I said I'm sorry I'm not going to leave until you test me," she said. "The potential people we have exposed this to, it's a no brainer I have to get the test."
After that, she said they did test her, but told her that since she was not a qualifying case, her test would be sent to a private lab in South Carolina and she might have to pay $500.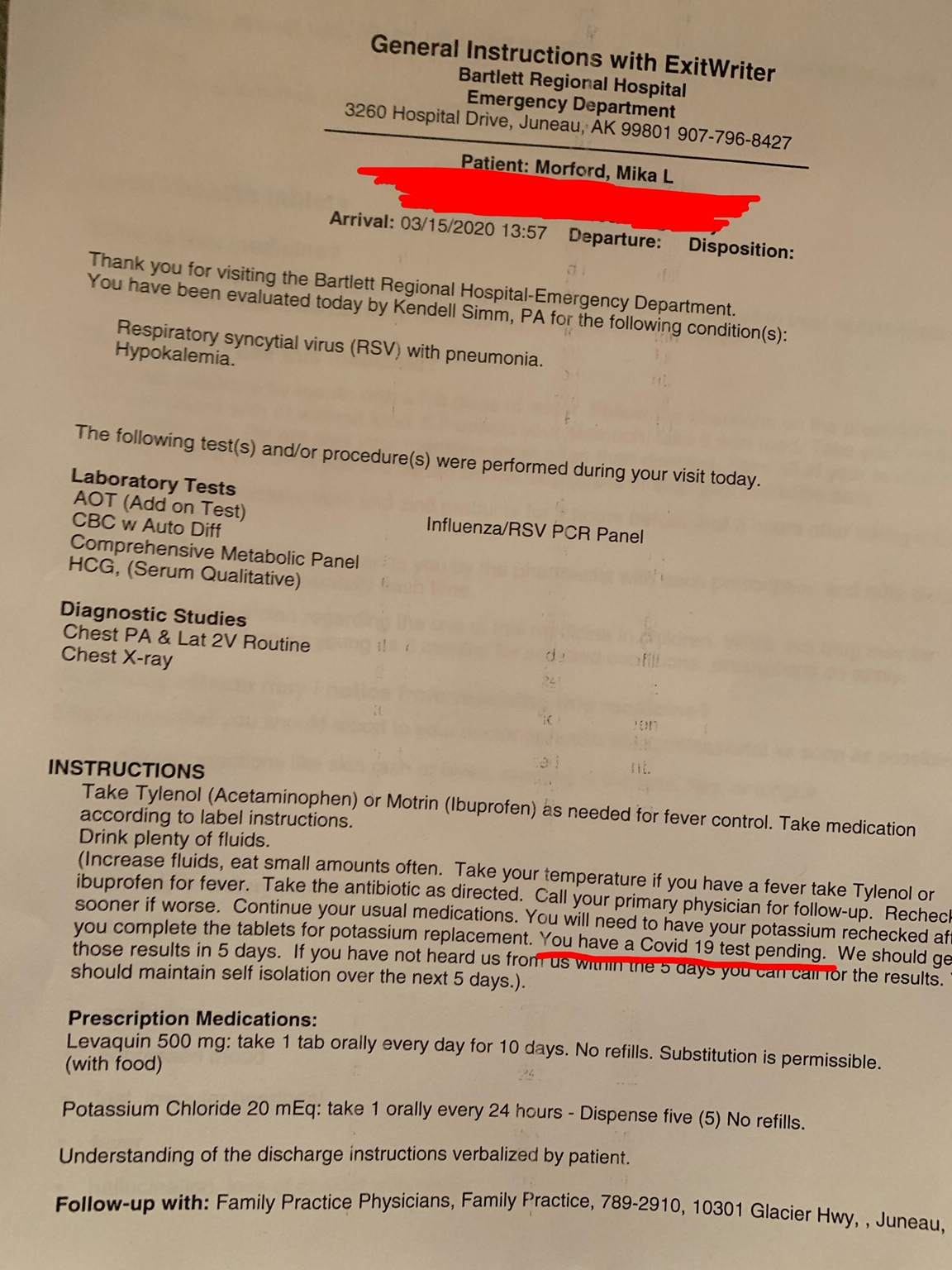 She is still waiting on test results as of Thursday afternoon. In the past few days, several parents from her dance studio have been calling her saying their kids are also showing symptoms.
Testing Realities in Alaska
Katie Bausler, the community relations director at Bartlett Regional Hospital, said in order to be tested, you must show symptoms of fever, cough and/or shortness of breath. Patients may be also tested for other respiratory viruses including flu and RSV. She said the test is free for those who meet state guidelines and qualify for a test done at the state lab, and it's $59 if done by a commercial lab. Either might have a fee for collection and ordering charged by the ordering physician, Bausler said.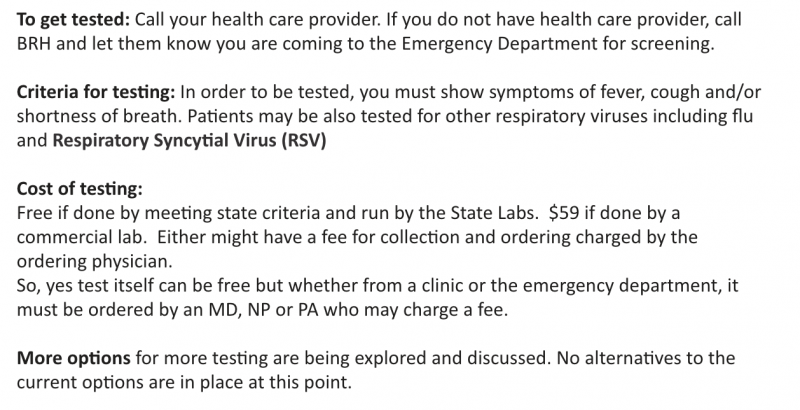 On Tuesday, the Landmine called several clinics around Juneau, and was told the same thing. But officials at the Fairbanks Memorial Hospital were a bit more frank in a press conference on Monday night after the first confirmed case in Fairbanks was announced, saying they just don't have the supplies to do widespread testing.
"We have limited supplies and tests, and as long as that stays the case we have to make sure that we're using testing criteria to decide who gets the test and who doesn't," said Shelley Ebenal, CEO of Foundation Health Partners, which operates Fairbanks Memorial Hospital. "We need to test the most vulnerable people, and if we don't have tests to do that, we'll be in trouble." 
With limited testing, the state has taken a wider approach to attempt to stem the outbreak, closing schools, bars, restaurants and canceling public gatherings. Fairbanks Memorial Hospital said they are rounding up supplies in the community to be able to do more testing as they prepare for treating patients with the virus.
"Having a test does not actually change anyone's treatment. The treatment is based on the presentation… if people need to be hospitalized, we will do that," said Dr. Angelique Ramirez, the quality medical director for Fairbanks Memorial Hospital.
Anchorage recently started drive-thru testing, but patients are still required to have a referral from a doctor to get tested.
National Issue
Testing isn't just limited in Alaska. The whole country has been following the Centers for Disease Control and Prevention's guidelines to only test people who have traveled to a high-risk country or been in contact with a confirmed case. This is partly due to the CDC's slow response in developing the test and working with the private sector to expand options for testing. As a result, the federal government failed to screen an untold number of Americans and missed opportunities to contain the spread, clinicians and public health experts told Reuters.
"The idea of anybody getting (tested) easily the way people in other countries are doing it, we're not set up for that," Anthony Fauci, director of the National Institute of Allergy and Infectious Diseases told a U.S. House committee last week in Washington. "That is a failing. Let's admit it."
Jeff Landfield contributed to this story.