The Alaska Public Offices Commission (APOC) is looking into mailers that were sent out supporting Representative Josh Revak (R – Anchorage). The same mailer was also sent out supporting Senator Mia Costello (R – Anchorage). Neither mailer had a "paid for by" disclaimer. However, Costello just won re-election last year and is not up until 2022. Revak, however, is up next year and has already filled a letter of intent with APOC.
Here are the mailers. Whoever did them, they were professionally done.
Heather Hebdon, the Executive Director of APOC, confirmed that APOC was looking into the matter. Campaign laws requires "paid for by" disclaimers and groups who are supporting candidates or issues to be registered with APOC.
Advertisement. For information about purchasing ads, please click here.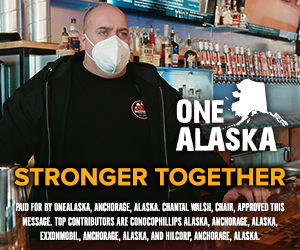 Both mailers have Postal Permit No. 69 on them. This belongs to TNT Bulk Mailing Services in Anchorage. I spoke with Bill at TNT. He confirmed they mailed them but would not say who the customer was. He did say that the person who paid for them was paying for them on behalf of another customer. He also said the only way he would divulge who the customer is was if he received a subpoena from APOC.
With campaign season just around the corner, there could be more of this kind of dark money activity. All 40 seats in the House are up and half of the 20 Senate seats are up.
If you have any information about the origin of these mailers, who designed them, or who paid for them, please email me at [email protected]