Governor Michael J. Dunleavy recently appointed Trevor Shaw to the Commission on Judicial Conduct. The Commission adjudicates complaints against judges. It is composed of nine members: three judges, three lawyers, and three public members. It is an important, high profile board.
Shaw's appointment has raised eyebrows in Juneau and aroused anger in Ketchikan, including among prominent Republicans. Shaw resigned from the Ketchikan School Board last August after facing a recall. According to this KRBD article:
The recall's stated grounds for seeking to remove Shaw from office was an alleged violation of school board bylaws. But there were many other concerns raised by recall sponsors. The primary complaint was a sense that Shaw was not listening to the public.
What were the other concerns? Many Ketchikan residents were troubled by Shaw's close relationship with Doug Edwards, a former Ketchikan High School teacher and local pastor who pled guilty this week to sexual abuse of a minor. The plea bargain is for 18 years with 12 suspended. He will be sentenced in April. This KRBD article goes into detail about it.
Edwards was Shaw's pastor and married Shaw and his wife in 2015. A picture of Edwards performing the ceremony is still on Shaw's Facebook page. Shaw resigned from the school board last August, rather than face the recall. As reported by KRBD:
Shaw noted two issues in particular: ongoing teacher contract negotiations and the investigation into a former teacher charged with sexual assault of a minor.
The investigation will look at the school district's response to complaints about Doug Edwards.
According to KRBD, "Edwards' arrest was just days after he retired as the high school culinary arts instructor. Although police say he admitted to the allegations, Edwards initially pleaded not guilty to the criminal charges."
Many have questioned whether or not Shaw knew about the police investigation into Edwards while he was on the school board. Shaw was the school board president at the time. Shaw denied having knowledge of the investigation at several school board meetings.
Shaw is close with Robert Boyle, the former superintendent for the Ketchikan School District. Boyle resigned as superintendent in December after a report on Edwards came out. The report stemmed from an investigation the school board authorized about how the school district handled multiple complaints against Edwards over a five year period. The report concluded:
The investigation substantiated that between 2013 and February 6, 2018, six complaints were made to School District employees regarding the behavior of Edwards and one incident where Edwards was directly observed by a school administrator.
In response to the reports identified in this investigation, the School District on many occasions met the policy requirements in their responses to these reports. In a few instances they did not.
Here is a link to the full report.
Interestingly, Boyle and Dunleavy go way back. They both worked at the Northwest Arctic Borough School District together and are friends. In 2005, Dunleavy was the superintendent and Boyle was the assistant superintendent.
Shaw faced additional controversy while the school board was deciding who to hire to do the investigation. As school board president, Shaw had a major role in determining who would lead the investigation. He initially attempted to hire the same firm that the school district was already using to represent the district.
During public comment at July 30, 2018 and August 8, 2018 school board meetings, Ketchikan resident Liz Jones, a parent of two children in the school district, questioned Shaw's decision making. On July 30, she asked how Shaw saw no issue hiring the same firm that already represented the district to look into the complaints against Edwards. On August 8, she asked why Shaw wouldn't recuse himself from the investigation based on his relationship with Edwards. Shaw initially refused to recuse himself, citing that Ketchikan was a small town and most people know each other. However, later in the meeting Shaw stated that after he had some time to think about it, he decided he should recuse himself. The board hired a different firm to do the investigation.
When asked what she thought about Shaw's appointment to the Commission on Judicial Conduct, Jones told me, "He's as uniquely unqualified to hold the position on the Commission as he was on the Ketchikan School Board." Jones is a registered Republican and has lived in Ketchikan since 1989.
Shaw has been active in Republican politics for several years. Recently, he unsuccessfully challenged Representative Dan Ortiz (I – Ketchikan). Ortiz easily won re-election. Shaw chaired a PAC for Republican gubernatorial candidate Scott Hawkins. When Hawkins dropped out of the race, Shaw began actively campaigning for Mike Dunleavy. In September 2018 Shaw spoke at a fundraiser for Dunleavy in Ketchikan, and said "I have been supporting Mike Dunleavy since the beginning." Many in the room were left scratching their heads.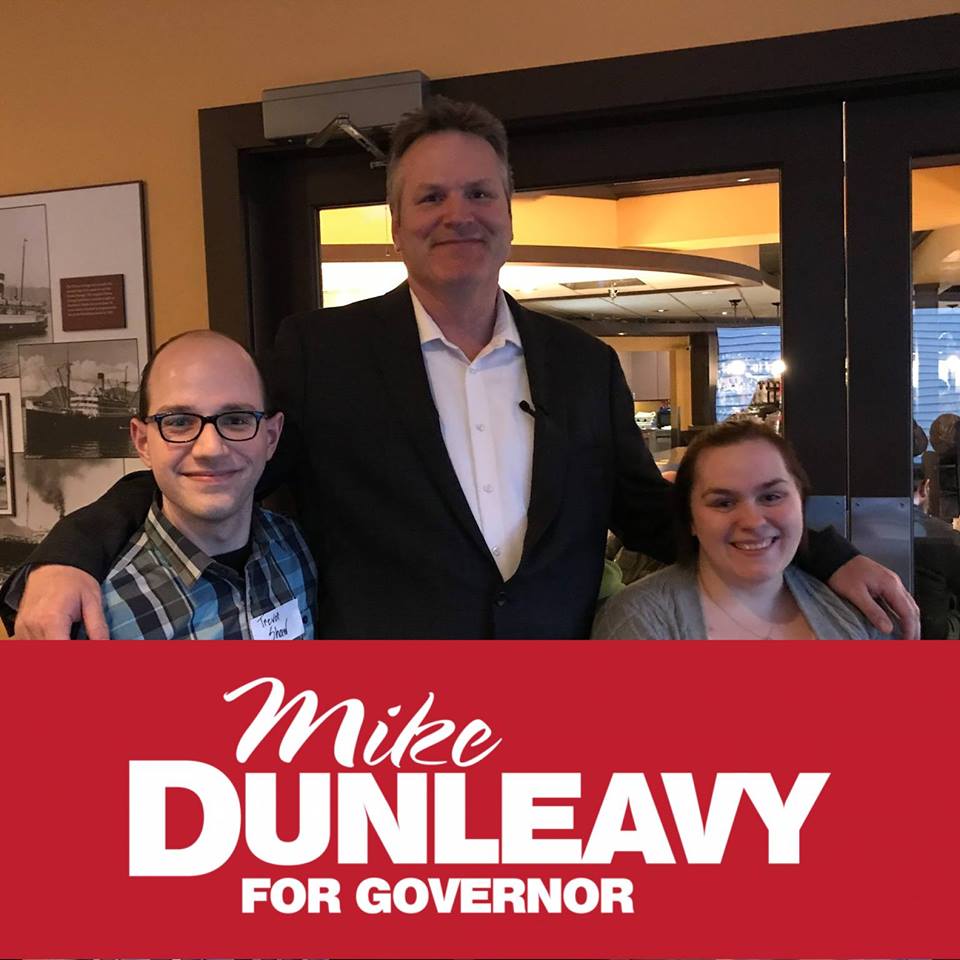 Shaw is one of several Republicans who recently lost legislative races and have subsequently been appointed to powerful boards or commissions in the Dunleavy administration. I spoke with many residents in Ketchikan, including many Republicans, who are very upset that Shaw was appointed to the Judicial Conduct Commission. They all question the vetting process, or lack thereof.
A well known Republican in Ketchikan, who asked to remain anonymous, told me, "Trevor's political experience consists of resigning from the school board ahead of a recall and then losing a House election in a landslide. At 23 years old he has very little life experience to speak of. How anyone could think he is qualified to adjudicate the conduct of judges is beyond me."
Another prominent Republican from Ketchikan told me, "Shaw is a relentless self promoter without self awareness. The community of Ketchikan is fed up with this young man's ego and his poor judgement. He is not fit to represent our town and is woefully unfit to serve on a State commission."
A number of Ketchikan residents have contacted legislators, as well as Governor Dunleavy's office, to express grave concern about Shaw's appointment. Sources have told me that senior Dunleavy administration officials do not want to pull Shaw because they don't want the negative attention of yet another poorly vetted appointment.
Editor's note: Full disclosure, this is the same Commission I was appointed to by former Governor Bill Walker in 2015. Not long after, I was removed because of pictures on my Facebook of me wearing a speedo at the pool in Vegas, having an awesome time with a bunch of ladies. #Speedogate