Alaska has always had a reputation for outsider candidates who don't quite fit into a category, and who make a name for themselves through esoteric policies, eccentric behavior, and a general refusal to fit into a political mold. Examples include Santa Claus, the would-be Democratic Socialist congressman from North Pole, Dustin Darden, Anchorage's resident anti-fluoride activist, and perhaps Tea Party candidate Joe Miller. You might even consider Sarah Palin to be somewhat of a right-wing outsider, especially when she rose to prominence while running for governor in 2006.
These candidates achieve varying degrees of success, but many end up garnering media attention. Claus's novelty status made him a brief semi-celebrity outside of Alaska, and Palin's boisterous "hockey mom" persona nabbed her a vice presidential nomination in 2008. Regardless of their level of political success, however, these "outsiders" are usually interesting, eccentric, and generally fairly personable.
Huhnkie Lee is one of these candidates. Lee, an Independent candidate for U.S. Senate, is throwing his hat in the ring against big names like Senator Lisa Murkowski (R – Alaska) and Republican Kelly Tshibaka. Lee, who espouses some comparatively unusual policies, traces his political backstory all the way back to Seoul, by way of New York, Wisconsin, and California. He has been a computer scientist, a PhD candidate in biology, a soldier in the US Army, and even, briefly, an actor, before coming to Alaska to pursue a career in law and politics. His diverse past is reflected in his equally varied political platform. But he may be known best for his love of karaoke, as his Instagram feed and appearances on numerous talk radio programs attest.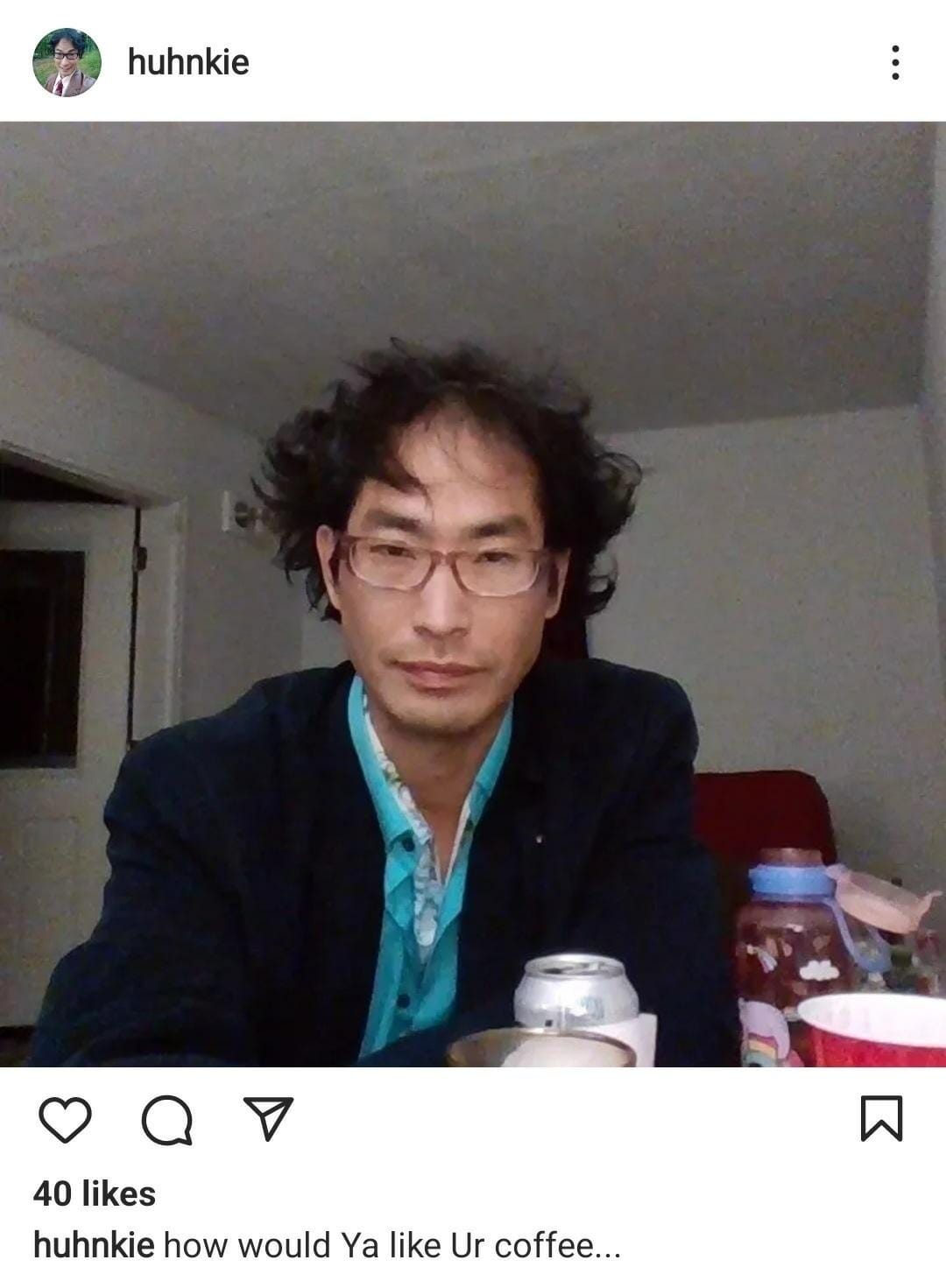 When I spoke to Lee on a drizzly Saturday morning via Zoom from his hotel room in Kenai, he was drinking an Alaskan Amber Glacier Bay IPA. "I'm on vacation!" he said, gleefully. He was in Kenai, he said, having attended Salmonfest to see live music and campaign to his base, who he defined as "independent Alaskans."
Lee is no stranger to the political process, having run for president and State Senate in 2020. Both runs resulted in failure, but Huhnkie remains confident in his abilities as a candidate to challenge Tshibaka and Murkowski this election cycle. "No one knows," Lee acknowledged. "Only God knows. That's what's great about the American democracy… it's like gambling, you know?"
"It gives a chance to a dark horse candidate, like myself," Lee said, when asked his thoughts on Alaska's recently-implemented ranked choice voting system.
And indeed, this new system may very well propel Lee's campaign to the general, given that the top four candidates from the primaries advance. It's virtually a given that Murkowski and Tshibaka will continue on, while Democrat Pat Chesbro remains a reasonably safe bet for the third spot. The fourth spot, however, may be up for grabs between Lee, Independent Shoshanna Gungurstein, and perennial Libertarian candidate Sean Thorne, both of whom Lee spoke highly of later on in the interview.
Lee was born in 1978 to an economics professor in Ithaca, New York, and moved to Seoul as an infant. After graduating from the University of Wisconsin with a degree in computer science, he pursued a PhD in computational biology at Cornell in 2004. But after two years, he dropped out of the program. "PhD tests are hardcore," Lee said, grimacing. "Too much mathematics… So I sold my stuff and started driving west, to Los Angeles, California, to become an actor in Hollywood. And the rest is history."
In 2009, Lee says, he joined the Army, as a "94R MOS" specialist working on avionics and helicopter equipment systems. After a short stay at Fort Hood, he was deployed to Afghanistan between 2011 and 2012. The deployment was uneventful. "We never got attacked," Lee said. "I never even left the walls of the international base."
After his deployment ended, Lee used the GI Bill to "try something brand new." Law, he said, appealed to him because it was different from he had already been doing, a way to start fresh. Lee attended law school in Michigan in 2013. He is a member Alaska Bar, admitted in May of 2018. Eventually, Alaskan TV and documentaries enticed him to move to Wasilla in 2015.
According to the Federal Election Commission Lee has not raised any money for his campaign. Instead, Lee relies on an eccentric social media campaign to reach voters.
Lee's online presence is as eclectic as his life story. He runs an Instagram, Twitter and a Blogspot account primarily dedicated to his campaign. His ads run the gamut of Gen Z humor and aesthetics, combined with the "extremely online" ingroup style that befuddles parents and delights kids who've never not known the Internet. Think anime girls, Joker references, hand-drawn pictures of Lee himself, and irony-drenched 4chan-style mashups, all created and sent in by Lee's numerous fans, who he makes sure to credit with an "Art friend talent contribution //:-)." Some of these edits push the bounds of political correctness and skew towards the edgy and offensive – Confederate flags, references to fascism – "trolling," in Internet parlance.
"They're from our friends, they're not from me," Lee chuckled. "They're fantastic artists. They're from all over the world – Africa, Europe, Asia, Middle East…. They're from everywhere."
Lee's become, as it were, almost a cult figure to a group of internet fans, who back his campaign from afar. Whether the support is ironic or genuine – Lee is, after all, an esoteric long-shot Independent candidate in one of America's least populous states – his fans stand behind their man.
Lee's policies are similarly eccentric. His economic platform includes farming and, notably, bear husbandry. Also, the harvesting of bear organs.
"Bears live ten years, thirty years, and then they die," Lee explained. "But when they die, we can harvest their organs and sell them to China and Korea, and make a lot of money… When bears are very young, we can rent bear cubs out to be a domestic pet, for one month, two months." While this would violate at least several federal statutes intended to stop wildlife trafficking, Lee believes that his bear programs would be a step toward helping to solve the budget deficit.
"They're kind of old school, they just go along the mainstream," Lee lamented at one point, referring to Governor Mike Dunleavy (R – Alaska), Sarah Palin, and Anchorage Mayor Dave Bronson's policies. "Obey, obey, obey."
Whatever else can be said about the Huhnkie Lee campaign, it's original – and certainly grassroots. Lee has campaigned around Anchorage, the Valley, and on the Kenai Peninsula, often while wearing his trademark handmade white t-shirt with black lettering that reads "Huhnkie Lee 4 US Senate." If the whole point of Lee's campaign is to provide another option to voters who are disillusioned with the perceived mainstream nature of Alaska politics, he certainly does that – cruising along off vibes and wacky Instagram posts.
"Do you want to be the president of the United States?" Lee asked me, at one point during the interview. When I answered that if the opportunity presented itself, I would certainly run, he responded, "I'll vote for you when you run for president, OK?"
Mr. Lee, I'll hold you to that – and now I've got it in writing.