The most updated Anchorage election vote count puts Proposition 13, the alcohol tax, up 51.24 to 48.76. Unlike last year, where the vote failed 46.24 to 53.76, the pro alcohol tax side ran a real campaign this year and was well funded. However, the Assembly should not certify the vote due to shenanigans that occured.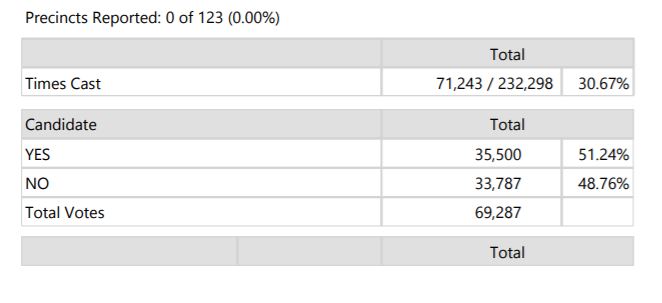 First, some background. As previously reported by the Landmine, the group supporting the tax, Yes for a Safe, Healthy Anchorage, properly registered with the Alaska Public Offices Commission (APOC). Yes for a Safe, Healthy Anchorage reported over $250,000 in contributions. Over $70,000 of that came from Recover Alaska, a nonprofit. But Recover Alaska did not register as a group with APOC, although they did in 2019. In 2019, Recover Alaska gave only $5,000 to the group supporting the alcohol tax compared to over $70,000 this year. Because they did not register as a group and file reports it's not clear where the more than $70,000 Recover Alaska gave to Yes for a Safe, Healthy Anchorage came from.
Recover Alaska also ran Facebook and radio ads supporting the alcohol tax. Alaska law requires groups supporting or opposing candidates or ballot propositions to register with APOC and file reports that disclose their income and expenditures. Recover Alaska did not do this in 2020.
Between January and April 2020, Recover Alaska spent thousands of dollars running ads on Facebook. Facebook only gives a range on each ad. According to Facebook, the group has spent $8,285 on ads between May 2018 and April 2020. Some of this was for ads supporting last year's alcohol tax and some was for unrelated ads.
Here are all the ads they ran on Facebook and Instagram between January and April supporting the alcohol tax.
Recover Alaska also ran radio ads supporting the alcohol tax. They filed FCC disclosure forms for radio ads that were run on KENI. The FCC requires these forms for political ads. The forms do not show how much money they spent, just that they ran ads on KENI from March 16 to April 6. The forms can be seen here and here.
Campaign laws exist for a reason. Unfortunately they are frequently broken or ignored. APOC rarely issues significant fines to candidates or groups who break the law. When they do the fines are usually not much. The Anchorage Assembly should send a message and not certify this vote. They should demand more information from Recover Alaska about who funded their campaign and how much money they spent.