Welcome to this edition of the Alaska Stalker, a lighthearted round up of the best and worst of Alaska's social media landscape.
***
If you enjoy the Alaska Stalker, please consider supporting working moms like me by sending in hot tips, overheards, and spotted ins. You can reach me at akstalker@alaskalandmine.com. As always, thanks for reading.
***
I hope everyone had a jolly St. Patrick's Day full of good food, beverages and lots of green. Check out Rep. Maxine Dibert's dress. So festive! ☘️
***
Sen. James Kaufman started his St. Paddy's day off right.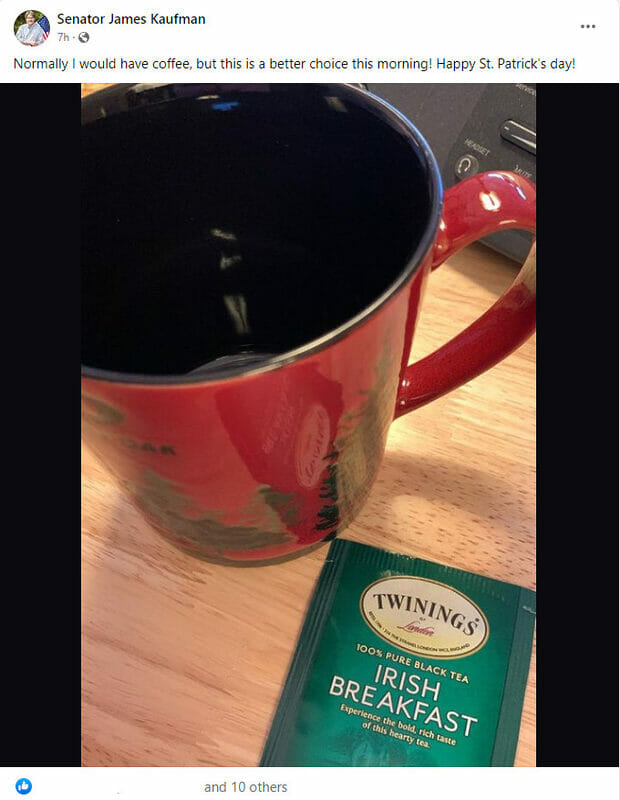 ***
Sen. Shelley Hughes couldn't resist adding some politics into her festivities.
(Please use your best Irish accent as you read this.)
With a wee bit of the luck of the Irish, the bill introduced today (SB107) to delete the PFD formula from law and replace it with language to give the government the bulk (75%) of the 🌈"pot-of-gold" annual draw… pic.twitter.com/IgtKlEGUDy

— Senator Shelley Hughes (@AKShelleyHughes) March 17, 2023
***
Anchorage Assembly candidate Anna Brawley decided to spend her St. Paddy's at the Blarney Stone (formerly McGinley's) in Downtown Anchorage.
Happy St. Patrick's Day! 🍀🇮🇪🍀

Another busy day, but stopped in to check out Blarney Stone with a couple coworkers & ran into other friends too! Live band was going in the back, place hopping for lunch!
(Fun going the rest of the evening, 7th & G Downtown) pic.twitter.com/ADVdPECRri

— Anna B. Brawley (@spurnagain) March 17, 2023
***
Don't worry, she made sure former conservative Mayor Dan Sullivan wasn't a part owner anymore before patronizing the restaurant.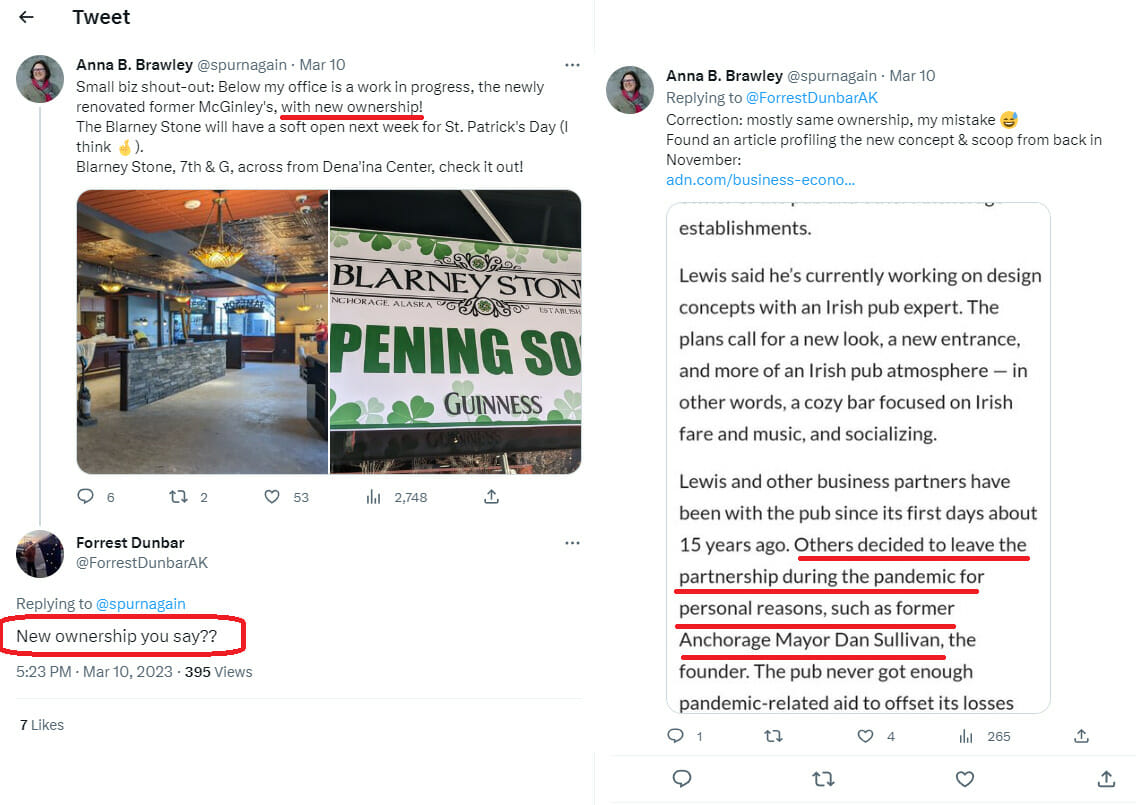 ***
What's the verdict on Sen. Dan Sullivan – does this even count as wearing green? I'd probably give him a pinch.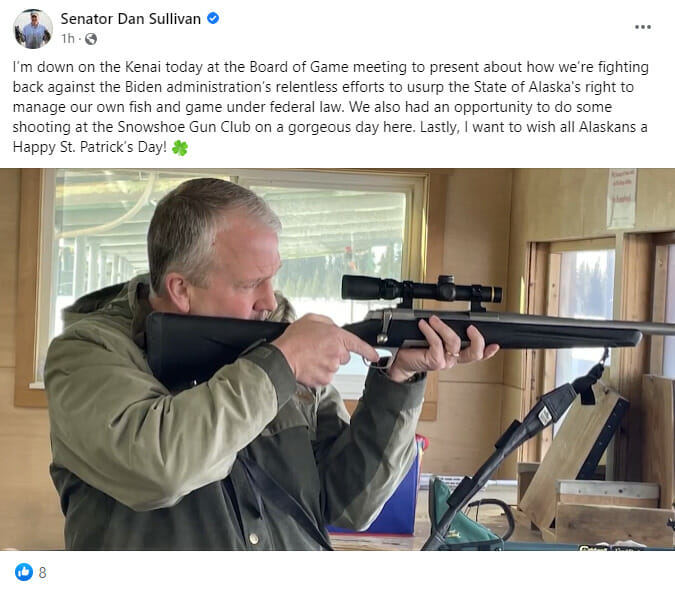 ***
I spy with my little eye an adult tie! ☘️🙌
***
Speaking of ties, I am a HUGE FAN of Rep. Jennie Armstrong's bolo tie. 🔥🔥🔥

***
I just love how Rep. Alyse Galvin made the yellow blazer the go to power outfit for Alaska's strong and powerful female elected officials. First bill hearing? Jennie's wearing yellow. 💪💛

***
Sen. Lisa Murkowski woke up to a fun surprise on St. Patrick's Day mornin'. I woke up to a couple new inches of snow in my driveway. WAY TO RUB IT IN, LISA.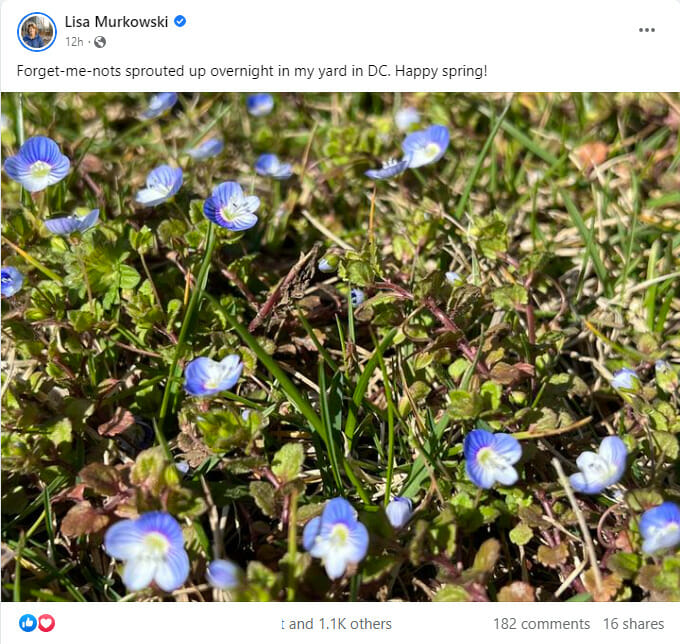 ***
Back in Juneau, things are starting to get a little controversial. Of course Rep. Jamie Allard ordered some of the Daily Wire's new SheHer HeHim candy bars. In case you didn't know, this is a real thing and only one of them has nuts…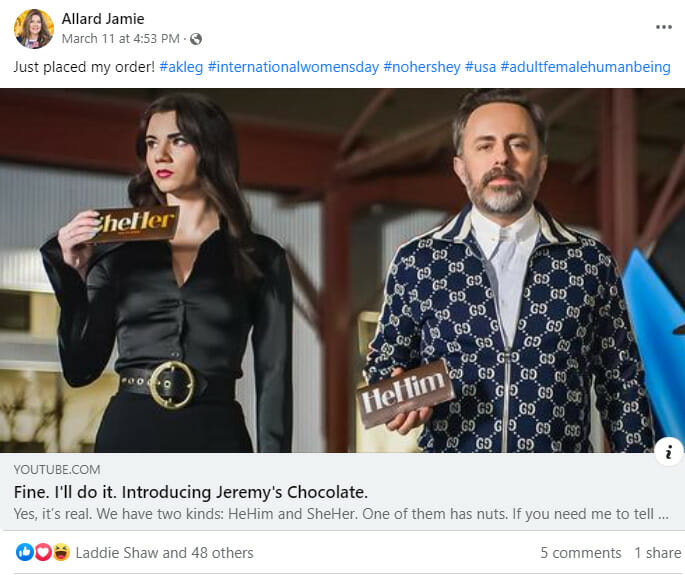 ***
Sen. Matt Claman got into hot water over a racist Facebook post! Matt edited the post, but even edits are forever on the internet.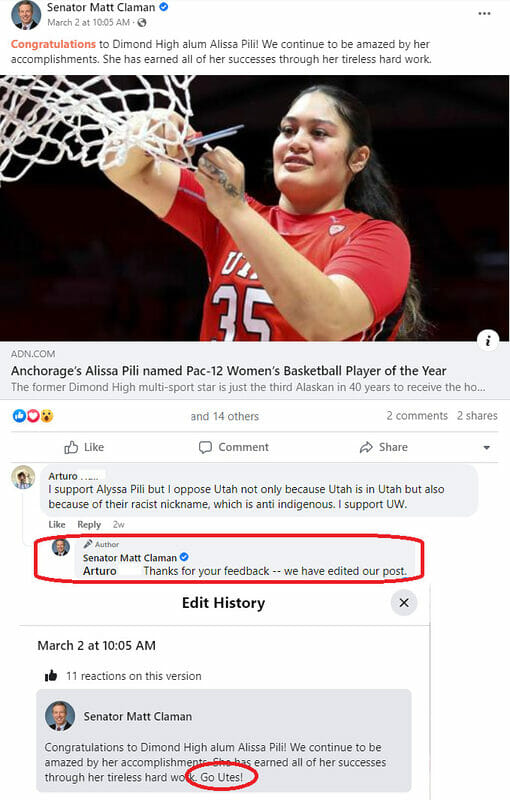 ***
While not controversial, I bet money Rep. Sarah Vance is the first representative in Alaska history, and maybe in the United States, to use the phrase "we about froze our knickers off" on their official social media page. Bravo, Sarah!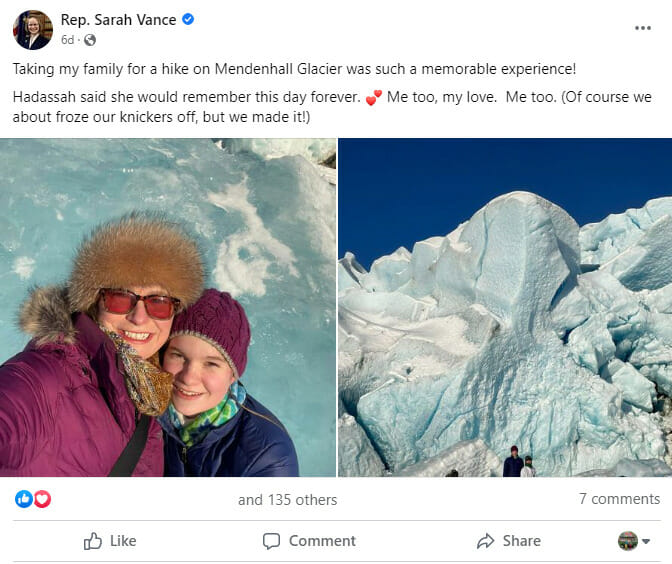 ***
I am enjoying all the freshman legislators names for their new newsletters, videos and podcasts:

Carrick

Capitol

Connection, Sen. Tobin's The Empty Office Podcast, Rep. Gray's East Anchorage Matters podcast and Mina's Minute are some of my favorites. Rep. Alyse Galvin came up with the inspired "ABC's with Alyse.". But… Alyse… Can't you edit the video to have a different still before you post? This image is burned into my brain! 🙈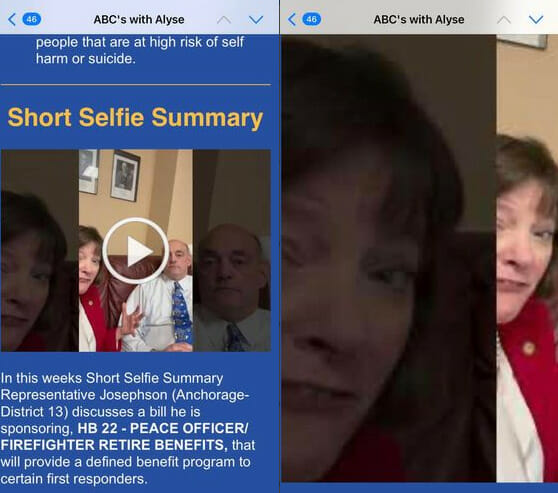 ***
And, she buried the lede. Look at that haircut! 💇 ALYSE! I was not expecting her to be in favor of such a deep cut.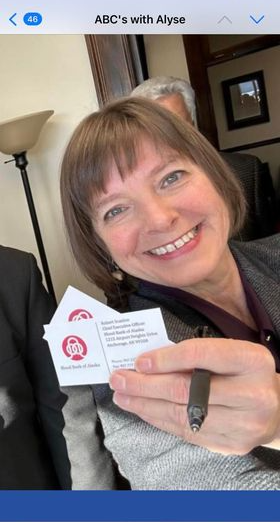 ***
Another big "I was here before you" flex from Rep. Cliff Groh. Creepin' since the 1980s. 😎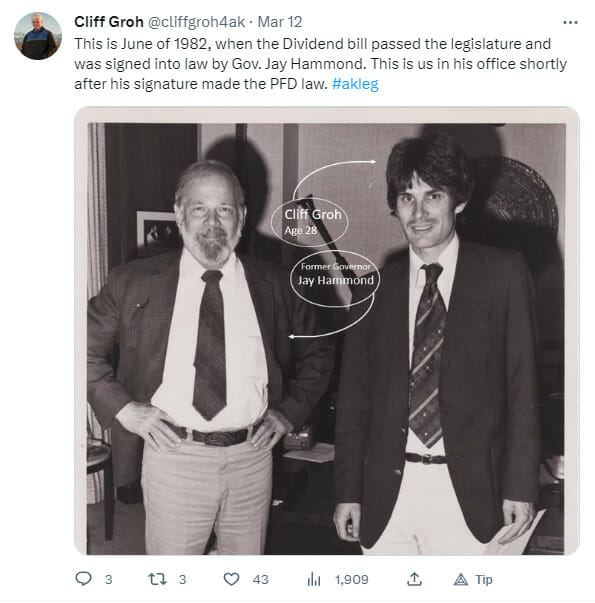 ***
Is there anything she cannot do?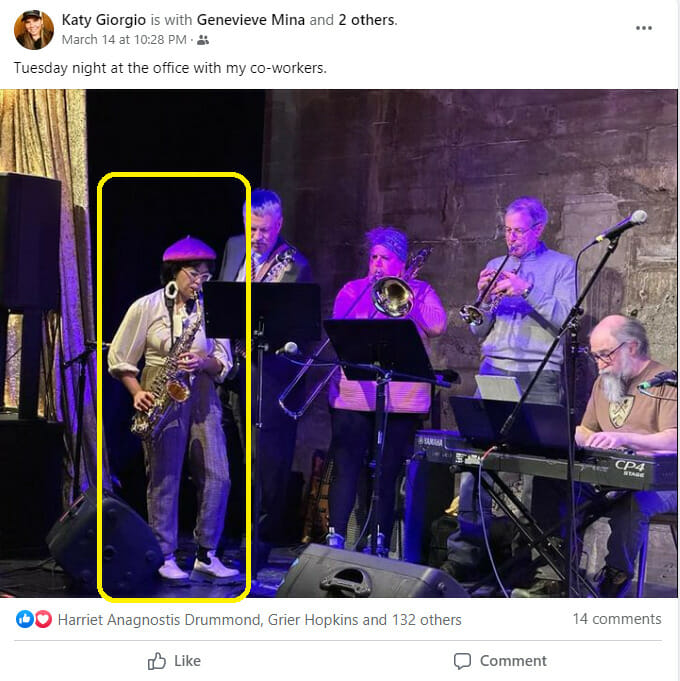 ***
While I may be a Rep. Genevieve Mina stan, it appears Rep. Jesse Sumner is stanning even harder for Rep. Mary Peltola. Look at those back to back tweets.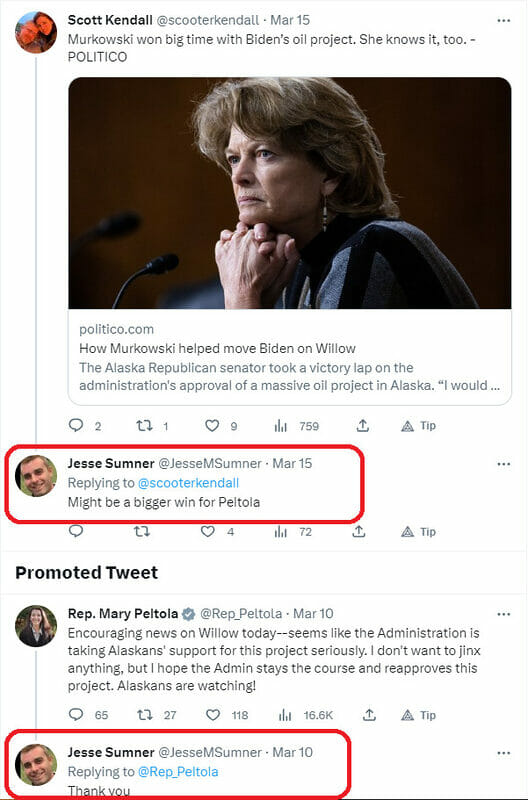 ***
Why no ranked choice voting? It's so simple and easy. I feel disenfranchised by not having more than once choice. 🐟🐡🎣🦈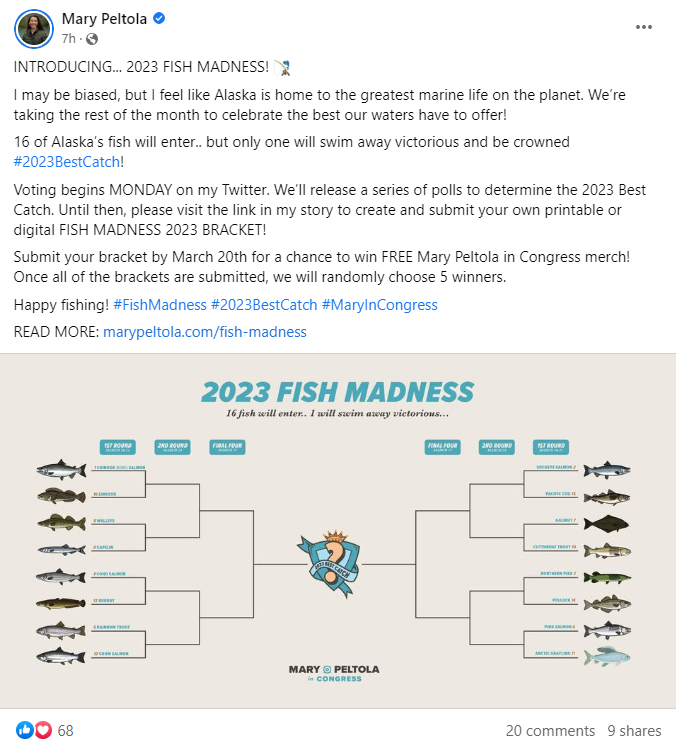 ***
And now, Pothole Madness with South Anchorage Assembly members Suzanne LaFrance and Randy Sulte. Two pothole awareness posts, yet there can only be one winner. Suzanne posted at a normal time and had a pic for attention. Randy posted at a bizarre 2:35AM and went with basic text only, but added the handy 343-MEND cheat for the phone number. In the end, Randy won with 60 likes and 11 shares to Suzanne's 42 likes and 7 shares.

***
Glad Dr. Dan is keeping things spicy. 🌶️ Is he planning on sharing his peeps with fellow Anchorage Assembly colleague Felix, AKA the self-proclaimed Spicy Gato?
***
Meanwhile, fellow Anchorage Assembly member Kevin Cross is acting downright devilish. (I blocked out the phone number because I'm not a monster!)

***
No Andy Holleman or Zac Johnson signs?! 🧐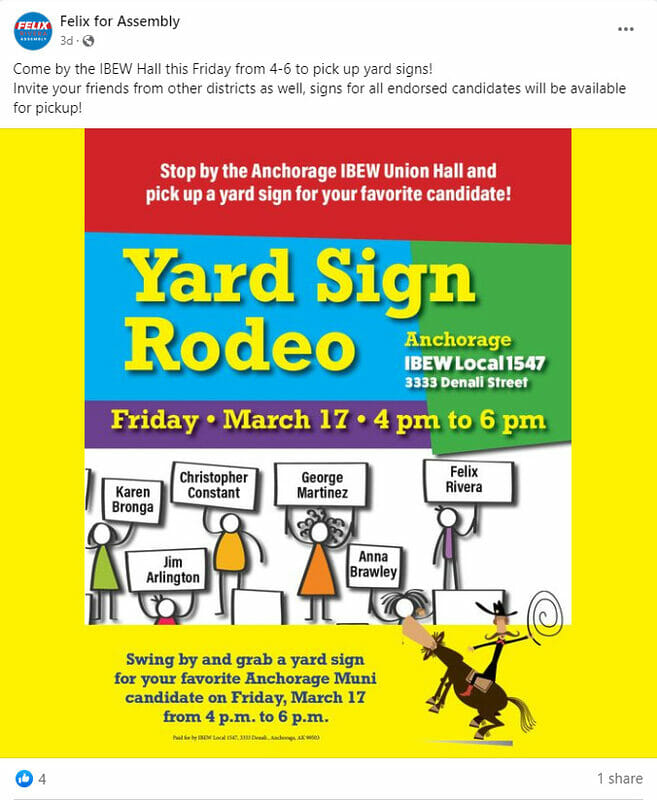 ***
Oh, there's one!

***
Travis, you're killing me. The caption should have been "Want to level up? Vote Szanto."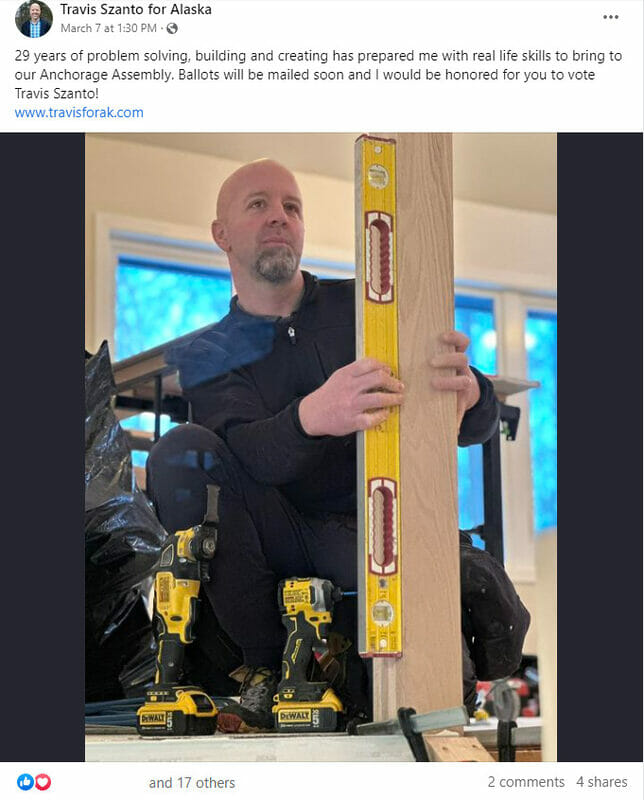 ***
OMG. Karen is a stalker. Literally!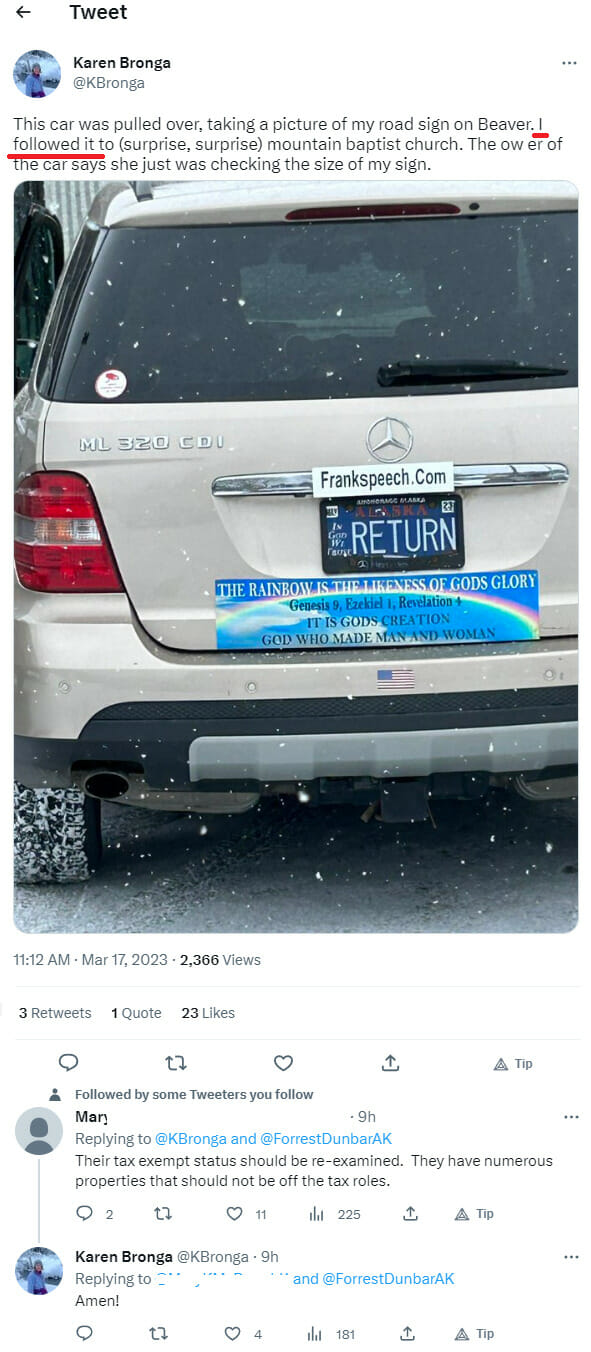 ***
I don't have any plans to run for office. But, if I did, I'd campaign like Andy Holleman and go to Hawaii the week ballots are sent out. 🌴🍹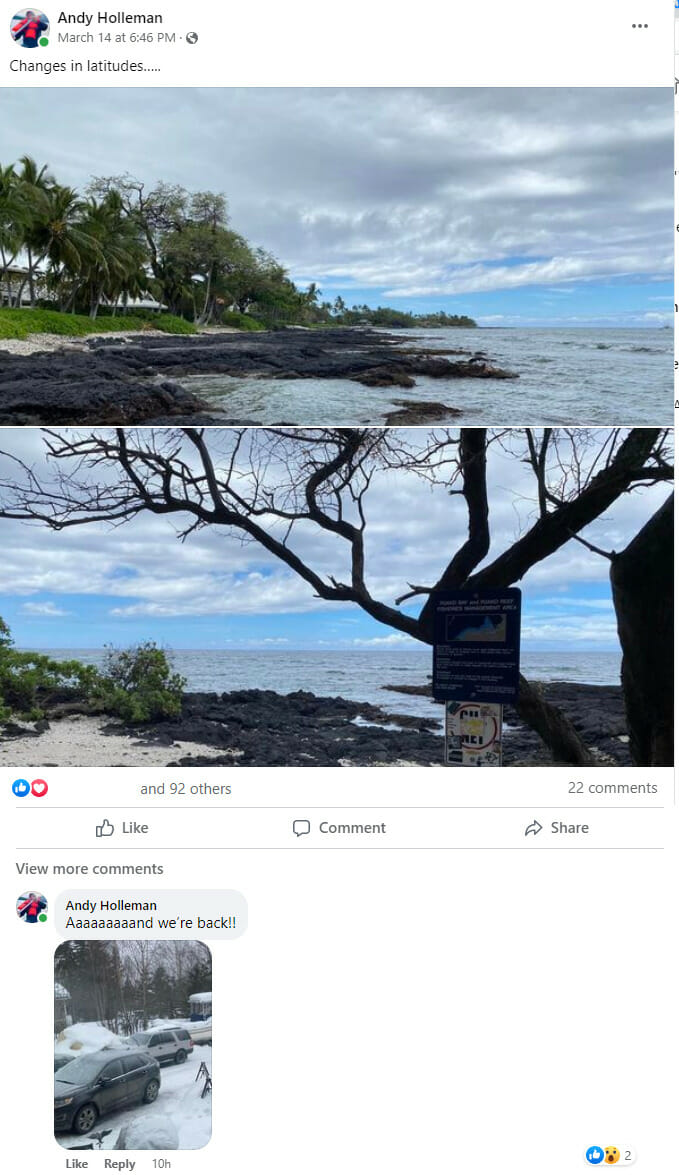 ***
Not a boomer, so I'm not completely sure what this is supposed to mean. But it's weird, right? Chambers has got to be running his social media. 🤣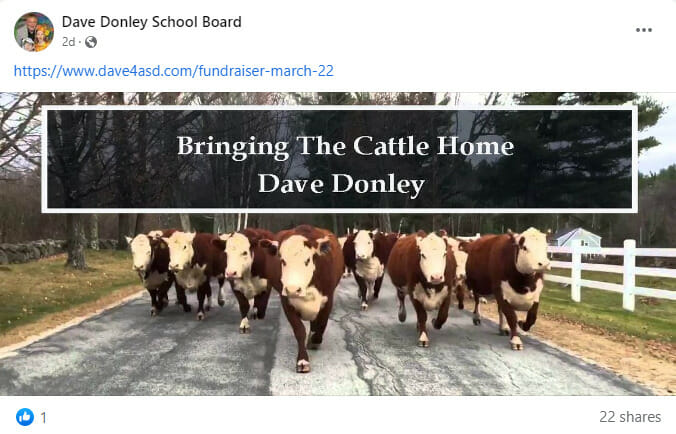 ***
There's social media posts you make when you're in the Legislature, then there's posts you make when you're out. This is definitely in the latter category. 👀
Will Ashley have to disavow?!

***
Sent to the Stalker: He's baaaaack! Former Senator Elvi staffer, L Keith Bauguess, is taking another bold dig at his former boss with a new book. A biography titled: A Shark in Dolphin Clothing. O.M.G. 💣💣💣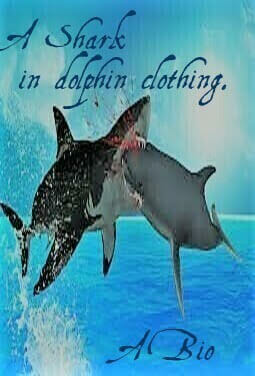 ***
***
Spotted testifying at a hearing on Rep. Vance's patient's rights bill: Americans for Prosperity's Bernadette Wilson (in person) and former Rep. Chris Tuck (on the phone) both in favor of the bill.
***
Spotted in Valdez: former Governor Bill Walker enjoying a mid-morning coffee and some me-time. Not terribly dramatic, but a true sighting.
***
Spotted: A high ranking government official walking at night in Juneau saw a "creepy ass man" and changed directions because something felt off. It turned out to be Rep. Cliff Groh. 🤣
***
Overheard in Juneau: "Rep. Rebecca Himschoot has bigger cojones than all the men in the Republican majority."
***
Overheard on The Mike Porcarro Show: Dr. Bruce Keissling talking about the positive benefits of DMT and Ayahuasca.
***
Overheard at the Atwood building: A state employee trying to entertain reporters with dad jokes while waiting for the commissioners to show up. The best/worst joke was, "What do you call a person with no body and no nose? Nobody knows." He was real proud of that one.
***
The Alaska Stalker was born and raised in Alaska. She lives in South Anchorage with her husband and three young children. She is not Jeff Landfield.