Welcome to this edition of the Alaska Stalker, a lighthearted round up of the best and worst of Alaska's social media landscape.
***
If you enjoy the Alaska Stalker, please consider supporting working moms like me by sending in hot tips, screencaps, overheards, and spotted ins. You can reach me at akstalker@alaskalandmine.com. As always, thanks for reading.
***
Berries are out, flowers are in full bloom, vegetables are ripening and best of all — campaign signs of newbie candidates are finally starting to pop. Let's review all the new names, faces and campaign logos. A warm Stalker thank you to everyone that sent me screen grabs this week. So much content! But first, let's take a moment to appreciate this savage post from the Alaska Department of Transportation. Are they straight calling out politicians for breaking the law? YES! Can you guess who these signs belong to? 👀

***
There's no doubt a new generation (or two) are about to make their mark on Alaska politics in a big way. Something tells me we'll be seeing a lot more pink and a lot less red, white and blue this campaign season. Genevieve Mina's going whole hog!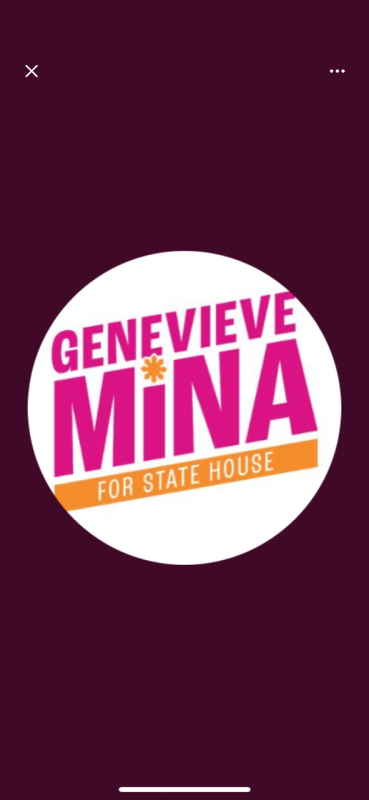 ***
Literally! 🐷 Do you think the pig was a euphemism for how much pork she plans to bring home to her district?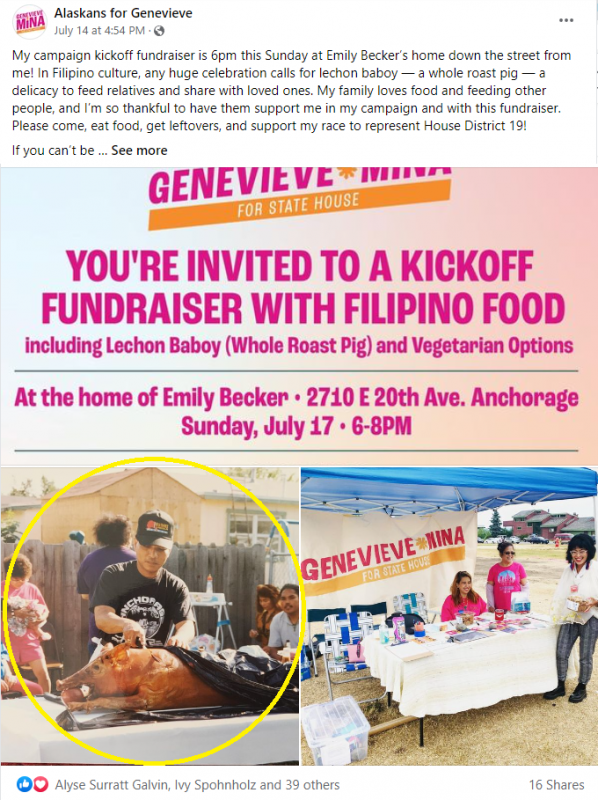 ***
To quote Kelly Tshibaka, "it's time for a change." Bold colors, a fresh, modern logo and PINK! I love it. It's unexpected and not boring. Ladies, show me more! 💅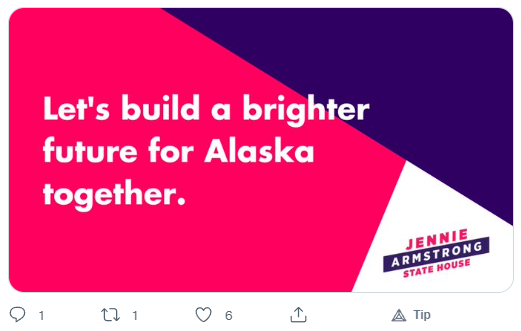 ***
Ashley Carrick gave us a tease of her…. campaign logo.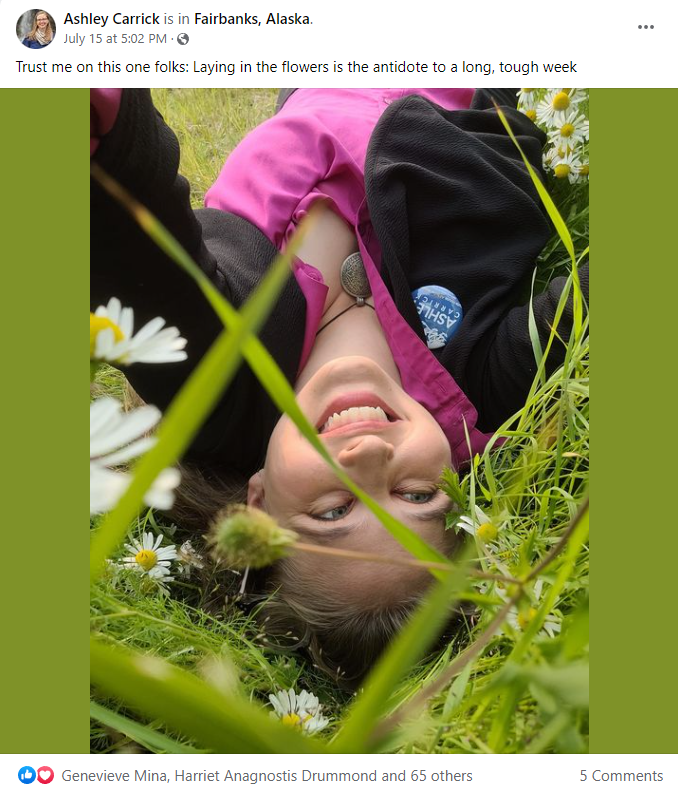 ***
At first I wasn't sold on the yellow golden heart. (Thanks, Seth!) Then again, I too am a homegrown gal who loves Alaska. I can't fault Ashley for showing her love for the Golden Heart City. 💛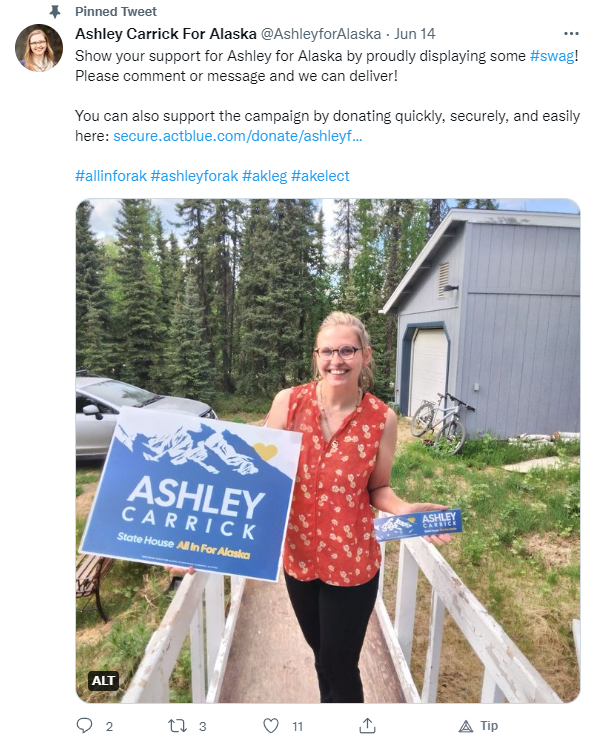 ***
Does anyone know how Jim Matherly decided on his campaign sign font? Probably something like: "I want a party on the top and Helvetica on the bottom." That guy marches to his own beat.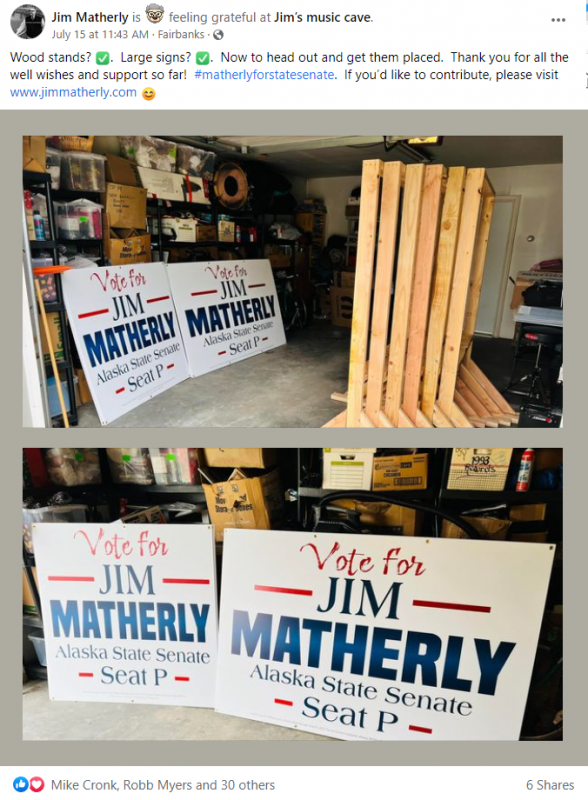 ***
Delighted to see Forrest Wolfe went with an actual wolf. YES! It was the obvious choice. The full moon 'O' is icing on the cake. LOVE.

***
It's not all pink and orange, hearts, wolves and whimsey. Stanley Wright went with the tried and true red, white and blue. 🥱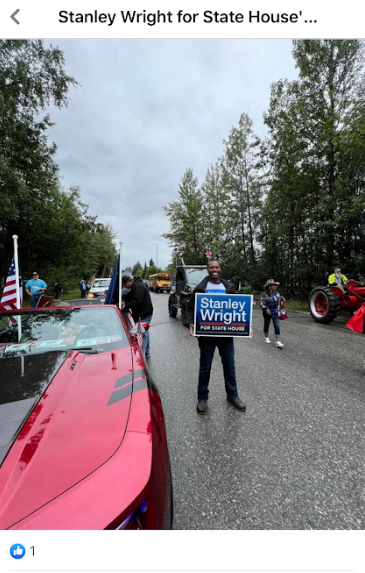 ***
His sign might be a snoozefest, but Stanley gets extra credit for living in the same neighborhood for almost 20 years!

***
Andrew Gray used almost the same color pallet as Stanley. He just added some star power. Three red stars and one super star.
***
Good thing Rebecca Himschoot has a name that stands out, because her logo sure doesn't. The illustration is rather bland. Gives me Yoga studio vibes.

***
In fact, Rebecca's logo reminds me a lot of Denny Wells' logo. 😴

***
Not usually a fan of candidates putting their faces on campaign signs. (I'll never get over the Amy Demboski vandals drawing penises all over her face.) But, not going to lie, I am TOTALLY OKAY with seeing Louie Flora's face around town. Might have to make a quick work trip to Homer. You know, for research purposes only.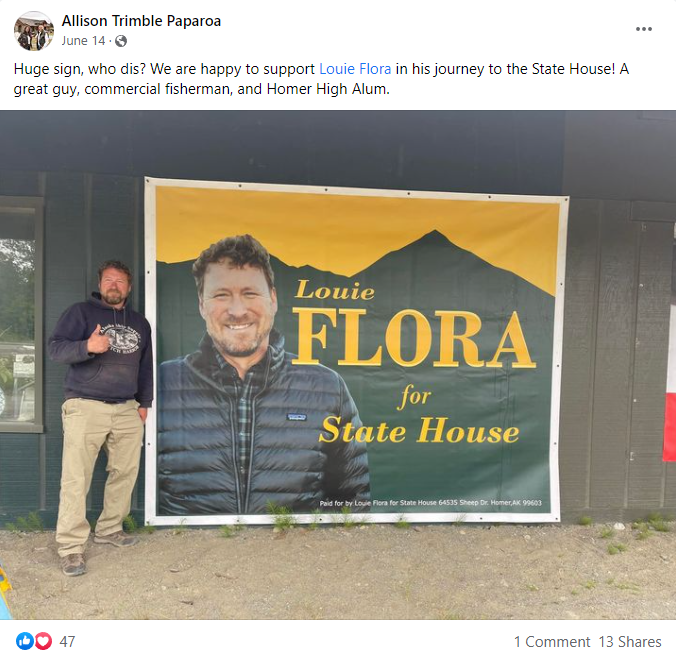 ***
A lot going on in Ted Eischeid's logo. He even put a bird on it.

***
While not a new sign or photo, the Alaska Stalker humbly asks Rep. Zack Fields for a redo of this photo from 2020. Too cute.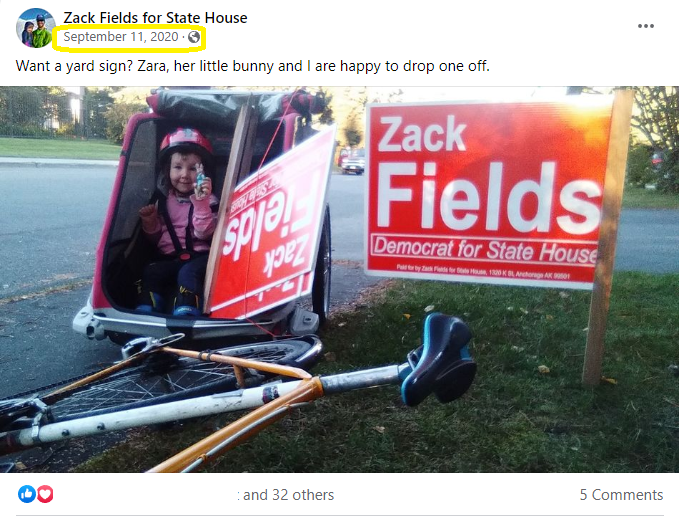 ***
In other campaign news, Rep. Kelly Merrick has developed a new door-knocking tradition. Sniff, sniff. At first I thought it was a tribute to President Joe Biden! Nah. Just labs being labs.

***
Ack! Someone needs to tell Rep. James Kaufman to stop sniffing the weed and get back to campaigning. Pretty sure this is Bird Vetch. And yes, it's invasive.

***
Drew Cason found a way to get *in* the door while going door-to-door. In a post COVID world that's truly saying something!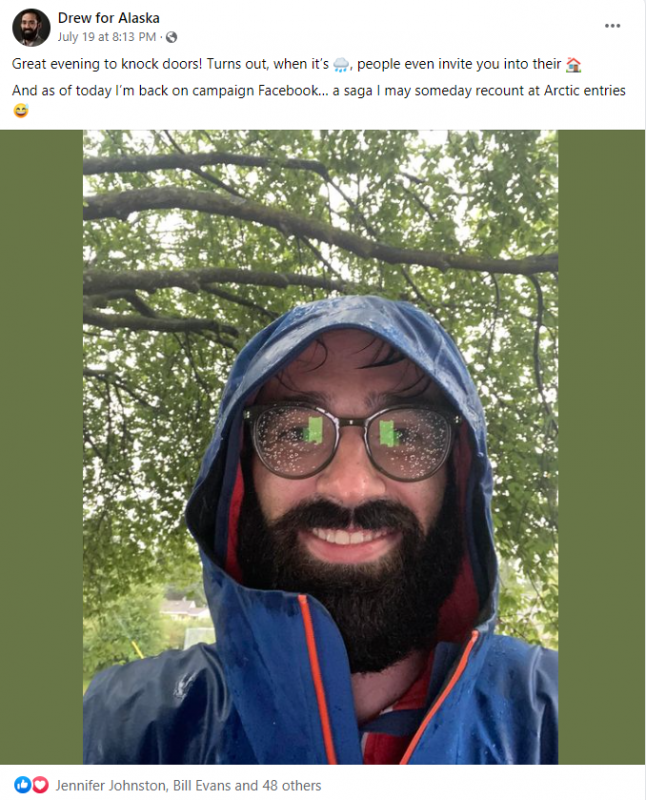 ***
Donna bought a little lamb
little lamb, little lamb
Donna bought a little lamb
its fleece is… she doesn't know.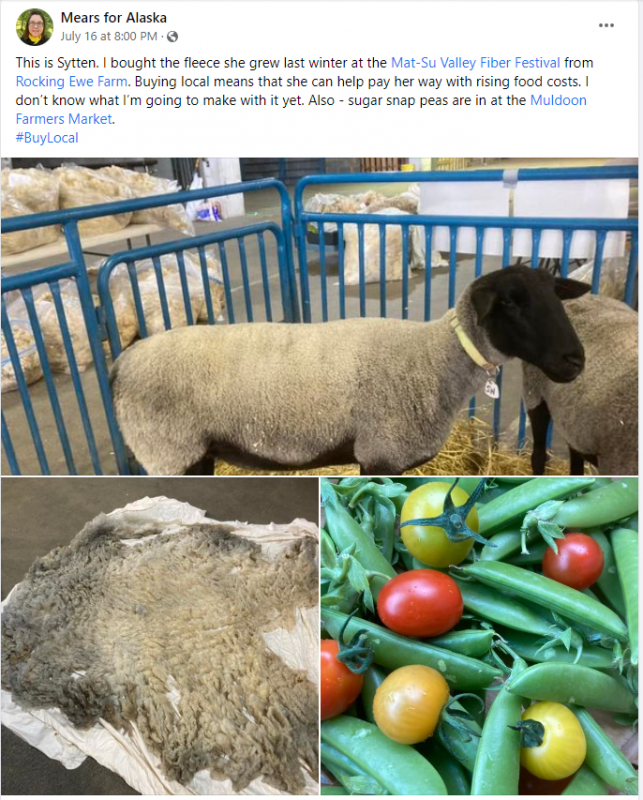 ***
Can more partners take control of their better half's social media accounts? This is fantastic. 10/10. She landed it.

***
Okay, if someone looks THAT HAPPY when it's raining THAT HARD, they probably deserve to go to Juneau. Just sayin'.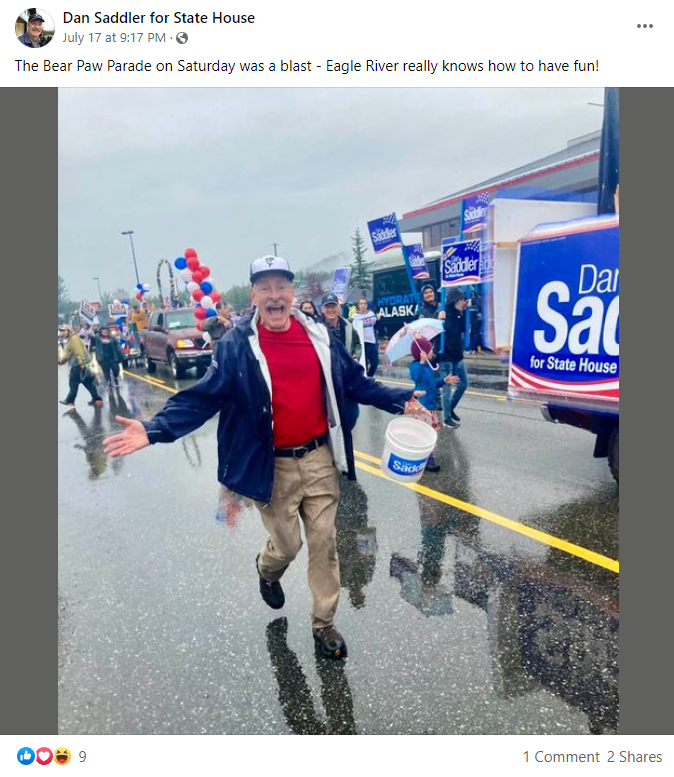 ***
Caroline Storm wins – hands down – for the most beautifully curated, Instagrammable, influenceresque campaign so far.

***
Not going to lie, the sausage kinda ruined it for me. 🤷

***
I'm a tad disappointed in Alyse Galvin this week. You make it to the Arctic Ocean for the first time and you don't dip your actual toes in the water? Alyse! What a missed opportunity. I sure hope you saw some belugas. 😉

***
Forrest Dunbar easily had the primo last minute campaign fundraising strategy.
There's about four hours left before our reporting deadline, and we're about a thousand dollars short of our fundraising goal. For every donation that comes through between now and midnight I will post one (1) childhood photo and/or picture of my cat.https://t.co/W2kxDsD4Te

— Forrest Dunbar (@ForrestDunbarAK) July 16, 2022
Lots of Katalla fans out there. 🤑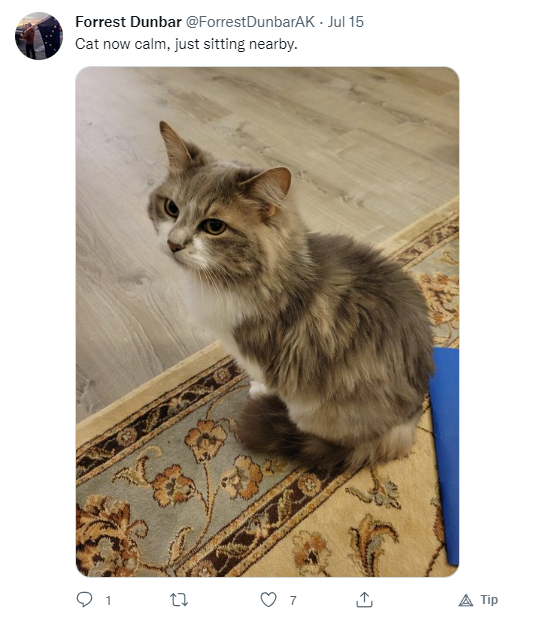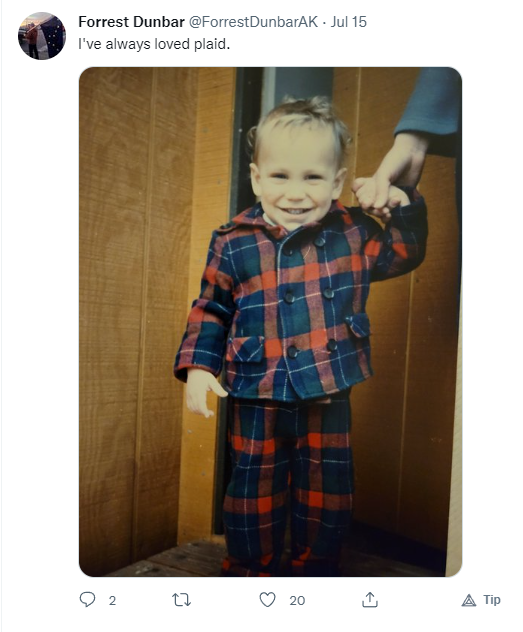 ***
This is a fun one. Can you guess which elected official was campaigning for Jane Angvik in 1986? What a vibe. Scroll to the end to find out!

***
Rep. Laddie Shaw wins this week's "Alaska Stalker's Best Door Knock."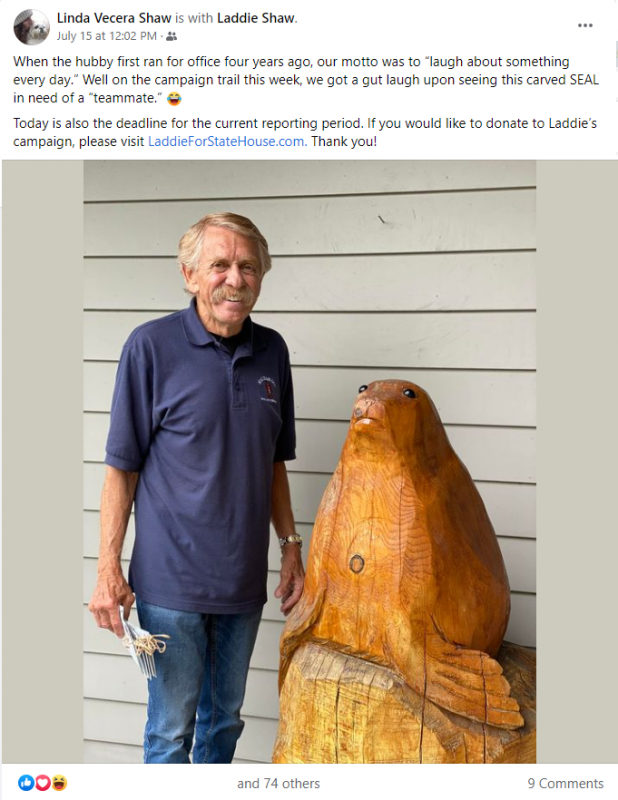 ***
Speaking of Laddie, former candidate and current campaign fundraiser co-host Jennifer Sonne recently called Representative Laddie Shaw, a veteran Navy Seal, a "fucker" on Twitter. Adding, anyone that votes for Rep. Shaw is an "asshole." It will be fun to see how many other candidates Jennifer will be co-hosting events for. Looking at you David Schaff! 👀

***
There was some "breaking" news in the gubernatorial race. Lt. Governor candidate Paul Hueper fell and broke his leg. I guess he's not Kurka's running mate anymore… Get it? Too soon?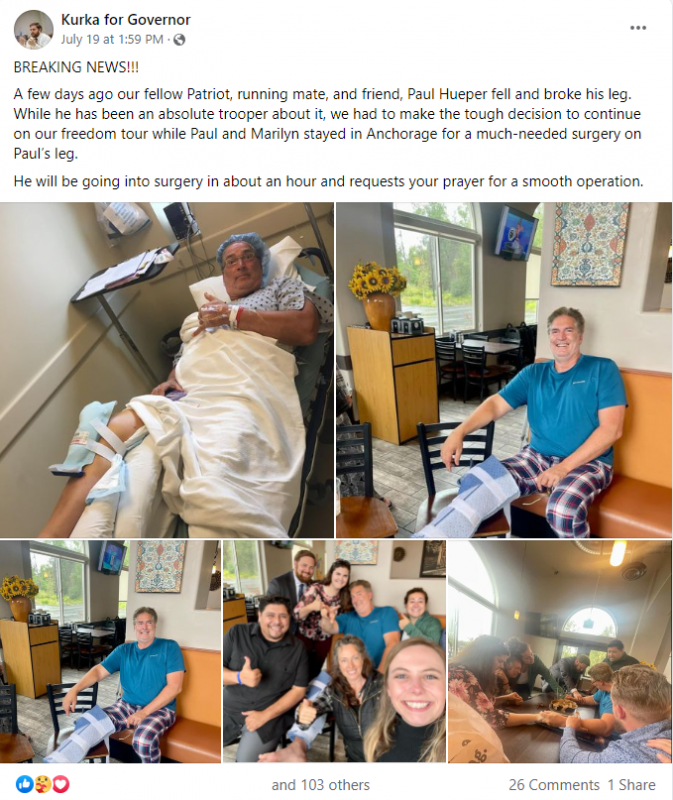 ***
I sure hope Paul didn't fall while smashing a fake Dominion voting machine in the name of freedom on TikTok. I mean, that would be too much to ask for, right?
***
Meanwhile on the Peninsula:
🎶Please think my tractor's sexy
It really turns my voters on
Please stare at me n' Edie
While we're chuggin' along
They likes the way it's pullin' while we're tourin' the land
They're even kind of crazy 'bout my PFD plan
They're the only ones who really understand what gets me
Please think my tractor's sexy🎶

***
Well I'll be… Governor Mike Dunleavy has a side husky.

***
TITO KNOWS.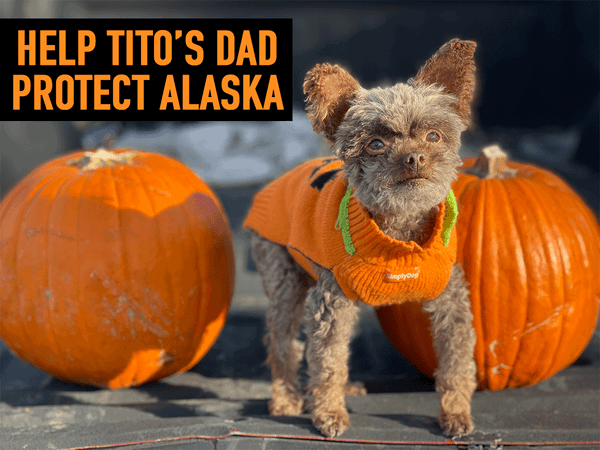 ***
Ouch.

***
Tara, there's still time to rebrand. Get rid of the star and go with this!

***
I was tempted to go to Marcus Sanders' campaign kick-off just so I could meet the famous "Terrel Gales." The "& wife" also had me cracking up. I am thankful Marcus didn't misspell Babcock, too.
 
***
Love her or hate her, Kelly Tshibaka has had some wild campaign contests. Paging Al Gross: this is your redemption moment!

***
Maybe whoever wins should bring along Rep. Mike Cronk for good luck.

***
No overheads or spotted ins this week – the column is already long enough as it is. If I missed your favorite campaign sign or logo, or if you have a juicy overheard, Best Door Knock submission, or a shade report, don't forget to slide into my DMs. Campaign season is the Stalker's bread and butter. Can't wait for next time.
***
The answer to guess the legislator is: Rep. Sara Hannan!

***
The Alaska Stalker was born and raised in Alaska. She lives bear free in South Anchorage with her husband and three kids five and under. She is not Jeff Landfield.