Gov. Mike Dunleavy announced Friday evening that Alaska K-12 public schools will close to students for two weeks from March 16-March 30 to prevent the spread of COVID-19, the novel coronavirus. Staff will still be attending school, but students will not.
As of the the press conference at 5 p.m. Friday, which you can watch on the governor's official Facebook page, there was one confirmed case of COVID-19 in Alaska, a cargo pilot in Anchorage. But, health officials expect the virus to spread.
"This is a slow moving storm coming our way. We know it's coming. We're preparing for it," Dunleavy said at the press conference.
The health mandate issued by the governor also included restrictions on visitors for public institutions.
The mandate suspends and limits general public visitation to the following state institutions until otherwise rescinded by DHSS and the Office of the Governor:
Suspended Visitation
Department of Corrections (DOC) Facilities
Division of Juvenile Justice Facilities
Alaska Military Youth Academy
Alaska Psychiatric Institute
It also includes limited visitation for the Alaska Pioneer Homes.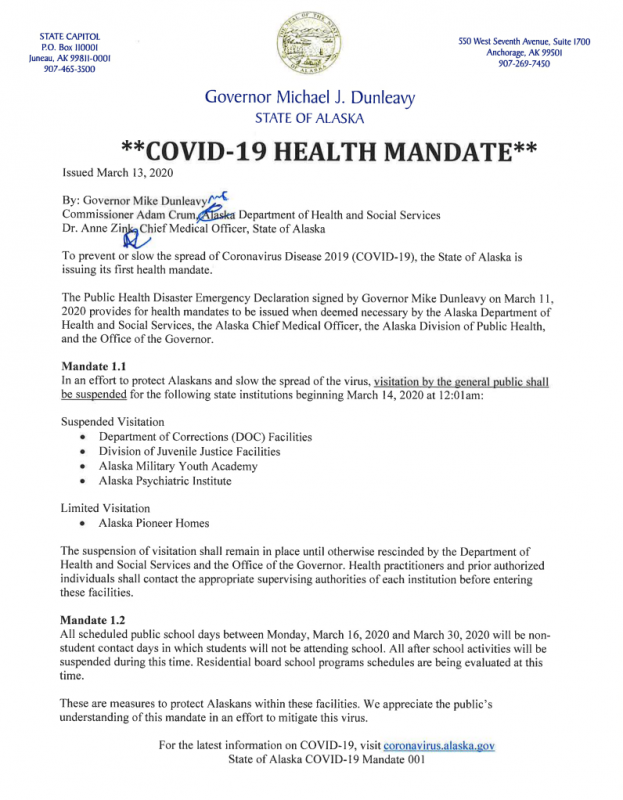 The Legislature also announced closures of the State Capitol to outside visitors: "Effective immediately, access to the State Capitol will be limited to lawmakers, employees of the Legislature, members of the governor's administration, and credentialed journalists," according to a press release from the Alaska State Joint Legislature. "Legislative work will continue as normal, and Alaskans will be able to participate fully in the public process by following along on Gavel Alaska, AKL.tv, and through written and telephonic testimony."
The House and the Senate today passed a measure today that would delegate decision-making to the newly formed Legislative Council Subcommittee on Emergency Response and Preparedness, chaired by Sen. Gary Stevens, R-Kodiak.
"A few precautionary steps will help mitigate the spread of this disease," said Senate President Cathy Giessel, R-Anchorage. "We want to reduce the strain on our healthcare facilities to ensure our most vulnerable Alaskans receive the care they need, and continue the important work of passing a balanced budget for the people of Alaska."
Officials from the governor's administration have not been able to provide numbers for how many ventilators the state has, or when the hospital system will become overwhelmed.
"At this time we do not see any significant limitations within our healthcare infrastructure," said Alaska Chief Medical Officer Anne Zink. View her full response in the video below.
@alaskalandmine has not been able to confirm the number of ventilators in the state or the threshold for the Alaska hospital systems becoming overwhelmed. Alaska CMO @annezinkmd says she doesn't have exact #'s bc it will continue to flux based on local/national response. #akleg pic.twitter.com/yHKT528mmR

— Mollie Barnes ✍???? (@holyguacamollie) March 14, 2020