It's Labor Day weekend! Which means it's finally September. This means that it will hopefully be cooling off soon. I expect many of us will be missing the hot summer days in a few months. I hope everyone is enjoying the holiday weekend. I know I am! The column is a bit shorter than normal this week.
A friendly message and reminder to all our readers, the Landmine is made possible by myself and a team of awesome Alaskans. It takes a lot of work to provide the content we do. If you enjoy the content we provide, please consider making a one time or recurring monthly donation. You can click here to donate (or on the image below) via PayPal. We would really appreciate it. And thanks to everyone who has been supportive!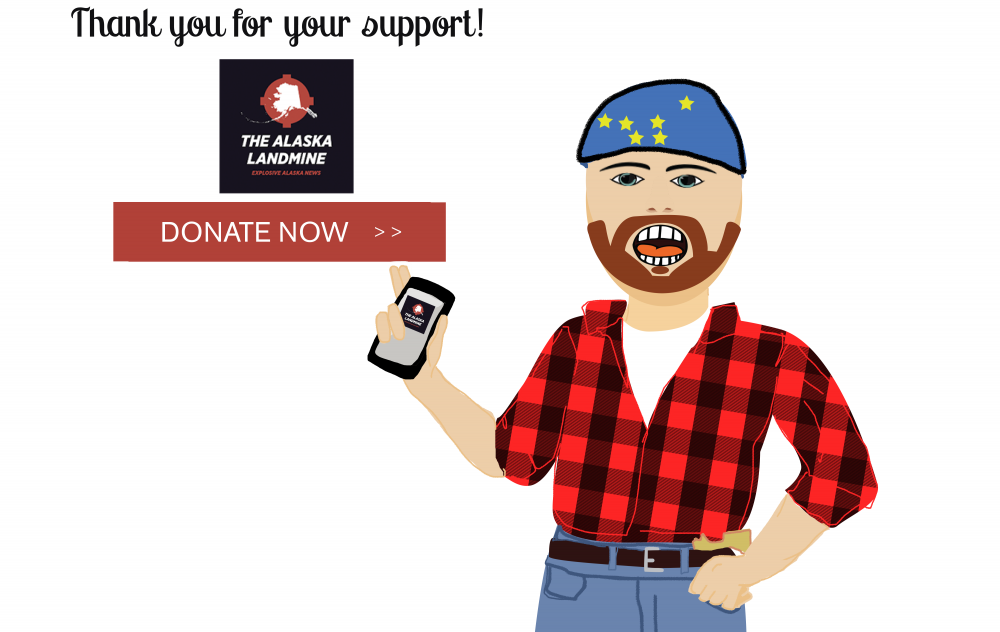 The Governor
Governor Mike Dunleavy (R – Alaska) announced this week that he chose Representative Laddie Shaw (R – Anchorage) to fill the vacant District M Senate seat. This Landmine article goes into more detail. Shaw will need to be confirmed by a majority of Senate Republicans, which is seven (there are 12 Republicans in the Senate). They are divided 6/6 on the PFD issue. And word is Shaw only has six votes right now. We should know sometime next week if he is confirmed or not. If he is, the process will then begin for Dunleavy to choose a replacement for Shaw in the House. We call that a BOGO – buy one, get one.
Some Republicans seem concerned about Shaw being able to get confirmed. Alaska GOP and Dunleavy administration propagandist Suzanne Downing published a long article comparing Shaw to the late Senator Chris Birch. It was titled, "Rep. Laddie Shaw, like Sen. Chris Birch, a man with no natural enemies." Check out a comment left by Birch's son, Logan. Damn.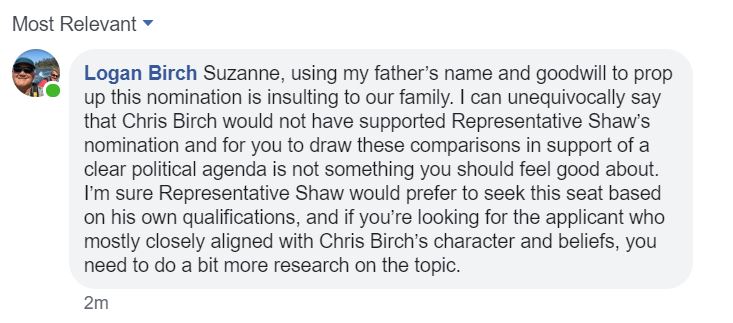 Did you catch Dunleavy's bizarre video where he read the news? You can watch it here. I guess he is starting the Dunleavy News Network (DNN) – the most trusted name in Alaska news! Pro tip, Mike – get a teleprompter and lose the awkward side angle camera view.
Lieutenant Governor Kevin Meyer (R – Alaska) denied a ballot initiative that would reform elections in Alaska. This was based on advice from Attorney General Kevin Clarkson. He said the initiative violated the single-subject rule. Here is the opinion from Clarkson:
Here is a response from the group, Alaskans for Better Elections, behind the initiative:
"We disagree with the opinion from the Attorney General," said Chair of the initiative and former independent State Representative for District 22 in West Anchorage, Jason Grenn. "The initiative is lawful. We are considering all our options to reverse this decision and preserve Alaskans' constitutional right to vote on this ballot including an appeal through the courts. We're still very enthusiastic about bringing this initiative to the voters of our state. "
The initiative would put an end to secret "dark money"—much of which comes from outside Alaska—that anonymous, big-money spenders use to influence our elections. It would also open Alaska's primary elections to all Alaskans, regardless of political party, and ensure majority winner elections. The measure gives voters the option to rank candidates in general elections, or, if they choose, voters can vote for just one candidate as they do now.
Other Happenings
Word is Calvin Schrage is considering running against Representative Josh Revak (R – Anchorage). Schrage would run as in Independent in the Democratic primary. At least one other person, Janice Park, has filed to run in the District 25 Democratic primary so far.
Representative Chuck Kopp (R – Anchorage) aka Charles, submitted a letter of intent with the Alaska Public Offices Commission this week. Kopp was first elected to the House in 2016. He was in the minority the first two years. He joined with Democrats and Republicans this year to form a coalition in the House. This came after a month of no majority being formed. He is currently serving as the Rules Chair.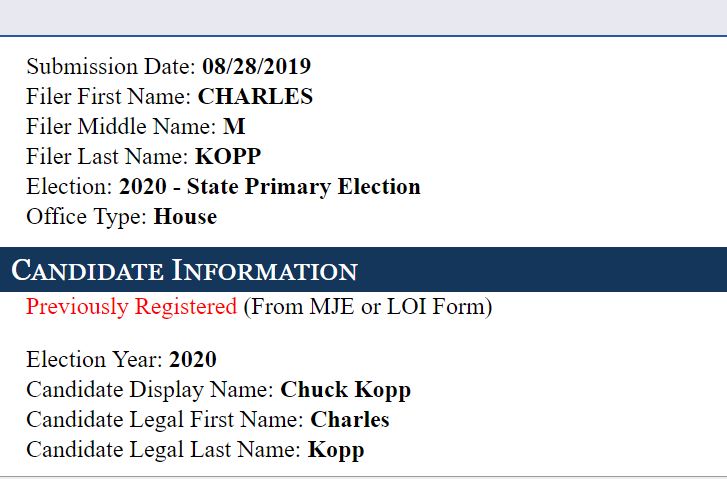 Tuckerman Babcock has resigned from the Dunleavy administration. Nothing like making this announcement at 5:09 pm on a Friday before a holiday weekend. That is when the email from Matt Shuckerow hit. I wonder why Dunleavy didn't announce that on his newscast earlier that day? Babcock's letter is dated August 22.
Anchorage Assemblymember Forrest Dunbar sent out an email on behalf of the Recall Dunleavy group asking for a donation. That's weird. I hope Anchorage doesn't need anything from Big Mike anytime soon.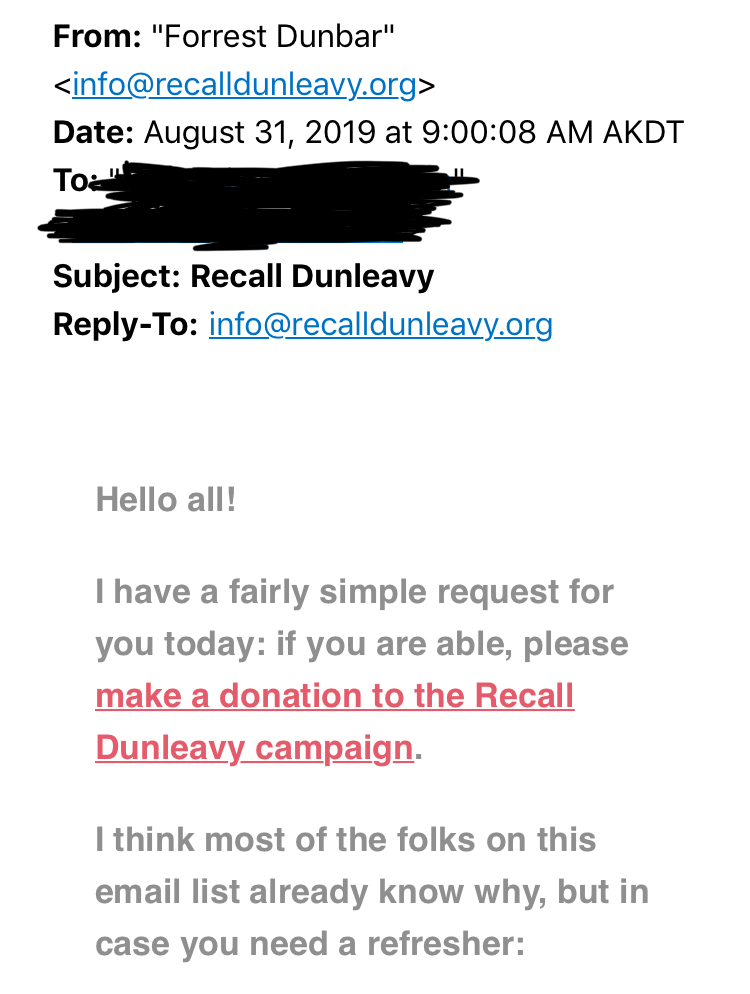 Word is the winter schedule for the Alaska Marine Highway will be out this week. This was sent to me from a Cordova resident:
All sailings are booked to capacity from today through our last sailing on September 12th out of Cordova.
First time in 56 years that zero bookings are available out of our community. We have regressed over a half a century. More families plan to move out of state from Cordova, due to the regression and uncertainty of our lack of ferry service.
This is taking place on Tuesday. Check out the location. Hotel Captain Hook!
#Bexit
Overheard by a high level oil and gas person: "How soon until we start referring to BP's exit as Bexit?" #akleg #akgov

— The Alaska Landmine (@alaskalandmine) August 29, 2019
#HeavyKevy
Overheard in a coffee shop from a progressive: "If Dunleavy is actually recalled then we could have 10 years of Governor Heavy Kevy!" #akleg

— The Alaska Landmine (@alaskalandmine) August 31, 2019
North Pole City Council candidate, Santa Claus, was at a Fairbanks Chamber of Commerce political forum this week. That's his real legal name. During the "yes/no" portion (where candidates hold up a either a red or green card), the first question candidates were asked was, "Have you ever re-gifted a Christmas present?"
Santa responded, "Yes." It got lots of laughs. Only in Alaska.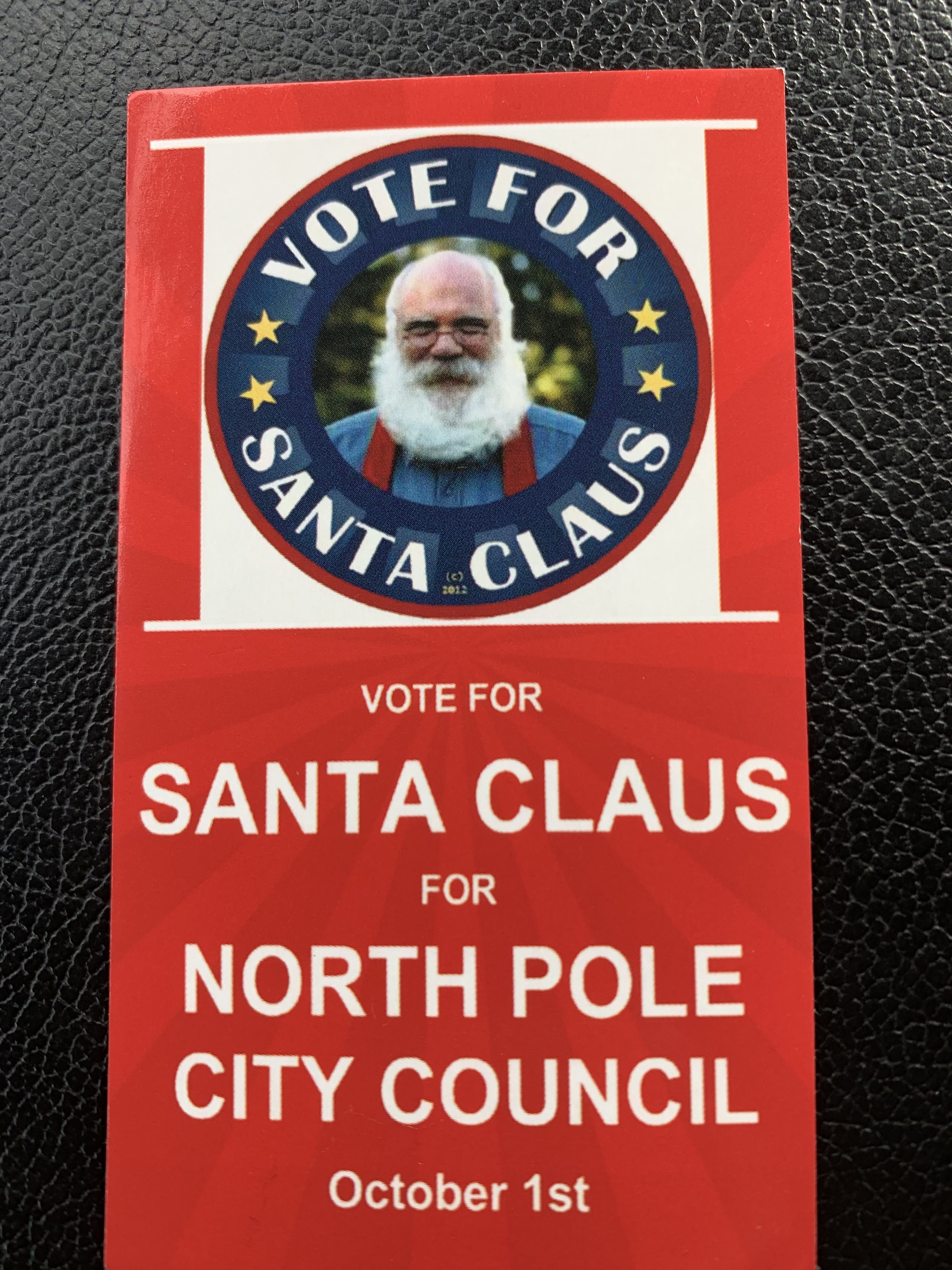 This Week's Loose Unit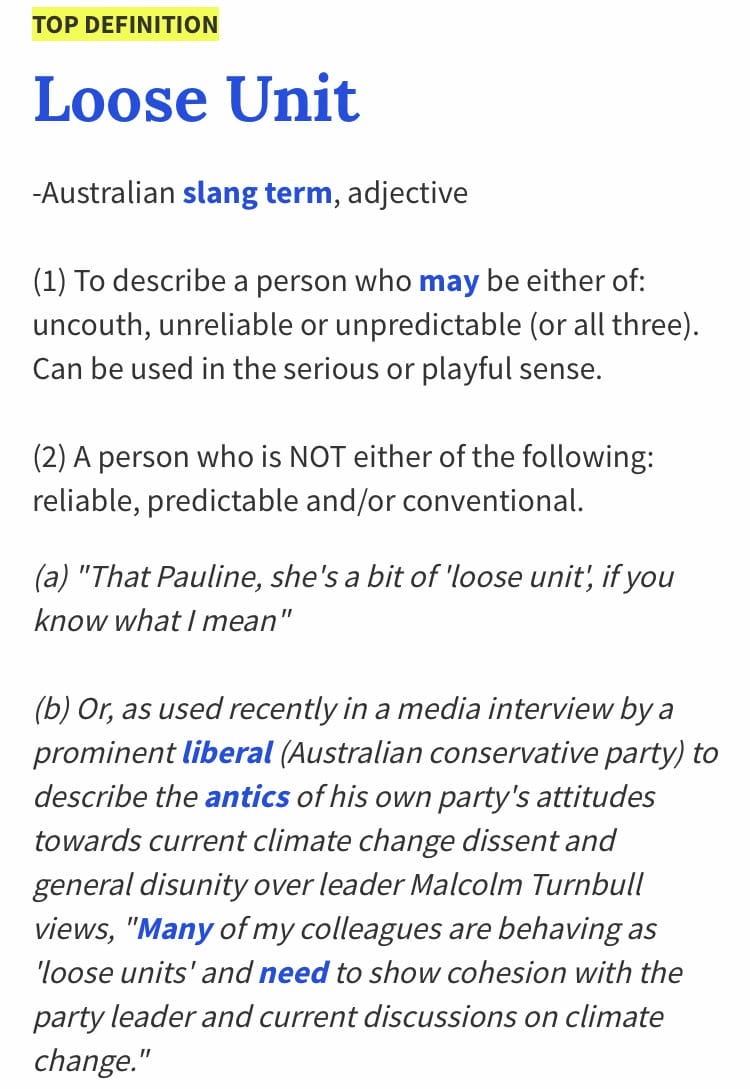 This week was a no-brainer. This week we head to Seward for the Loose Unit, which may be a first. This week's Loose Unit is Scott Meszaros. Who is Scott Meszaros you might ask? He is the City Manager for the City of Seward. He just started the job on May 1. He came from Colorado. At least he is not concerned with the PFD. During a meeting this week, that the city council directed him to have with the Friends of the Jesse Lee Home, Meszaros went full Loose Unit. Not long after the meeting began, Meszaros declared that the meeting was over.
Susan Lang, a 74-year old grandmother and volunteer coordinator for the Friends of the Jesse Lee Home, was in the room. Dorene Lorenz, the head of the group, was attending via telephone. Lang said she was not ready to leave as there was more to discuss. Meszaros then decided to get very loose. He told her she was trespassing and was going to get the cops. LOOSE! He left, and a few minutes later a Seward Police Officer arrived. He told Lang, "Mrs. Lang, I'm sorry but I have to ask you to leave because you are trespassing." Lang said she complied and the officer escorted her out of the building. Talk about loose! Meszaros makes $140,000/year plus benefits. You would think he would be able to resolve a disagreement with a 74-year old grandmother. This Landmine article explain the whole thing.
If you have a nomination for this week's Loose Unit, or if you have any political news, stories or gossip (or any old pics of politicians or public officials) please email me at [email protected]