It's almost July! I hope everyone enjoys the upcoming Independence Day holiday weekend. It may be hard for some as cases of COVID-19 continue to rise in Alaska and around the country. Anchorage Mayor Ethan Berkowitz announced a new mask mandate this week that will go into effect tomorrow. And many candidates are ramping up their campaigns as the August primary quickly approaches.
Quick note – I will be hiking Resurrection Pass for the holiday weekend so I will probably not be doing a column next Sunday. Say hi if you see me!
A friendly message and reminder to all our readers, the Landmine is made possible by myself and a team of awesome Alaskans. It takes a lot of work to provide the content we do. If you enjoy the content we provide, please consider making a one time or recurring monthly donation. You can click here to donate. We have a donation system that makes it super easy. We would really appreciate it. And thanks to everyone who has been supportive!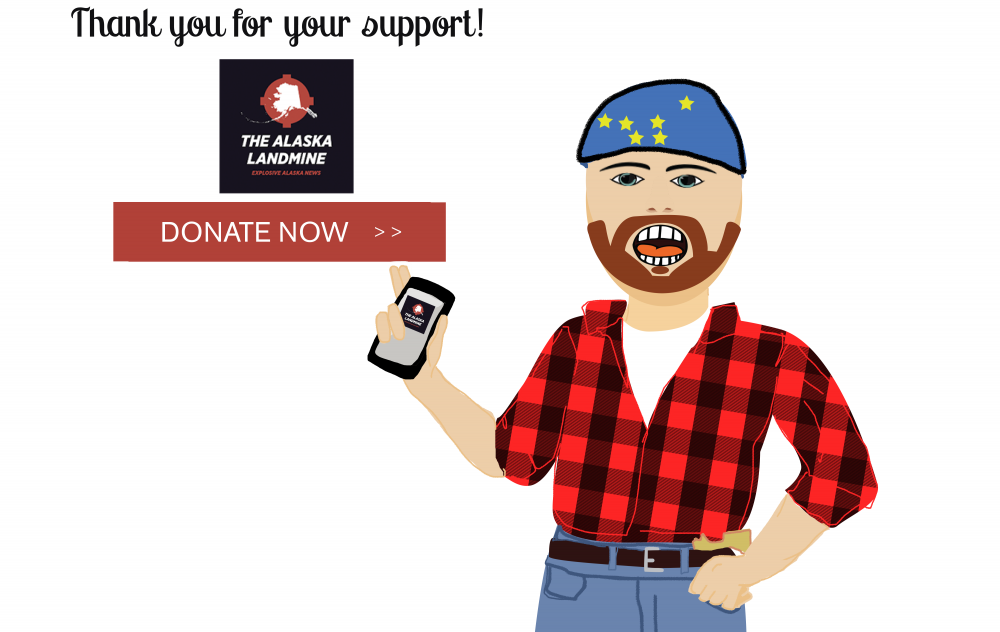 Anchorage Mask Mandate and Assembly Shenanigans 
Mayor Berkowitz announced this week a new mask mandate that will go into effect tomorrow morning at 8 am. You can read the order here. According to the muni website:
Exceptions to this order include:
• children under two years old
• individuals with health conditions who are unable to tolerate wearing a face covering or mask due to a physical or mental disability
• individuals performing an activity that cannot be accomplished, or accomplished safely while wearing a mask
Before the mandate was announced the Anchorage Assembly held a meeting on Tuesday (June 23). It was pretty weird. There was a small protest of people opposing the mask mandate and another small protest of people supporting defund the police. Although they were on completely opposite sides of the political spectrum the two groups seemed to get along great. That reminded me of an anecdote a longtime Alaska politico once told me. If you take a string and stretch it out hold each end, it represents the political spectrum. If you connect the ends the far right and the far left meet! One person at the meeting described the anti-mask protest as a "Karen convention." Judge for yourself.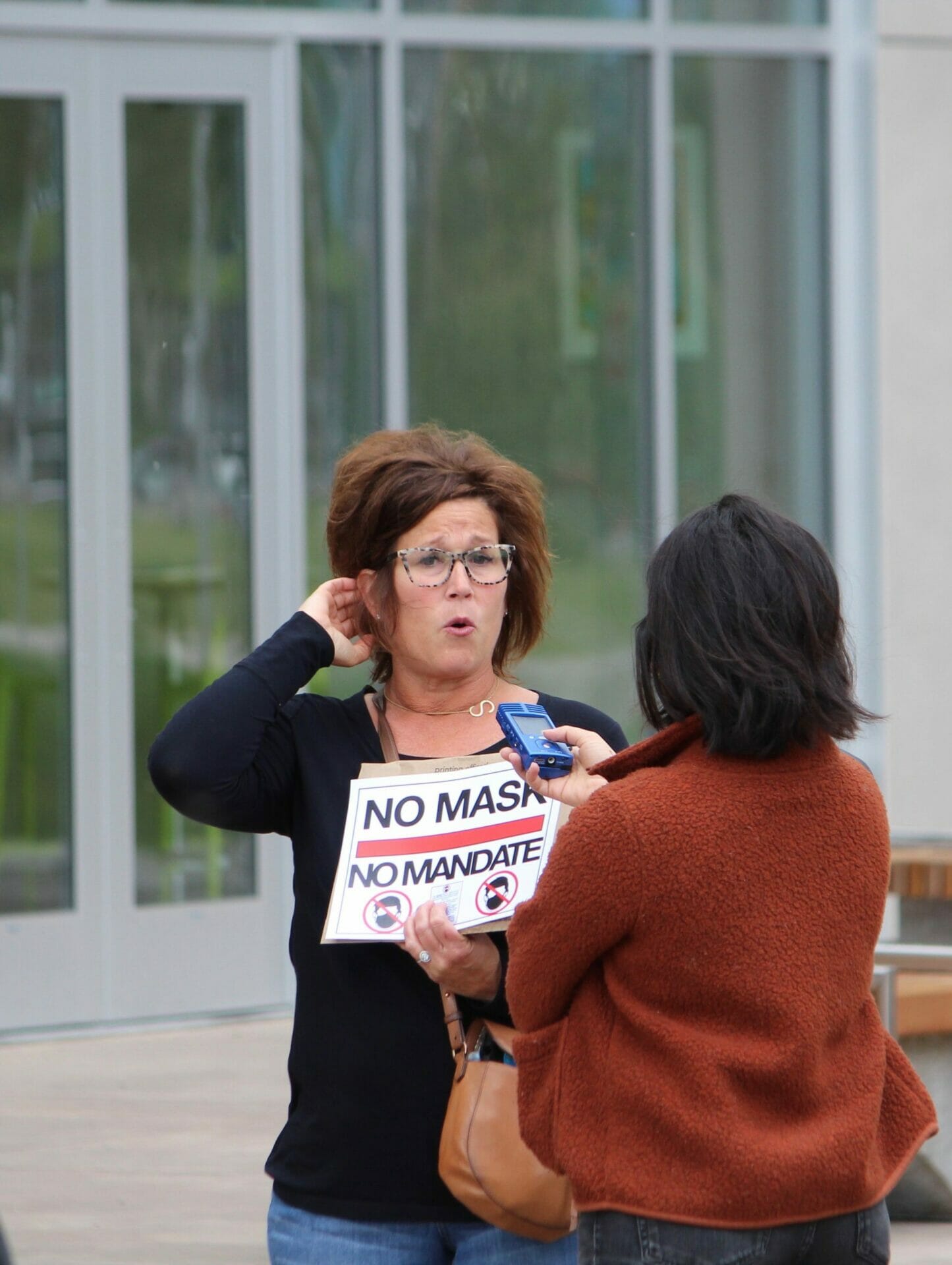 There were two people lying on the ground in front of the Assembly dais during the entire meeting. At first no one really knew what they were doing. Many people thought they were part of the anti-mask group. Turned out it was MaHogani Magnetek and Dana Dardis protesting police brutality. Assembly Chair Felix Rivera just kept running the meeting as if nothing was happening. Former talk radio host and rabble-rouser Bernadette Wilson heard about what was happening. So she came by and placed a tip jar in front of them! That was quickly removed. I wonder what her former talk radio co-host, Ethan Berkowitz, thought about that… Unfortunately, the Anchorage Assembly is turning into a joke. Dick Traini would have never allowed this kind of nonsense to take place when he was chair.
During the meeting Senator Lora Reinbold (R – Eagle River) was one of the many people who spoke against the mask mandate. She went over her time. Rivera was quick to cut her off after saying, "I got this!" to his colleagues. Several people also testified about the February police killing of 16-year-old Daelyn Polu. Keep in mind that after a traffic stop Polu pulled out a gun and shot police. It's sad that he was killed but when you shoot cops, or really anyone for that matter, you are likely going to get killed. The shooting was found to be justified by the Officer of Special Prosecutions. One of the people testifying was a 19-year-old who identified himself as Polu's brother. During his testimony he repeatedly used the f-word. Rivera never told him that was inappropriate. As he was leaving the Assembly chambers he shouted to Mayor Berkowitz, "You a bitch. You stupid ass n*****!" When a security guard told him to calm down he responded, "Fuck you too you stupid ass n*****!" Great times.
Other Happenings
The $992 2020 PFD will be disbursed on Wednesday July 1 if you have direct deposit. You can check your eligibility here. Because they are paying the 2020 PFD in July rather than in October some applicants will not be paid in July as they still need to verify eligibility for some. This is mostly first time applicants. According to the Permanent Fund Division website:
We anticipate the ability to pay 90% of Alaskans by the July 1st payment run. This leaves roughly 100,000 Alaskans left who will need to be determined. Those who were not in an eligible status by June 19th, which is the cut off to make the July 1st payment run, will still have an opportunity to be paid in later runs throughout the year. The following payment run will occur on July 23rd, another on August 20th, and every third Thursday of each month thereafter. Please reference the "Payment Schedule" on our home page for upcoming payment runs.
The deadline for party candidates to withdraw from the August 18 primary election is tomorrow at 5 pm. The withdrawal deadline for the general election is August 31.
Alaska Journal of Commerce Managing Editor Andrew Jensen is no longer on the Anchorage Daily News editorial board. Not sure what happened but I would have loved to been a fly on the wall when Andrew Jensen and Tom Hewitt were "discussing" issues. I bet that was lit. After I wrote a column in April criticizing a column Jensen wrote he texted me, "Fuck you dude. Put that in your next piece." I bet those ed board meetings are a lot more mellow now.

Alaska Attorney General Kevin Clarkson sent out this memo after Mayor Berkowitz announced the mask mandate in Anchorage. Strange times indeed.
Governor Mike Dunleavy (R – Alaska) and Alaska Republican Party Chair Glenn Clary attended a Republican Women of Fairbanks this week. Representative Steve Thompson (R – Fairbanks) looked like he was having a good time with Big Mike!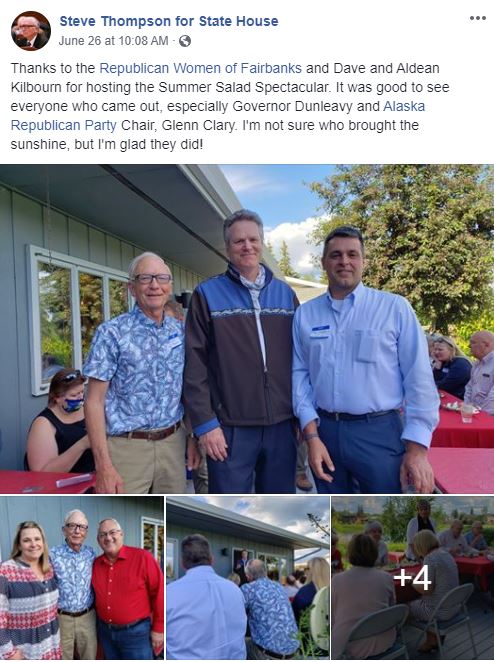 University of Alaska President Jim Johnsen announced he was resigning this week. His resignation will be effective July 1. Michelle Rizk, UA's vice president of university relations, will be the acting president until a permanent replacement is found. This ADN article has more information. Johnsen recently applied to be the head of the University of Wisconsin system. He was the finalist but he withdrew his name from consideration. He was criticized by many university faculty for trying to make the university system more efficient. I got to know him last year in Juneau and did also did a podcast with him. He's an incredibly smart and kind man. I wish him the best of luck.
If you have not seen the "Reviews" section of Advanced Chiropractic Fairbanks Facebook page this week, check it out for some real entertainment. It. Is. Loose. Dr. Shoemaker seems like a real, well, interesting guy.
Mike Porcaro is selling his building in Downtown Anchorage. Check out the letter to prospective buyers. Pocaro's firm is doing work for the oil tax ballot measure. Interestingly enough the letter starts with, "the disruptions have taken a heavy toll on the Alaskan economy." You can have the building for just $1,400,000!
Congressman Don Young (R – Alaska) held a fundraiser on Monday at Little Italy in Anchorage. Lots of people were in attendance including Governor Dunleavy, Senator Josh Revak (R – Anchorage), and Dan Saddler (who played guitar and sang a song for Young). I was standing outside talking to lobbyist Ashley Reed and some people as Senator Bert Stedman (R – Sitka) walked out. Reed looked at Stedman and jokingly said, "Bert, I hear Landfield might have some room for you in his organization." Reed then looked at me and said, "I hear Bert wants a seat on Finance." Stedman erupted in his unique laugh and went back inside. I'm not sure who felt more awkward, me or Stedman.
This Week's Loose Unit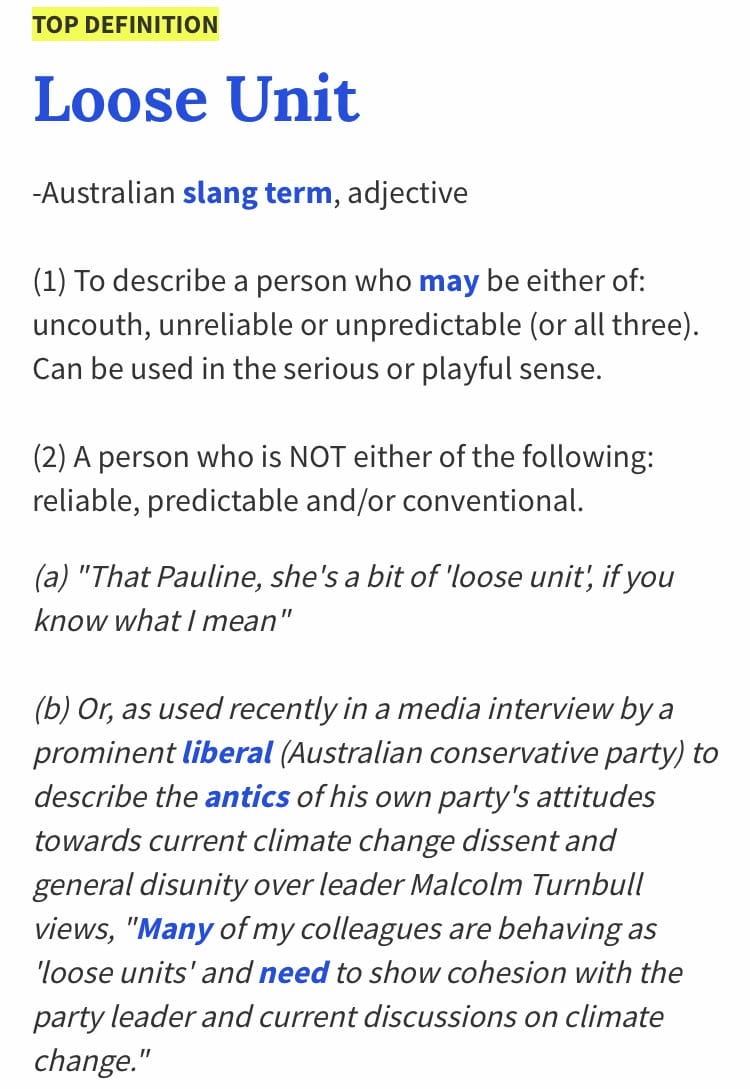 This was a weird week. The Alaska Young Democrats were in the lead based on the op-ed they were working on against Mayor Berkowitz that was a public Google doc. But a Thursday Facebook post made this week's designee clear. This week's Loose Unit is Alaska Right to Life. You may recall in last week's column I included a clip of Jesse Sumner, who is running against Representative David Eastman (R – Wasilla) in the primary, where he was joking about Supreme Court Justice Ruth Bader Ginsburg while talking about his pro-life views. That alone is Loose Unit behavior. But Alaska Right to Life went fully loose when they posted this on their Facebook page: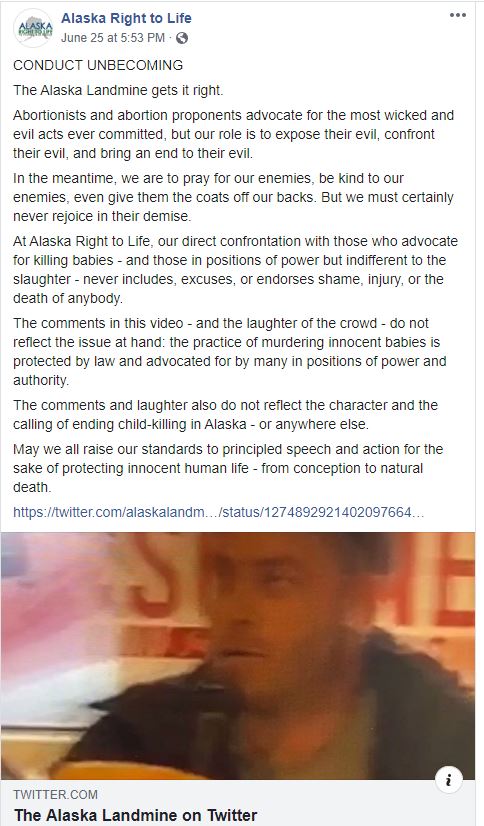 Alaska Right to Life taking my post and using it to attack Sumner for not being pro-life. Now that is loose! Sumner's comment is also loose. It's clear what he said.

If you have a nomination for this week's Loose Unit, or if you have any political news, stories or gossip (or any old pics of politicians or public officials) please email me at [email protected]