COVID-19 continues to dominate the news cycle as well as society. The Capitol is empty as most legislators and staff have returned to their homes. Some have decided to stay and hunker down in Juneau. I have also decided to stay in Juneau and hunker down for a while. Like many Alaskans, both my roommates are now working from home so I figured it's better to stay here so we don't all kill each other. In the midst of all of this the Anchorage municipal election will be over on Tuesday.
A friendly message and reminder to all our readers, the Landmine is made possible by myself and a team of awesome Alaskans. It takes a lot of work to provide the content we do. I'm in Juneau for session which adds additional costs. If you enjoy the content we provide, please consider making a one time or recurring monthly donation. You can click here to donate. We have a donation system that makes it super easy. We would really appreciate it. And thanks to everyone who has been supportive!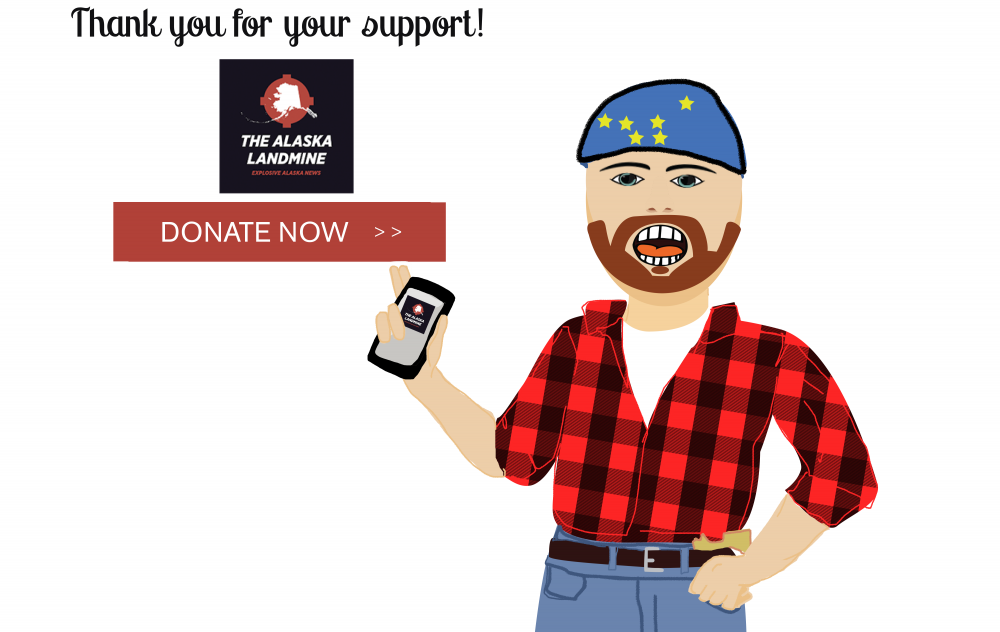 Anchorage Election
There are six Assembly seats up, two school board seats, as well as a bunch of bonds and ballot propositions. Below is a summary of the candidates and controversial propositions.
Seats and Candidates:
District 1 – Seat B – Downtown Anchorage
Current Assemblymember Christopher Constant is running unopposed. Congrats on reelection, Chris! Constant was first elected to the Assembly in 2017. While he could technically be classified as "woke" he's definitely my kind of woke. He has shown he can work with people on all sides of the political spectrum. He works hard, always shows up, and is very involved in the community. He also is all about public access!
District 2 – Seat C – Eagle River/Chugiak
This is the seat currently occupied by Assemblymember Fred Dyson. He is not running for reelection. There are technically three people running but one dropped out after the withdrawal deadline.
Jamie Allard
Stephany Jeffers
Roger Branson
Branson dropped out after the withdrawal deadline and endorsed Jeffers. So he is still on the ballot. Allard unsuccessfully ran for one of the Eagle River House seats in the 2018 Republican primary. She was defeated by now-Representative Kelly Merrick (R – Eagle River). After he was elected Governor Mike Dunleavy (R – Alaska) appointed her as a special assistant to the Commissioner of the Department and Military Veterans Affairs (DMVA). That did not last long. You can read all about that debacle here.
I don't know Jeffers. I do know she grew up in Chugiak, attended Grace Christian, and is a former Miss Alaska. She owns some kind of aerial acrobatics business in Eagle River. She's also very progressive, which does not bode well for Eagle River. Allard has raised over $30,000. Jeffes has only raised under $3,000. Allard will likely win this seat. Allard is definitely a Loose Unit! The good news is that she is sure to provide some solid gold content. And you know she will have plenty of toilet paper as well.
District 3 – Seat E – West Anchorage
This is the seat currently occupied by Assemblymember Austin Quinn-Davidson. There are three candidates:
Austin Quinn Davidson
MoHagni Magnetek
Nick Danger
Magnetek initially filed to run against Assemblymember Felix Rivera but apparently did not understand you have to run in the district you live in. I don't know much about Danger other than he is some kind of wrestler. Quinn-Davidson has raised almost $60,000. Magnetek and Danger show no campaign income on APOC. Quinn-Davidson has got this one. Quinn-Davidson was elected to the Assembly in a 2018 special election after former Assemblymember Tim Steele resigned. She has proven to be a hard worker and her social media game is strong.
District 4 – Seat G – Midtown Anchorage
This is the seat currently occupied by Assemblymember Felix Rivera. This is the exciting race. There are two candidates:
Felix Rivera
Christine Hill
Rivera was first elected to the Assembly in 2017. In 2018 there was a weird eight month period where he was basically absent. All I ever heard was it was for personal reasons. Since being on the Assembly he has been heavily involved in the homelessness issue and pushed for an alcohol tax. He also served as Assembly chair. Hill ran and lost to now-Assemblymember Meg Zalatel last year. Hill and her husband own and operate the Alaska Auction Company.
Hill is a bit out there but she's funny and has come a long way as a candidate since her last campaign. She's kind of like the grandma who says weird stuff sometimes. Rivera has raised just under $60,000 and Hill has raised just under $40,000. Rivera has the incumbent advantage but Hill has been running a real campaign. If she wins the Assembly is about to get real entertaining!
District 5 – Seat I – East Anchorage
This is the seat currently occupied by Assemblymember Pete Petersen.  There are two people running:
Pete Petersen
Monty Dyson
David Walker (whoever that is) was also running but is showing as a late withdrawal. Petersen was first elected to the seat in 2014, so this would be his third and final term. He also previously served two terms in the Alaska House of Representatives. He's progressive but in an old school way. He seems to get along with everyone. I don't know much about Dyson other than he is an assistant pastor at Anchorage Baptist Temple, conservative, and calls into Dan Fagan a lot! Petersen has raised over $45,000 and Dyson has raised just under $20,000. Petersen has got this one.
District 6 – Seat K – South Anchorage
This one is exciting but not as much as the Rivera/Hill race. This is the seat currently occupied by Assemblymember Suzanne LaFrance. There are two candidates:
Suzanne LaFrance
Rick Castillo
LaFrance was first elected to the Assembly in 2017. She and John Weddleton are a good team. She's on the progressive side but does not take extreme positions. Castillo served in the military and is a first time candidate. He's young and conservative. LaFrance has raised just over $67,000 and Castillo just over $34,000. Both have been running good campaigns. LaFrance has the incumbent advantage.
School Board Seat C
This seat is currently occupied by Dave Donley. There are two candidates:
Dave Donley
James Smallwood
School Board Seat D
This seat is currently occupied by Andy Holleman. There are three candidates:
Andy Holleman
Phil Isley
JC Cates
There are quite a few bonds and propositions on the ballot. You can see them all here. The are three controversial ones.
Proposition 11
This would allow for onsite consumption of marijuana at stores in Anchorage. That could get loose! This will likely pass.
Propositions 12 (Charter Amendment)
This aims to add a 12th member to the Assembly and eliminate the single member district. The Downtown district has been the single member district for decades. It is half the size of the others. If passed the change would not go into effect immediately. It would be when the districts are redrawn during redistricting. So it would not have any effect until at least the 2022 election. The only candidate on next year's municipal ballot is mayor. This will likely pass.
Propositions 13 (Charter Amendment)
This is round 2 of the alcohol tax. An alcohol tax failed on last year's ballot 53.76% to 46.24%. This recent Landmine article goes into more detail about the groups for and against the tax and how they are funded. It's hard to call this one. I am leaning no as it failed last year but this year the pro-tax side has raised a substantial amount of money and is running an aggressive campaign. Last year the pro side did not have much of a campaign. However, political strategist Art Hackney is running the anti-tax side. He's known for his creative campaigns and turning the tides on major issues.
Other Happenings
This week during one of his press conferences Governor Dunleavy said his office would decide how the $1.25 billion in COVID-19 relief money from the federal government will be spent. Some legislators have questioned if he can do that as the legislature has the power of appropriation in Alaska. Look for a fight on this one. Word is the lobbyists are really salivating over this money.
The decision to cancel the spring bear hunting season for non-residents is going to have a big effect on hunting guides. Non-residents require a hunting guide for brown bears, sheep, and goats. This is how many hunting guides make a good portion of their annual revenue. There was some initial confusion about resident bear hunting but that has since been clarified and will still be allowed, though hunters must be mindful of travel mandates.
A non-resident brown bear tag costs $1,000, a non-resident black bear tag costs $450, and a non-resident hunting license costs $160. As of now it's unclear if non-residents will be refunded or credited for a future hunt. This decision will be left to the Board of Game.
The Palmer City Council hired a new city manager this week. Current City Manager Nate Wallace has accepted a job with the State of Wyoming and will be leaving at the end of April. The Council hired current Borough Manager John "the Moose" Moosey (I'm not sure if people refer to him as the moose but they definitely should!). He gave his notice with the Mat-Su Borough and is slated to start at the beginning of June. Coincidentally, the mascot for Palmer High School is, in fact, the moose, so Moosey is a perfect fit. The decision to extend an offer to Moosey was a unanimous 6-0 vote with one member of the council held to an unexcused absence – Councilman Richard Best. Sources confirm that Best, who is also a staffer to Representative Ben Carpenter (R – Nikiski), was a no-call, no-show to this very important meeting. Sounds like he is not giving his best!
Sources confirm that Jason Hoke, the Federal Co-Chair of the Denali Commission, has resigned effective April 24. There has been considerable turmoil at the Denali Commission since last year. Stay tuned for more updates on the this one.
This Week's Loose Unit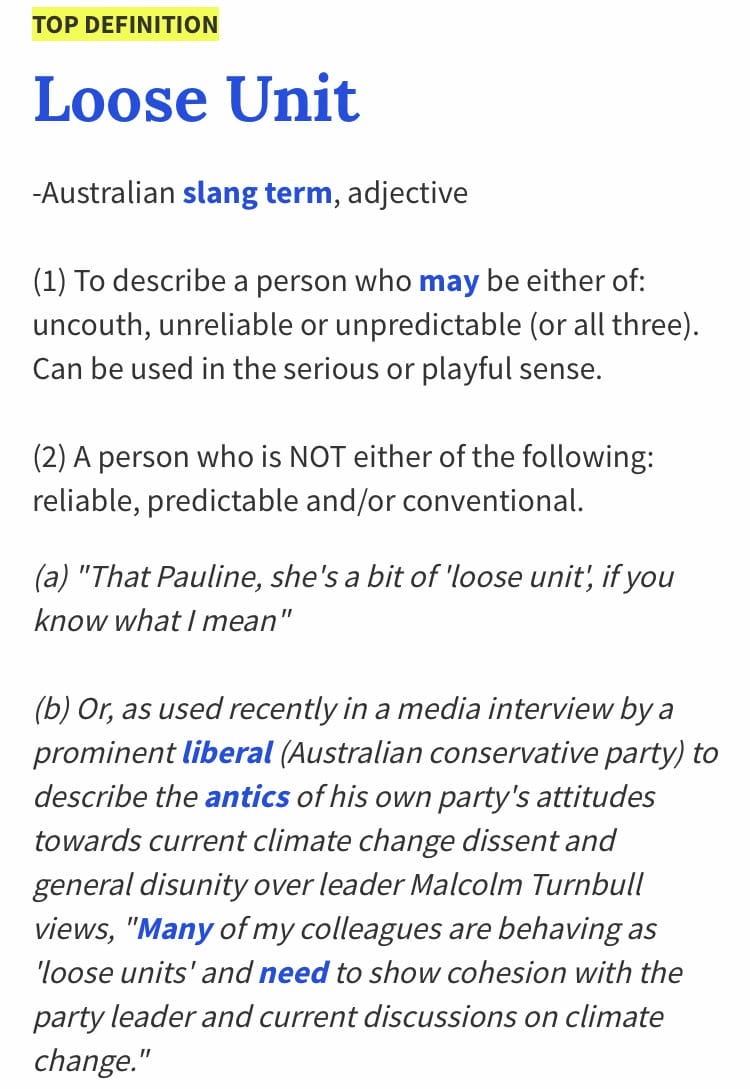 This week's Loose Unit became clear this weekend during the Alaska Republican Party's state convention, which was conducted on Zoom due to COVID-19. This week's Loose Unit is a tie between Glen Clary and Ann Brown. Clary serves as chair of the Party and Brown serves as vice-chair. The first day of the convention was on Friday. Things started off fairly normal considering the convention was being held via Zoom. The Party held a practice session earlier in the week. I guess Glen and Ann did not like the chat function because that was disabled during the real convention. During the opening statements National Committeeman Peter Goldberg, who was not running for reelection, used part of this time to endorse Craig Campbell. Because everyone was muted and chat was disabled, no one could object to this inappropriate use of his time. There was a way to virtually raise your hand but Clary and Brown ignored everyone who did. Super loose.
It got real loose the next day. Day two of the convention was where the big decisions would be made. I was a delegate to the convention yet I never saw a slate of candidates for any Party offices until they showed it on the screen. Super loose. Only one office was contested, National Committeeman. Everything else was uncontested. Soviet Style! Here are the offices.
One of the co-chairs of the Nominations Committee was Sarah Brown, Ann's daughter! Very loose. When it was time for the election for National Committeeman each candidate was given a few minutes to speak. There was no debate. None of the delegates were allowed to speak on behalf of any of the candidates. Then there was the vote. Campbell got 35% and was declared the victor! Although the rules require the vote to keep going until someone gets 50% plus one. No one could point this out as everyone was muted and chat was disabled. Many people, including myself, had their virtual hands raised but were not recognized. So loose. Later in the meeting Brown finally pointed out the rule issue and another round of voting occurred. George Hall dropped out as he received few votes the first round. During the next round Clary announced Kris Warren received the fewest number of votes and was asked to withdraw by Clary, which he did. But the results of the vote were never shown! So loose. Eventually Mike Tauriainen was elected.
The meeting ended soon after. Many delegates, including many long time Republicans, were disgusted how Clary steamrolled through everything and did not permit anyone to speak. At least one person I am aware of has resigned their position in the Party. After, there was a State Central Committee meeting via Zoom. Party rules are clear that these meetings are open to registered Republicans. I was kicked out soon after I was allowed in. Super loose! The Chinese Communist Party would have given that meeting an A+ grade.
If you have a nomination for this week's Loose Unit, or if you have any political news, stories or gossip (or any old pics of politicians or public officials) please email me at [email protected]