Happy Easter to all of our Christian readers. And happy Passover to all of our Jewish readers. A lot happened this week in Juneau, most notably the joint session of the Legislature to confirm Governor Michael J. Dunleavy's (R -Alaska) commissioners, as well as his picks for boards and commissions. Many legislators and staff headed out of Juneau on Thursday and Friday to be home for the Easter weekend.
A friendly message and reminder to all our readers, the Landmine is made possible by myself and a team of awesome Alaskans. It takes a lot of work to provide the content we do. There are now additional costs that I have temporarily located to Juneau. If you enjoy the content we provide, please consider making a one time or recurring monthly donation. You can click here to donate via PayPal. We would really appreciate it! And thanks to everyone who has been supportive.
The Governor
On Wednesday (4/17/2019) Governor Dunleavy got all of his commissioners confirmed and the majority of his picks for boards and commissions. More on that below.
Sources confirm that Governor Dunleavy's office has entered into a contract with Dittman Research for polling. Dittman Research is a polling and data company owned by Matt Larkin. Larkin also ran the independent expenditure group, Dunleavy for Alaska. Dittman Research has previously done work for the Legislature and previous Republican governors.
Governor Dunleavy finally appointed a judge to the second Palmer Superior Court seat this week. He previously violated the Alaska Constitution by not choosing one of the names sent to him from the Judicial Council within the 45 days stipulated in statue. After a meeting with Chief Justice Joel Bolger at the end of March, he agreed to choose one of the names sent to him. Bizarre.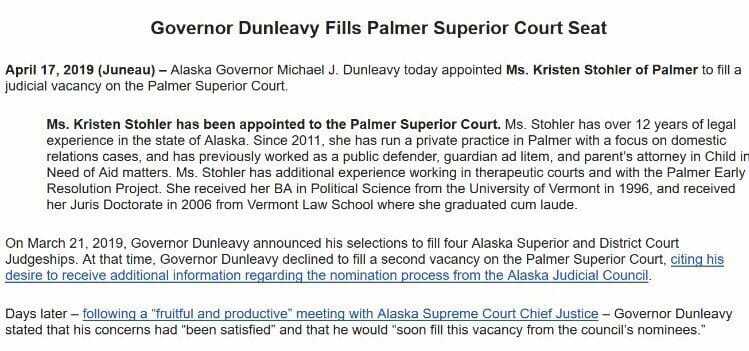 Rumors are swirling around the Capitol that Dunleavy is planning on calling a special session on crime in Wasilla after the Legislature gavels out. That should get VERY loose! I'm sure all the legislators are looking forward to spending some of their summer in Wasilla.
Joint Session of the Legislature
The media has largely covered this. All of Governor Dunleavy's cabinet picks were confirmed. Three of them were close: Department of Environmental Conservation Commissioner Jason Brune (35-24), Department of Health and Social Services Commissioner Adam Crum (34-25), and Department of Public Safety Commissioner Amanda Price (34-25). The others were overwhelmingly confirmed, most unanimously. Six people Dunleavy appointed to boards and commissions were rejected by the Legislature.
I am going to focus on three things that happened in the joint session that did not get as much coverage.
Amanda Price Confirmation
The first is Amanda Price. Price's confirmation was riddled with issues, which was reflected in her close confirmation vote. She mislead the Senate Finance Committee on why she left the Walker administration, only to later come clean in front of the House State Affairs Committee. She was rude and disrespectful to several legislators, including Speaker Bryce Edgmon (I – Dillingham), during the confirmation process. She was misleading about her college education on her resume. And she presented misleading information on salaries of Troopers vs. VPSOs. That is all well known. It was the comments of several Republican legislators during the joint session that I want to focus on.
According to three legislators who spoke on the floor about Price, the criticism she faced was not because of her qualifications or actions, it was because she is a woman. Price is the first Commissioner of DPS with no law enforcement experience. She also has a real issue with being forthright when asked direct questions. But according to Representative Sara Rasmussen (R – Anchorage), Representative Tammie Wilson (R – North Pole), and Senator Peter Micciche (R – Soldotna), the criticisms of her is because she is a woman. It's funny how the people who speak so loudly about the dangers of identity politics are often times the first ones to resort to identity politics when it benefits them.
Rasmussen defended Price and said all of her issues were explainable or no big deal. She also cited support from Price from the Public Safety Employees Association. I guess Rasmussen likes public sector unions now. She also mentioned the Legislature has a record number of women serving, and if Price is confirmed six of the 13 members of the cabinet will also be women. She closed by saying she feels the attacks on Price are based on personal issues and not on her record. Ok.
Next up was Tammie Wilson, who also defended Price. She went even further. Wilson said, "I've heard she's too aggressive, she's too passionate, she's too outspoken. Something I would know nothing about." To which many people laughed. She added, "If this was a man up there doing the same thing, would anybody say he was too passionate, too outspoken, too pushy? That's what you're supposed to do if you're public safety commissioner. But this is a female, sometimes we're not supposed to do those things." I guess Wilson forgot that Commissioners Corri Feigi and Nancy Dahlstrom, both passionate and strong women, were confirmed unanimously. Gee, I wonder why? Could it be because they are qualified and didn't mislead legislators during their confirmations? Commissioners Julie Anderson and Tamika Ledbetter were also confirmed unanimously.
And finally we have Peter Micciche. He also thinks this is all because Price is a woman. He opened by calling this all a "Witch hunt." I wonder where he got that from… He added, "What I see is somewhat of an intimidation in this building for an energetic, assertive, and driven female. We've seen it in two examples this go around. Frankly I don't care what gender someone is." Not sure who the second example is. I guess Micciche forgot that the Senate President is Senator Cathy Giessel (R – Anchorage), one of most energetic and driven women in the building. By the way, Giessel voted against Price. Did he also forget that the Senate Majority Leader is Senator Mia Costello (R – Anchorage) and one of the Co-Chairs of the Senate Finance Committee is Senator Natasha von Imhof (R – Anchorage)? Costello also voted against Price.
This is the problem with identity politics. A person's qualifications and actions become secondary to their gender, or race, sexual orientation, etc… I thought Republicans were all about the individual. I guess Rasmussen, Wilson, and Micciche feel differently about identity politics when it benefits their agenda.
Bob Griffin Confirmation
The second is the situation with the Board of Education and Representative Geran Tarr (D – Anchorage). During debate about Bob Griffin, Tarr decided to go to the next level in speaking against Griffin. Tarr spoke about an incident where Bob Griffin was following around Anchorage school buses in 2011 for some kind of study he was doing. It was so weird the school bus driver called the cops. I think we can all agree that is not only bizarre behavior, but also creepy as fuck. She could have just said that. But she went way further. She said the cops, "Thought he was a kidnapper or pedophile." I don't know if Tarr realizes the kind of megaphone she has when she says something like that on the House Floor, but she should. There was no reason for her to say what that. Pointing out his creepy behavior would have been fine. To insinuate he is a kidnapper or pedophile is just wrong. Griffin went on to be confirmed 41-18.
Karl Johnstone Confirmation 
The third is the situation with the Board of Fisheries and Representative Ivy Spohnholz (D – Anchorage). During debate about Karl Johnstone, things got very loose. When Spohnholz was speaking against Johnstone she stated
In the last 24 hours I've had, more than two women have reached out to my office – people who worked for the Board of Fish when Mr. Johnstone was previously on the Board of Fish – to share their concerns about his behavior. They each described inappropriate sexual comments that were made that were both inappropriate and unwelcome, which created a hostile work environment for them, repeatedly. The women were not willing to testify on the record about the allegations because of the fear of retribution by Mr. Johnstone. Based on the public testimony that we heard on Monday in the joint confirmation hearing, where we heard that Mr. Johnstone is a bully, I think those fears may be justified. Some of those who testified on Monday used words like brash, bully, disrespect, difficult…
At which point she was interrupted by Senator John Coghill (R – North Pole) with a point of order. He said he recognizes a man's character is up discussion but this is an accusation that has not been leveled, to his knowledge, in any credible way in the building. Spohnholz finished up by saying she was just repeating what was said in public testimony and how she felt it underscored what these women were feeling.
After some continued debate, Johnstone's confirmation was voted to be tabled. However, it was voted to be brought back up at the end of the joint session. He was voted down 24-33.
What a can of worms Spohnholz opened. Since this all went down the rumors have been flying and many articles have been written. I don't believe these women are making this up. But the way this was handled was not good. Not that many women worked at the Board of Fish when Johnstone was there, so they have basically been outed. Spohnholz should have gone to Speaker Edgmon and Senate President Giessel with this. They could have spoken to other legislators and likely agreed to table the vote in order to look into the allegations. But what is really needed is a process put in place for people who have been victimized by someone to safely make a report so it can be investigated. Let's face it, the Legislature doesn't have the best track record of dealing with stuff like this.
The precedent this kind of action sets is dangerous. How many Alaskans will be unlikely to put their names forward now? This should have been handled much better. The Legislature needs to deal with this so it doesn't happen again. And one more thing. Much of this probably could have been avoided if Governor Dunleavy had his boards and commissions people do something called vetting. What a joke that has been as well. He should just fire all of his boards and commissions people and instead put names in a hat and draw them randomly. He can't do any worse and will likely get better results than using whatever loony method he is currently using.
Other Happenings
Longtime Republican Myrna Maynard passed away this week at the age of 84. If you knew Myrna you know what kind of great person she was. I met her years ago and always enjoyed my interactions with her. She did not mince words and always told you exactly how she felt. She will be missed by many.
Apparently Senator Lora Reinbold (R – Eagle River) lost it last week and fired all of her staff! This not only shocked her staff, but many of her colleagues as well. It's unclear what they did to trigger her. Likely nothing, she probably was just being Lora. Anyhoo, she eventually decided to not fire them and said just kidding. Must be a fun office to work in! I wonder if it was like this scene in Speed?
Commerce Secretary Wilbur Ross appointed Jason Hoke of Glennallen as federal Co-Chair of the Denali Commission this week. Congrats, Jason! Word is former Representative Charisse Millett also applied for the job.
Two sources informed me that Dan Carothers and Leitoni Tupou, both deputy commissioners for the Department of Corrections, were let go on Friday. They were both appointed by Governor Dunleavy in December. Both have long careers with Corrections. This leaves Commissioner Nancy Dahlstrom and Deputy Commissioner Kelly Goode, both of whom have no prior corrections experience. Very strange.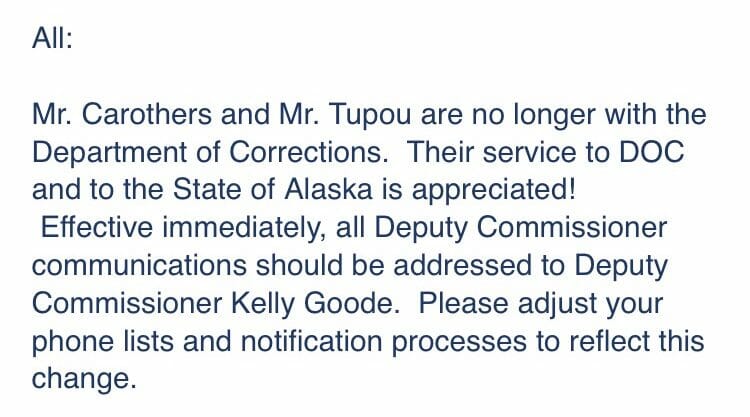 Jon Faulkner is no longer with the Department of Commerce, Community and Economic Development. Faulkner was appointed as deputy commissioner in early December by Governor Dunleavy. Word is he was asked to resign. I have no idea why. Maybe he forgot to open a door for Tuckerman Babcock. Faulkner is a well known Republican from Homer who owns the Lands End Resort.
Speaking of Tuckerman Babcock. I finally saw him in Juneau this week! I am not giving up.
Check out this bizarre email sent out to legislators and staff. I wonder if they will talk to me if I call?
Check out this post from the Alaska Support Industry Alliance congratulating Jason Brune on his confirmation as Commissioner of the Department of Environmental Conservation. You know they are fucking pumped about it. But what's with that pic of Brune? Is it from 20 years ago? If you guys ever post a pic of me, can you please also use one of me with hair? Thanks.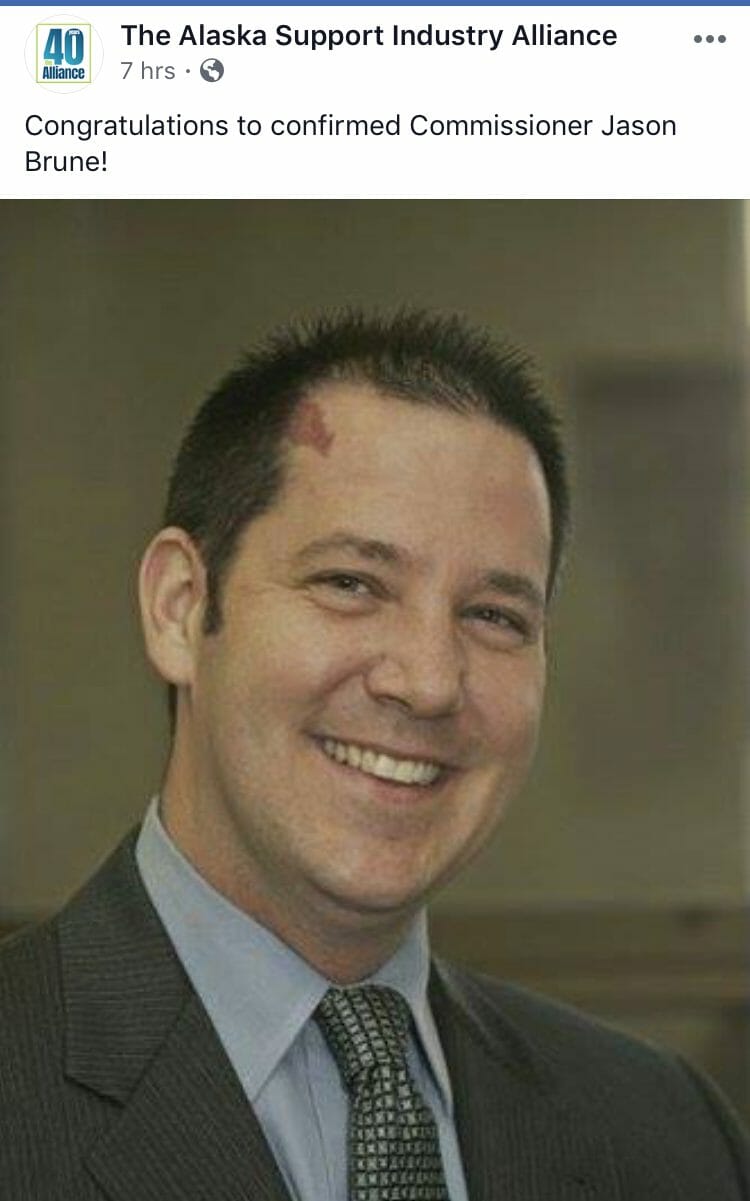 Ruth Botstein, one of the State attorneys Dunleavy fired after he took office, was featured at the Resource Development Council breakfast this week in Anchorage. Botstein argued on the State's behalf before the U.S. Supreme Court in the John Sturgeon case. I wonder what genius said, "Hey, let's fire her!"

Michael Tavoliero, who was not confirmed to the Real Estate Commission this week by the Legislature, is now behind an effort for Chugiak and Eagle River to break away from Anchorage. It has been dubbed EagleExit. Neat. You can read this ADN article about it. Tavoliero's confirmation hearing in the House State Affairs hearing was something else. It was described by Representative Gabrielle LeDoux (R – Anchorage) as, "The most bizarre hearing I have ever attended."
I'm sure you have heard about the incident in North Pole where a girl was expelled from North Pole High School for kneeing a boy in the groin after a group of boys entered the girls bathroom as some kind of protest. If you haven't heard, you can read about it in this Washington Post article. All I want to say is I think this is fucking ridiculous. That girl did not deserve to be expelled. If I had pulled a stunt like that my dad would have told me I deserved it and likely given me a beating.
Mike Porcaro, KENI radio host and owner of Porcaro Communications, went full snowflake this week. You can read all about that here. I want to announce a new weekly feature called "Mikey Monday." The first one will be on April 29. Stay tuned! Oh, and if you have any dirt or stories on Porcaro, let me know.
This Week's Loose Unit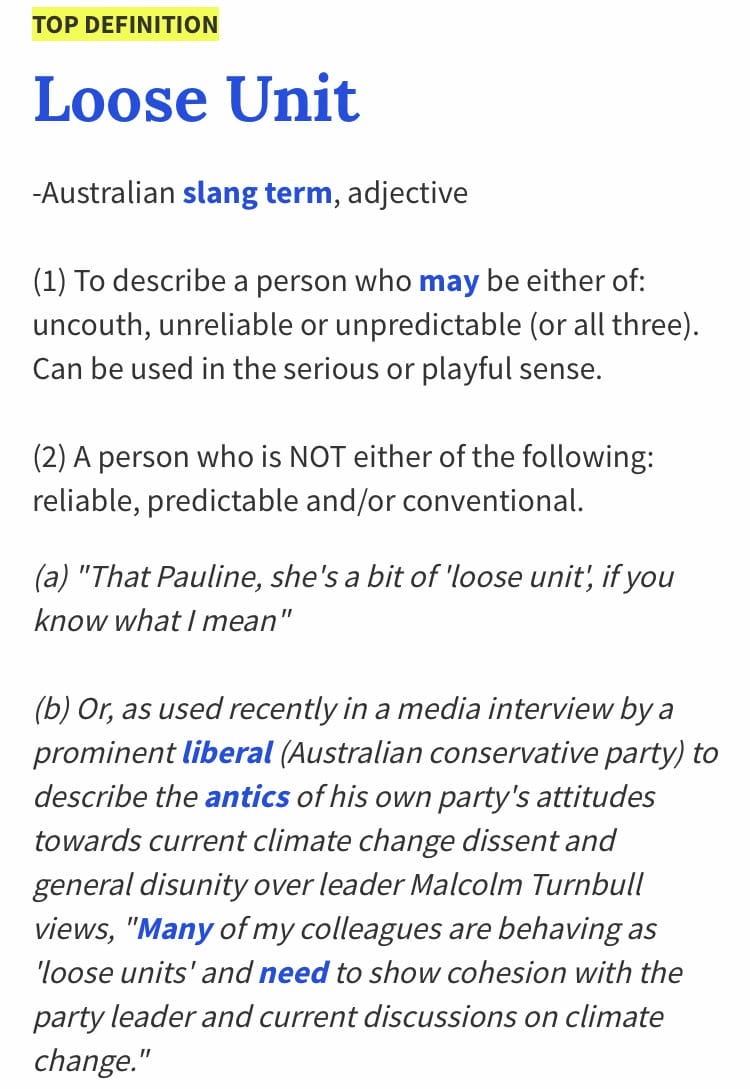 There were a lot of Loose Units this week in Juneau. But it came down to two that were very loose. They are related to one another in this case. So, this week's Loose Unit is a tie between Amanda Price and Senator David Wilson (R – Wasilla).
First, Amanda Price. Price held an extremely bizarre press conference this week before the confirmation vote in the Legislature. It included several of her subordinates, who all praised her in front of the media and told everyone how awesome she is. Very loose. The funny thing is the State paid for their travel to Juneau for the stunt when they would not pay for one trip for Quinlan Steiner, the former head public defender, to Juneau to testify on a crime bill. Nice, Tuckerman. I wonder what employees of legislators, or other commissioners or, I don't know, anyone would say about their boss if they were paraded in front of the media? But it got even looser. Later that day she had a final confirmation hearing before the House State Affairs Committee. Her posse was all there in the crowd in some kind of weird show of force. Not long after the hearing started, two extremely large Juneau cops rolled into the meeting in full regalia. I believe it was the police chief and deputy police chief. They sat in the front row, right behind Price. During a break she made sure to shake their hands for all the committee members to see. Talk about loose! Maybe these praise Amanda press conferences will become a regular thing.
Second, one of our favorite Loose Units, David Wilson, just couldn't help himself during her confirmation vote. When the secretary was calling the role for senators during Price's confirmation vote, when she called out Senator Wilson's name the Loose Unit yelled out, "Yippee ki-yay!" Loose. David, this is not Die Hard and you're not John McClane. Sorry. Here is a video we made depicting Wilson's vote
If you have a nomination for This Week's Loose Unit, or if you have any political news, stories or gossip (or any old pics of politicians or public officials) please email me at [email protected]