Welcome to this week's edition of the Alaska Stalker, a lighthearted round up of the best and worst of Alaska's social media landscape.
***
If you enjoy the Alaska Stalker, please consider supporting working moms like me by sending in hot tips, overheards, and spotted ins. You can reach me at [email protected] As always, thanks for reading.
***
In case you missed it, former Gov. of Illinois, Rod Blagojevich, recorded a Cameo video for the Alaska Landmine. It's a message to the residents of Campbell Lake, and it's a lot of fun. Not only did Rod do a great job, he also recounted his own Alaska tales and posted the video on his personal page. Thanks, Blago!

***
Warm Alaska Stalker birthday wishes to Stalker content queen, Sen. Lora Reinbold! Wait, is wishing someone a happy birthday normalizing them? Asking for my Twitter fans. 🙄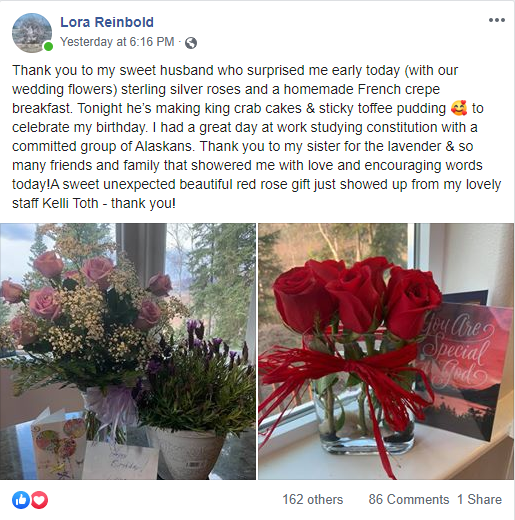 ***
While Sen. Shelley Hughes has an impressively detailed work history listed on the AK Leg website, I don't see any farming experience. Does Shelley have a secret farmstead we don't know about? Or does living in the Palmer automatically make one a farming expert?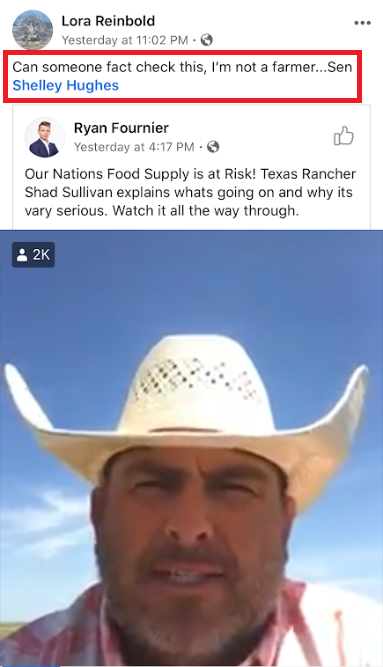 ***
It looks like all that farmer Shelley's growing is a healthy stock of patio furniture. 🤣🤣🤣 Glad to see spring has sprung in the Valley!
***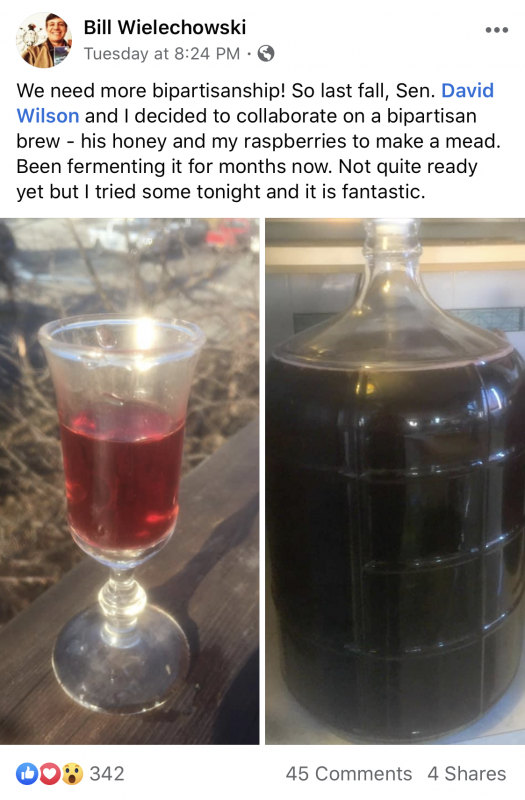 ***
Rep. Geran Tarr is having a great week. First, she helped enact a positive change to policies that previously prevented online purchases and curbside pickup for those using SNAP/WIC programs. Seems like a no-brainer in these times. Thank you for all your work on this, Geran.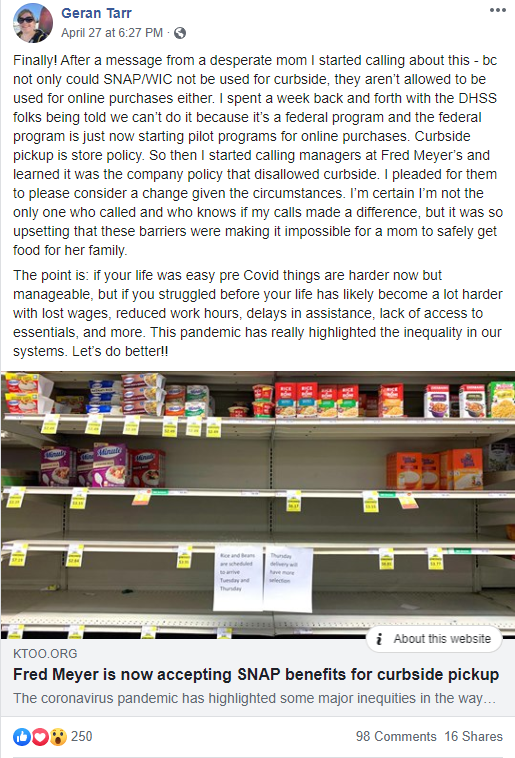 ***
And then she introduced us to this little guy. Nice to meet you, Toots! I hope you didn't have any accidents on Geran's box of important legislative documents.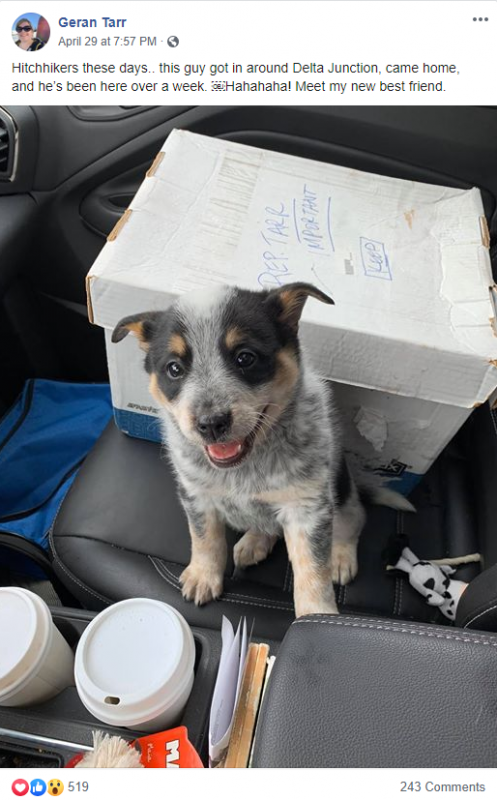 ***
Thinking of the Rasmussen family during this difficult time. Good dog, Callie. What a sweet girl. 🐾💔🌈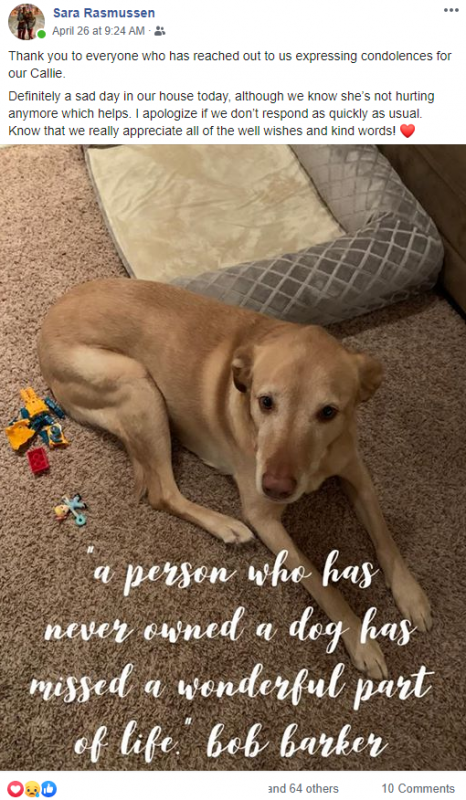 ***
It's time for another "Guess the Legislator." I totally see it. Hint: she's on the far right, but only in this pic. To find out who it is, click here or scroll to the end.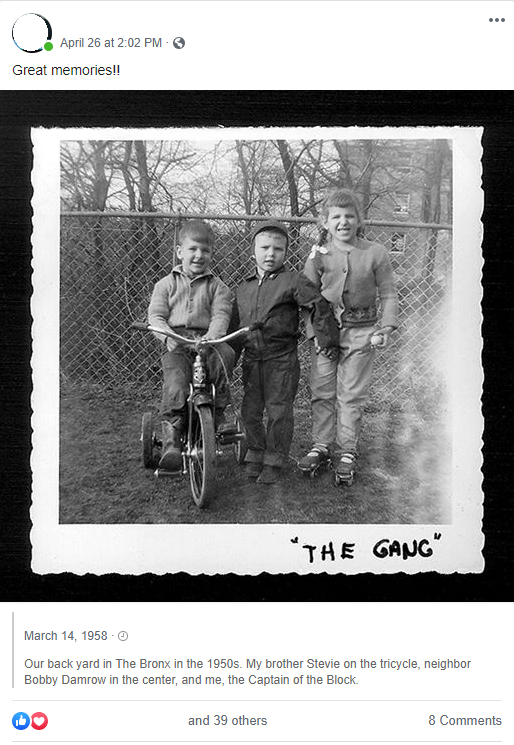 ***
Rep. Sarah Vance is staying busy telerepresenting while balancing life at home with four kids. Sarah, do you have any tips for working moms? Love your Hawaii ABC Store coffee mug. Like many Alaskans, our family has the same one!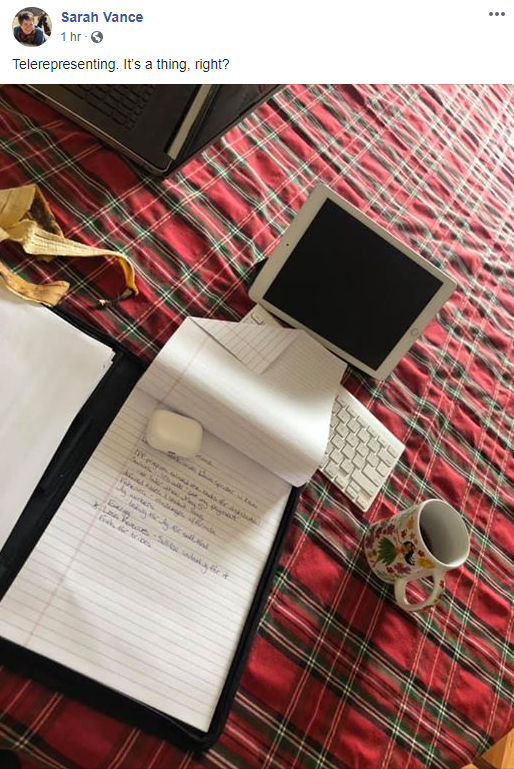 ***
Who would have pegged Rep. Sharon Jackson as pro open borders? 🙃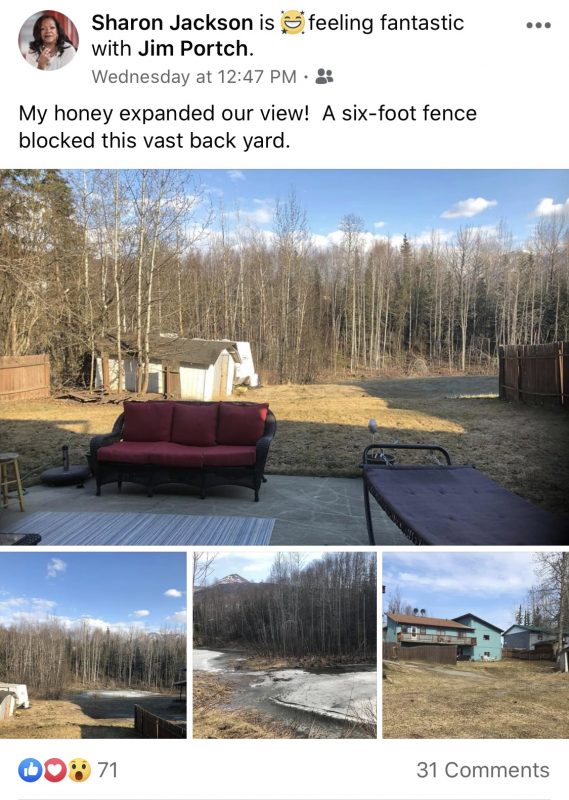 ***
Alaska Public Media reporter Zachariah Hughes announced he's taking a new job in Philadelphia. Buried in his goodbye Twitter thread was a reference to some top secret Anchorage Assembly impressions. If you want to hear them before he leaves for good, please let Zach know ASAP!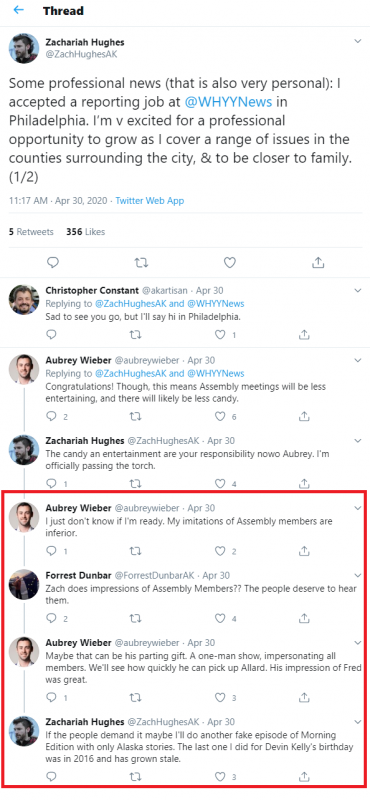 ***
Assemblymember Christopher Constant pulled off some magic last night with AK4AK, a rocking concert benefiting Food Bank of Alaska. If you haven't had a chance to check it out (and donate) you should. Over $70,000 raised so far. WOW.
***
Niiiiiice. 😂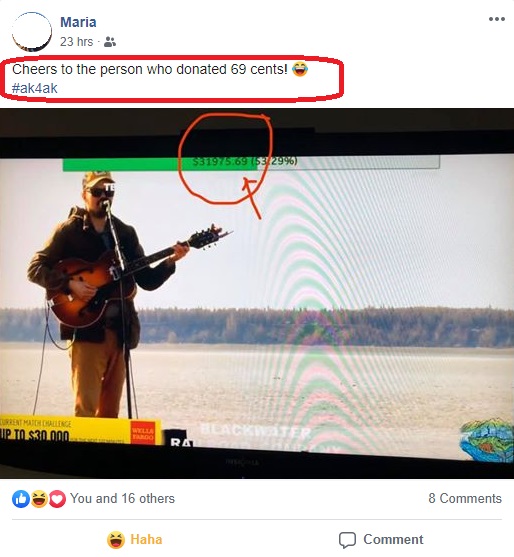 ***
Chris, you forgot to book an act. He's local and check out his newest hit – it's topical. 🦠 Maybe next time, Dan.
***
Hey Assemblymember Quinn-Davidson, it might be time for a new profile pic. You won. You're ELECTED!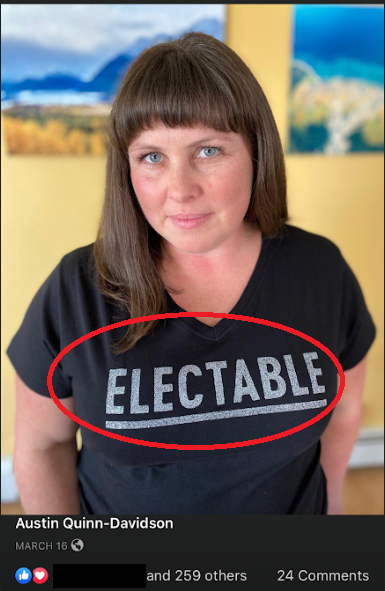 ***
Maybe Austin is taking the Gov. Mike Dunleavy approach: if you wait long enough to change it, the information in your custom profile picture will go from outdated to accurate again!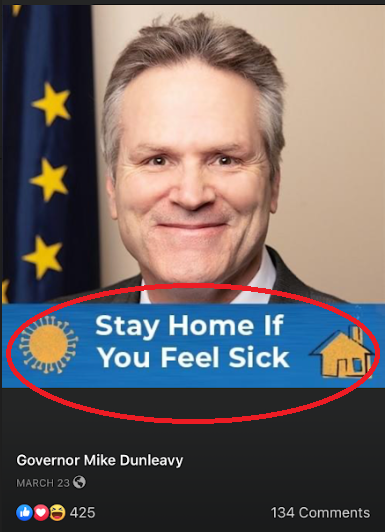 ***
But my favorite profile pic debacle of the week has to be via Leslie Becker, who is running in HD 36 against Rep. Dan Ortiz. Leslie debuted her first campaign photo and chose one of her…. *squints* standing at the Mendenhall Glacier in JUNEAU?! Not only is this not in her district, Juneau and Ketchikan have been rivals for decades! Way to go, Leslie. What's next? Will she give her first interview riding the tram?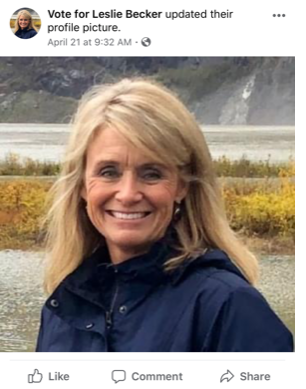 ***
Candidate for HD 27, Liz Snyder started early this morning. Her virtual cocktail & mocktail demo fundraiser started at 10AM and has lasted all day! She is really getting into the quarantini spirit.

***
Update: It's 8PM and she's still going! As Stuart said, "That's real commitment." Cheers, Liz. 🍸
***
Lyn, please wear this to your first debate with Gabby.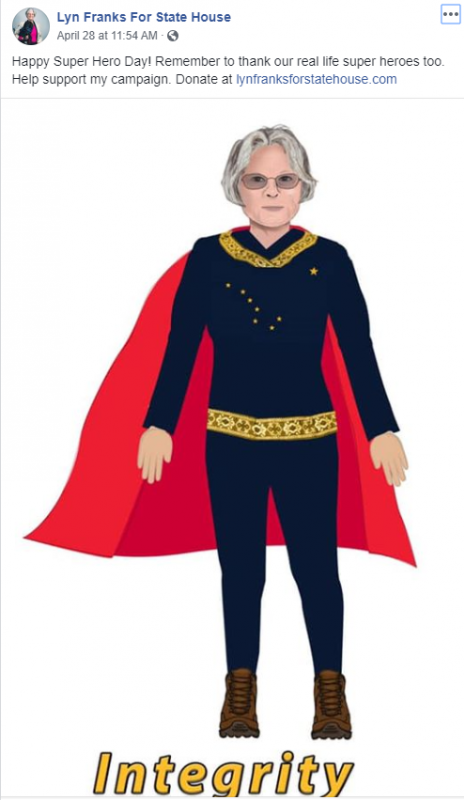 ***
Ouch.
***
The answer to this week's "Guess the Legislator" is none other than Alaska Stalker fav Rep. Harriet Drummond!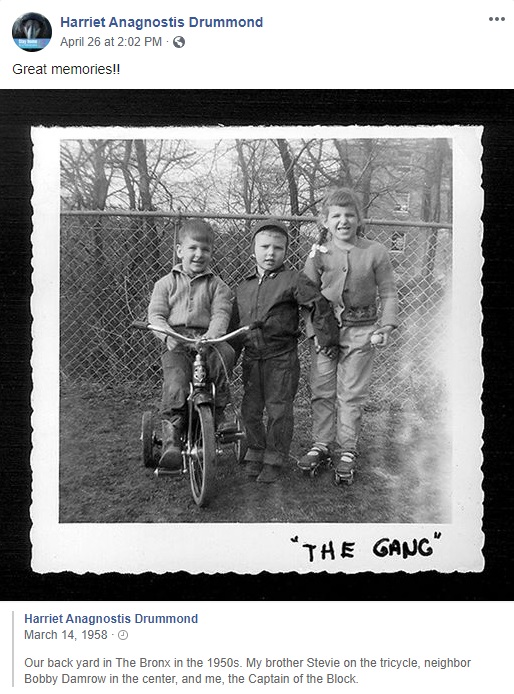 ***
The Alaska Stalker was born and raised in Alaska. She is hunkered down in South Anchorage with her husband, daughter, son, and baby on the way. She is not Jeff Landfield.