The confirmation of now Senator Josh Revak (R – Anchorage) brings with it a vacancy in House District 25. Per State law, Governor Mike Dunleavy (R – Alaska) has to appoint someone by December 2, 2019 – 30 days since the vacancy occurred.
The Alaska Republican Party (ARP) will need to send three names to Dunleavy to choose from. The ARP recently announced that they will accept applications until Friday November 8, 2019 by 5:00 pm. Then, District 25 Republicans will meet on Monday November 11, 2019 to interview the applicants and decide on the three names to send to Dunleavy.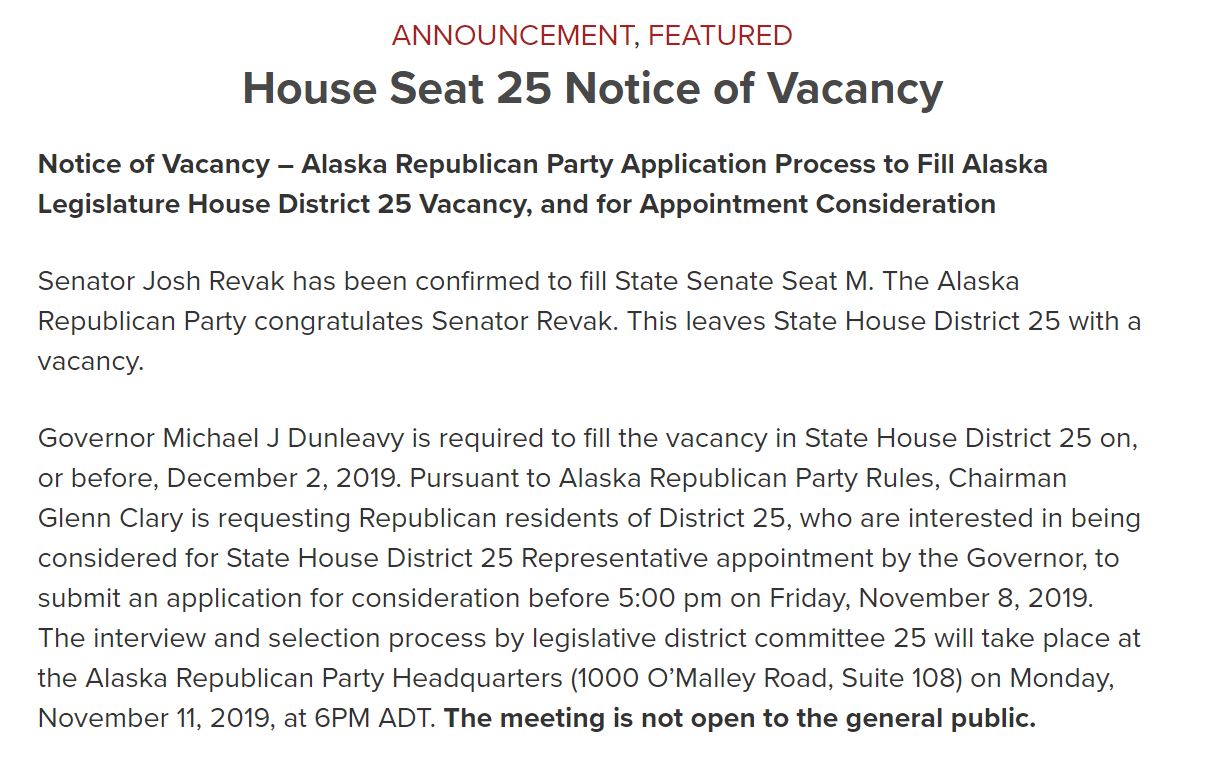 Advertisement. For information about purchasing ads, please click here.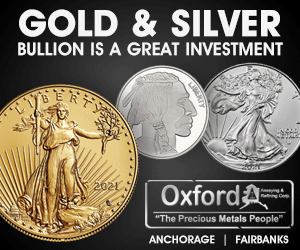 The ARP has made it clear that the meeting is not open to the public. Per ARP rules, registered Republicans and members of the press are permitted to be at ARP meetings. Earlier this year, I was denied access to the meeting to select names to send to Dunleavy to replace former Senator Chris Birch. The entire meeting was held in secret, behind closed doors. This article discusses that dumpster fire.
Here are the members of the District 25 Republican committee:
Chair – Akis Gialopsos (works for Senator Cathy Giessel (R – Anchorage))
Vice-Chair – Misty Steed
Secretary – Kelly Millen
Asst. Secretary – Shiela Cernich
Treasurer – Grover Johnson
Asst. Treasurer – Vacant
Bonus Vote – Dave Donley (Deputy Commissioner of Dept. of Administration)
House Rep. – Vacant
Senator – Senator Josh Revak (R – Anchorage)
Precinct 840: E Dowling 1 – Vacant
Precinct 845: Elmore 1 – Anastasia Gialopsos (Akis' sister)
Precinct 850: Abbott 1 – Vacant
Precinct 855: Lore 1 – Jamie Donley (Wife of Dave Donley)
Precinct 860 Lore 2 – Vacant
Precinct 865 Abbott 2 – Jeff Turner (Works for Governor Dunleavy)
Precinct 870: E Dowling 2 – Kari Nore (works for Senator Cathy Giessel (R – Anchorage))
I have not been able to confirm who has applied. However, I spoke to Tali Birch Kindred, Rick Whitbeck, and Akis Gialopsos, all of whom said they are not going to apply. Bethany Marcum and Jamie Donley have been brought up as possible applicants. I reached out to both; neither has yet to respond. I will update the article if I hear back from either one.
Stay tuned for an article that lists all the applicants. This information should be available by Saturday. With many well-regarded Republicans in the district already declaring that they will sit this one out, there is a decent chance that the applicants may be a gaggle of Loose Units! Whoever Dunleavy ends up choosing, considering  the makeup of House Republicans, expect the confirmation to be a breeze.