It's already October! It was a relatively quiet week for state politics, but a lot happened on the local level. There were numerous local elections all over Alaska this week. Governor Mike Dunleavy (R – Alaska) lost some senior staff. And dividends were direct deposited this week!
A friendly message and reminder to all our readers, the Landmine is made possible by myself and a team of awesome Alaskans. It takes a lot of work to provide the content we do. If you enjoy the content we provide, please consider making a one time or recurring monthly donation. You can click here to donate (or on the image below) via PayPal. We would really appreciate it. And thanks to everyone who has been supportive!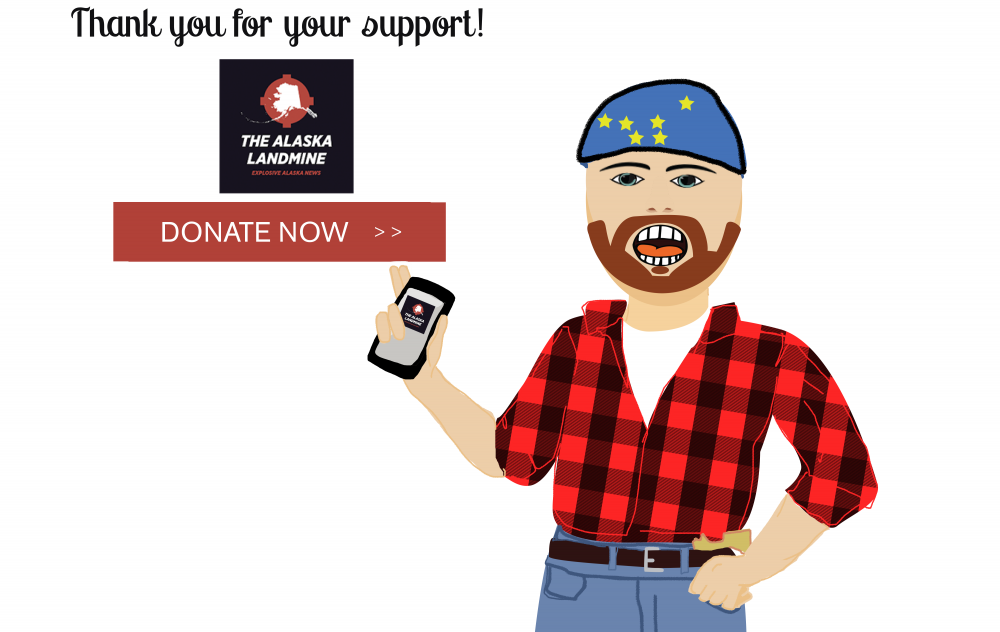 Local Elections
There were numerous local and borough elections all over Alaska this week. Some of the high profile wins include:
Fairbanks Mayor Jim Matherly defeated challenger Kathryn Dodge. Matherly was outspent 2-1 but still managed to win 49.73%-43.83%. Two other candidates peeled off 6%.
Palmer Mayor Edna DeVries narrowly defeated challenger Jim Cooper. She won by three votes!   
Jesse Bjorkman cruised to victory for a seat on the Kenai Peninsula Borough Assembly. He garnered over 58% of the vote in a three-way race that included Jonathan Quick. Quick had some APOC problems when it recently came to light that his former campaign manager was coordinating with a PAC that was supporting Quick. Loose.
Santa Claus (yes, that's his name) was again elected to a seat on the North Pole City Council. This KTVU article provides more details. What a legend that guy us.
The City of Houston voted against a plastic bag ban by a 2 vote margin, 56-54. Maybe all the people in Anchorage who are mad about the plastic bag ban can go shopping in Houston now!
Governor's Staff
As I predicted in last Sunday's column, Governor Dunleavy appointed his Deputy Chief of Staff, Jeremy Price, to the public seat on the Alaska Oil and Gas Conservation Commission. He even made Price chair! However, this is subject to legislative confirmation. As one legislator told me, "I cannot wait for that vote." Price, who was making $135,000/year as deputy chief of staff will now make $140,000/year as an AOGCC commissioner. Wooooo! The Governor's Office even sent out a headshot of Price. The black and white version makes me want to hide.
Governor Dunleavy's Press Secretary, Matt Shuckerow, announced this week that he will be leaving the Governor's Office to pursue an exciting opportunity. Shuckerow has not said what that is but my sources tell me that he will likely be managing Senator Dan Sullivan's (R – Alaska) re-election campaign. Shuckerow has worked for all three members of the delegation in D.C. in a press or communications capacity. The big question is who will be the new press secretary? Sorry, Mike. I am not available.
Anchorage Mayoral Race – in 2021
Assemblymember Forrest Dunbar filed his intent today with the Alaska Public Offices Commission to run for mayor. A candidate can file 18 months before an election. So Forrest filed at the earliest possible time. Other people that have expressed interest or have been rumored to run are Eric Croft, Representative Ivy Spohnholz (D – Anchorage), Assemblymember Chris Constant, and Representative Lance Pruitt (R – Anchorage). Mayor Ethan Berkowitz is termed out and cannot run again.
Several sources reported a big Democratic power meeting this week that included Dunbar, Spohnholz, Croft, Constant, Democratic Party leadership, and labor leaders. There was not a lot of info on the content of the meeting but let's just say they don't want three or four Democrats running for Anchorage mayor.
Someone reported a recent poll phone call by Alaska Survey Research (Ivan Moore's company). The poll asked about Spohnholz, Mead Treadwell, Andrew Halcro, Forrest Dunbar, John Weddleton, Eric Croft, and Amy Demboski. They also asked about Mark Begich, Ethan Berkowitz, and former Mayor Dan Sullivan. Could Mayor Dan be making a comeback???
Other Happenings
These flyers have been showing up in State offices in Juneau and Anchorage. Dunleavy's office confirmed that they had them made. Pretty bizarre.
These have been spotted in State offices in Juneau and Anchorage. We've been contacted by several people who have seen them. They were also on all the tables today at an Anc. Republican Women's Club event that Commissioner Tshibaka was speaking at. No idea who made them. #akleg pic.twitter.com/w5MdCyzAAO

— The Alaska Landmine (@alaskalandmine) October 4, 2019
Department of Administration Commissioner Kelly Tshibaka (Chewie) spoke at an Anchorage Republican Women's Club lunch meeting on Thursday (10/3/2019). She is a very eloquent and high energy speaker. She talked about her time working in D.C., why she came back to Alaska, and her current role as commissioner. She did refer to the Department of Administration as the Department of Awesomestration a few times. Whatever that means. My guess is she plans on running for something down the road. Oh, and those above Dunleavy flyers were on all the tables.
The Alcohol Beverage Control Board voted this week to sack Alaska Marijuana Control Office Director Erika McConnell. Many were surprised that McConnell's lawyer was Libby Bakalar. However, for McConnell to be removed from her position the Marijuana Control Board also has to vote to remove her. They are not meeting until mid-November. No word on their plans, but they did vote unanimously in July that they had full confidence in McConnell. This could get weird.
Joe Balash started his new job as Senior Vice President of External Affairs for Oil Search. Joe, hit me up if you need a deputy!
Elizabeth Harball (often accidentally referred to as Hardball) announced that she will be leaving her job as a reporter at the Energy Desk at Alaska Public Media to take a job as editor at the Anchorage Daily News. Congrats, Elizabeth!
Landmine favorite Joseph Lurtsema landed a job in Representative Sharon Jackson's (R – Eagle River) office. He was spotted in the Anchorage LIO, which resulted in an intranet investigation by another staffer. Joseph, try to not get too loose.
I ran into KGOT DJ Maile D at Home Depot this weekend. Wait for it. Malie D and her husband are expecting! They just recently got married. That was quick! Congrats, Malie.
Anyone catch the new Pebble Mine ads on TV? I saw one that featured Willie Hensley talking about a fair process for Pebble Mine. Bizarre. I hope they paid him a lot of money.
In honor of PFDs being direct deposited this week, check out this radio ad from the 1990s that Scott McMurren sent me. Very loose!
Freeman on the loose!
Zach Freeman, press secretary for the Republican House Minority, is currently at the Palmer City Hall watching early and absentee ballots being counted for the recent local election. Weird. #akleg

— The Alaska Landmine (@alaskalandmine) October 4, 2019
Overheard in Anchorage, in response to the Assembly looking into cold weather shelter at Bean's Cafe, "Bean's is the city's 2 am booty call. It's who they always turn to when they have nowhere else to go."
This Week's Loose Unit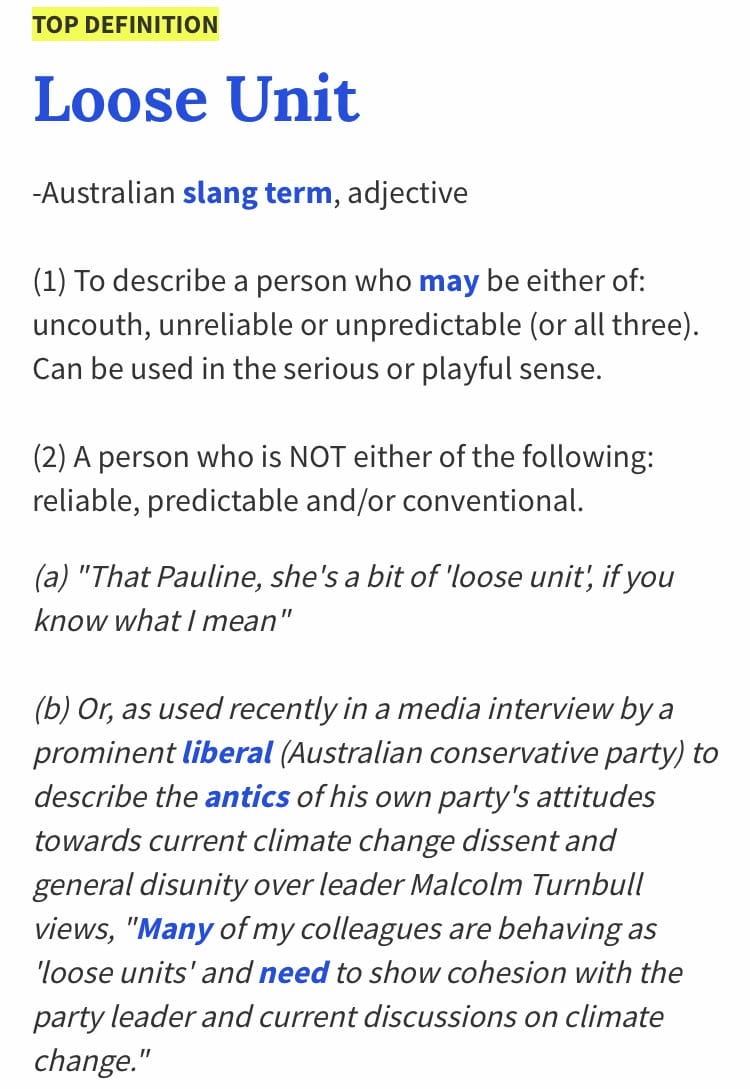 As far as Loose Units go, this week was relativity quiet. But if I have learned one thing in the last few years, there is always someone worthy of Loose Unit status! Often times more than one. This week's Loose Unit is Attorney General Kevin Clarkson. Clarkson has really been pushing the State to change how they collect union dues for public employees. He wants employees to opt-in rather than opt-out. This is based on the Janus Decision. It sounds like about 20 employees total, out of several thousand, want this. That alone is pretty loose as Alaska is the only state who is interpreting the decision the way Clarkson is. In fact, Judge Greg Miller ruled this week that the State needs to halt its plan to change how dues are collected due. This is due to an ongoing lawsuit on the issue between the State and the Alaska State Employees Association.
But what earned Clarkson Loose Unit status this week was another lawsuit, unrelated to the Janus one. An Anchorage construction company filed a lawsuit recently against the State challenging the Alaska local hire provision. Instead of Clarkson, Alaska's Attorney General, defending the law that is on the books, even is he believes it is unconstitutional, Clarkson decided to get loose and basically said, "I agree with the lawsuit!" Talk about loose! Check out this headline. I don't think Clarkson has ever taken a class on optics.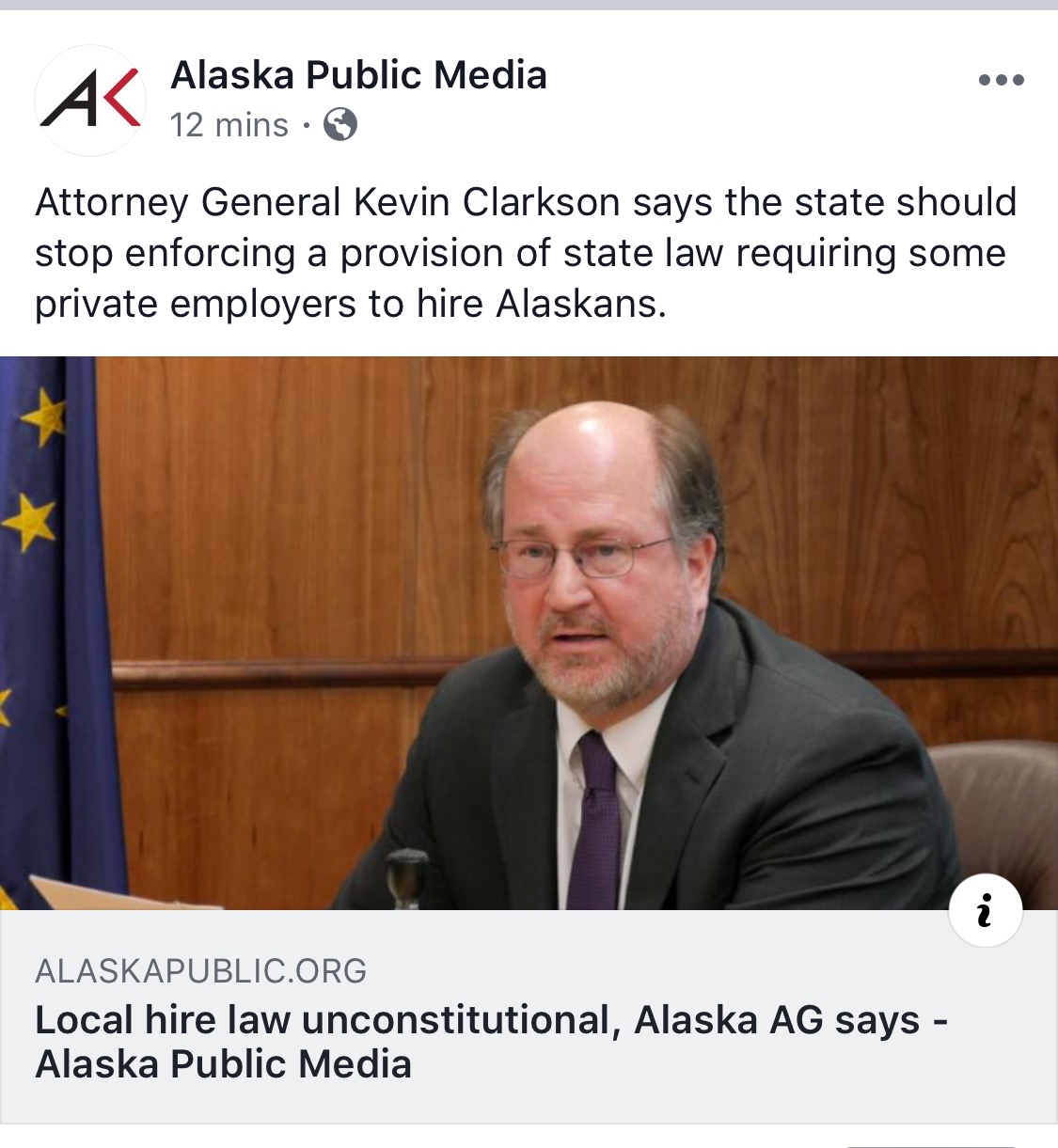 If you have a nomination for this week's Loose Unit, or if you have any political news, stories or gossip (or any old pics of politicians or public officials) please email me at [email protected]