What a wild week. Between Suzanne Downing's crazy Facebook Live video at a Republican fundraiser and the wild Maria Athens scandal, it was a very loose week indeed. The November 3 general election is just over three weeks away but absentee ballots are already being returned. In-person early voting starts on October 19. Just like after the primary, the absentee votes will not start being tallied for a week after the election. I am happy to announce we will be doing another virtual Election Central for the general. Stay tuned for more info.
A friendly message and reminder to all our readers, the Landmine is made possible by myself and a team of awesome Alaskans. It takes a lot of work to provide the content we do. If you enjoy the content we provide, please consider making a one time or recurring monthly donation. You can click here to donate. We have a donation system that makes it super easy. We would really appreciate it. And thanks to everyone who has been supportive!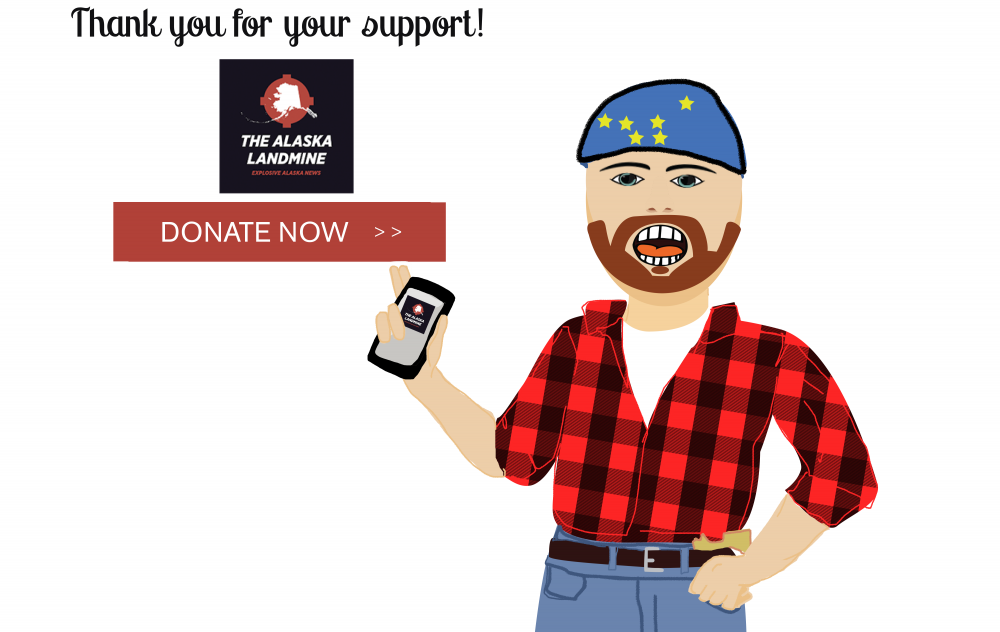 More Division of Elections Drama
The Alaska Division of Elections has had a rough month. Between being sued by Alyse Galvin for abruptly changing how they showed party affiliations and forgetting to send ballots to a village in Southwest Alaska, it's been far from smooth sailing. The mistakes have continued. The Division of Elections sent out the Official Election Pamphlet this week. It does not include an entry from Alaska Independence Party candidate Timothy Huit. Huit is running in District 23 (my House district). Huit submitted his statement and paid his fee. His statement is posted on the Division's website under his name. But it is missing from the actual booklets that were mailed out. If I was Huit I would be pretty mad. He has contacted the Division and asked they reprint the booklets for District 23 and issue an apology.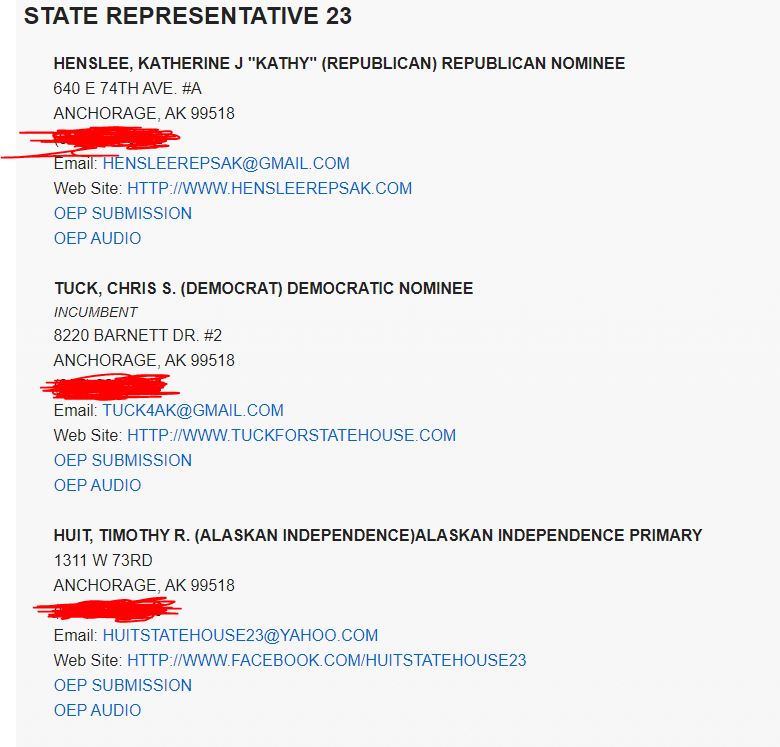 Other Happenings
Congressman Don Young (R – Alaska) held a fundraiser in the Valley last night at the home Rina and Lorne Bretz. Many people were in attendance including Governor Mike Dunleavy (R – Alaska), Senators Shelley Hughes (R – Palmer) and Mike Shower (R – Wasilla), Representative Cathy Tilton (R – Wasilla), and former Representative Lynn Gattis. Even former Governor Sarah Palin made a surprise appearance! I was told there were a lot of selfies. I was also told the food was amazing.
Speaking of Don Young, check out this cartoon his campaign put out yesterday. Savage.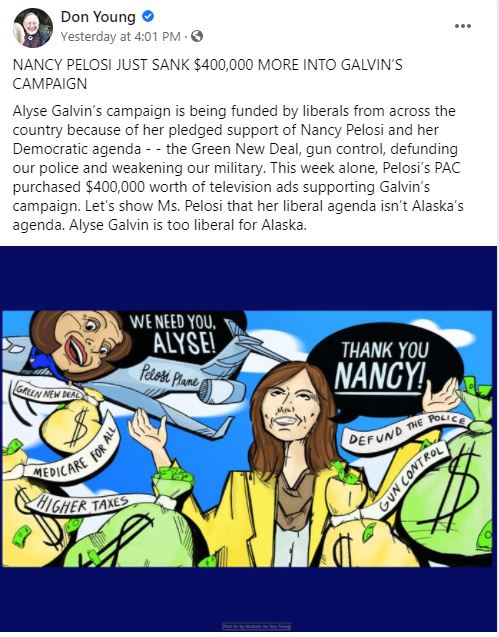 Commonwealth North has put out a pretty cool tool that allows people to look at different revenue and spending options to balance the budget. You can check it out here.
Anchorage Baptist Temple sent out a letter inviting candidates to their "Meet the Candidates Sunday" they host before every election. Funny that Glenn Clary, who is also the chair of the Alaska Republican Party, is listed as the contact person. Guessing there will not be many Democrats at the event…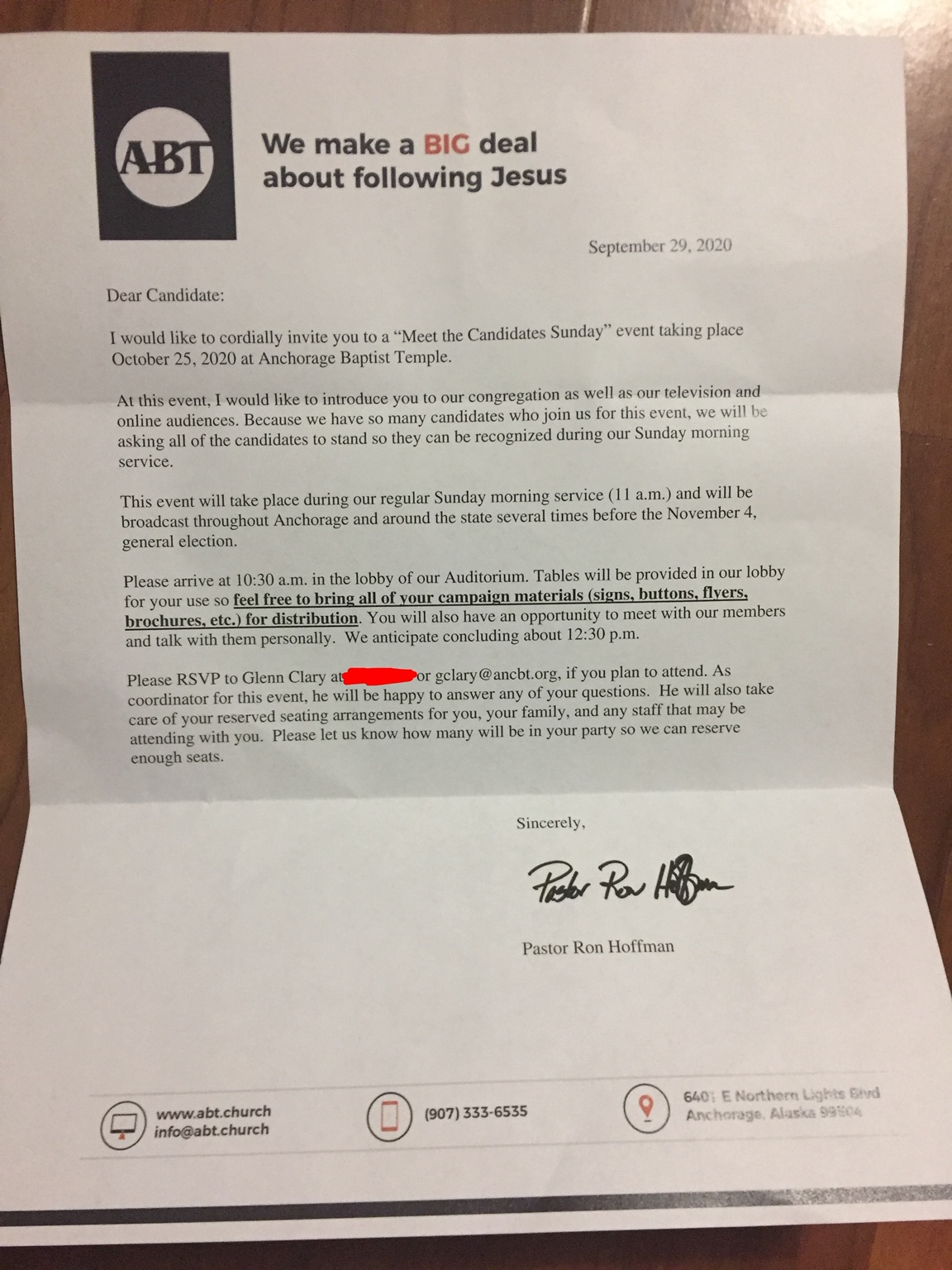 Political mailers have gotten out of control. I've been getting so many from Al Gross and Senator Dan Sullivan (R – Alaska). It's getting ridiculous. Here is a really bizarre one someone sent me from Senator Shelley Hughes. Talk about a weird mailer.
The Alaska Press Club sent a letter to Governor Dunleavy this week requesting that he be more accessible. Since Kevin Clarkson resigned, Dunleavy has not held any open press availabilities.
Sara Erickson, sister of Representative Chuck Kopp (R – Anchorage) submitted her resignation to the Alcohol Beverage Control Board this week. But apparently she was convinced to stay on until March, when her term expires. She is one of the public members on the five member board.
The Alaska Public Offices Commission held an emergency hearing this week to take up a complaint against Defend Alaska Elections. It has to do with how they are reporting their top donors on advertisements. After they placed their ads, new donors (Alaska Republican Party, Republican Senate Leadership Committee, Americans for Prosperity Action) came in that donated significantly more money that the original three donors (Sean Parnell, Mark Begich, John Sturgeon). The Commission ruled that they must update their ads to reflect the new top donors.
In an extremely loose moment, propogansist Suzanne Downing had a major fail when she posted a Facebook Live video on Tuesday night at a Republican fundraiser. As she walked in you could see Governor Dunleavy taking a picture with a woman. He immediately told Downing to turn off the camera. The woman jumped to the side and put on her mask. Downing then ended the stream. I was tipped off to the video and quickly went and watched. I immediately did a screen record to save the video. Downing deleted the video not long after. Some people have said the woman in the picture was Senator Natasha von Imhof (R – Anchorage). Although she kind of resembles von Imhof, I confirmed it is not her. But even before that it was pretty obvious to me that those two would not be embracing for a photo. And also, I highly doubt Natasha would wear those gaudy boots.
This Week's Loose Unit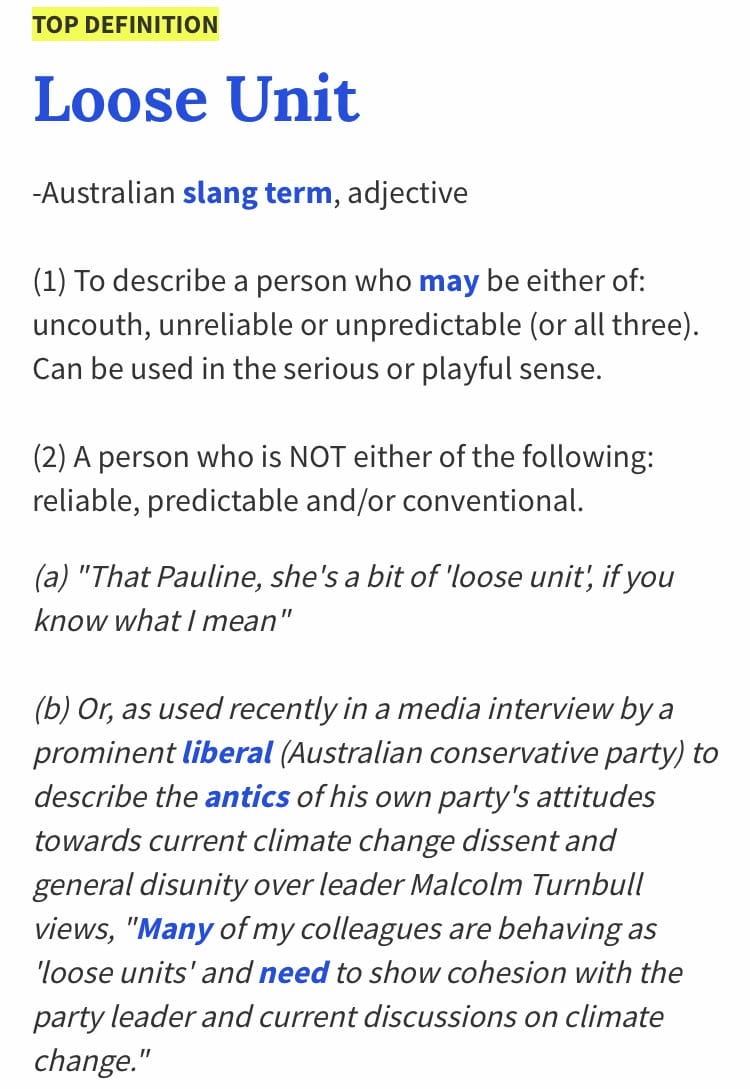 After Downing posted her video I told someone, "There is no way anyone beats Downing this week for the Loose Unit." I was wrong. This week's Loose Unit is Maria Athens. It all started on Friday when Athens posted an insane video making some outrageous and unsubstantiated claims against Anchorage Mayor Ethan Berkowitz. She appeared to be on coke or meth or maybe both. It was super loose. The video quickly went viral with hundreds of shares and tens of thousands of views. What was more loose than the video itself was all the comments from people who either believed it or hoped it was true. I had dozens of people, some smart and rational, contact me thinking it was true. Loose, and also very sad. Not long after Berkowitz put out a statement calling the accusations slanderous and said Athens appeared to be "hostile and unwell."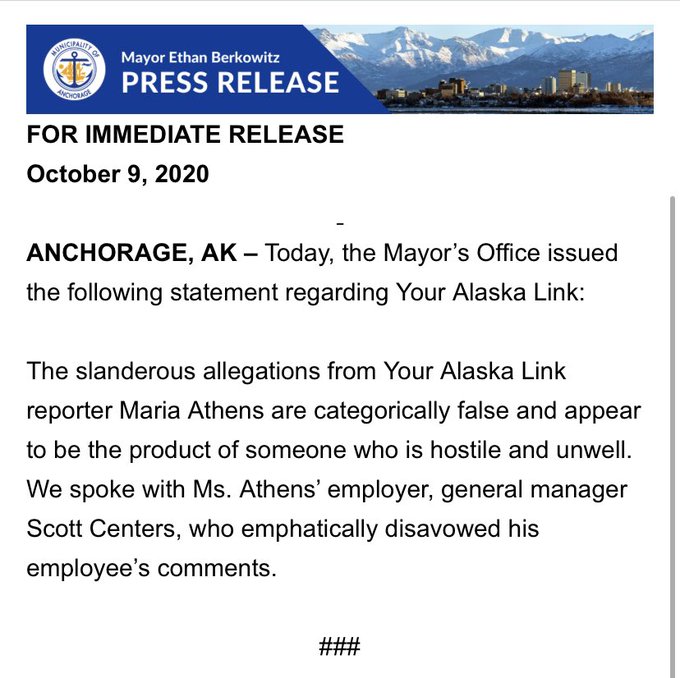 It only got looser from there. Athens then posted a picture of the backside of a naked man and wrote "PROOF." Athens also responded to comments where she said she hadn't done coke since grad school, wished she could afford drugs, and told one person "go fuck your self." Classic Loose Unit behavior.
Then it got maximum loose. Athens was arrested later that day for assault. It's not clear who it was but according to reports she attacked a man much larger than her. Super loose. She was arraigned on Saturday and remains locked up at the Hiland Mountain Correctional Center. Beyond loose. As one person commented, "She has somehow managed to make Charlo Greene look normal. And that is no easy task."
If you have a nomination for this week's Loose Unit, or if you have any political news, stories or gossip (or any old pics of politicians or public officials) please email me at [email protected]