Thanksgiving is just four days away! As COVID cases continue to spike around Alaska, Thanksgiving this year will look very different for many families. The Division of Elections has finally counted all of Alaska's votes this week. The election should be certified by Wednesday, November 25. Neither the House or Senate have yet organized a majority. Due to the dynamics of each body there's no telling when they each will organize.
A friendly message and reminder to all our readers, the Landmine is made possible by myself and a team of awesome Alaskans. It takes a lot of work to provide the content we do. If you enjoy the content we provide, please consider making a one time or recurring monthly donation. You can click here to donate. We have a donation system that makes it super easy. We would really appreciate it. And thanks to everyone who has been supportive!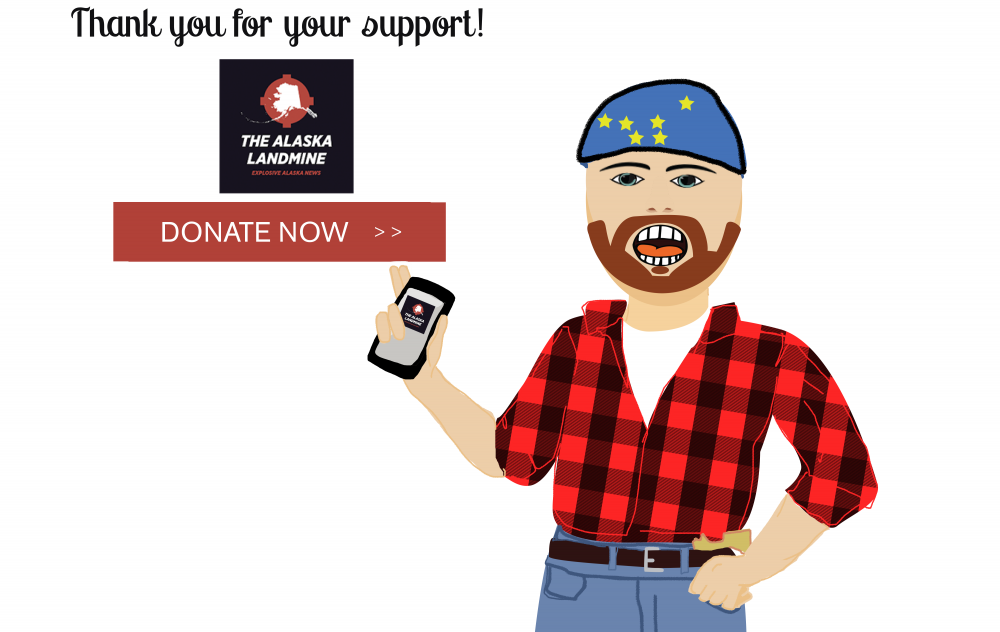 Election Update
After weeks of waiting the Division of Elections finally counted all of the outstanding absentee votes. The big surprise was Representative Lance Pruitt (R – Anchorage) losing to Democrat Liz Snyder by 16 votes, or not quite two tenths of a percent. Interestingly, there were 17 write-in votes. Pruitt is well within the half a percent margin to request a recount that is paid for by the state. Sources say he will do that.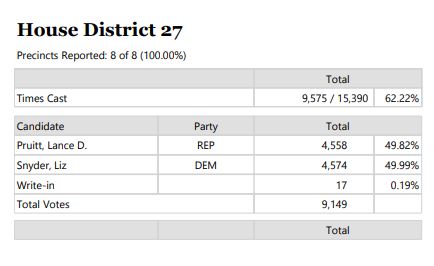 If Snyder is still up after a recount, which is the likely result, Republicans will have 21 people in the House. As I have previously written, with people like Representative David Eastman (R – Wasilla) and several other Republicans who want a full PFD and oppose a binding rule on the budget, the Republicans have very little chance of assembling a majority. With Pruitt gone, the only House Republicans left who have been part of previous Republican led majorities are Representatives Louise Stutes (R – Kodiak) and Steve Thompson (R – Fairbanks). Keep in mind both of them are also part of the current bipartisan House Majority. Eight of the new House Republicans have never before served in the legislature. The rest have either been elected or appointed since 2016, when the first of the last two bipartisan coalitions formed in the House. The Democrats and Independents have a much deeper bench. House Speaker Bryce Edgmon (I – Dillingham) has served in the legislature since 2006 and was also a former member of Republican majorities. Representatives Neal Foster (D – Nome) and Chris Tuck (D – Anchorage) have both served in the legislature since 2009. Foster, like Edgmon, was also a former member of Republican majorities. And many other House Democrats have been part of the last two majority coalitions. Also, Representative-elect Josiah Patkotak has signaled that he will be part of the traditional Bush Caucus. So my bet is some other type of coalition results in the House.
Update: I forgot Representative Cathy Tilton (R – Wasilla) was first elected in 2014. So she spent one term in a Republican House Majority (2015-2016). With Pruitt losing, Tilton will be the only Republican (and only member) in the House who has only been in a Republican majority (Thompson and Stutes have been in both Republican and Democratic majorities). But Tilton has never been in a leadership position in a majority.
The Senate has also still not organized. Not a lot of new information has come out since the November 13 meeting of Senate Republicans. I'm told that Senator Bert Stedman (R – Sitka) is at his cabin until after Thanksgiving. So there will likely not be another meeting until at least next week. While it is more likely there will be a Republican majority in the Senate than the House, they are still divided on the same issues House Republicans are – PFD and binding caucus. I'm sure the Senate Democrats are just watching quietly to see what happens.
Other Happenings
Lobbyist Jerry Mackie has joined forced with Mike "Fish" Pawlowski. Pawlowski left his role as chief of staff to Senator Lisa Murkowski (R – Alaska) and will be moving back to Alaska. Maybe Mackie realized he needed a Republican so he can actually get a meeting with anyone in the executive branch.
Sources have reported that Senator-elect Roger Holland has hired Nikki Rose as his chief of staff. Congrats to Nikki. This will be epic to watch.
Senator-elect Robb Myers hired former staffer Michaella Anderson as his chief of staff. Congrats, Michaella! Sadly, she will not provide the kind of content Nikkie Rose is sure to provide.
On Tuesday Governor Mike Dunleavy (R – Alaska) addressed the Alaska Republican Party state central committee via Zoom. I was not on the Zoom but I was told he talked about the presidential election and COVID health mandates.
Former legislator Jay Kerttula passed away this week. He was 92. Here is part of a statement that his family released:
First elected to the House in 1961, two years after statehood, Kerttula served 34 years in the state legislature. He is the only legislator to be both Speaker of the House of Representatives and President of the Senate. He began his political career when Alaska had little funding, but a lot of hope. Kerttula, along with leaders like John Butrovich, Frank Ferguson, Don Harris, John Sackett, Bill Egan, Jimmy Huntington, Bill Boardman and others were able to put partisan politics aside and focus on issues. As close friend Sen. Clem Tillion said, for Jay Kerttula, "regardless of party, Alaska always came first."
The Resource Development Council held their annual conference this week. It was done virtually due to COVID. Which really sucks because I have enjoyed going to this conference for a decade. The people you meet and interact with is really like nothing else. I really hope it is back to normal next November.
This is interesting. On to the next thing! You guys should place an ad on the Landmine!
The Palmer City Council heard public testimony on a proposed mask mandate this week. Some of it is solid gold. You can click here to watch. I recommend these spots:
32:34 – A woman talks about being a "deep researcher" and says she found out "masks were used as an agent of social control in Liberia." It devolves from there.
1:33:03 – A man named "Big Mike" wearing a MAGA hat identified himself as the "president of the Alaska chapter of the Proud Boys." He went on to talk about drinking beer with his buddies and his wife escaping communist Romania. He also compared mask mandates to Muslim countries that make women cover their faces in public.
3:21:30 – The clerk is explaining to Mayor Edna DeVries parliamentary procedure for the purpose of public testimony. At one point DeVries went off and exclaimed, "I don't care whether it's Robert's Rules or not!"
This Week's Loose Unit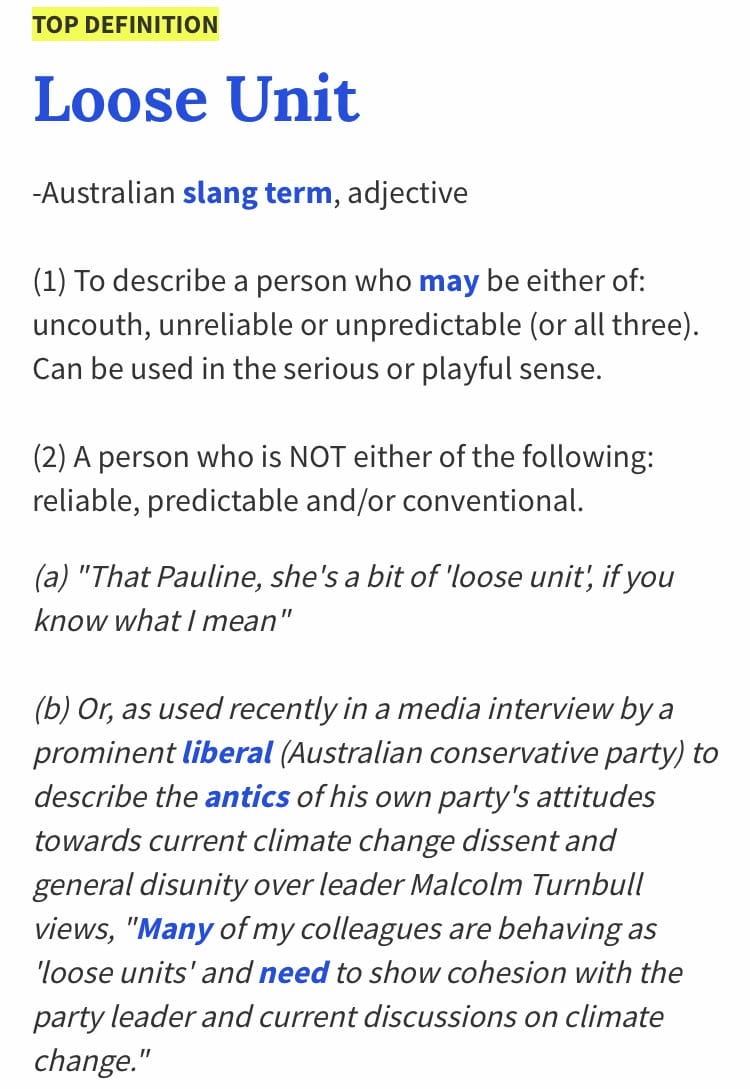 Some weeks the Loose Unit is revealed early in the week. This was one of those weeks. This week's Loose Unit is Senator Lora Reinbold (R – Eagle River). Last Sunday she posted this on Facebook, which was later removed. Very loose. This was actually in my column last Sunday. But Reinbold was just getting started.
The next day she made a "Round 2" post on Facebook. Since then she has set her Facebook page to private. She also unfriended me! Very loose. By the way Senator Reinbold, many of your Facebook friends sent me these posts.
Reinbold then took the opportunity to go on KTUU and other media and explain her civil rights struggle. She also went on the Tom Anderson Show this week to talk about the incident. It was maximum loose. You can listen here. Trust me, you want to listen to this 11 minutes of solid gold. She actually said she was met at the next gate by three or four Alaska Airlines employees! She says they gave her a new mask to wear but she said she could not breathe. Just imagine what would happen to a regular citizen if they took a picture of Alaska Airlines employees (which is against their policies) and then posted it on Facebook calling them "mask bullies." Looks like Senator Reinbold is enjoying some special treatment. Very loose. I also love how she is complaining about the alcohol options. Classic Loose Unit!
If you have a nomination for this week's Loose Unit, or if you have any political news, stories or gossip (or any old pics of politicians or public officials) please email me at [email protected]