Another busy week in Juneau. As the voter mandated "90-day" session limit approaches, tensions are rising in the Capitol. The house is dealing with tons of budget amendments from the minority and the senate experienced a rare event this week. Things will only get better in the weeks to come, at least for the Landmine.
The Legislature
The house has been busy this week debating the operating budget. The Republican minority has introduced a plethora of amendments to reduce the budget, over 80! Very few of which have passed. Many of them were only intent language, which really has no effect on the actual budget. When the Democrats were in the minority they also introduced budget amendments, but not nearly this many. The Republicans have still not gotten over losing power. Sad! The Republicans seem to have forgotten that it was them that ran up the biggest budgets in state history. Some of which were more than double the current budget.
One of the amendments was to remove $500,000 for a study on Vitamin D deficiencies in Alaska. Representative Paul Seaton (R – Homer) is behind the study. It was debated for quite a while and the amendment was eventually defeated. I'm no expert but do we need to spend half a million dollars on a study to tell us people are Vitamin D deficient in Alaska? I think not.
The House Republicans have been active on social media regarding their failed budget amendments. They posted this one about the Vitamin D budget: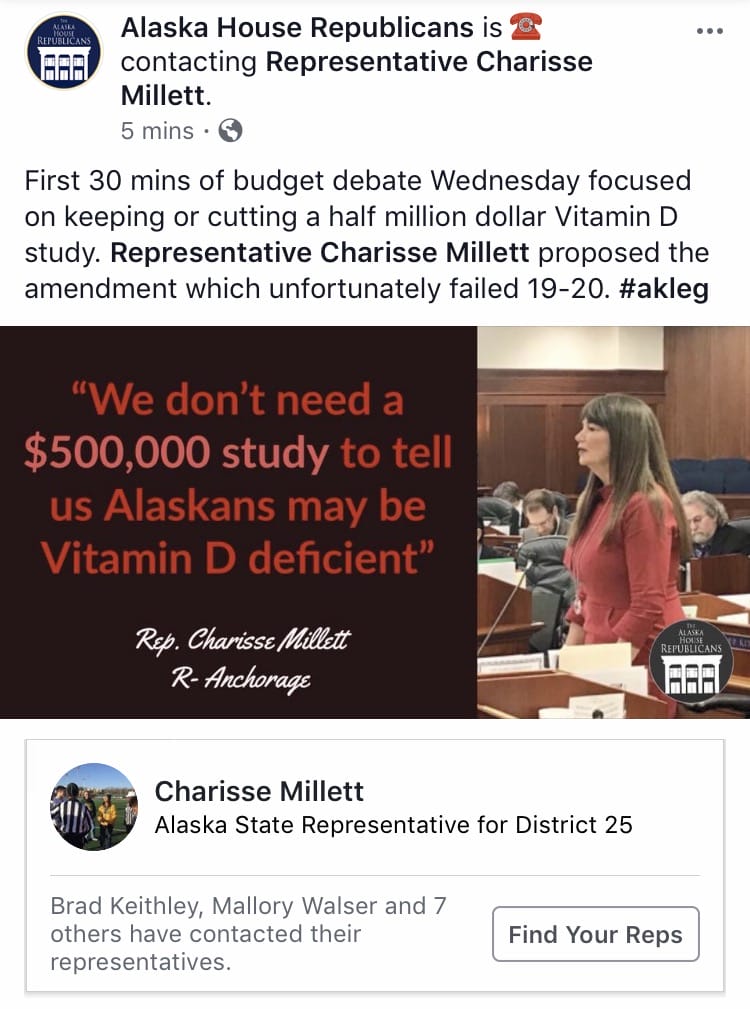 Someone should probably tell them to look up Vitamin D on Urban Dictionary. I wonder if Representative Charisse Millett (R – Anchorage) is getting enough Vitamin D…
Overheard in the Capitol by a legislator: "The budget process is like a mating dance. You know you're eventually going to screw." Nice!
During the house floor debate about the budget, House Speaker Bryce Edgmon (D – Dilingham) accidentally called a member by the wrong name, which he quickly realized and apologized for. Soon after, Representative Lora Reinbold (R – Eagle River) tried being cute and referred to Speaker Edgmon as Speaker Harris (John Harris was a former Speaker of the House). Representative Mike Chenault (R – Nikiksi), also a former speaker, was not amused. He got up and apologized for Reinbold's comments and made it clear what she said was inappropriate. Very classy, Mike.
During a Senate Majority press conference this week Senate President Pete Kelly (R – Fairbanks) said he opposed putting the PFD in the Alaska Constitution because "We just don't know the impacts of that, and we should probably put it in statute before we put it in the constitution so we can test drive this thing before we buy it." Fair point, but I wonder what the PFD defender folks think about that…
Representative Tiffany Zulkosky (D – Bethel) has cleaned house since being confirmed earlier this month, firing all of the staff who worked for former Representative Zach Fansler. The Anchorage Daily News wrote this article about two of the staffers in February. It talked about how they were continuing to do the work of the district after Fansler resigned. I guess not anymore! One of the staffers Zulkosky fired got a job in Representative John Lincoln's (D – Kotzebue) office.
House Rules Gabrielle LeDoux had a birthday on Saturday March 24th. Happy birthday Gabby!
Other Happenings
Edna DeVries, the mayor of Palmer, has filed to run against Representative DeLena Johnson (R – Palmer) in the Republican primary this August. It's about to get real in Palmer amongst the ladies!
Remember the downtown Anchorage LIO debacle known as the TajMahawker? There has been a development. Everett Bank, located in Florida, now owns the building. An LLC owned by Mark Pfeffer and Bob Acree, which owned the building, recently settled with the bank, who sued after the legislature moved and they weren't getting paid. The beautiful building remains empty after the legislature moved the Anchorage LIO to the shitty building on Minnesota. They moved after the court invalidated the original deal. Stay tuned for an exclusive story from the Landmine on this.
The Alaska Supreme Court is meeting in Kenai on March 29th to hear oral arguments on State of Alaska v. Alaska Democratic Party. This decision will decide whether or not Independents can run in party primaries. If the court rules against the Democratic Party, Independent candidates like Alyse Galvin, who is running for Congress and planning to run in the Democratic primary, will have to switch to Democrat or run as an Independent petition candidate. Expect the final decision to be made before June 1st, the filing deadline for candidates.
Speaking of Alyse Galvin, she recently picked up an endorsement from Mark Begich. Her opponent, Dimitri Shein also picked up an endorsement. We all love Santa but I'm sure Dimitri would have prefered Begich.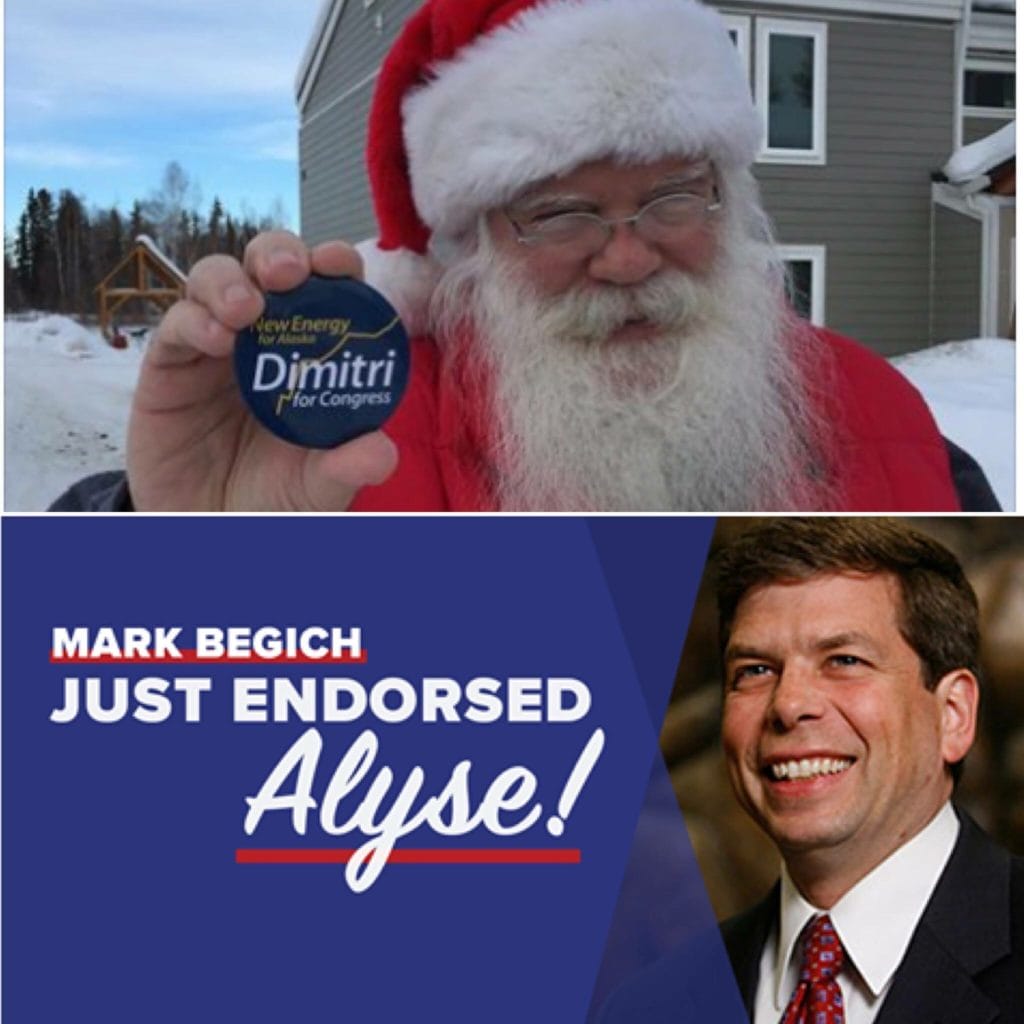 The Sham Jam, a party for St. Patrick's Day started by former Senator Johnny Ellis many years ago, was last weekend. A staffer to Representative Andy Josephson (D – Anchorage) was overheard saying how much they hate working for Josephson and that they are going to donate money to his opponent, Marcus Sanders. Yikes! Maybe take it easy on the booze next time.
The Resource Development Council held their annual Women in Resources reception on Thursday (3/22/2018) in Juneau. Word is it went great. Ladies, if you need an emcee for next year's event, I'm DEFINITELY available!
This Thursday (3/22/2018) Austin Baird, former KTUU reporter and Governor Bill Walker's Press Secretary, and I hosted the Dave Stieren Show. Not joking about that. Thanks to Dave for letting us host! And thanks to Austin for hosting with me. We had a great time and some great guests. We were told we both have faces for radio. Maybe a future gig for us, Austin?
Craig Fleener, Bill Walker's original running mate who stepped aside to allow Walker to team up with Byron Mallott, has been removed as the lieutenant governor successor. Valerie Davidson, Commissioner of the Department of Health and Social Services, has been named by Walker to replace him. Fleener was also let go from his position in the Walker administration, which he moved to D.C. for. I don't know the details of what went down but it seems like Craig definitely got a raw deal out of all of this. Best of luck to him and his family.
Anchorage Police Department Chief Justin Doll asked the No on Prop 1 people to stop using his quotes for their campaign against Prop 1. Prop 1, known as the Bathroom Bill, would require people to show proof of their gender while using public bathrooms in Anchorage. Doll said he did not want it to look like APD is endorsing something political. Rumor is the LGBT community has had concerns with Doll. Can't imagine this helps. But Ethan Berkowitz has videos and pictures with Doll and APD officers on his campaign page. I guess Doll is ok with that. Good thing Ethan isn't gay.
Everyone in Anchorage and the Valley is definitely aware of the genius truck driver who hit the bridge on the Glenn Highway this week, causing massive traffic problems for Valley commuters. DOT is not releasing the name of the driver. Probably a smart move. If I was that guy I'd be in Seattle right now and heading south – fast. Many, including Representative Dan Saddler (R – Eagle River) have said that this is a great example of why we need the Knik Arm Bridge. There is only one road out of Anchorage to the Valley. You decide: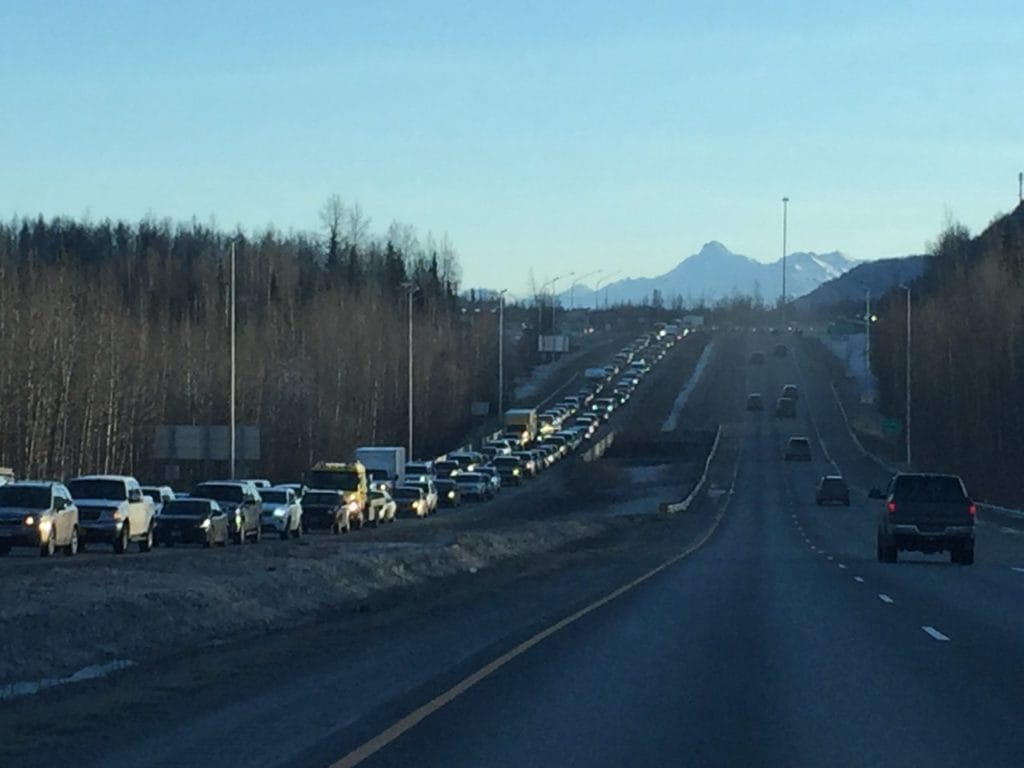 There was a celebration of life on Saturday (3/24/2018) for April Hackney at former Governor Bill Sheffield's home. It was a packed house. Many people with opposing political views were in attendance. Death has a way of bringing people together. April was an amazing person who left a huge impact on Alaska politics. I always enjoyed talking to her. She had a great sense of humor and always told it like it is. She will be greatly missed by many. My condolences to her husband and my friend, Art Hackney.
This Week's Loose Unit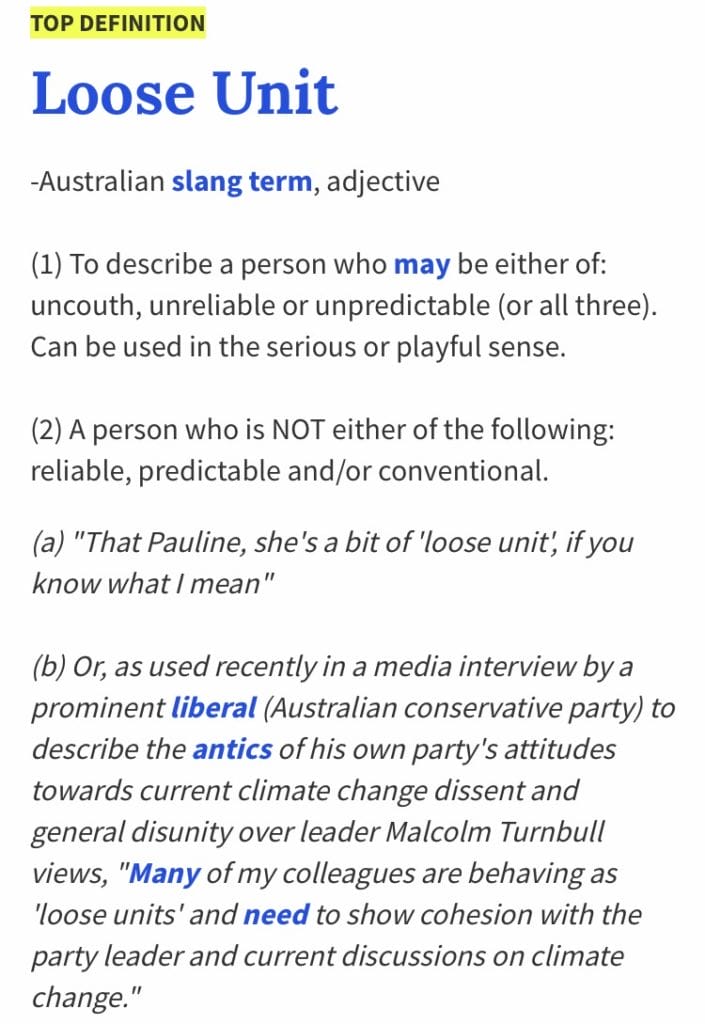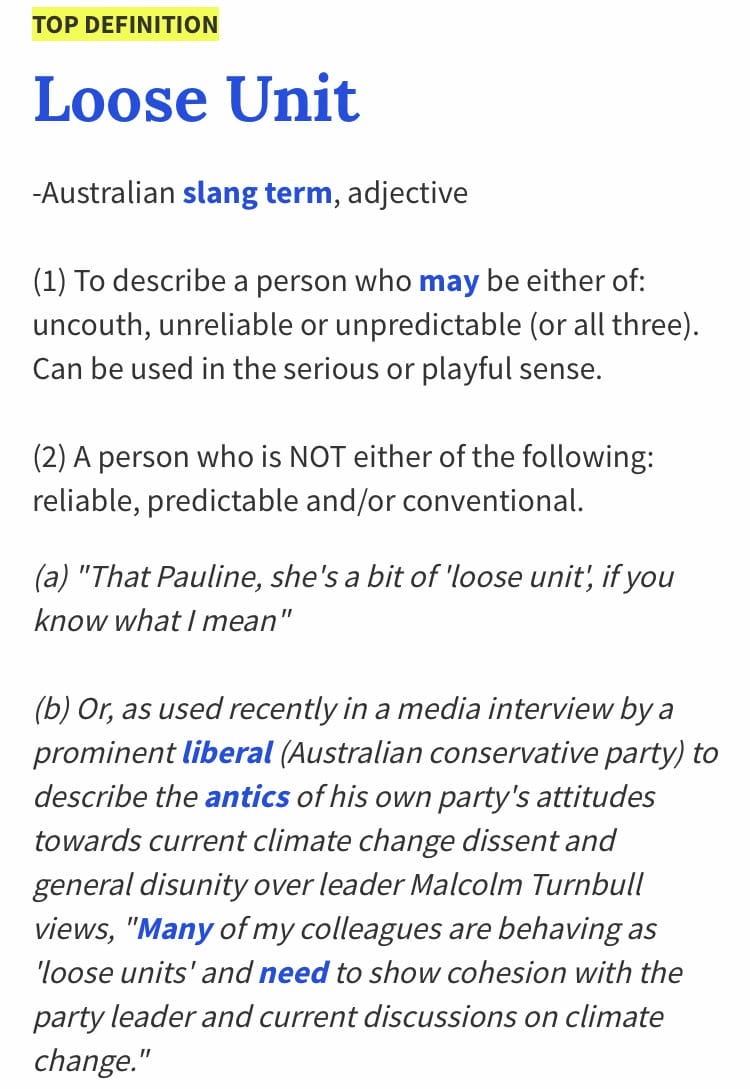 This was another tight week for Loose Unit candidates. However, an 11th hour incident made this week's winner clear – the Senate Democrats! During debate on a bill, introduced by Republicans, that would create a state spending cap, the Senate Democrats offered a variety of amendments. Many of them were ruled not germane by Senate President Pete Kelly (R – Fairbanks). His rulings were held up by the Senate Majority.
The Senate Democrats became frustrated and after a speech by Senate Minority Leader Berta Gardner (D – Anchorage), all five of them walked out in protest! Definitely some Loose Units. Kelly and the Senate Republicans were caught off guard by the move. Not long after, Senator Bert Stedman (R – Sitka) issued a call of the house. Which would have likely required the Troopers to drag the five of them back in to vote (they were sitting in the hallway). But it turned out that Senator Lyman Hoffman (D – Bethel) was also not present and was not excused. So the call was removed because they probably did not want the Troopers looking for Hoffman. In the end, the bill passed 13-0, with the five Loose Units not voting. Never a dull moment.
Check it out here:
If you have a nomination for This Week's Loose Unit, or if you have any political news, stories or gossip (or any old pics of politicians or public officials) please email me at [email protected]