It's been quite a busy week in Juneau as well as Anchorage. The "90-day" legislative session is two thirds over. Hearings on a variety of bills have continued in the Capitol and ballots for the Anchorage municipal election were mailed out on Tuesday.
The Legislature
The House Finance Committee heard testimony on HJR23, a bill enshrining the permanent fund in the Alaska Constitution. Many folks were upset that it only calls for 1/3 of earnings to be used for a dividend instead of 1/2. A lot of people called in to testify against the bill, some much more entertaining than others. Michael Sheldon, Republican candidate for Alaska governor, called in to the committee on Monday (3/12/2018) and he was not messing around. He told the members he expected them to stand at attention when he was talking. Made it clear he was not done by saying, "Do not cut me off!" He also made it very clear he WILL be the next governor of Alaska. Good luck, Mike…
The next day, disgruntled former Representative Liz Vazquez called in to testify to the House Finance Committee on the same bill. She said she was against the bill for a number of reasons, including that it says "may" instead of "shall" pay a dividend. After her testimony, Representative Les Gara (D – Anchorage) told her of a recent legal opinion on the language and asked her if she had seen it. She said she had not, and asked Gara to send her an email. Then, Representative Tammie Wilson (R – North Pole) asked her how she would do it instead. To which Vazquez replied, "I would need to study the issue further," and then went on a somewhat incoherent rant about numbers and percentages. Nice, Liz.
The Senate Community & Regional Affairs Committee discussed HB7, a bill about ballots. Basically it is would allow people to take a picture of their ballot and post it on social media (which lots of people currently do illegally) and sets some rules for doing so. It seems like a very straight forward and logical bill to me. Senator Anna MacKinnon (R – Eagle River) had a lot of questions and was not that excited about it. After listening to her questions, I doubt she spends much time, if any, on the internet. But the strangest thing she said dealt with jewelry. She talked about buying pearls online and then continually getting ads online for pearls as reason for concern over posting ballot selfies on social media. Ok, Anna. Later, she came back to the pearls and mentioned buying a pearl necklace. Someone should tell her to look up pearl necklace on Urban Dictionary. I doubt she will use that as an analogy again.
Representative David Eastman (R – Wasilla) introduced an amendment on a bill about secured loads in vehicles. In his amendment, he defined what a "load" was. Was this actually meant for his anti-porn resolution?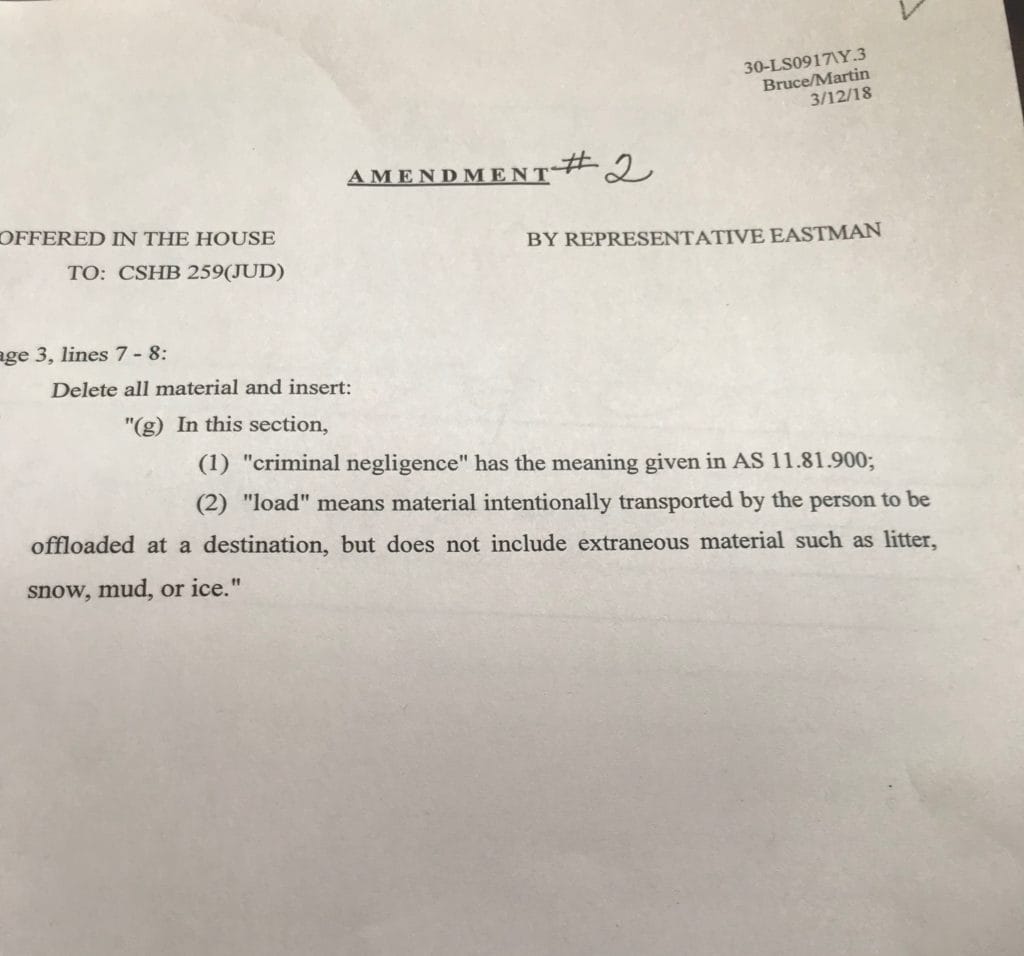 The house and senate routinely issue citations for people who do cool things. This week, a very interesting one was read in both the house and senate. A guy by the name of Howard Mike Hunt. It was read in the house first. The senate must have been tipped because when the clerk read it she made a large pause between Mike and Hunt. Attention shoppers – Mike Hunt, do we have a Mike Hunt here???
Former Governor Bill Sheffield was in Juneau this week. Senator Mia Costello (R – Anchorage) introduced him from the senate floor as a wonderful former governor. She left the part about how he was nearly impeached.
Overheard in the Capitol from a member of the House Majority about Tuckerman Babcock, Chairman of the Alaska Republican Party. "I don't call him Tuckerman, I call him Fuckerman." #Savage
Testimony about an abortion bill, which would require doctors to try and save the life of the baby during an abortion, continued in the Senate Judiciary Committee. It went as expected. One woman from Seward called in with her little girl (who sounded 4 or 5 years old) on the phone. She questioned the young child about abortion and killing babies, for the committee to hear. Next level. I hope that kid turns out ok. This guy also testified. I am going to go out on a limb and assume he is pro-life.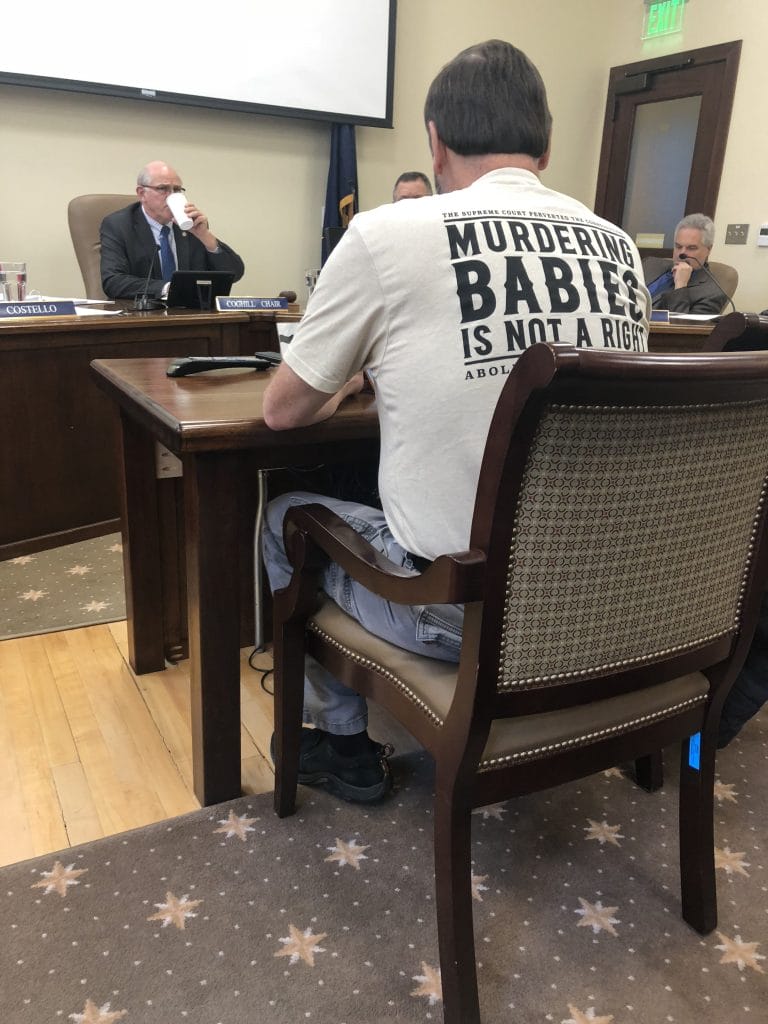 Senate President Pete Kelly (R – Fairbanks) had a legendary Freudian slip on Friday (3/16/2018) during the senate floor session. He opened by saying, "With 17 members pregnant." The room erupted in laughter. All that talk of abortion and C-sections must be getting to Pete. Check it out here:
What Would Trump's Nickname Be
We all know how Trump assigns nicknames to his political enemies. This got me thinking, what would he call Alaska's legislators? We will feature several a week until we get through all 60. If you have any ideas, send me an email at [email protected]
Representative Paul Seaton – Sailor Seaton
Representative Lance Pruitt – Low Energy Lance
Representative Ivy Spohnholz – Poison Ivy
Representative Mike Chenault – Jabba Chenault
Senator Kevin Meyer – Conoco Kevin
Other Happenings
Alaska Public Media reporter and former legislative aide Berett Wilber is the new Deputy Press Secretary for Governor Bill Walker. She replaces Jonathon Taylor, who recently took the job as Communications Director for the Department of Public Safety. All the best to her in her new role.
Current Anchorage mayoral candidate and everyone's favorite candidate for everything, Dustin Darden, is at it again. He is also listed as a candidate for state house for the Sand Lake seat. So now he is simultaneously running for mayor and the house. Gotta keep them options open, Dustin!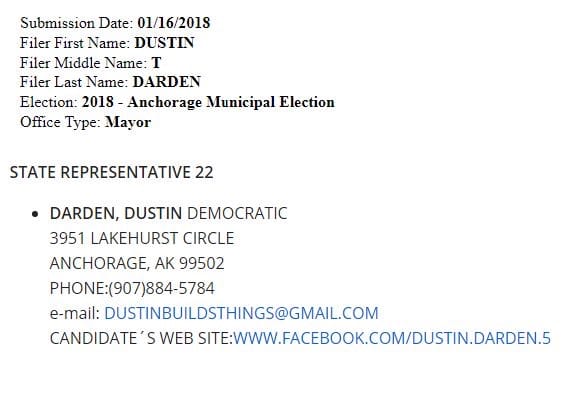 Chugach Electric and Municipal Light and Power have hosted some meetings over the last few weeks about the proposed sale of ML&P to Chugach. A cadre of former disgruntled Chugach Electric board members from ten years ago spoke and asked questions at them. They included Ray Kreig, Uwe Kalinka, and Liz Vazquez. They are upset about the deal because they say it is corrupt and not transparent. Forget that they were all for utility consolidation while they served on the Chugach Board. Someone at one of the meetings, who was unfamiliar with the history of Chugach Electric, told me, "Jesus, no wonder this sale did not happen ten years ago. I'm surprised Chugach even survived these people."
Perennial candidate and all around Loose Unit Paul Kendall (currently a candidate for Anchorage mayor) was at it again this week. At a mayoral forum of the Chugiak Community Council, Kendall commented that a big problem in society is too many women are running for office. Then, in what appears to be some kind of weird attempt at a compliment, he said, "Everything good in this world comes through a woman's portal." I guess technically he is right. Mayoral candidate Rebecca Logan was also at the meeting. I'm sure she was stoked to hear that. The Landmine really needs to score an interview with this guy.
Senator Dan Sullivan (R – Alaska) held a fundraiser this weekend in La Quinta, California. Well-known Anchorage builder Chuck Spinelli posted a pic of him and Michael Flynn on Facebook, calling Flynn an "American hero." Flynn, a former general, was fired by President Trump as National Security Advisory last year. Then, Flynn plead guilty in December for lying to the FBI about conversations with the Russian Ambassador. In February of 2017, Senator Sullivan told the Fairbanks Daily News-Miner he had "concerns" about Flynn's contact with the Russians. I guess he doesn't have them anymore! (Nice handle bar mustache, Chuck)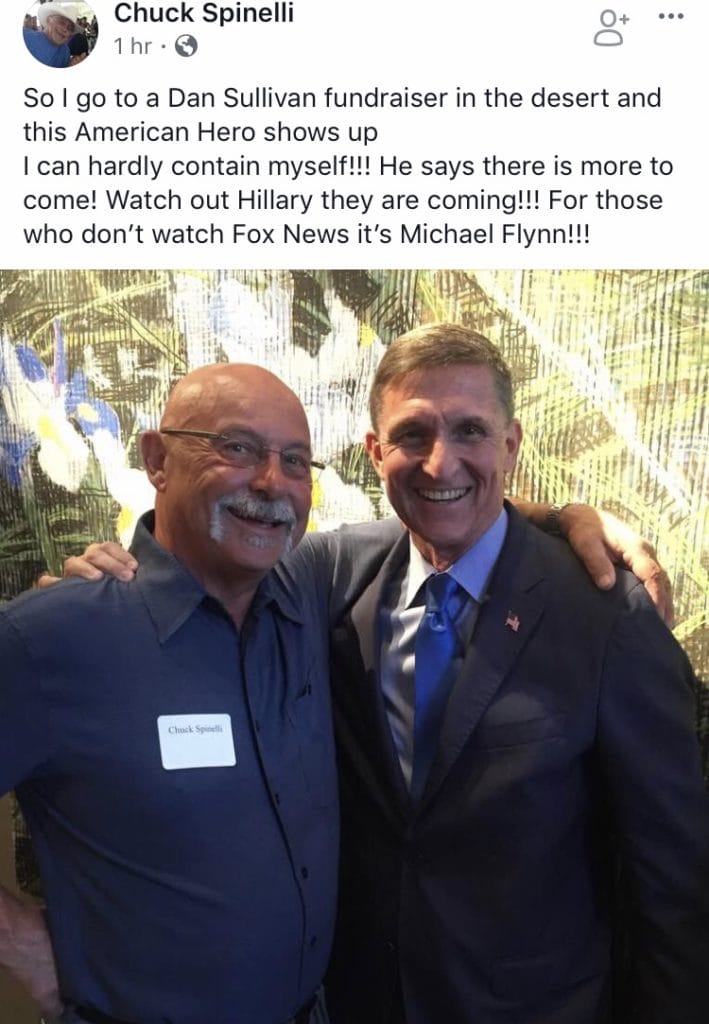 Governor Bill Walker tweeted out this pic earlier this week. It links to a video of him and Lieutenant Governor Byron Mallott dancing with some Native women on Valentine's Day. Neat and weird at the same time. He did tag the Alaska Landmine, which we love. Thanks for reading, Bill!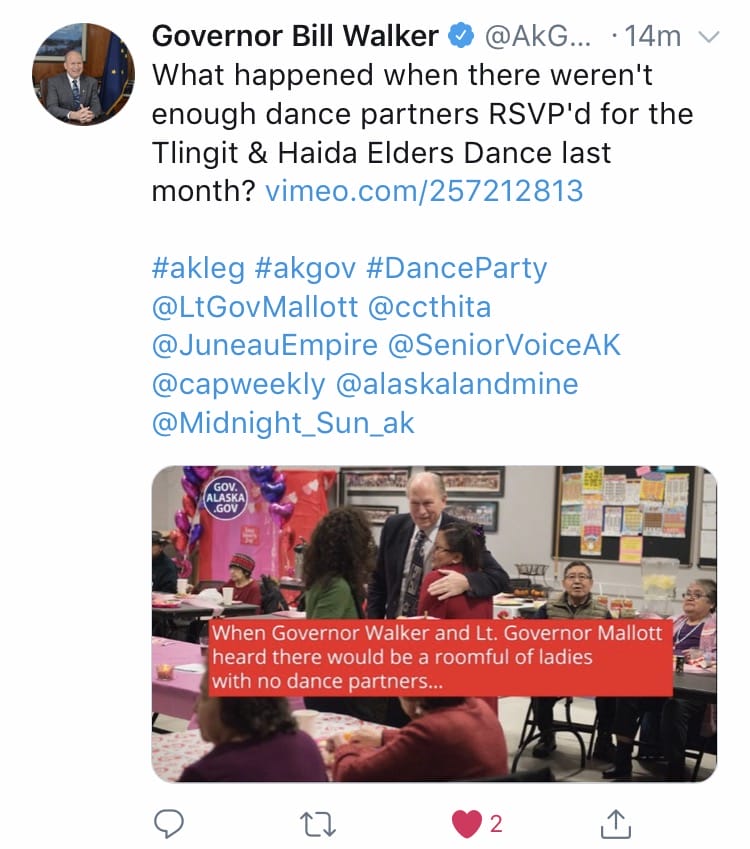 Gubernatorial candidate Scott Hawkins sent out a rather odd press release this week. In it he said:
"In a stunning upset on Saturday, Scott Hawkins surged to the lead in the Governor's race at the Alaska Republican Party convention in a live poll of delegates, who were asked whether to approve or disapprove of each of the four gubernatorial candidates. Businessman Hawkins received 181 votes of approval, outpolling the runner-up by 8 votes."
Gubernatorial candidate Mike Dunleavy also put out a press release this week about the convention. In it he said,
"Dunleavy won the recommendation of 77 percent of delegates, more than any other candidate in the Republican Primary."
Classic big "fill in the blank" contest. This election season is going to be so much fun.
Here is a summary of the votes: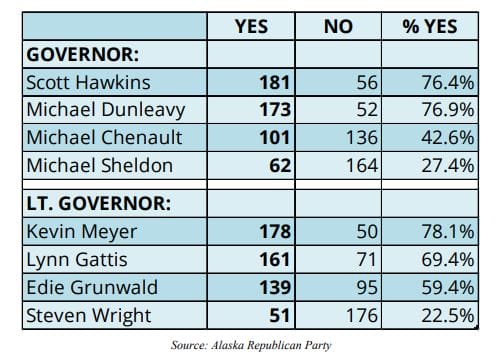 Ballots for the Anchorage municipal election were mailed out on Tuesday (3/13/2018). This is the first vote-by-mail election conducted in Anchorage. Things seems to be off to a good start, though there has been reports of people receiving ballots of people who no longer live at that address. Update your voter registration people! There does seem to be some confusion about the weight of the return envelope. The Anchorage Municipality told people to make sure to remove the "I Voted Today" sticker so it does not weigh too much. Someone made this funny comment on Facebook: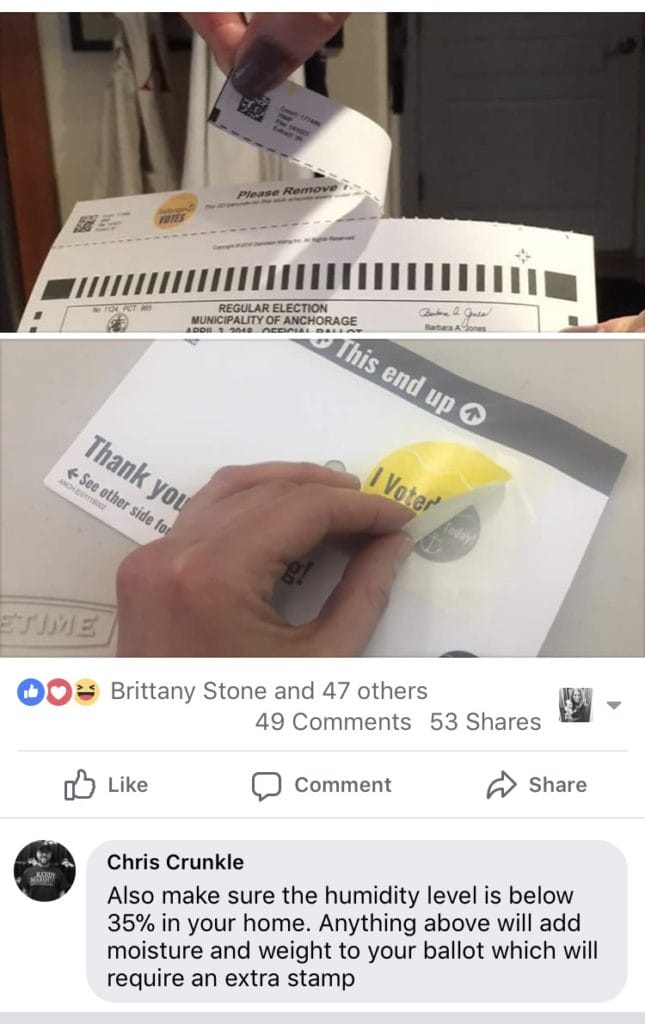 This Week's Loose Unit
While last week saw limited choices, this week was back to normal. There were several deserving candidates but a mid-week development made the choice clear. This week's Loose Unit is an unnamed legislative staffer and snitch. We will call him John Doe. Because I am not 100% sure who it is, I have decided to not name him, but I know who you are. The Landmine broke the story this week about Bracketgate. You can read it here:
Bracketgate – How the Senate Killed March Madness in Juneau
Basically the legislature has done March Madness brackets for many years. Staffers and legislators from both sides participate. After an email went out about it from a junior staffer, who I'm sure won't make the mistake again, the Loose Unit and snitch went to work. He reported the "illegal gaming operation" to the Senate Rules Office who in turn reported it to the House Rules Office. Give me a fuckin break. It went to the house because Representative Scott Kawasaki (D – Fairbanks) took over the pool a few years back. The result was the March Madness bracket game was killed. Of course, this story got to the Landmine very quickly. (The Landmine will pay whoever the winner is $100. We gonna keep the party going!)
Once the story about Braketgate came out, the snitch realized he was likely going to get outed. So, many in the Capitol reported that he was going around telling everyone he was not the snitch. Imagine being this guy's neighbor or friend. He is the guy who calls the cops when people are having a good time. Or the guy who snitches on his buddies when something goes down. What a Loose Unit this guy is.
If you have a nomination for This Week's Loose Unit, or if you have any political news, stories or gossip (or any old pics of politicians or public officials) please email me at [email protected]