Welcome to this week's edition of the Alaska Stalker, a lighthearted roundup of the best and worst of Alaska's social media landscape and political gossip.
***
If you enjoy the Alaska Stalker, please consider supporting working moms like me by sending in hot tips, overheards, and spotted ins. You can reach me at [email protected] As always, thanks for reading.
***
As of this Sunday, single use plastic bags are banned in Anchorage. Lots of government agencies, news personalities, businesses, and politicos posted about the ban. Here are a couple of our favorites: Assemblymember Christopher Constant shared one of APD's multiple bizarre reminders that Sunday was "the day." As a leading voice on what is currently one of the strictest plastic bag bans in the nation, Chris has been looking forward to this for years. I hope the ban helps curb what he once described as a "voluminous waste stream and scourge on the Anchorage landscape."

***
Rep. Geran Tarr knows what's up. Perfect execution. ?

***
KTUU anchor, Maria Downey, reminded everyone to leave the poor checkout folks alone. Please do. I heard some horror stories from a young checker at Fred Meyer Abbott and there was this encounter at a local Subway.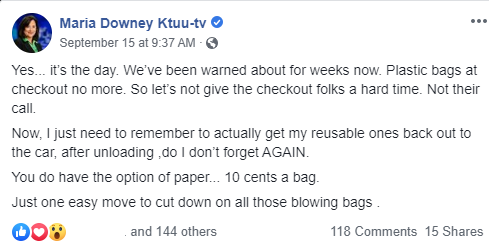 ***
Many businesses are using the ban towards their advantage, and I can't blame them! The Anchorage Museum hosted a class on how to make reusable bags. There was a bag swap/plastic bag trade in downtown. And countless businesses have been marketing their "specialty reusable bags" on social media. I loved Oomingmak's post that paid homage to Friday the 13th. A human head??? ?

***
Oomingmack wasn't the only one channeling Friday the 13th vibes this week. Rep. Colleen Sullivan-Leonard posted a reminder to check out the last full harvest moon until 2049.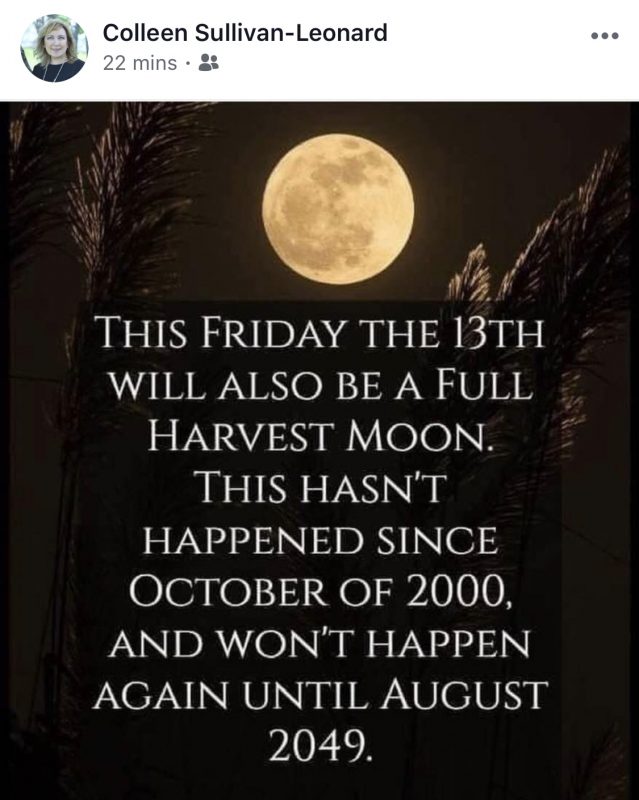 ***
Sen. Mia Costello's chief of staff, Tom Wright, posted the exact same info, but with an astrological vibe. ? Give it to Commissioner Brune to weigh in with some Jason (yes, THAT Jason) humor.

***
I'm just glad I'm not the only one who thinks of Betsy the Cow on a regular basis. h/t to Assemblymember Dunbar for the udderly amoozing comment. ??
***
Who's writing candidate for U.S. Senate, Dr. Al Gross' campaign emails?! They deserve an award for creative writing. I thought nothing could beat the subject line, "fish are boiling to death in Alaska." I was wrong. I can't wait until the next one hits my inbox. Truly gripping stuff.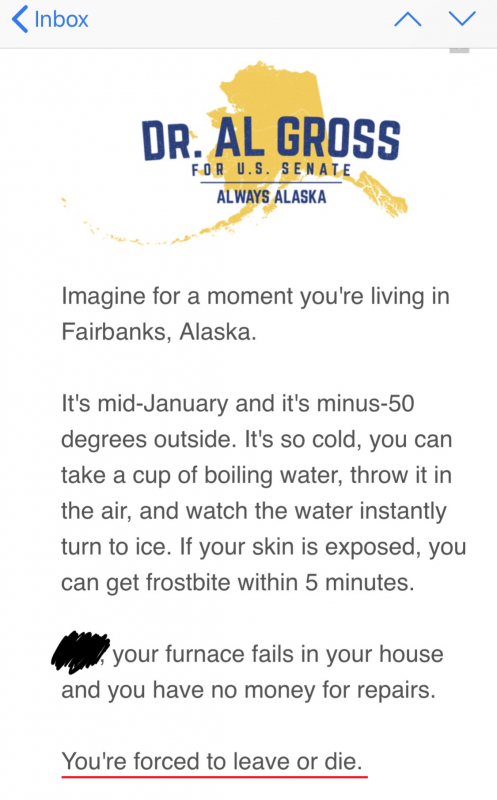 ***
Many legislators and local politicos attended today's signing ceremony for SB40, a bill permanently declaring February as Black History Month in Alaska. Sen. Elvi Gray-Jackson sponsored the legislation, and today it was signed into law by Gov. Mike Dunleavy. Sen. Elvi Gray-Jackson said, "The Alaska Legislature still faces many tough issues, but I am proud that we could come together to officially recognize the accomplishments and contributions African-Americans have made in Alaska and the nation." Great message, great bill, and it's good to see all the folks in this photo smiling at one another for a change.

***
Senator Elvi really has a way of bringing folks together. It doesn't matter who you supported for governor in 2018, this is a Walker Parade everyone can get behind. One of the sweetest things I've seen all week. Thanks for posting, Elvi.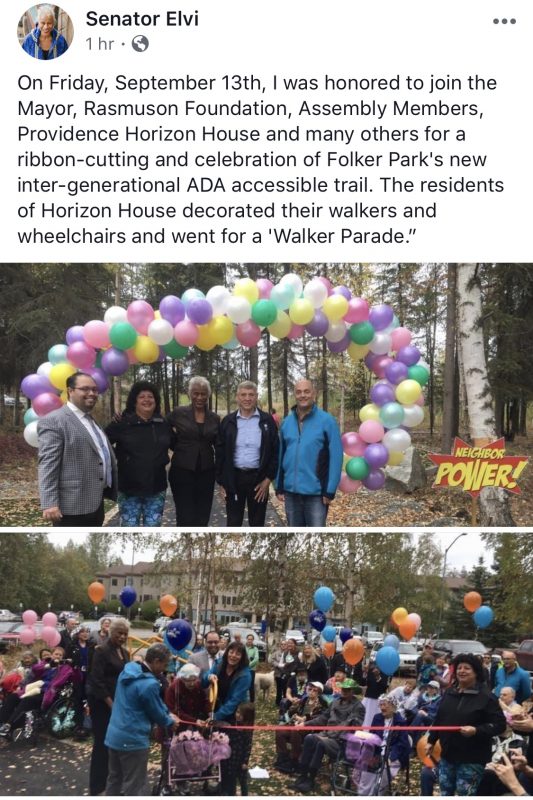 ***
Ummm, Senator Reinbold, I'm pretty sure that grass is dead. ?

***
Lora may not have an eye for landscaping, I suggest the self proclaimed law-and-order legislator keep a close watch over Sen. Scott Kawasaki. Rumor has it he's recently joined a gang. The Yang Gang!

***
Further proof the Alaska Legislature really is just like high school, field trips and all.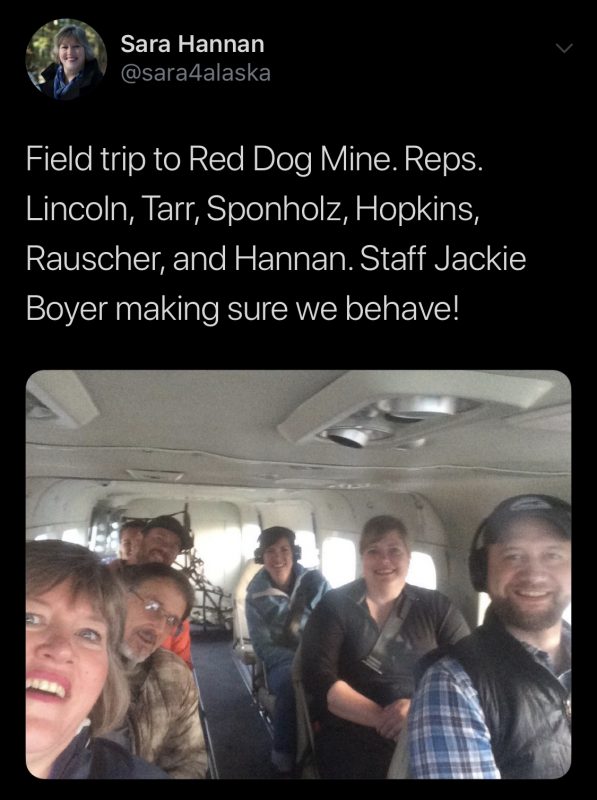 ***
Pizza on top of Flattop? It's not the weirdest thing I've seen up there – some friends took a full-sized trampoline up a few years back, I've heard rumors of a ping pong tournament, and Rep. Laddie Shaw is always jumping off the side with his paraglider. Hope Rep. Revak enjoyed the sweet views with his Uncle Joe's.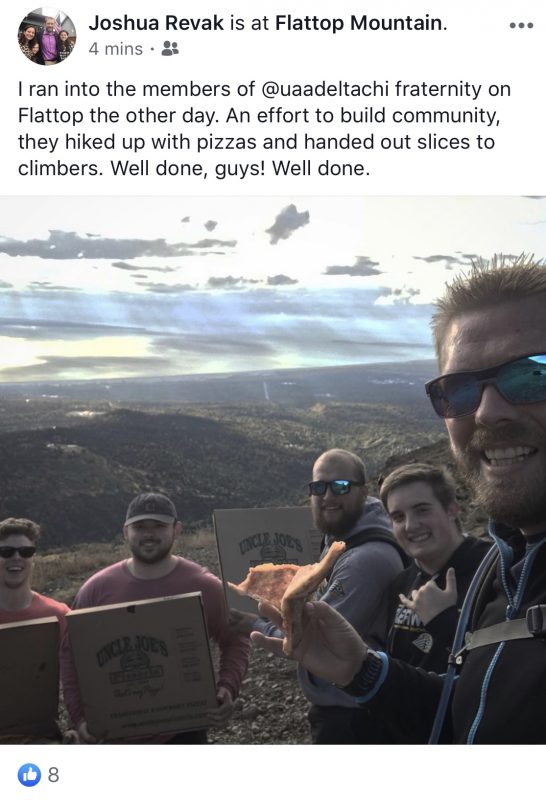 ***
A wonderful tribute to an amazing woman, and reminder that one's legacy of service lives on. Thank you for sharing, Rep. Hannan.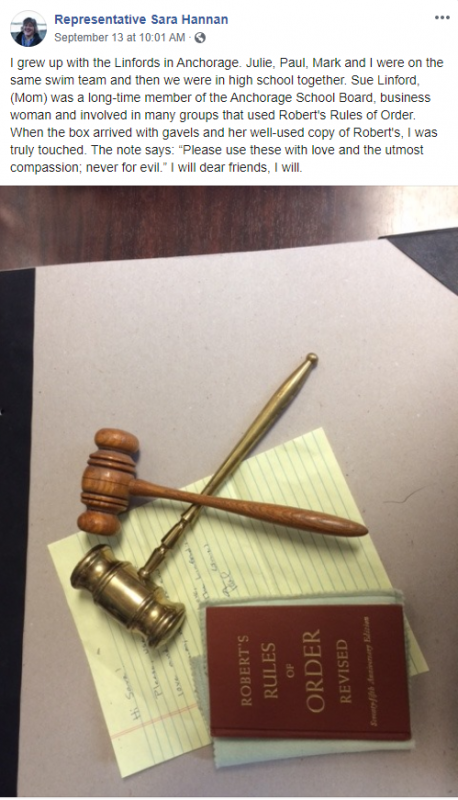 ***
Did you see Anchorage School Board Member Dave Donley's opinion piece on his proposal to require the national anthem and state song be played in Anchorage schools on a monthly basis? Spoiler alert: the proposal failed. His effort to promote unity and persuade fellow board members to change their votes to support his proposal fell flat when he misspelled two of his colleagues names. ?‍♀️ Sounds like Dave might need to work on his ABCs before his Do Re Mis.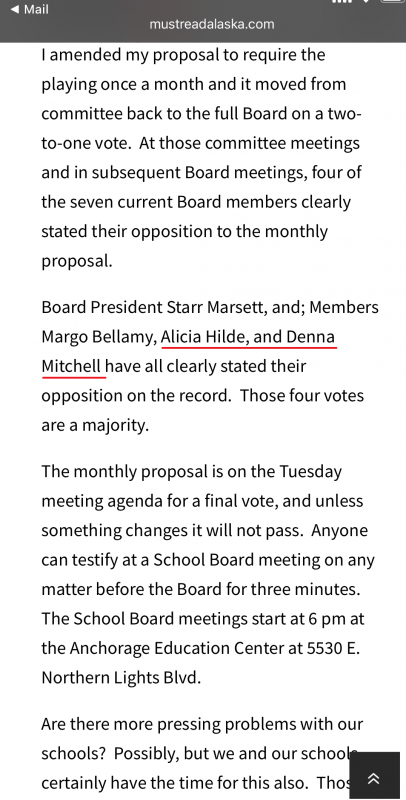 ***
Stalker readers know I love a good Hildegram. Of course, School Board Member Alisha Hilde had a classy clap back to Donley's misrepresentation of her no vote. As any parent knows, learning begins at home. Alisha, let me know if you want some of my old sheet music so you and your kiddos can sing Alaska's Flag song at home. Anchorage Concert Chorus Director, Dr. Grant Cochran, has a particularly beautiful arrangement.

***
On the other hand… I tend to view KWHL radio host Bob Lester's Facebook page as a quasi pulse of Anchorage. If you want to know what regular folks think, follow his page. Maybe Bob has a point. Perhaps we can split the difference and have the KWHL morning show play the national anthem and state song once a month instead. That would sure beat whatever the hell went on this week.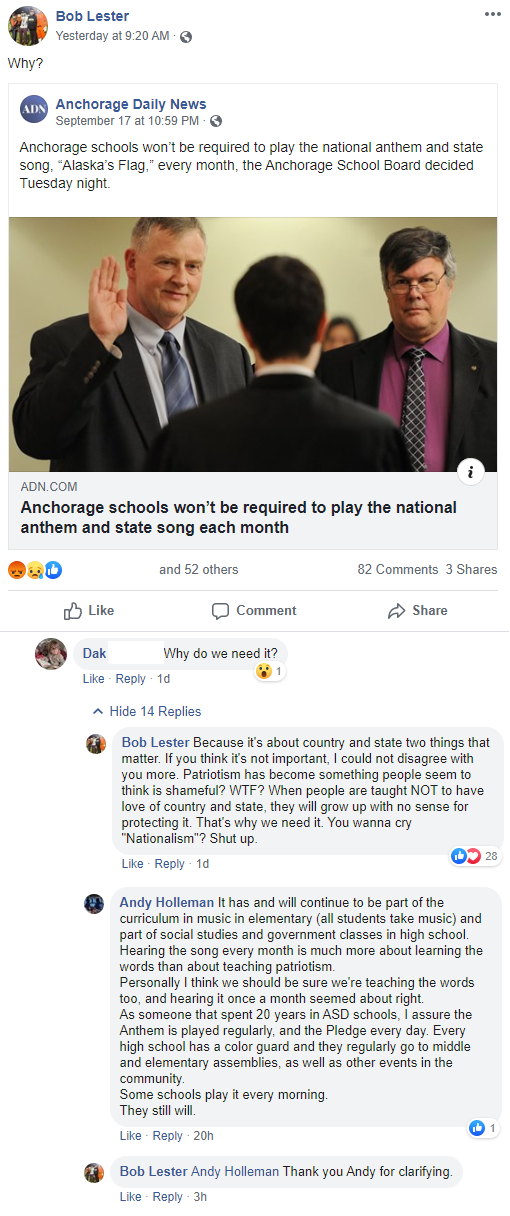 ***
What's really disturbing is Assemblymember Forrest Dunbar went to an official Halloween event and DIDN'T EVEN DRESS UP. Very low energy, Forrest.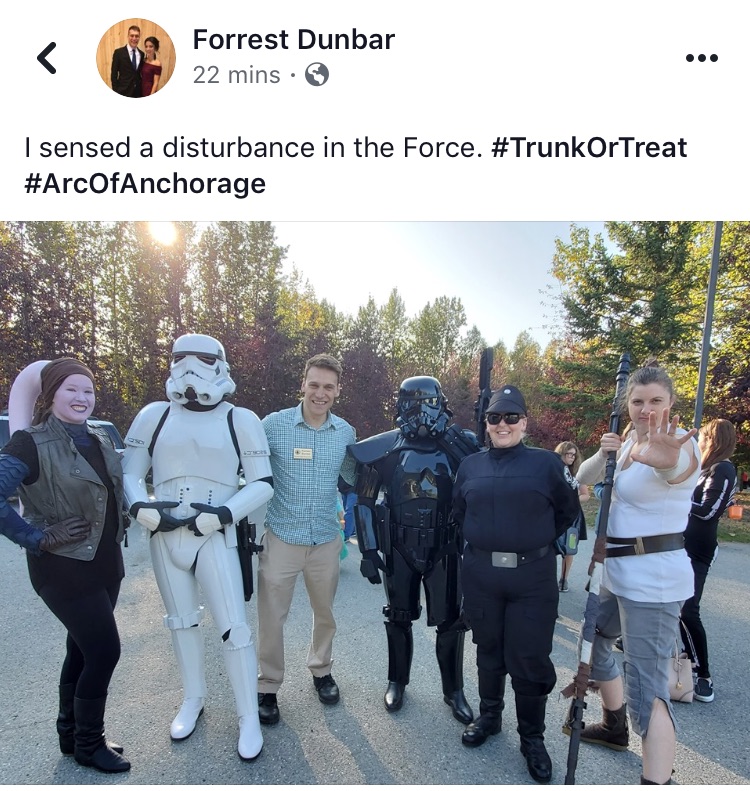 ***
Nothing brings Alaskans together like an earthquake. The 5.2 jolt in Southcentral on September 16th had local politicos sharing their stories. Assemblymember Meg Zaletel had an eventful constituent meeting – it started out at the kitchen table and ended up under it!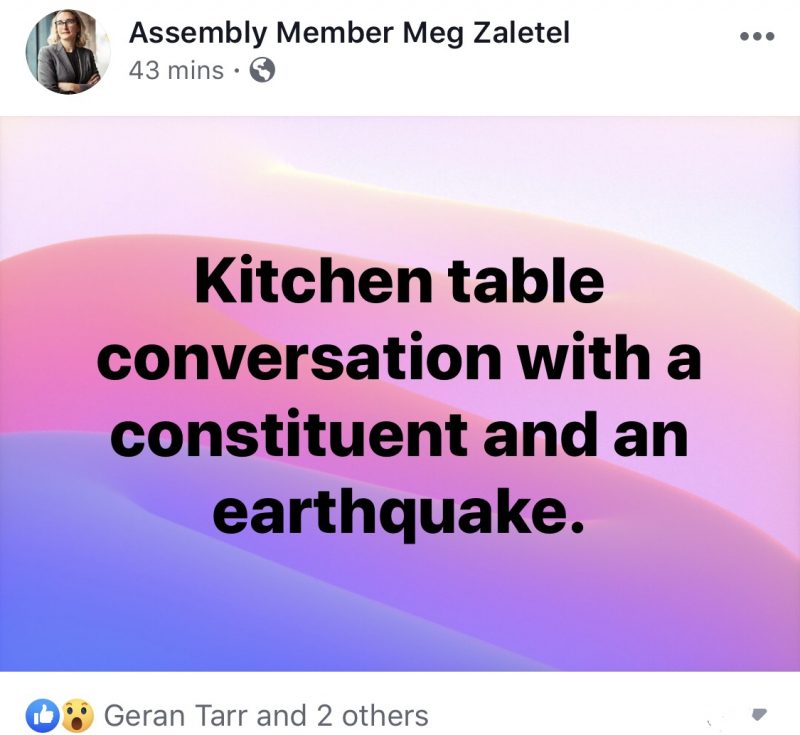 ***
Assemblymember Christopher Constant thought he was being attacked. It's okay, Chris. Car thefts are finally going down. No need to drive in fear.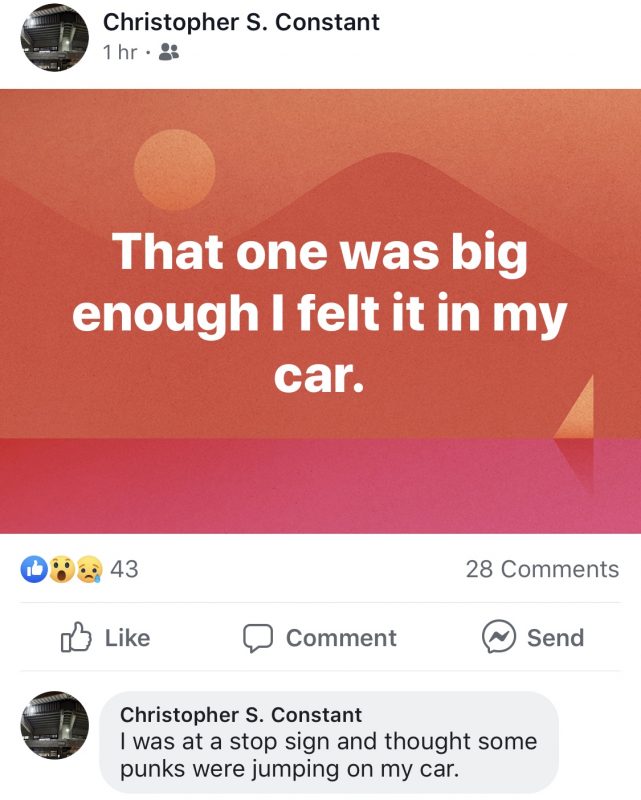 ***
Candidate for Anchorage Assembly, Jamie Allard, has a special announcement for Alaska Twitter. If you follow her on FB you know how epic this is going to be. Welcome to the party, Jamie. I have my popcorn ready. ?

***
And now, let's take a moment to remember our dearly departed Nordstrom. ADN Photographer Marc Lester posted what may be the greatest Tweet of all time.
The picture. The Haiku. The half-off joke. And, for dessert, the turn of phrase "upscale closing store." All the feels.
***
Fellow Anchorage business owner and Assemblymember, John Weddleton, bid Norstrom adieu in his own self-deprecating manner.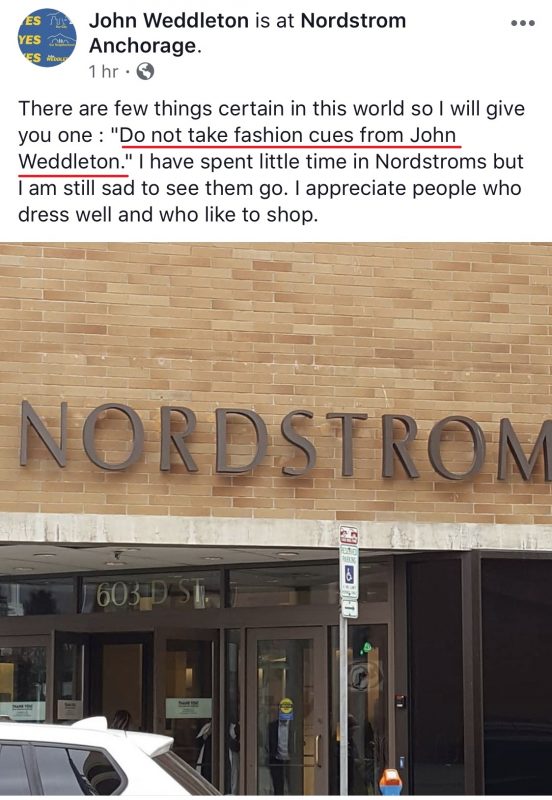 ***
"Do not take fashion cues from John Weddleton?" Pshhh. Don't sell yourself short, John. Looking good! ?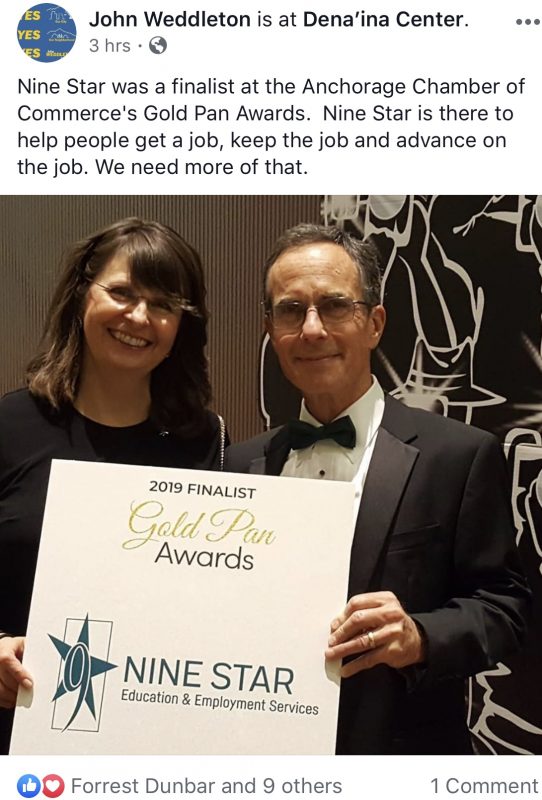 ***
And then there's this. Is she joking???!!! ??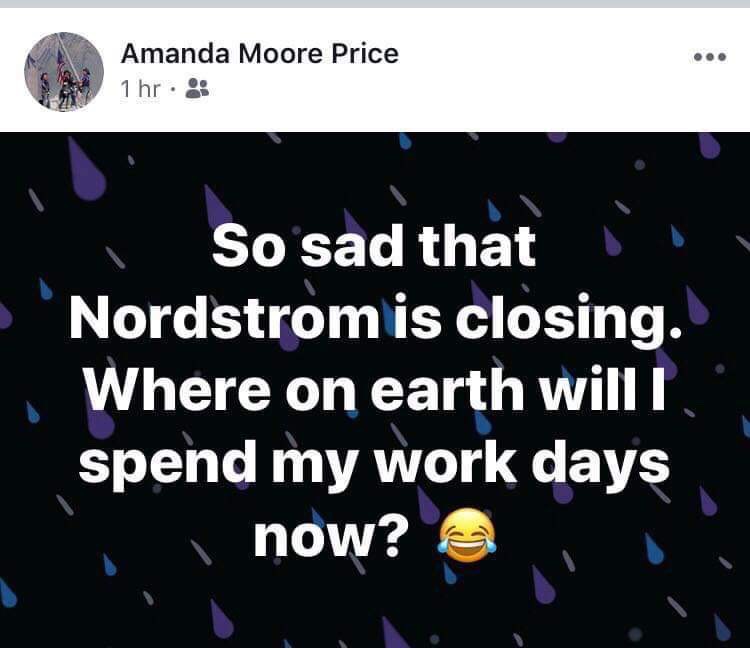 ***
Please tell me Orso and Kikkan are bringing back the Ensalada Orso. I'd settle for a return of the caprese appetizer, the molten chocolate cake, or a fun new way to empower young women and girls.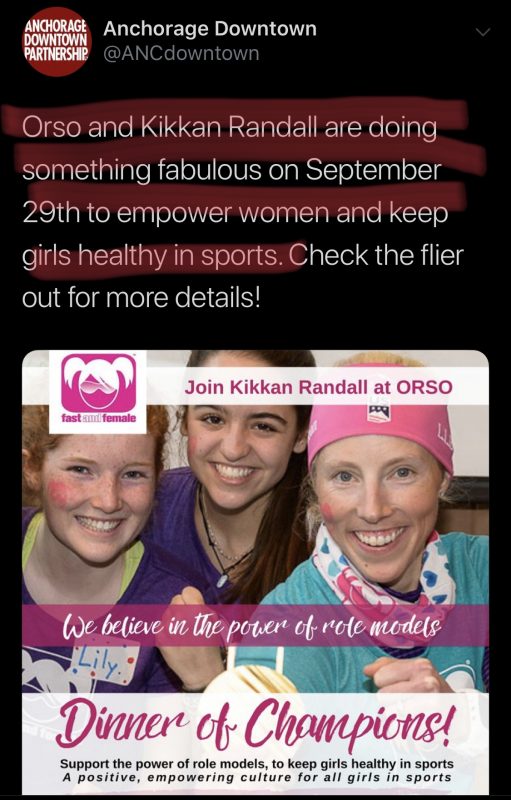 ***
Spotted on the Kenai: The Recall Gary Knopp movement is lit.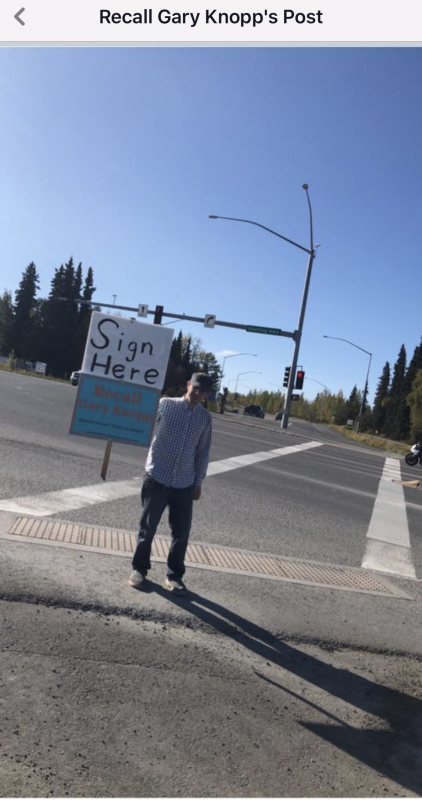 ***
Spotted near Turpin and Debarr:

***
Spotted arriving last on a full flight from Anchorage to Seattle: Former Sen. Lesil McGuire, seated in premium. If she was trying to travel incognito, her plan was derailed when she was congratulated for being a million miler!
***
Spotted at the Glacier Brewhouse on Saturday night: NBC's Lester Holt!
***
It's the end of an era: Stalker fav and Alaska political legend Theresa Obermeyer's long time house is up for sale.
***
Spotted at Steam Dot: an unconfirmed sighting of former Lt. Gov Mallott. If it's for real, he picked a hell of a week to come out of hiding.
***
Spotted at Middle Way Cafe: Rep. John Lincoln and Rep. Chuck Kopp.
***
Happy Birthday to Sen. Stevens, Reps. Tarr and Wool, and Anchorage Assemblymember Forrest Dunbar.
***
Overheard at Spenard Roadhouse: Branch Haymans giving a Legislator and a Commissioner an earful, screaming at the top of his lungs, "Jeff Landfield is an idiot and I don't care who knows it!!!" Haymans… Where have I heard that name before… ¯\_(ツ)_/¯
***
The Alaska Stalker was born and raised in Alaska, and lives in South Anchorage with her husband, daughter, and son. She is not Jeff Landfield.