Welcome to this week's edition of the Alaska Stalker, a lighthearted round up of the best and worst of Alaska's social media landscape.
***
If you enjoy the Alaska Stalker, please consider supporting working moms like me by sending in hot tips, overheards, and spotted ins. You can reach me at [email protected] As always, thanks for reading.
***
Monday was Veterans Day and politicos on the national, state, and municipal level all posted touching tributes and sincere thanks to those who serve and have served. It was a great day to be online. In case you missed it, here's a feel good moment via occasional #akleg tweeter, Stephanie Quinn-Davidson. Be sure to turn your sound on for this one.
***
While things are slowing down in local politics for the holidays, in D.C., the impeachment hearings are in full swig swing. Take it easy, Jeanne! ??????

***
Even when things are moving a million miles an hour, Sen. Lisa Murkowski knows how to connect with home. That Sen. Ted Stevens Hulk cameo. ?? I am verklempt.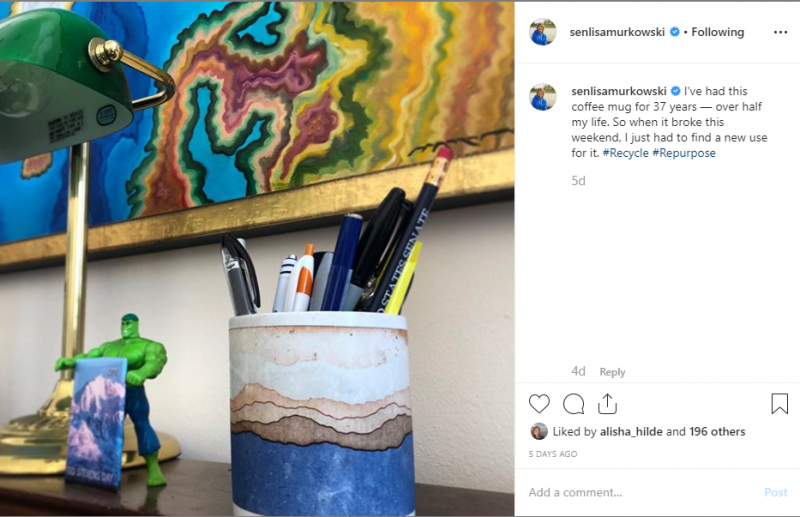 ***
If you ever want to see Sen. Dan Sullivan look genuinely surprised, check out this great video of his staff surprising him for his 55th birthday celebration. Lookin' good for 55, Senator! ?‍♂️
***
Speaking of the Alaska delegation: Lisa looks perfect (natch), Dan doesn't know where to look (natch), and Don looks like he's having a medical emergency. Everyone is playing their parts perfectly.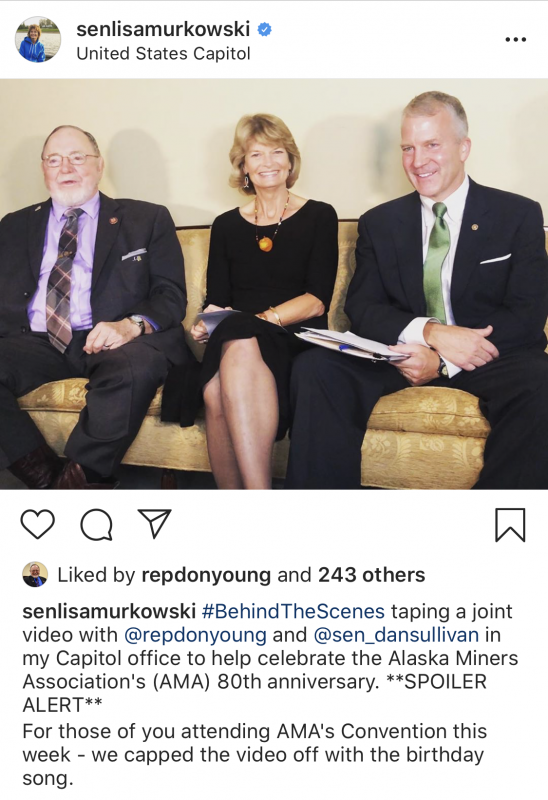 ***
Alyse "one shot" Galvin recently launched her second attempt to unseat Rep. Don Young. ???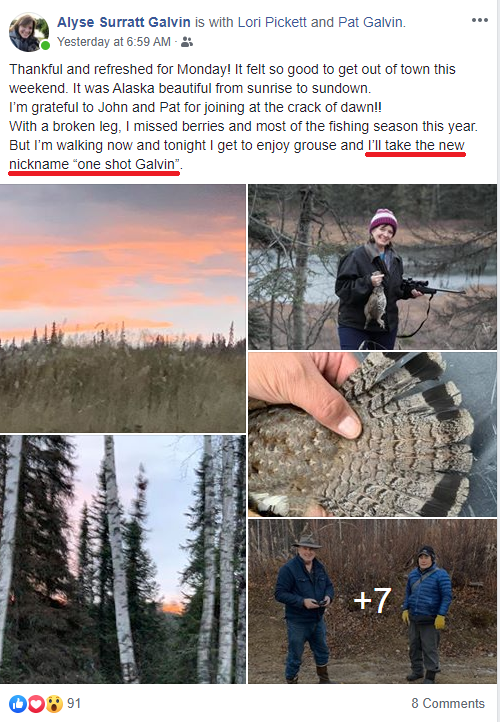 ***
All kidding aside, I was glad to see Alyse take a night off from campaigning to have a special date with her most important constituent. She wore a red blazer to represent their love. ?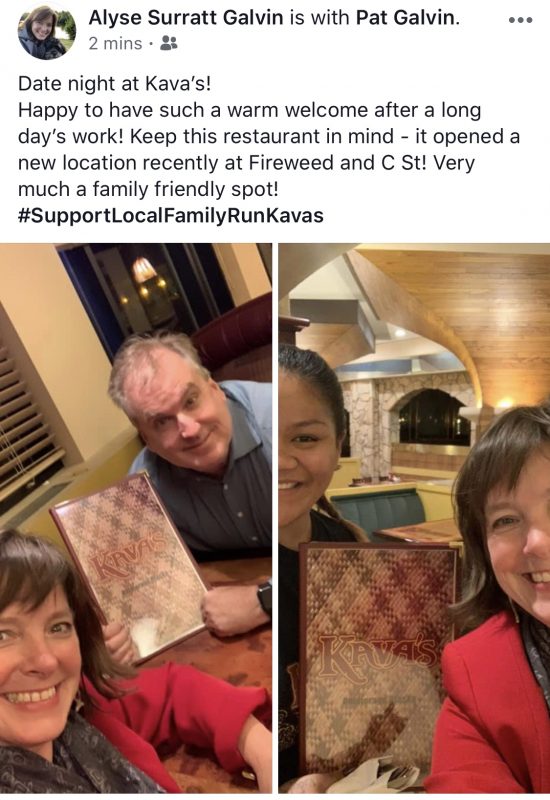 ***
Candidate for Senate, Dr. Al Gross, launched a campaign ad with the endorsement of registered Republican Andy Holleman. While the only person surprised that Andy is voting for Dr. Gross is Andy, the thing that caught my eye was at the very end. What is that brown thing supposed to be? A voting box? A stamp? #designfail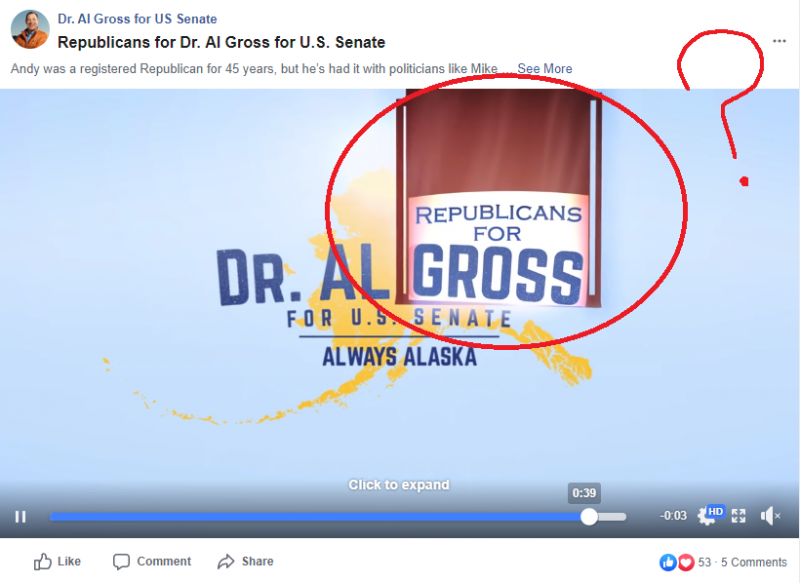 ***
One year later… Ya think?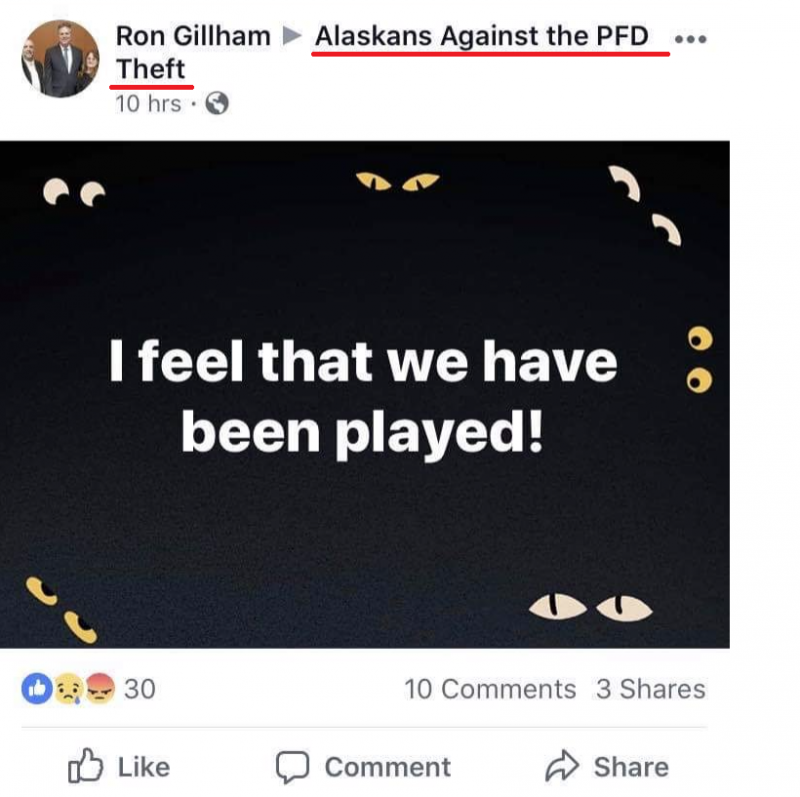 ***
Alaska Attorney General Kevin Clarkson has had a rough couple weeks. He keeps getting unfavorable rulings in case after case, and then he ran into some trouble spelling Sergeant on Twitter. However, I'm not sure AFL-CIO President Vince Beltrami is the best person to throw stones about typos.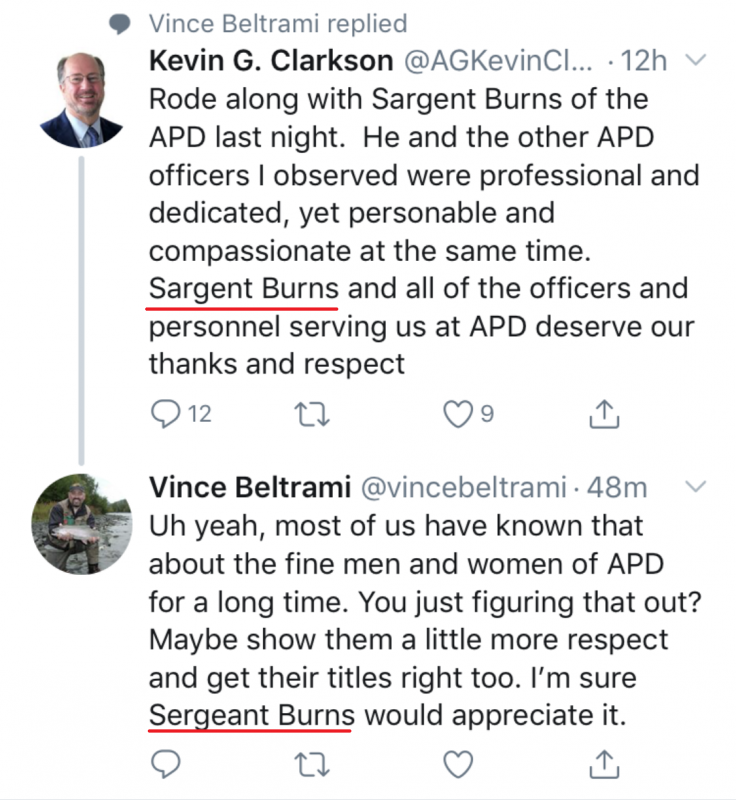 ***
The Alaska Stalker never forgets. Throw back to the most epic typo of all time. ???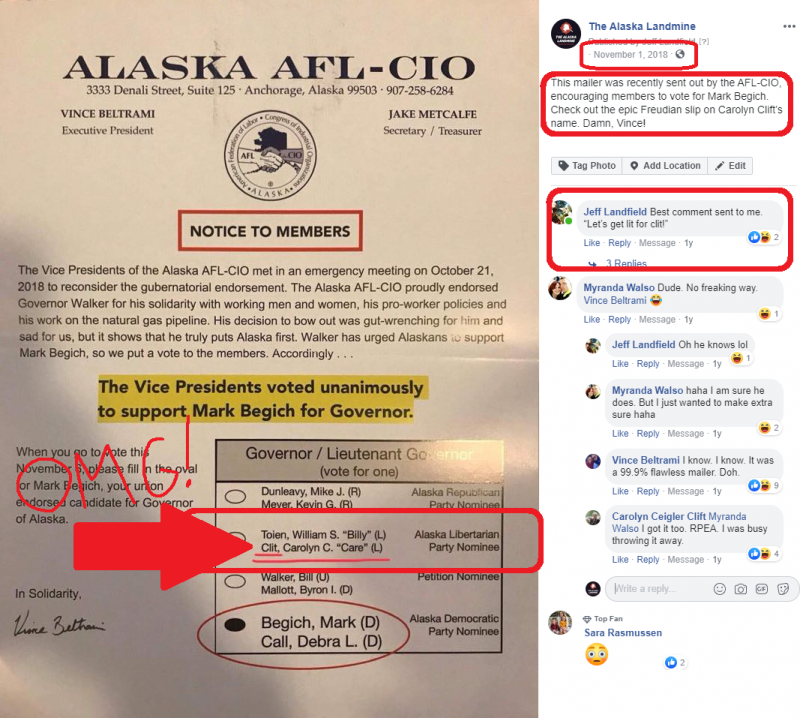 ***
You heard it here first, folks. Sen. Mike Shower's re-election slogan will be: "Like a diamond in a Goats [sic] rear end."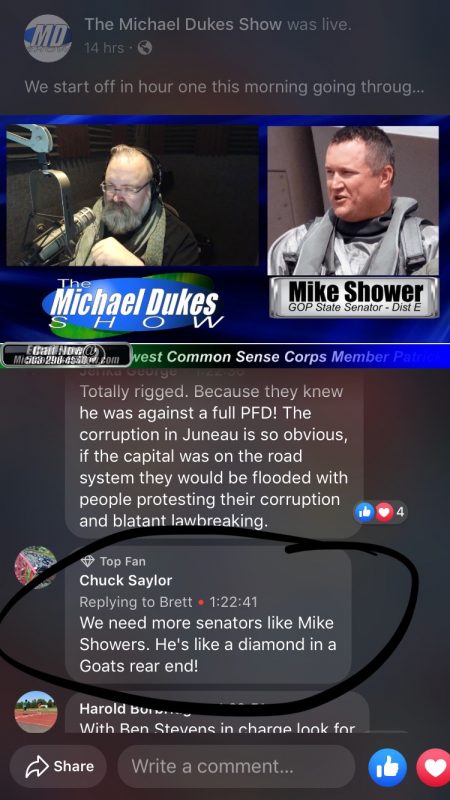 ***
Somesenator had a terrible, no good, very bad day. *Looks out window* On the bright side, it doesn't look like Josh is going need that snowblower any time soon.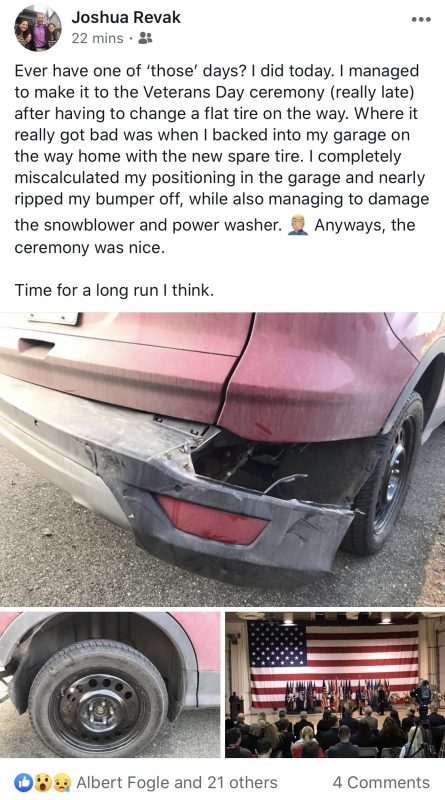 ***
Are Rep. Kelly Merrick and her husband, Joey Merrick, the Alaska version of Kellyanne and George Conway?!

***
Just be sure not to go down aisle 10, Spenard Rd., after midnight.
***
Anchorage Assemblymember Austin Quinn-Davidson's anonymous yard decorator has finally been exposed. It was none other than fellow Assemblymember Meg Zaletel!

***
Good dog, Tanuki. ??? P.S. Assemblymember Constant, please water your poor plant ASAP!

***
Firebrand candidate for Anchorage Assembly, Jamie Allard, has also been posting cute dog pics. Hers come with some extra baggage; because nothing says team player like publicly trashing your potential coworkers.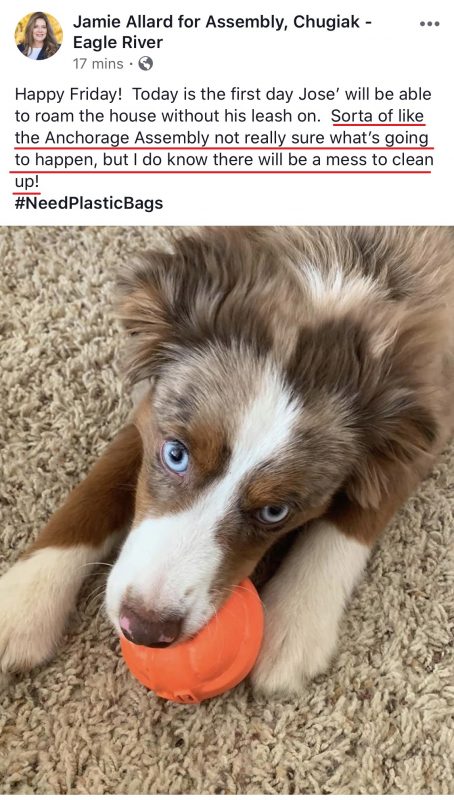 ***
And now for another installment of "Guess the Politico!" This former elected official has one of the best campaign jingles in Alaska History. He also ran for Mayor of Anchorage (twice)! To find out who it is, click here or scroll to the end.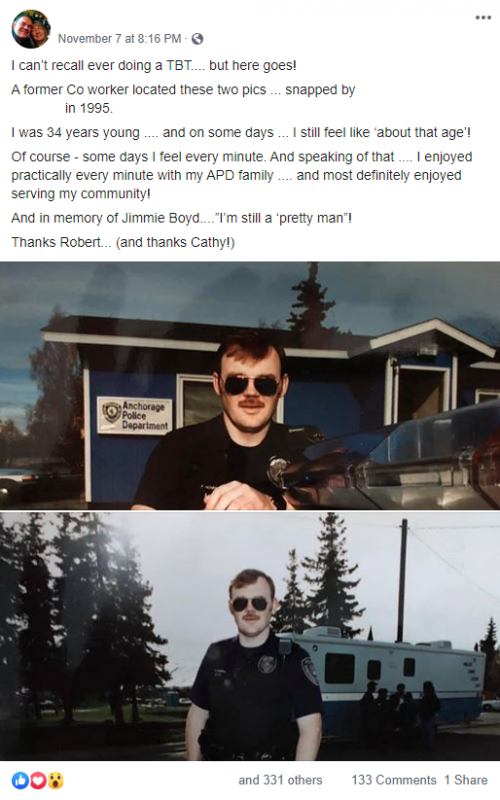 ***
Sad. Sadder. Saddest. ?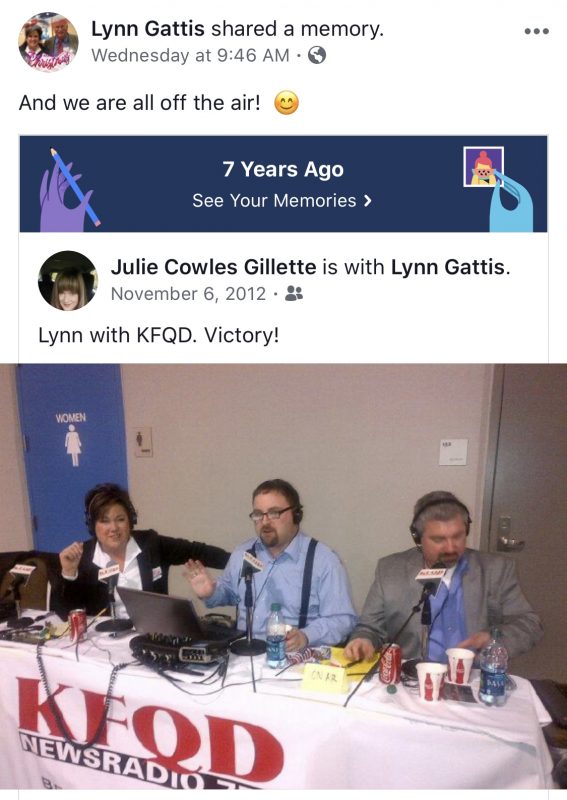 ***
And perennial candidate Pat Higgins publicly renewed his vows of celibacy. ?

***
Warm AK Stalker birthday wishes to Sen. Dan Sullivan, and Senate President Cathy Giessel.
***
Spotted at the Mid Town Mall: A rare public sighting of Chief of Staff to Bryce Edgmon, Amory Lelake.
***
Overheard on the radio waves: "Mike Dunleavy, the Governor of Arkansas." – That national guy that took over Dave Stieren's slot. I don't know his name because, like all of you, I don't listen anymore…
***
The answer to this week's "Guess the Politico" is none other than former Anchorage Assemblymember Paul Honeman!
***
The Alaska Stalker was born and raised in Alaska, and lives in South Anchorage with her husband, daughter, and son. She is not Jeff Landfield.