Welcome to this week's edition of The Alaska Stalker, a semi-regular lighthearted round up of the best and worst of Alaska's social media landscape.
---
In the wise words of Senator Shelley Hughes, the Stalker welcomes you and is eager to hear what tips are on your mind! We are here for you. If you would please share this post to get the word out – thanks.

---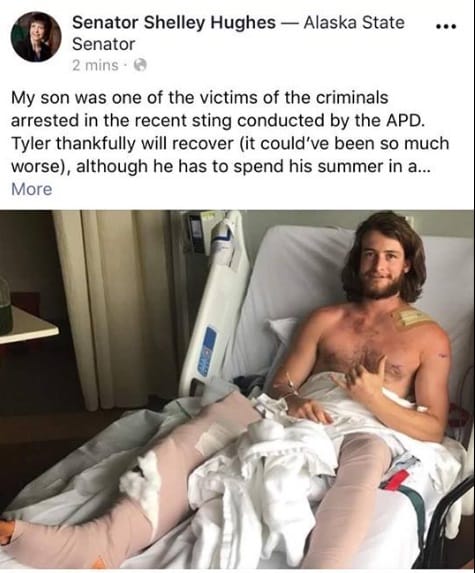 ---
Daaaang Representative Reinbold. Get it, 

girl

woman!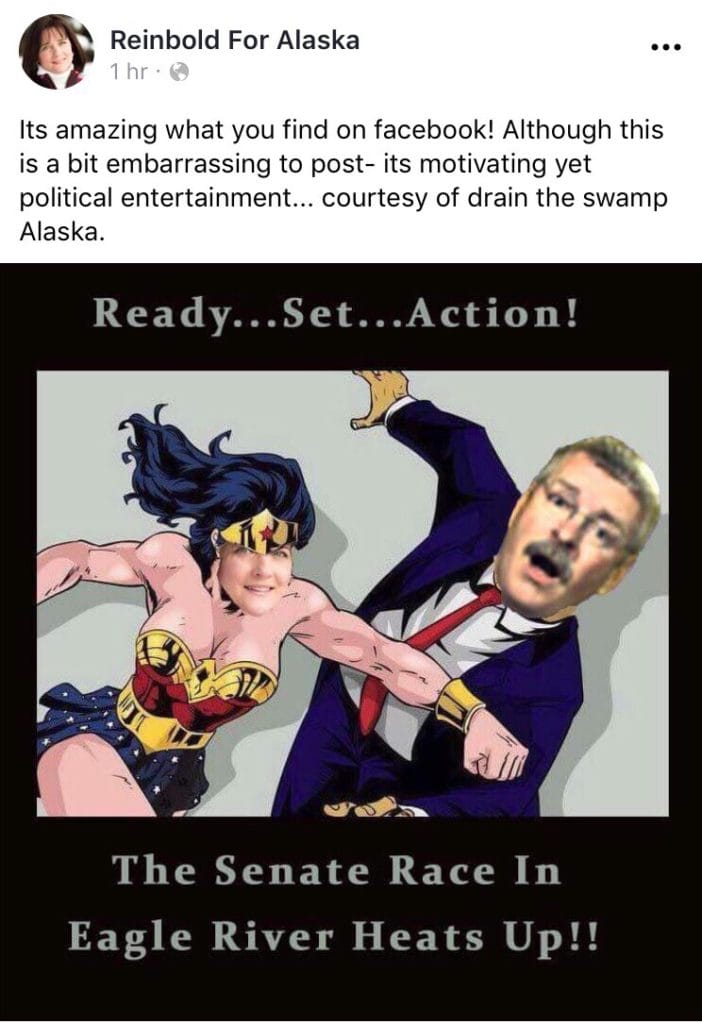 ---
Candidates have been witnessing Anchorage's crime epidemic in real time as they go door-to-door. Candidate for house, Albert Fogle witnessed two attempted home break ins.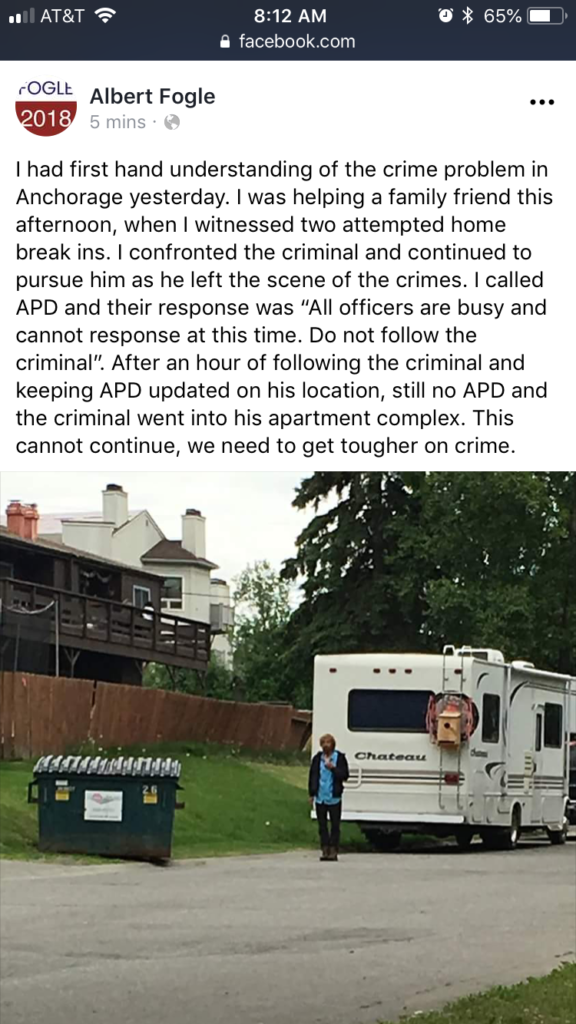 When Albert called APD, they told him they were busy. Oh?
Seriously. He stole a perfectly good donut. FROM A COP. That's a straight-up felony. Also… it's rude. ?#Alaska #CaughtOnCamera #theft

Posted by Anchorage Police Department on Sunday, June 24, 2018
While our police force isn't out (click) baiting squirrels, they're practicing catch and release.  Where is Joe Potter?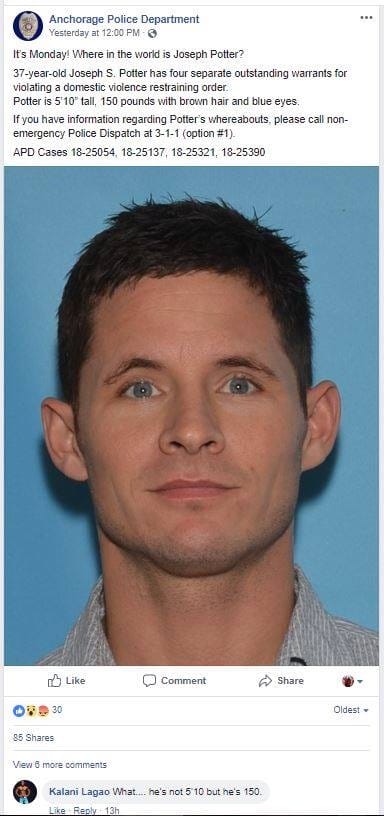 He's weighing in in the comments! What a loose unit!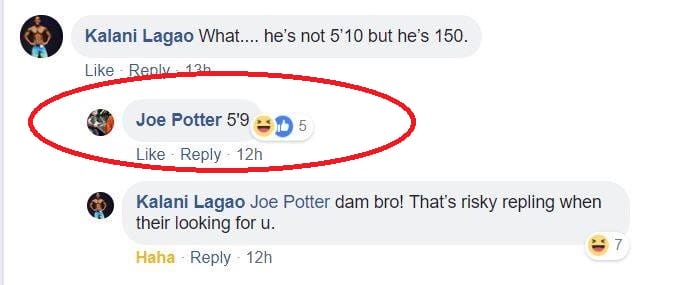 ---
Have you seen this epic campaign video from candidate for Lt. Governor, Sharon Jackson yet? "Reviews are so good angels are singing." That music tho.
Never underestimate the power of a 5' tall woman determined to protect the rights of the people of Alaska. #Alaskasbridgetoabrighterfuture www.jacksonforalaska.com

Posted by Sharon Jackson Candidate LG on Saturday, June 16, 2018
---
The West Anchorage Assembly Race is heating up. First we have candidate Sam Moore. At first glance  it looks like Sam's slogan is "bad sight, but a bold vision."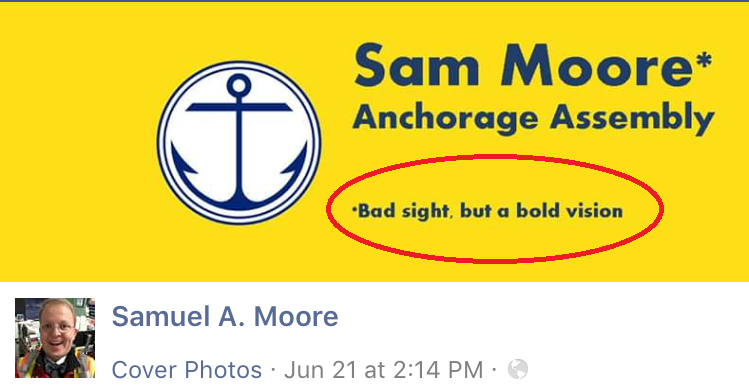 For those of you not in on the joke, Sam is legally blind. Unfortunately that slogan is just for his personal page. His official one is, "Demand more from our Assembly. Vote Sam Moore." We like it.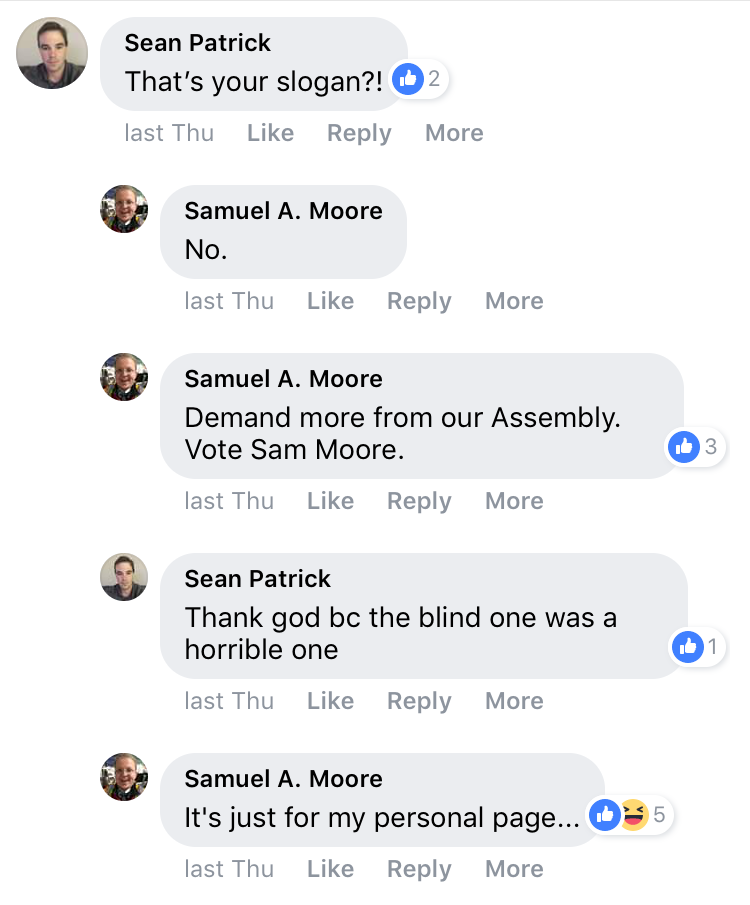 However, Sam might want to hire a proof reader.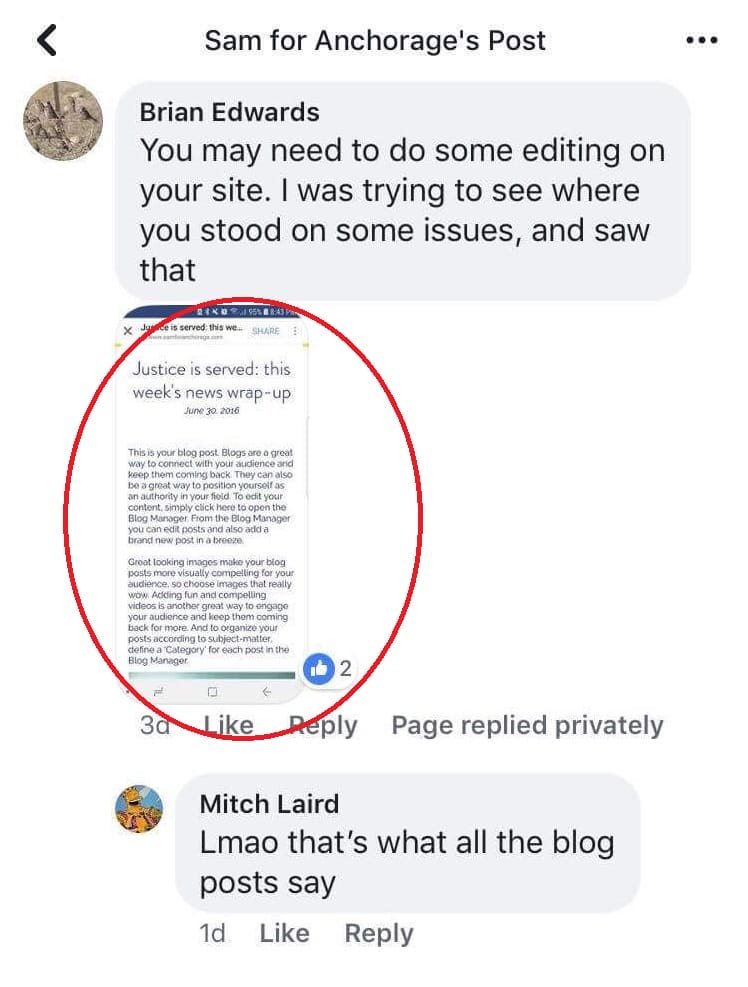 Next up we have an update on Austin Quinn-Davidson. Don't forget that hyphen Senator Ellis! Assemblyperson Dunbar is right, she really did get her yard signs up quick. ?

Check out this #highlevel selfie posted on Mark Begich's fb page. Usually it's the other way around. And they don't ask for permission first! Way to go Austin!

And then there's this…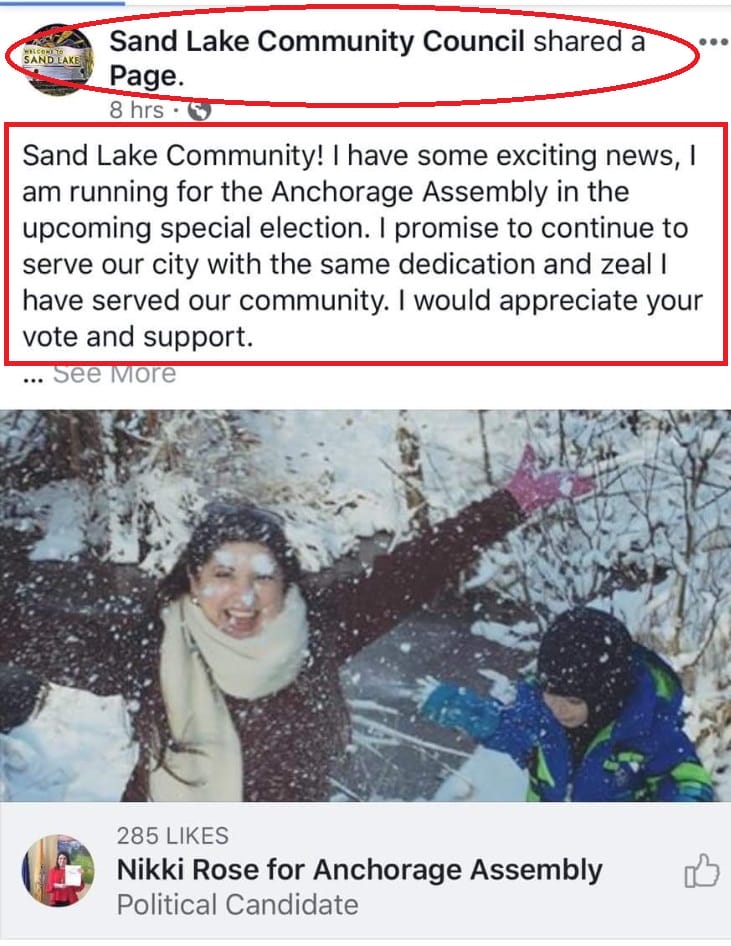 She even liked her own endorsement post. How cute. ?
For those of you who don't know, Nikki Rose is the President of the Sand Lake Community Council. Maybe President Rose should read her council's bylaws. I mean, we can't say we're surprised… 

---
Has anyone ever seen Justin Matheson, chair of Alaskans Against Dunleavy/Alaskan Workers for Treadwell and Scott Kendall, Chief of Staff for Governor Walker in the same room at the same time? ?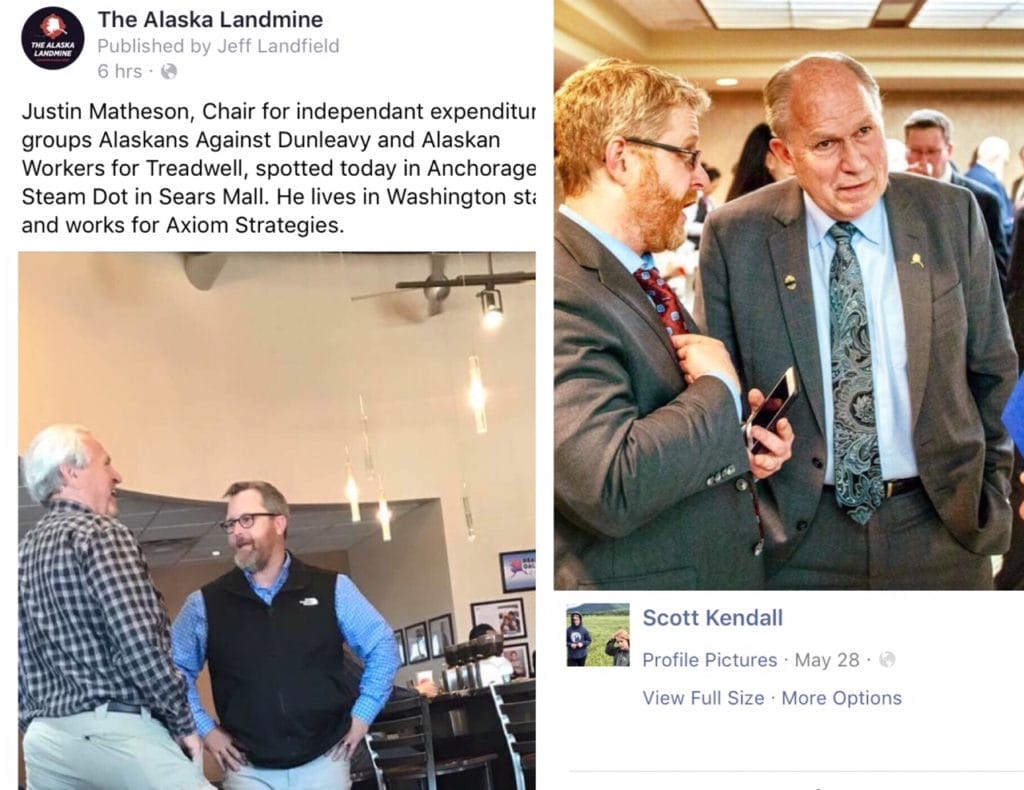 ---
Has Rick Rydell gone soft? Or maybe now that Bob Lester left Alaska, Rick had to ignite a new radio bromance. <3

---
Speaking of Dave Stieren… It's okay Dave; free drinks are our downfall, too. We're not sure if he meant to write sexy or hot mess.

---
A big Stalker congratulations to candidate for house Forrest McDonald's wife, Jini, for being officially sworn in as an American citizen! ?????? Good to see folks like Chair of the Alaska Republican Party, Tuckerman Babcock, staffer to Senator Begich, Josh Spring, candidate for house, Josh Revak, and candidate for assembly, Sam Moore come out to support Jini and the McDonalds on such a special day.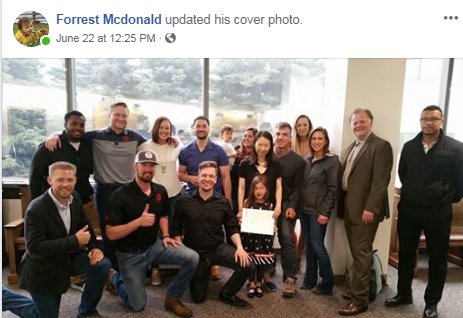 ---

---
That per diem money tho.

---

Also, who the hell is in charge of Mead's copy writing? A true Alaskan never mixes up Dimond for Diamond.
---
Fan mail:
---
Hate mail:
Representative Charisse Millett blocked Alaska Landmine editor-in-chief Jeff Landfield on Facebook. We wonder why?
---
Overheard in Anchorage
"I don't look like that alien guy!" Kevin Meyer at the RDC luncheon. Sorry Kevin. You kinda do.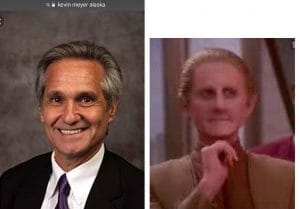 Non politico having drinks with politicos: "If Suzanne* says you're a bad person then I would probably let you watch my kids."
*Yes, it's that Suzanne. No, "Overheards" aren't endorsements. You send 'em, and if I laugh I print 'em.
---
 Spotted in Anchorage:
Candidate for house Jason Grenn in the Rustic Goat parking lot.
Gubernatorial Candidate Scott Hawkins on a hot date with his wife at Yogurt Lounge.
---
Door-to-door report:
Let Representative Grenn tell ya 'bout the birds and the bees
And the flowers and the trees
And the moon up above
And a thing called 'Love'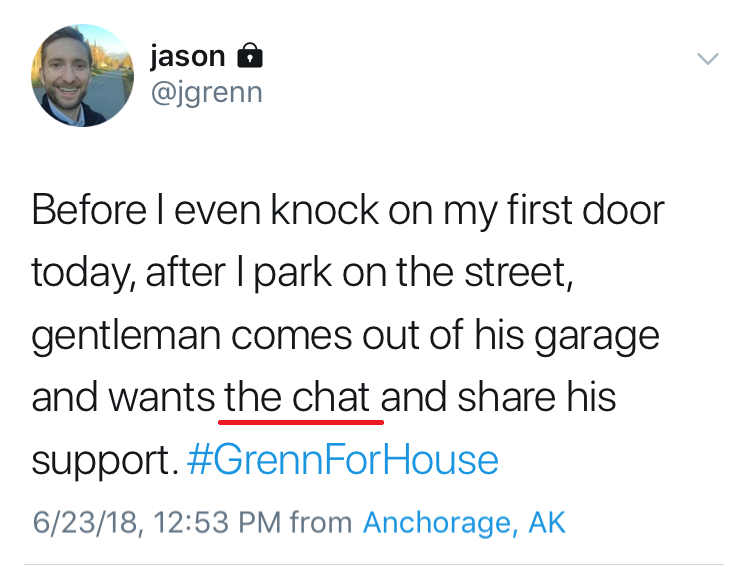 ---
Does it get cuter than this? I don't think so. Squeeeee!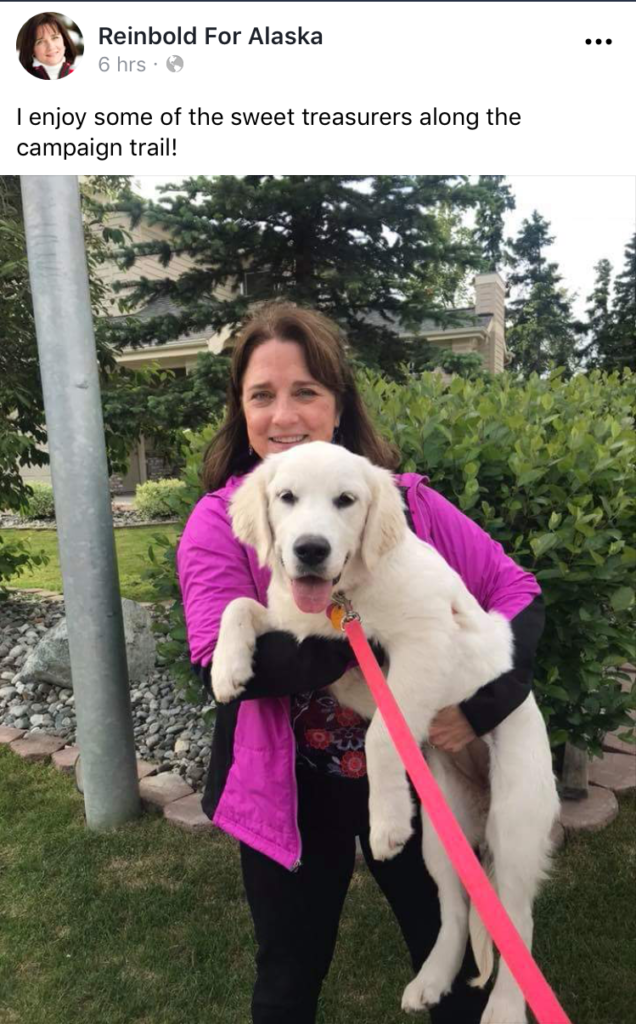 ---
The Alaska Stalker believes it's important to use our platform to troll politicians as well as do good in our community. One of our passions in life is to keep Spenard weird. Spenard was our home for almost 6 years, and it will always hold a special place in our heart. Please join me in banding together with other community members to try and save the Paradise Inn palm tree. The iconic 22-foot neon palm tree which graced the sometimes sketchy Paradise Inn should most definitely remain in Spenard as a community asset. Special shout out to Bernadette Wilson. She got royally screwed over. But, if it wasn't for her, the palm tree would have probably been lost forever.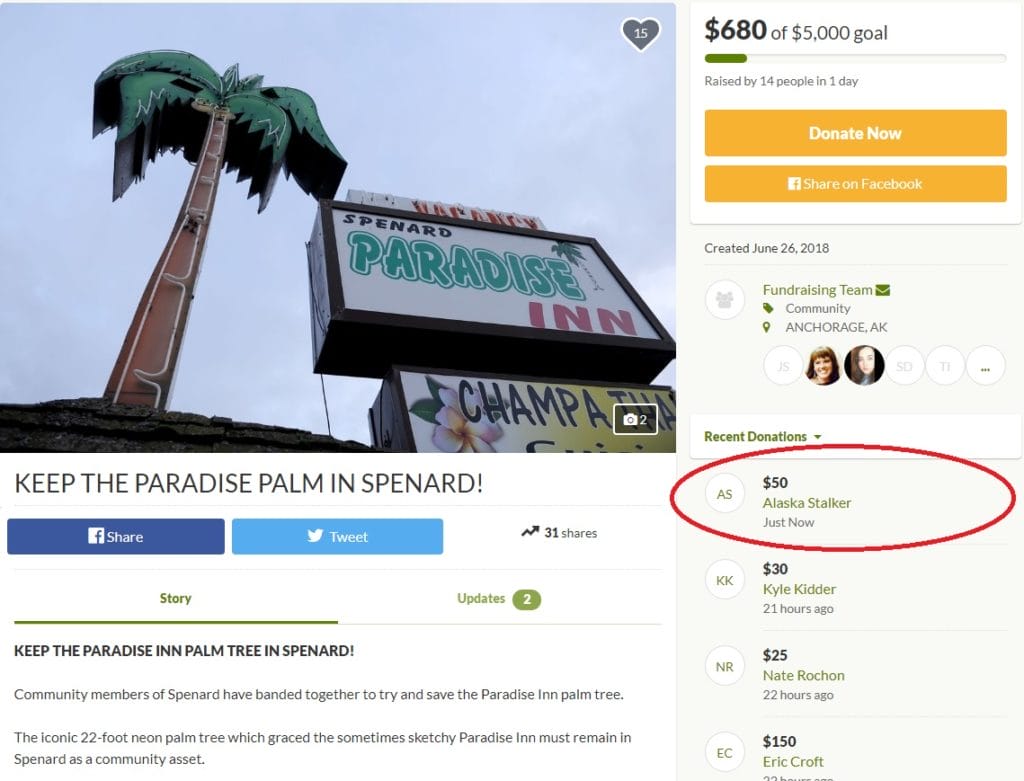 ---
That will do it for us this week folks. Don't forget to send your favorite social media and online goofs, gaffs, memes, dust-ups, "Overheard in Alaska" and "Only in Alaska" moments, or whatever else you got to [email protected] Our DMs are always open. Remember: pics or it didn't happen!