Welcome to this week's edition of the Alaska Stalker, a lighthearted roundup of the best and worst of Alaska's social media landscape and political gossip.
If you enjoy the Alaska Stalker, please consider supporting working moms like me by sending in hot tips, overheards, and spotted ins. You can reach me at [email protected] As always, thanks for reading.
***
Happy almost Friday, y'all! Is Representative Sharon Jackson channeling Democratic candidate for President, Marianne Williamson.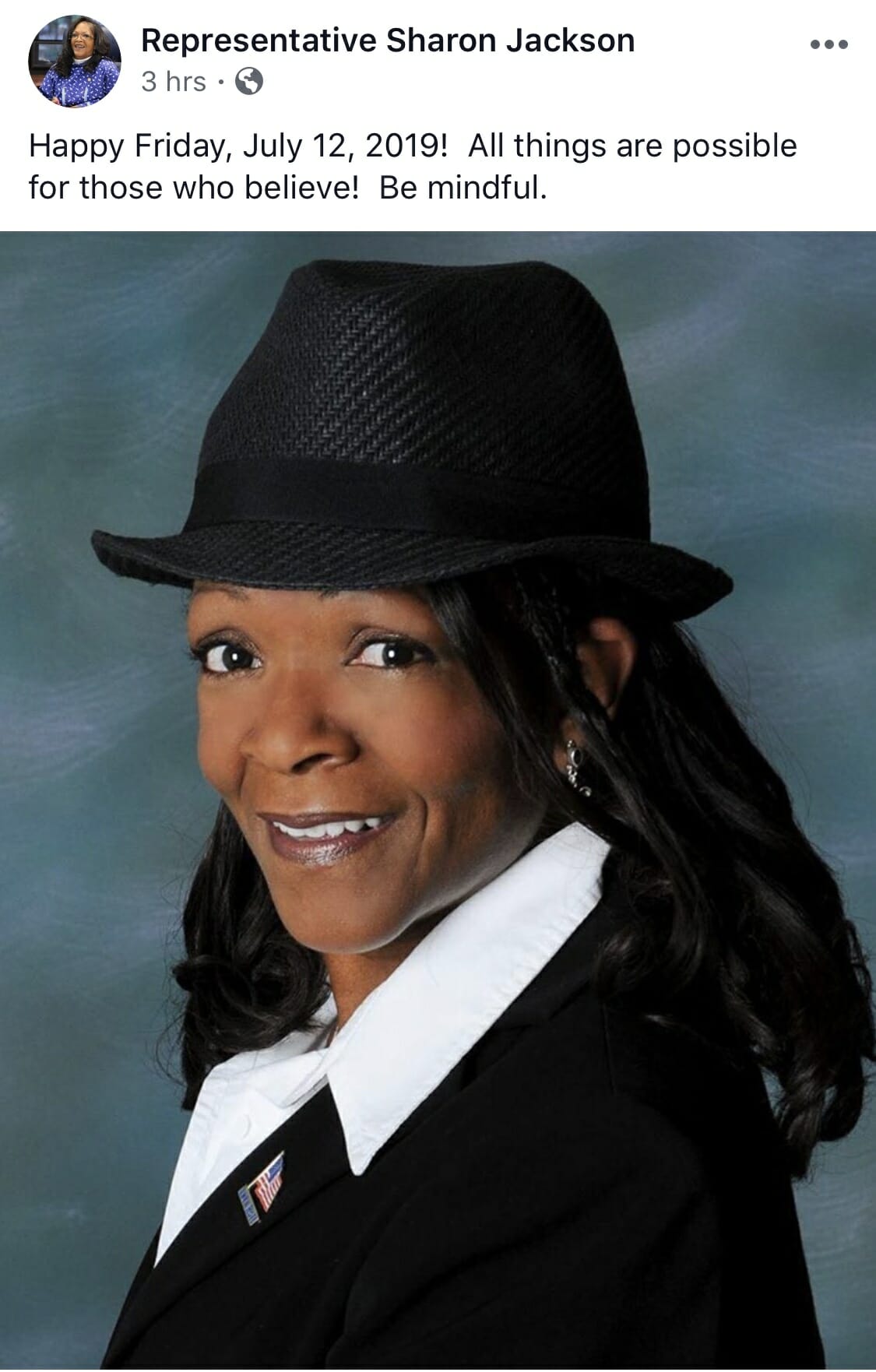 ***
While we wish we could just post photos of staffers making themselves old with Facebook's newest craze, the Face App, we have a job to do. Okay, I'll post a couple. I'M SCREAMING! ?????

***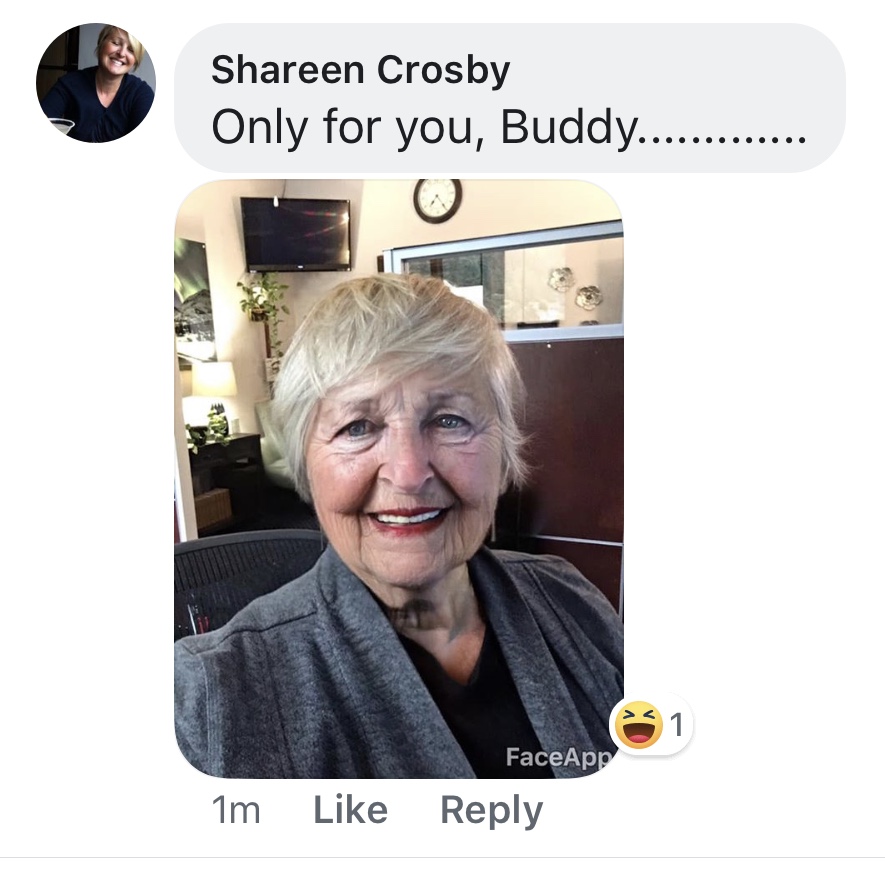 ***
I didn't know Bruce Wayne moved to Wasilla. Who knew he was a full PFD guy. Maybe fellow millionaire and brother to the Governor, Frances Dunleavy, tipped him off about the neighborhood. Or, maybe Bruce wanted to move some place with more crime than Gotham City. P.S. Can someone get Anchorage Mayor Berkowitz a Bat Signal ASAP?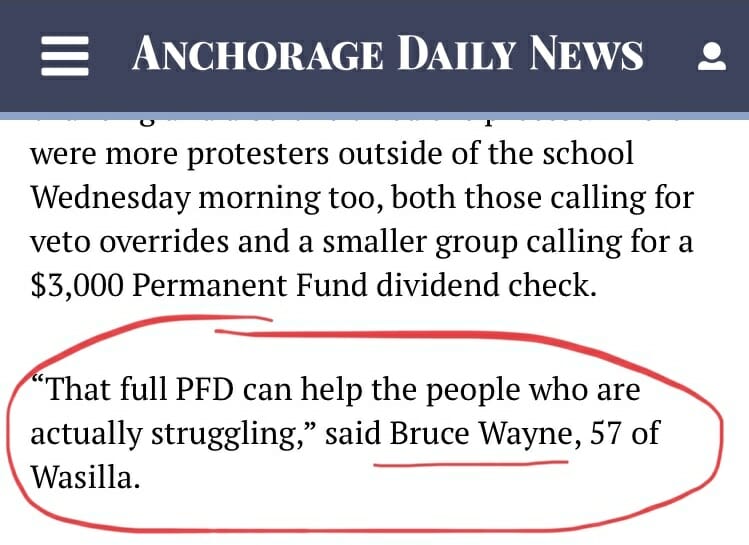 ***
Speaking of a full PFD, here's Governor Mike Dunleavy wearing one in the middle of a wildfire. If that isn't symbolic I don't know what is. Actually this isn't a bad idea. Maybe he should trade in his trademark jacket and start wearing a Personal Flotation Device everywhere. When people ask him about it he can simply respond, "Full PFD."

***
Things have gotten downright nasty online over the past couple of weeks. Due to his vetos, the Governor has bore the brunt of attacks, name calling, and even threats. One post stood out above the rest, and we feel an obligation to our readers to publish it. Ladies and gentleman, may I present the most savage burn Governor Michael J. Dunleavy will ever endure. Way to go, DonF. Mike will be shamed into stepping down after this one. ???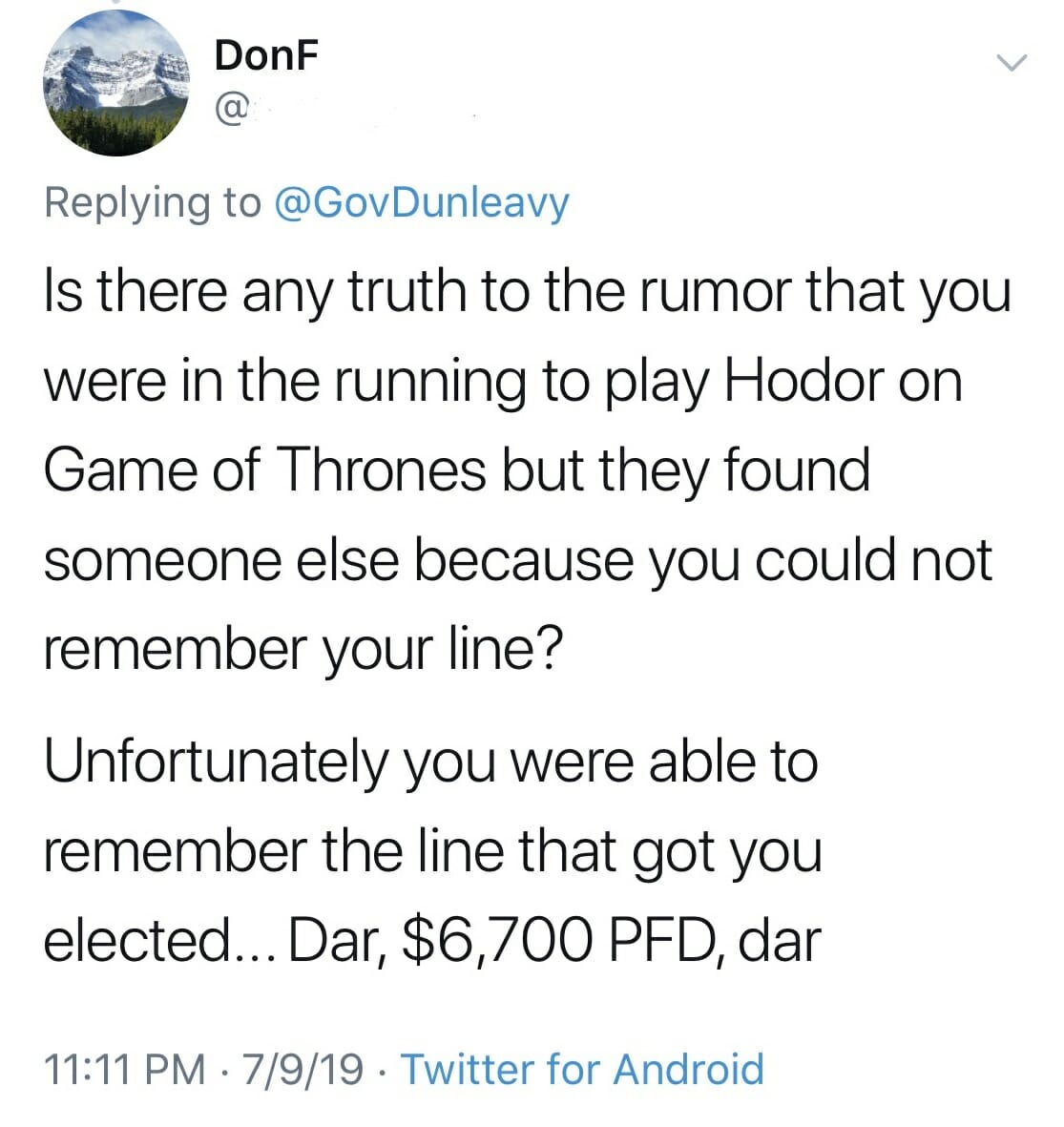 ***
Over in hostile territory on Twitter, the Alaska GOP posted this quote from the blog Must Read Alaska that described folks on the left as, "profane guttersnipes." Holy ratio! I'm surprised the GOP hasn't deleted it yet — almost all of the 2,000+ comments are negative.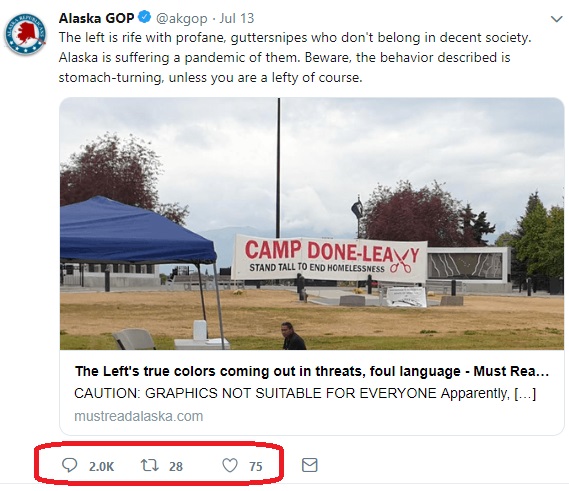 ***
As Senator Mitch McConnel learned with "Nevertheless she persisted," the left never lets a good turn of phrase go to waste. Thus "Profane Guttersnipes for Justice" apparel was born. Well-known Alaskan artist, Pat Race, got in on the fun and posted his artistic rendition.
Here's a closer look. "This small bird can be found all across Alaska and is known to be quite protective of its nest. The Profane Guttersnipe is easily recognized by its distinct call." It will be interesting to see if designs bearing "Profane Guttersnipes" take off – people will have to decide if they really want to wear a phrase coined by Mrs. Downing or not.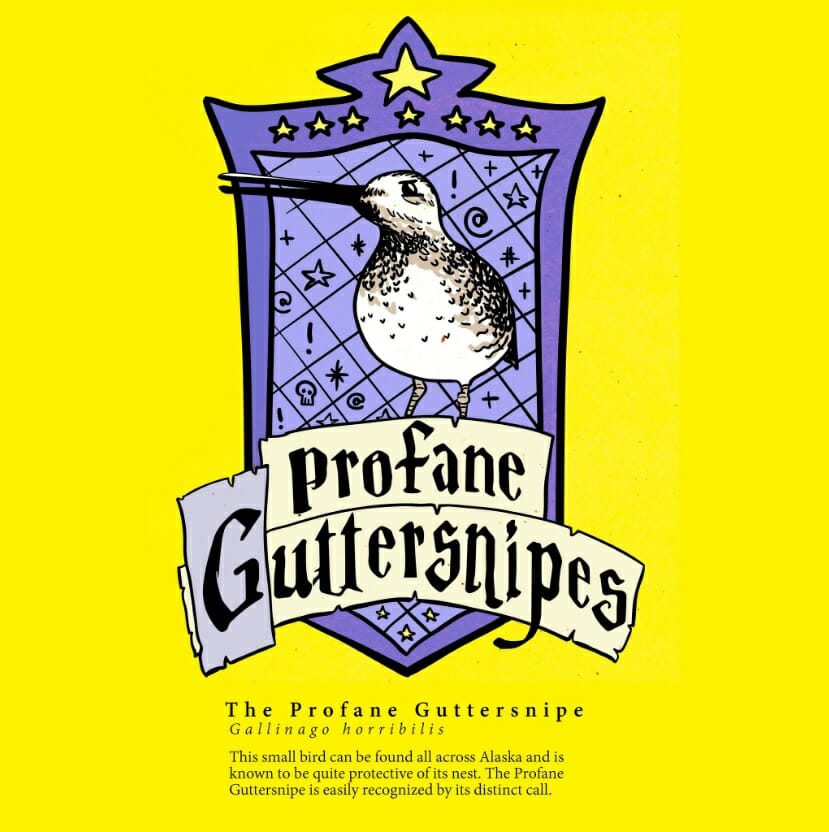 ***
Folks are continuing to find new and unique ways to show their disapproval with State officials. Senator John Coghill changed his Facebook profile picture to him literally holding a baby and some people are VERY ANGRY about it.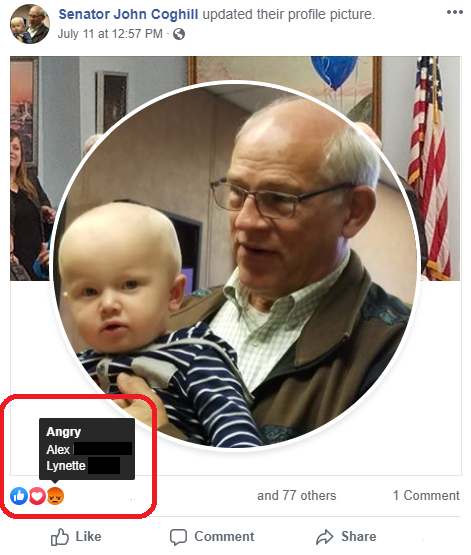 ***
Even more concerning are reports of legislators being approached at their own homes. People aren't moosing around. Check out actual footage of a District L constituent swimming towards Senator Natasha von Imhof's Campbell Lake home in an attempt to confront her about the PFD. We heard this particular constituent is also very concerned about the bear problem in Anchorage. ?

***
Time to get serious. This is an actual link Representative Harriet Anagnostis Drummond shared on her Facebook page. YIKES! This isn't even subtle.

***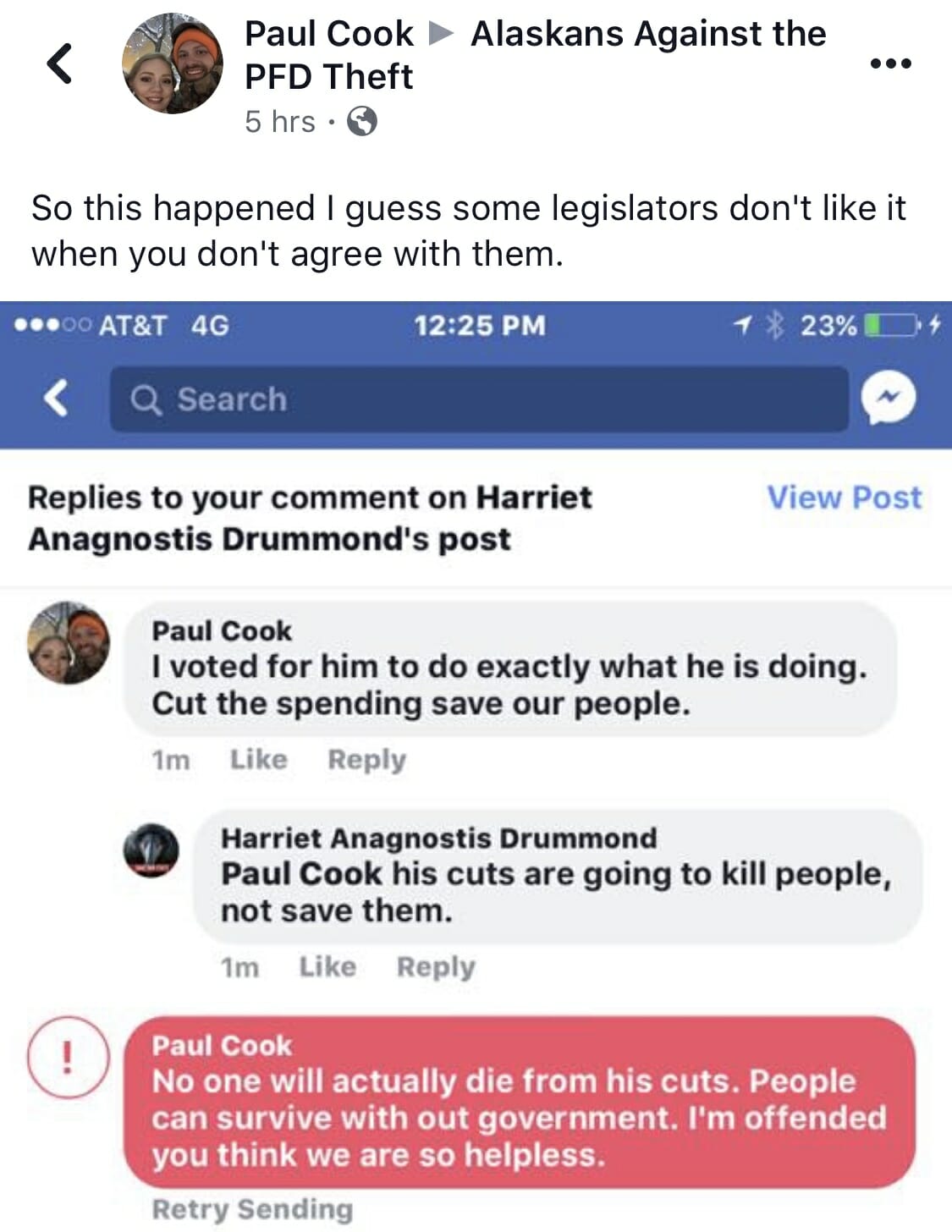 ***
Senator Lora Reinbold is no stranger to controversial Facebook posts. This time she crossed the line from controversial to down right inaccurate. Here's her original post, where she questions if Native Corporations are taking care of Native peoples and claims that they receive state subsidies.

***
Several of Alaska's largest Native organizations called the post "inflammatory" and sent a letter to Senator Reinbold asking her to publicly retract the statement. You can read the full story here. Senator Reinbold did make some changes to the original post and, in an addendum, she wrote, "I didn't intend to offend anyone- yes I admit I was young when ANSCA and ANILCA took place- my history is rusty." I guess Senator Dan Sullivan was wrong when he told the Washington Post, "most Alaskans would know all about ANILCA." 'Cause it's not even most Senators!

***
Representative Zack Fields is in a bit of hot water over a now deleted Facebook post. If only there was someone out there who was quick enough to get that screen cap. ?

***
Don't worry fam, I got this. Fundraising during session is a no no, Zack! We'd link to the news article about this Facebook faux pas but there doesn't seem to be one. ¯\_(ツ)_/¯
***
Meanwhile, Representative Sharon Jackson is on Twitter yelling at the Senate Majority. Not sure how helpful that is. What happened to her chill Marianne Williamson vibe?

***
While tensions are higher than ever, it's nice to see the relationship between legislators and the media is improving. OMG, WHAT?!

***
In other media news, the Bradner brothers seem to be churning out some quality, unbiased reporting lately. Oh. ?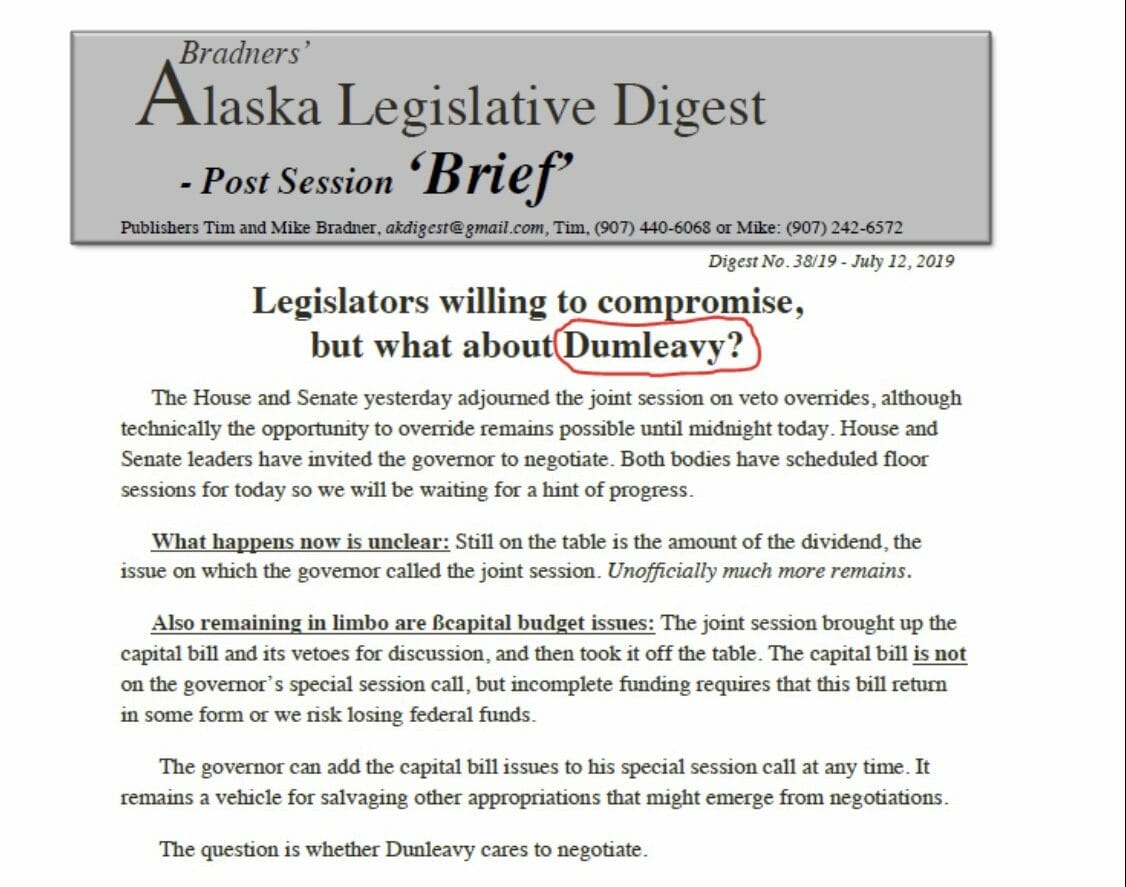 ***
I'm not sure the Alaska Legislature would agree. Day one hundred and we've lost count and still no deal.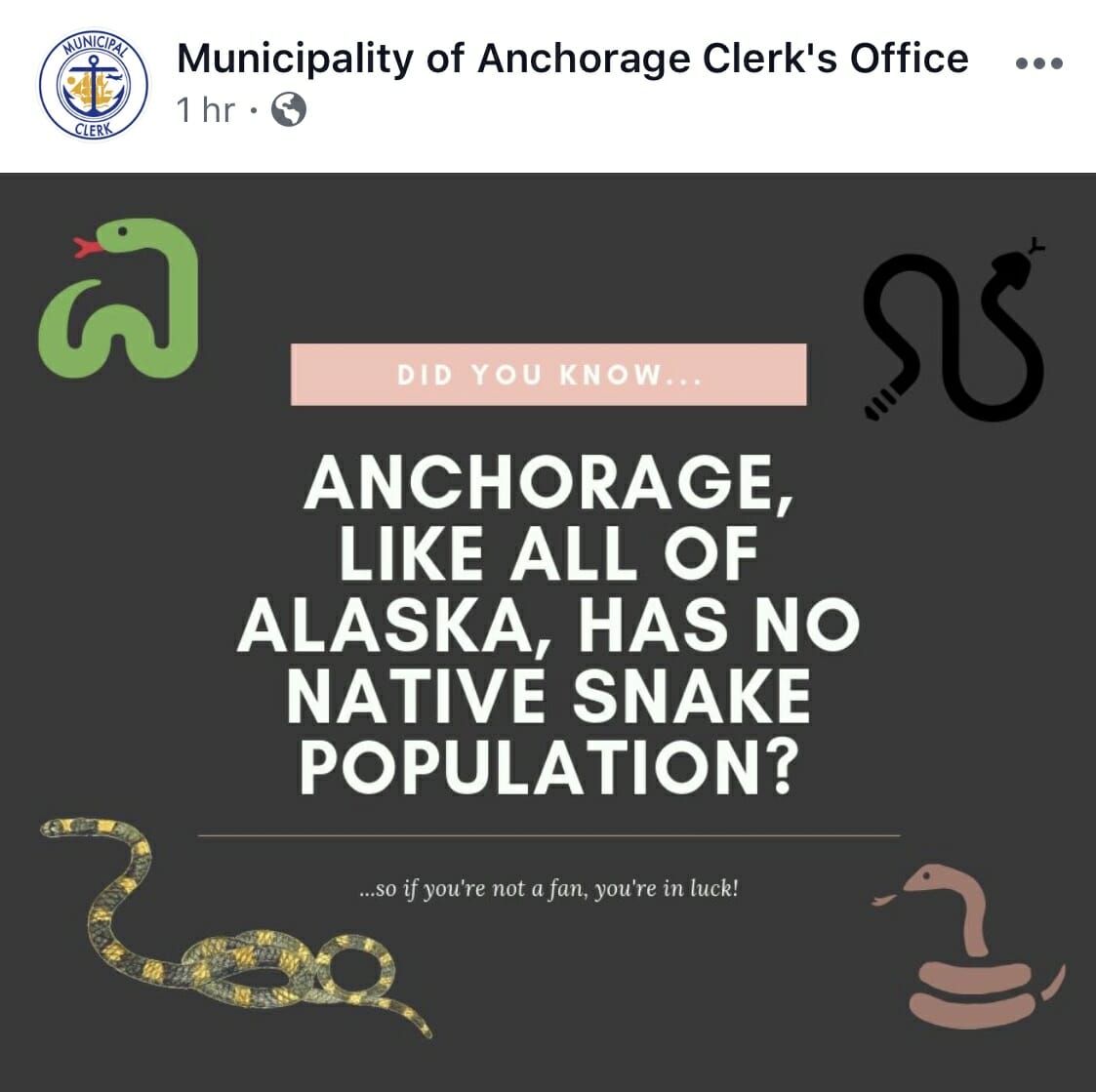 ***
I kinda like former Representative Bob Lynn's Facebook posts; a throw back to simpler times. Back when you could spend $14 billion a year and nap through committee meetings. Take a look at this sweet tribute to his former staffer, Nancy Manly.

***
Welcome to another installment of…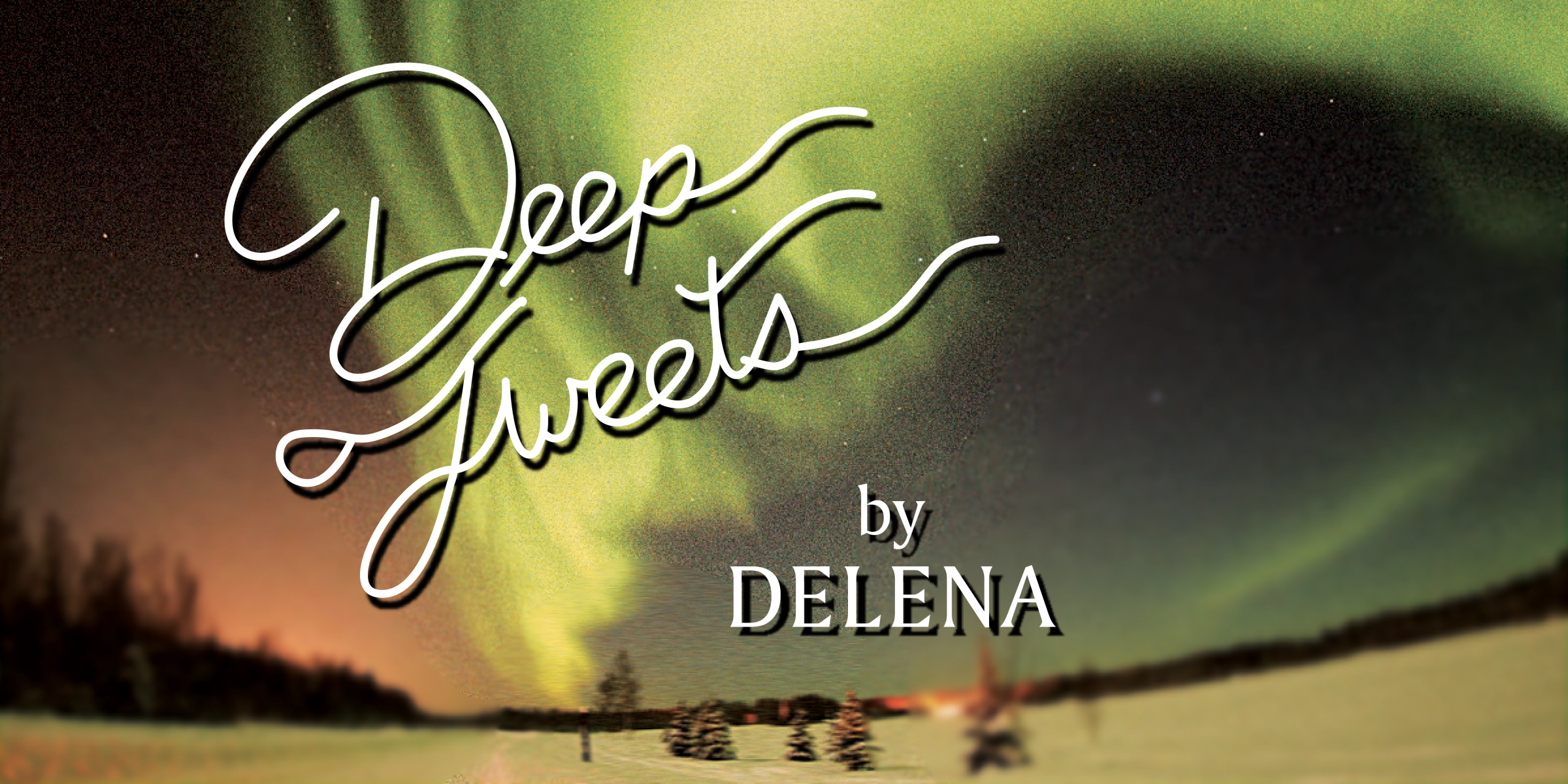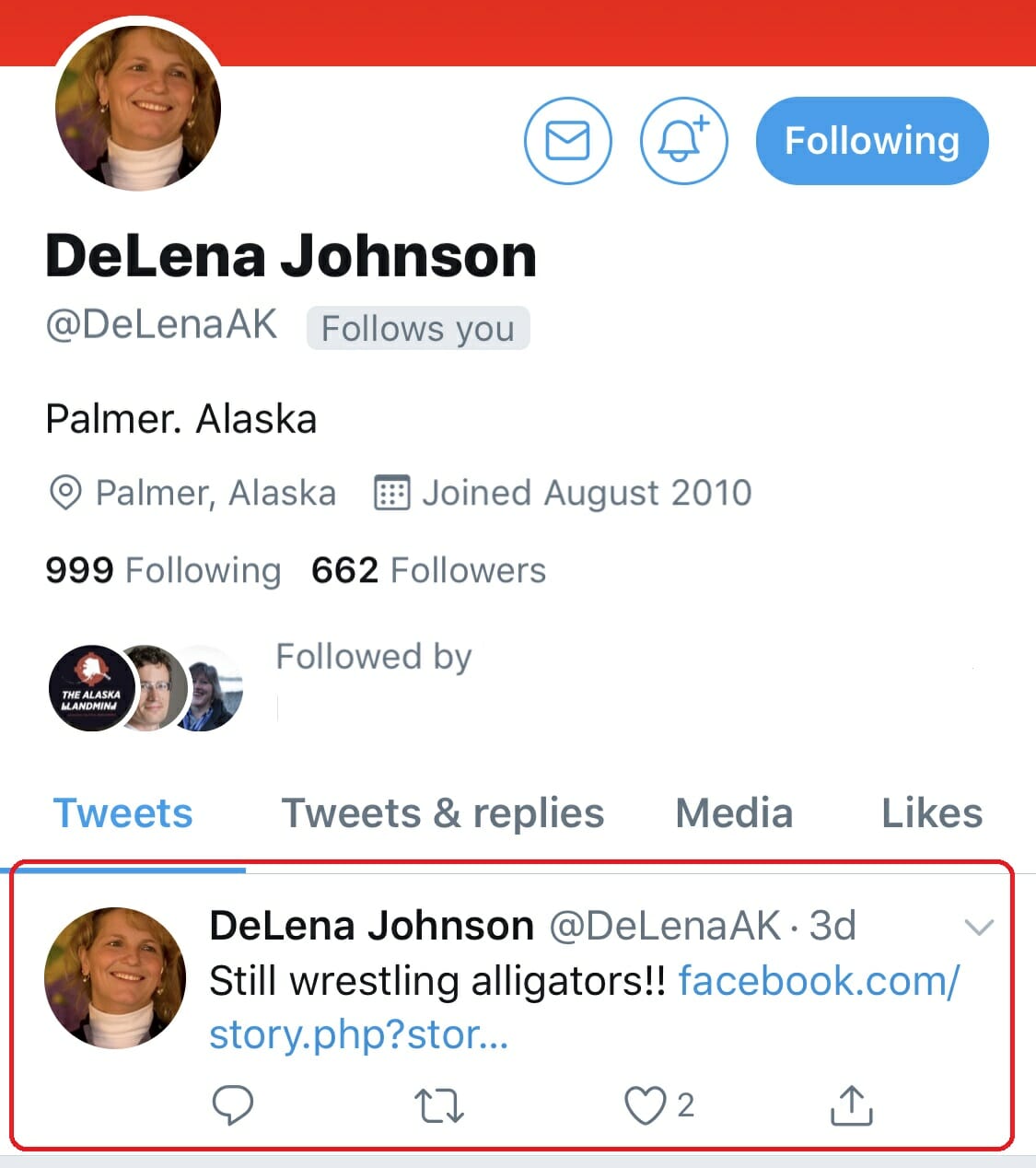 ***
Assemblymember Christopher Constant hasn't been holding back when it comes to discussing hot topic issues in Anchorage. He has made a point to share a wide variety of stories and perspectives, no matter how uncomfortable they might make you.
***
Some of his commentary is drawing the ire of people on his side of the political aisle.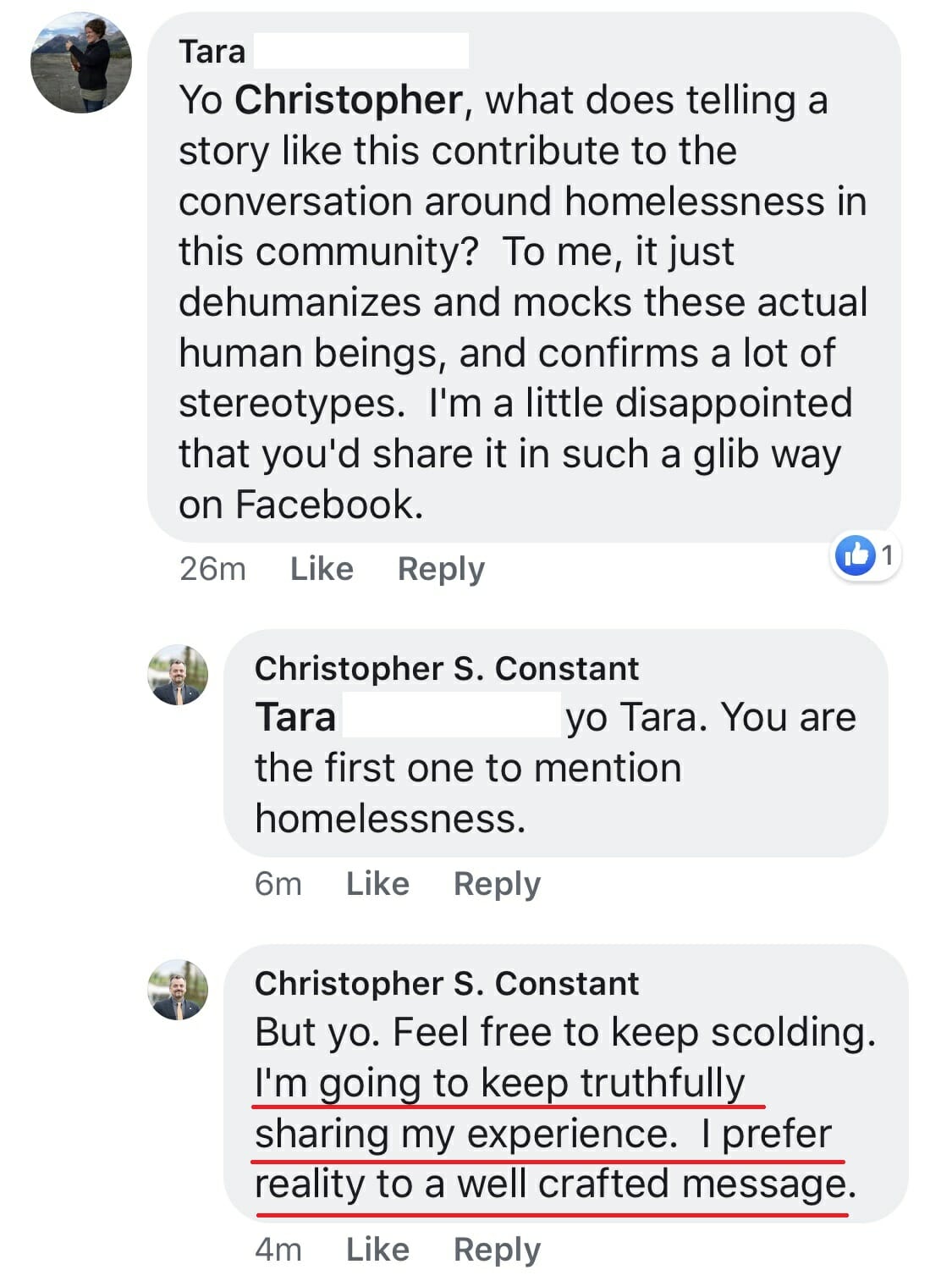 ***
We gotta give Chris credit. Sometimes telling it like it is is hard. I suspect if the Assembly would have used Chris' "unvarnished truth" approach when communicating to the public about homelessness, the recent Alcohol Tax might have not have been defeated so badly. Keep it up, Chris. Now do SAP and the Port!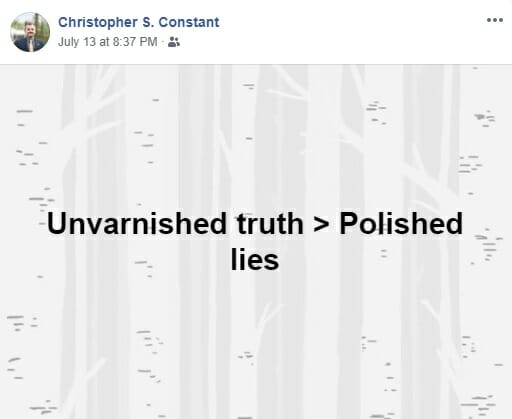 ***
What's going on at the Anchorage Assembly? First Chris shows some dissent and now John breaks free from the nine strong progressive voting block. What's next, is Assemblymember Austin Quinn-Davidson going to vote against the next gas tax increase?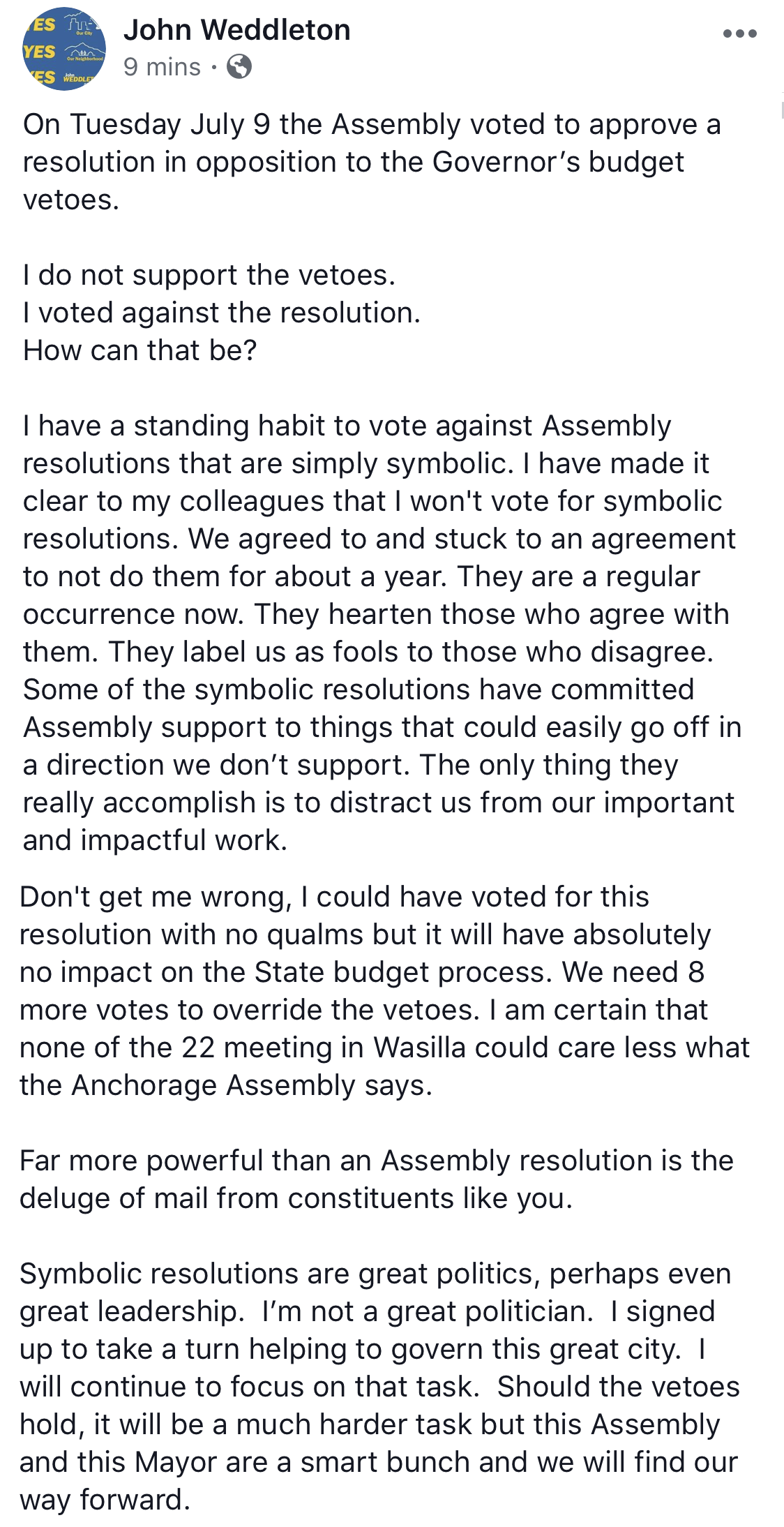 ***
Here it is folks, the first (and probably last) time you'll ever see Forrest Dunbar get a piddly 18% of the vote.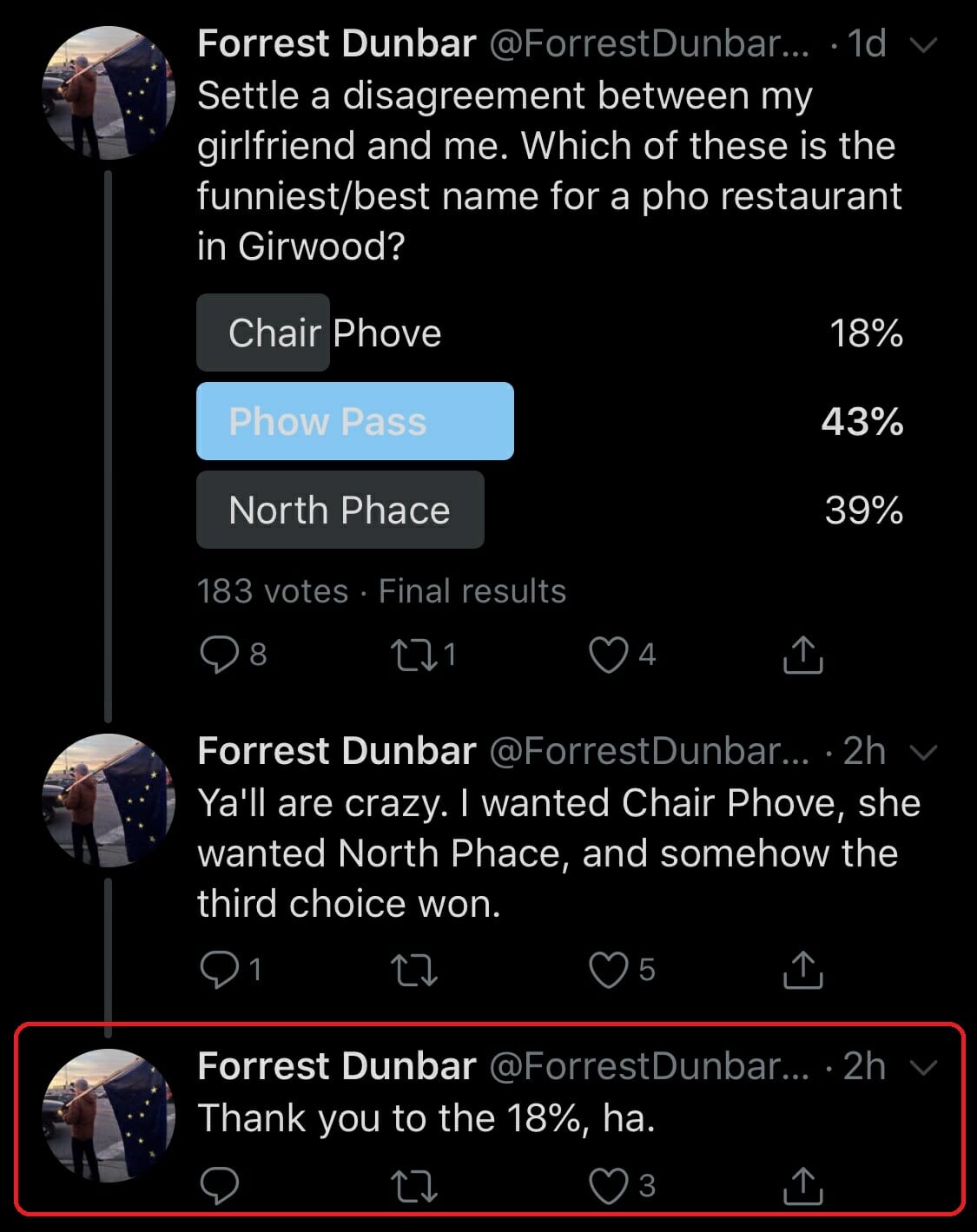 ***
Assemblymember Kameron Perez-Verdia recently posted a south Anchorage mother-in-law apartment for rent.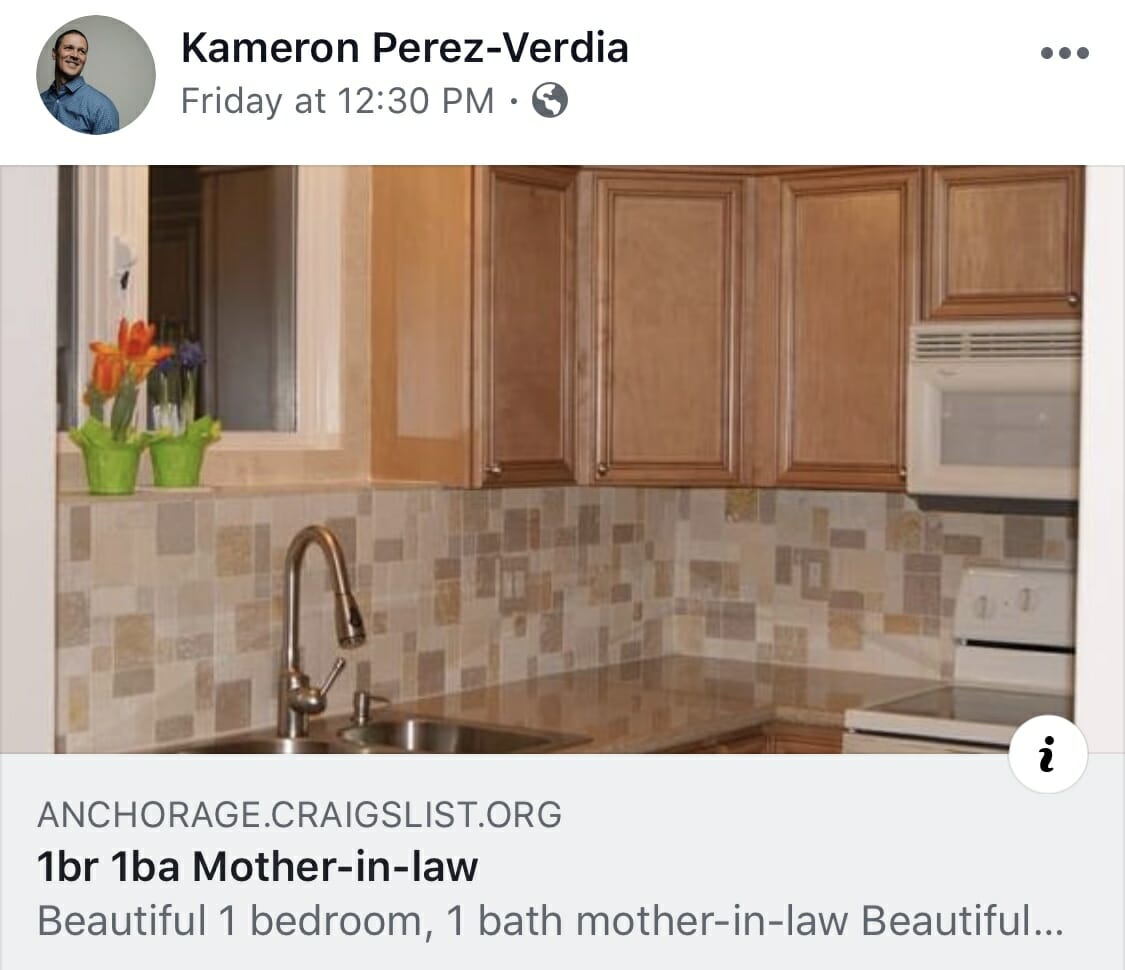 ***
The Stalker brings people together. Hey Joe, you find a place yet?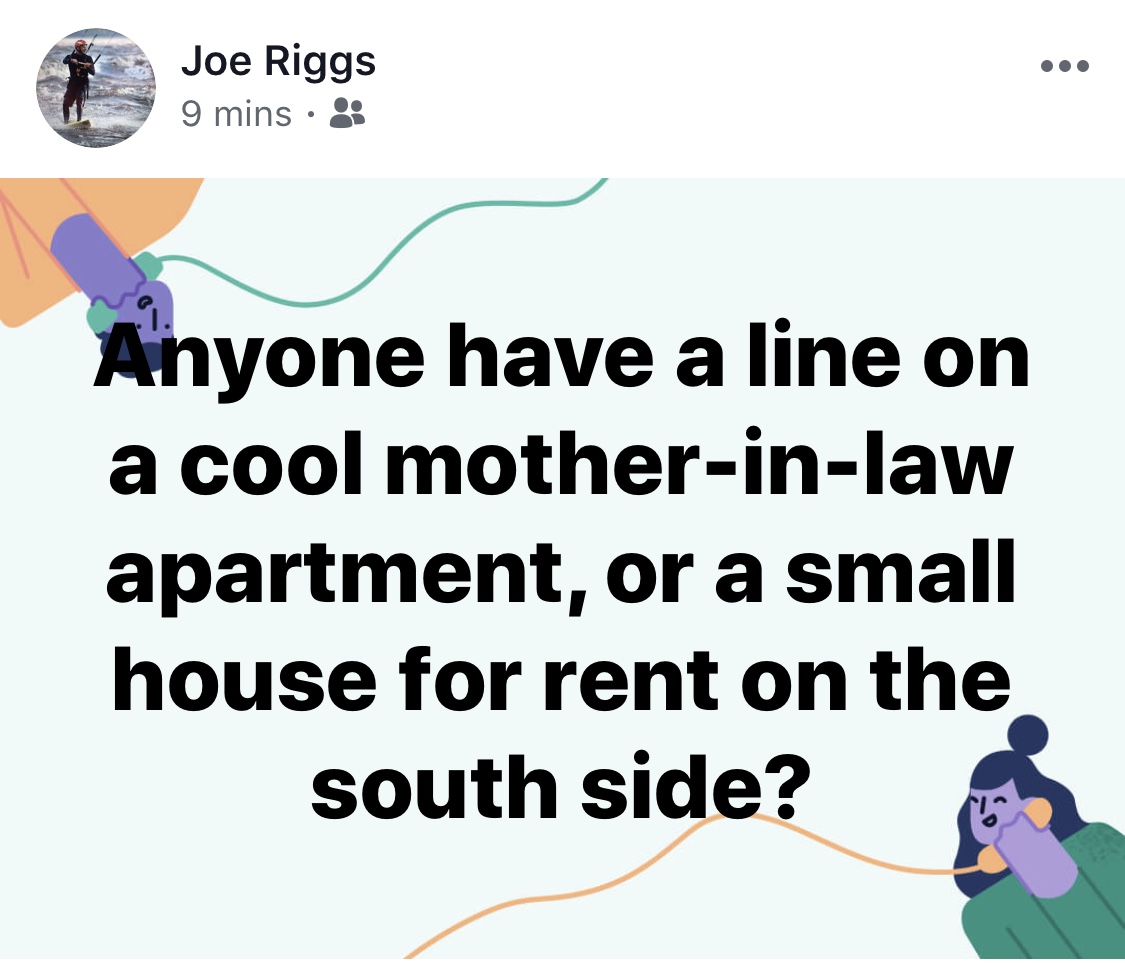 ***
The Alaska Landmine was live in downtown Anchorage at what's being called "Occupy Park Strip." Check out the Facebook Live below.  I'm not touching this issue with a ten-foot tent pole.
***
I'm just going to leave this here.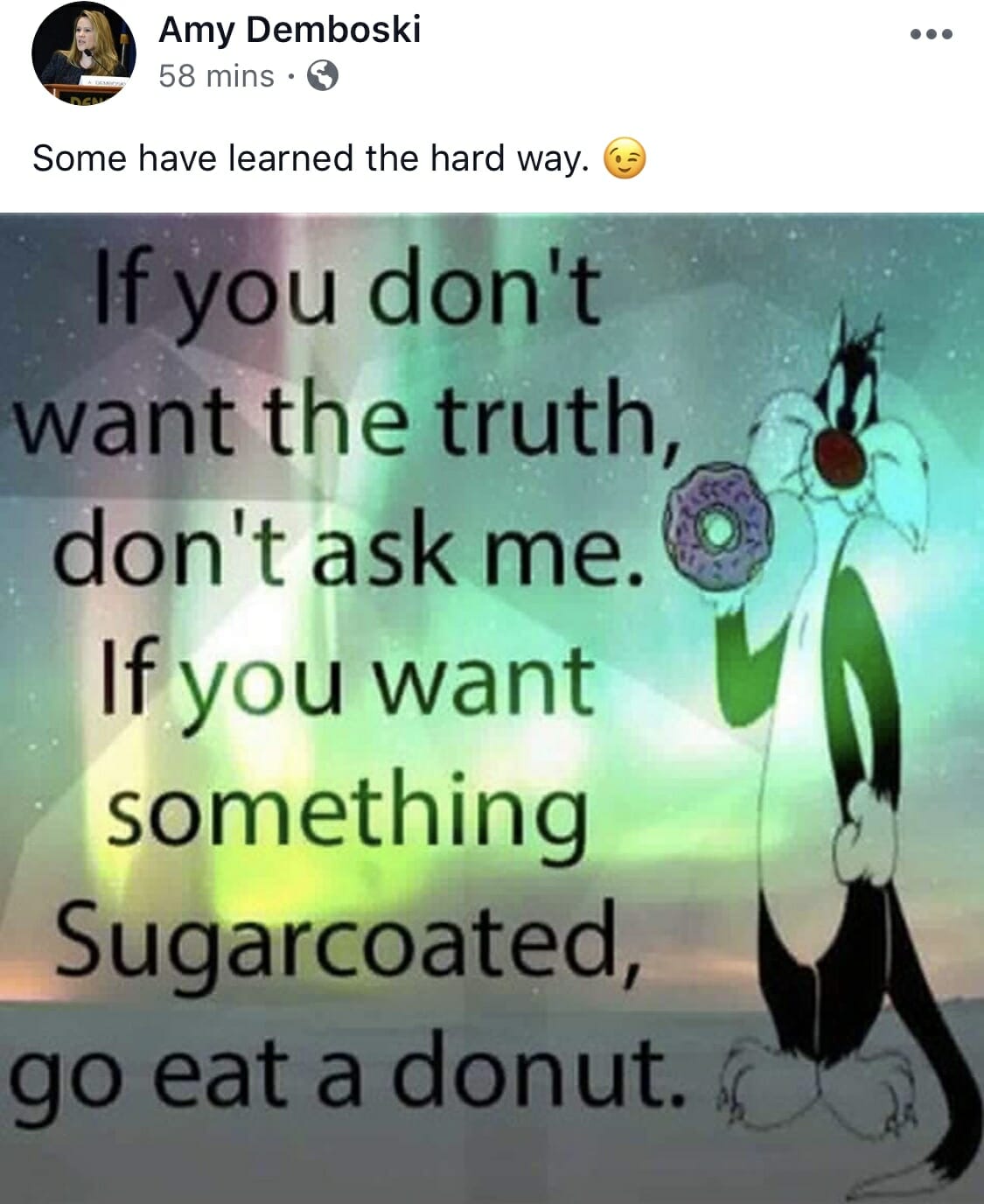 ***
Overheard in Juneau: "Is the Governor going to call them to Adak next?"
***
Overheard at ACLU Press Conference: "Dunleavy is great for lawyers and lobbyists."
***
Spotted at Steam Dot in Midtown Anchorage:
Representative JKT dressed in Alaska chic and sandals.
Anchorage Assemblymember Meg Zalatel and Special Assistant: Education, Youth Development, Diversity and Economic Development, George Martinez. (Yeah, we had to look that one up.)
Senator Mia Costello catching up with her former staffer, Josh Walton.
***
Spotted at the Hotel Captain Cook: Congressional Candidate Alyse Galvin, still on crutches. Note: to the Stalker's supreme delight she was spotted next to the Whale's Tale. ?
***
Spotted at Denali Federal Credit Union: Senator Tom Begich
***
Spotted at the wedding of Travis Smith (former campaign manager for Forrest Dunbar) and Mackenzie Morrison-Heath: Jim Lottsfeldt and Forrest Dunbar.
***
Spotted in the ADN: The Alaska Stalker, appearing every Friday with bonus content. Now that's high level!
***
The Alaska Stalker was born and raised in Alaska, and lives in South Anchorage with her husband, daughter, and son. She is not Jeff Landfield.