Welcome to this week's edition of the Alaska Stalker, a lighthearted roundup of the best and worst of Alaska's social media landscape and political gossip.
If you enjoy the Alaska Stalker, please consider supporting working moms like me by sending in hot tips, overheards, and spotted ins. You can reach me at [email protected]  As always, thanks for reading.
---
Although it is against official Landmine policy to apologize, we'd like to issue our first formal Stalker apology to KTUU for making fun of their Friday forecast last week. Turns out, it was completely accurate. ?️??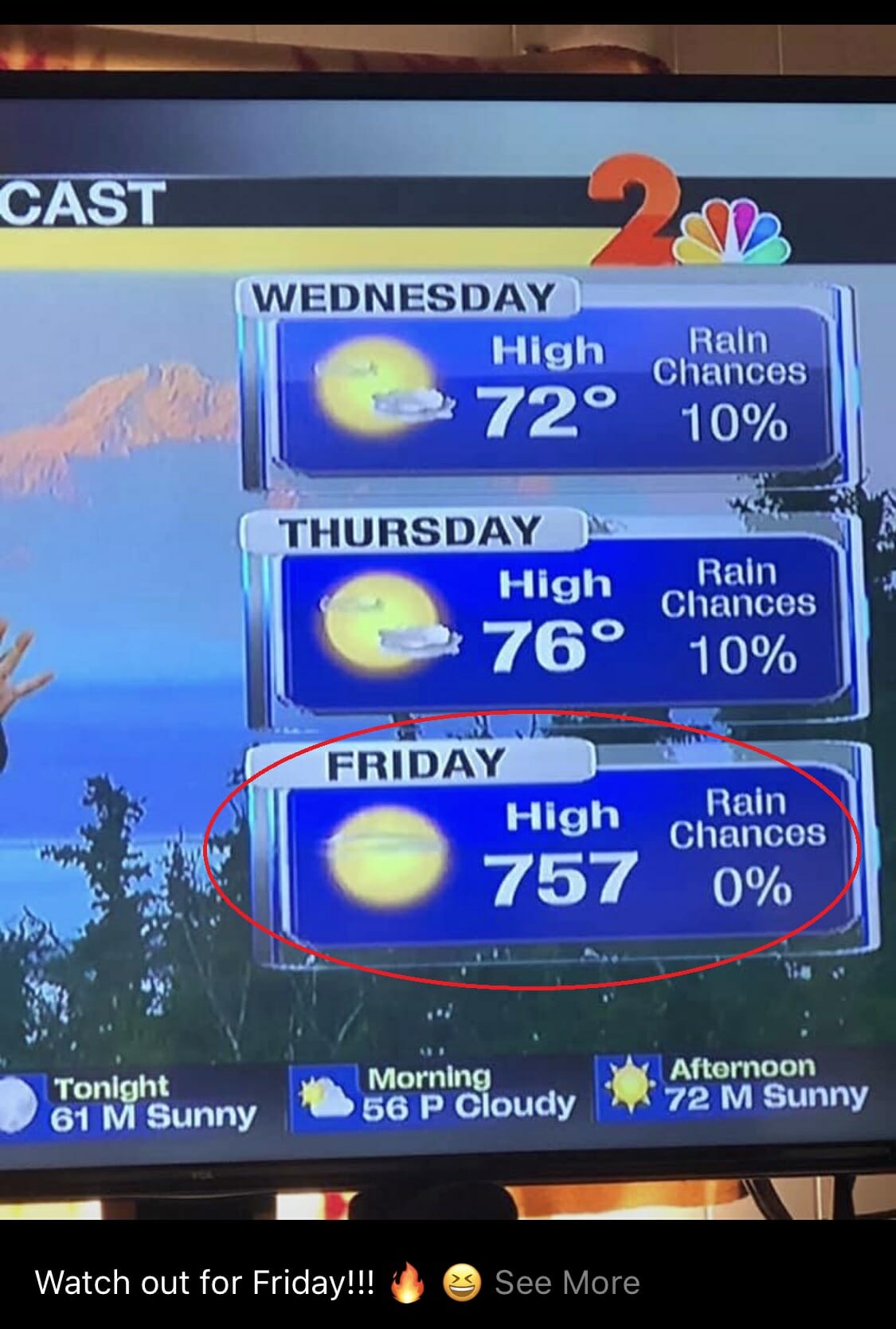 ---
No comment on if this week's column was written during #nopants hour.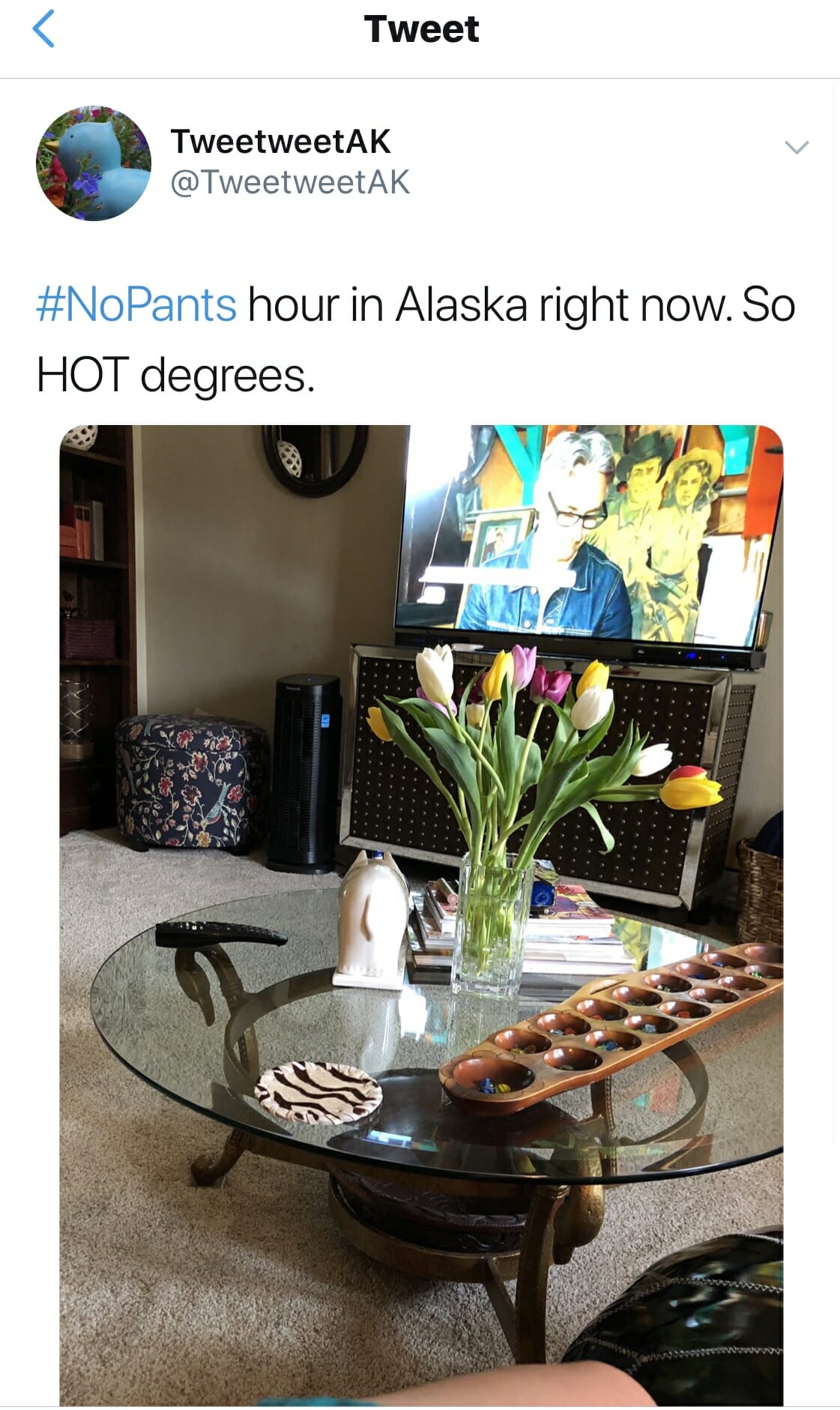 ---
What's an Alaska heat wave without a little #fakenews to go with it? H/t to House Republican Press Secretary Zach Freeman for this find.
---
---
Senator Lisa Murkowski's been out there educating folks on Alaska's lack of central air.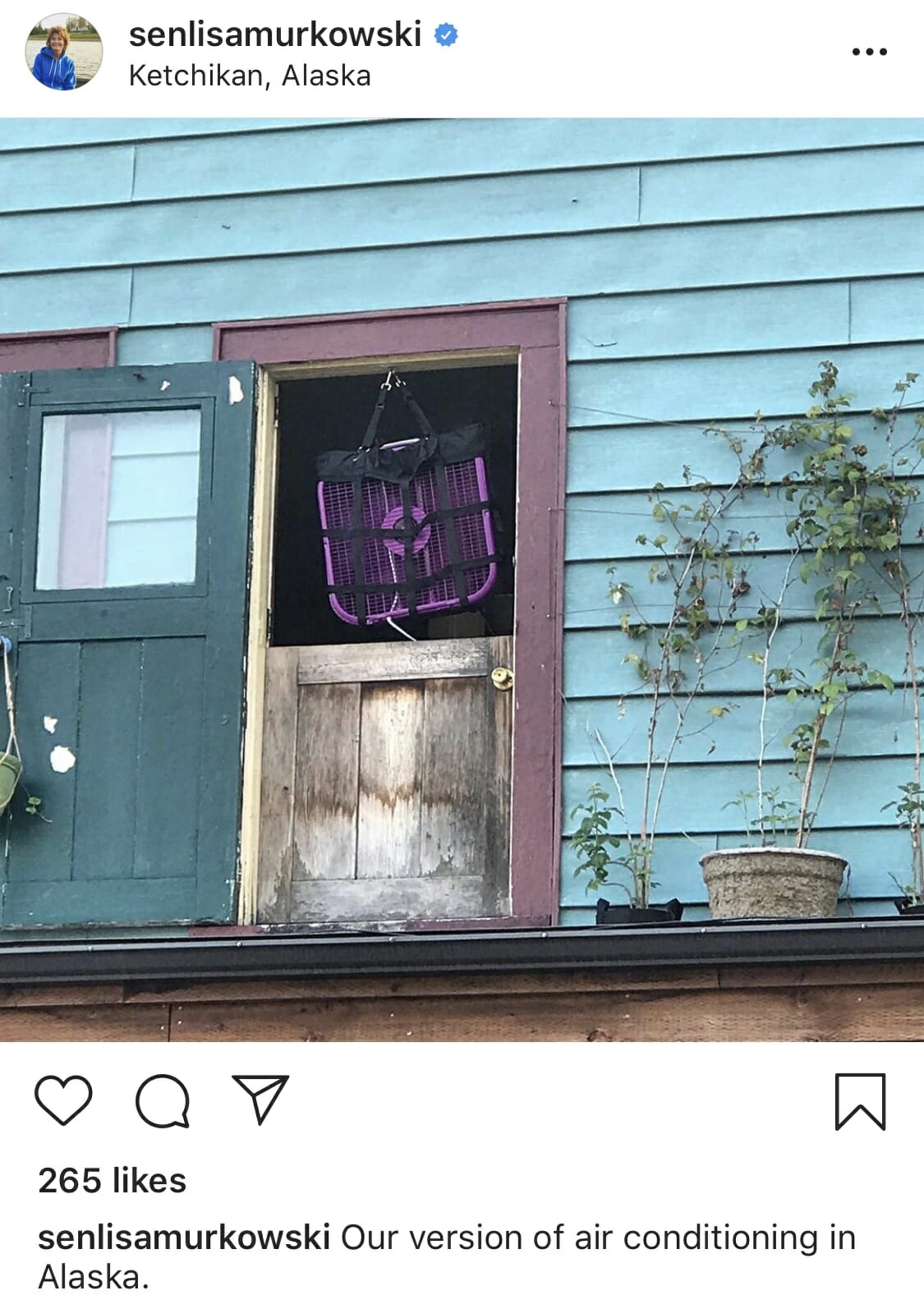 ---
A big Stalker thank you to KWHL's Bob Lester for doing a Facebook Live tutorial on how to make a hillbilly air conditioner. Lives were saved.
---
---
We were all House Majority Press Secretary Austin Baird's cat last week. Hot you were, Yoda.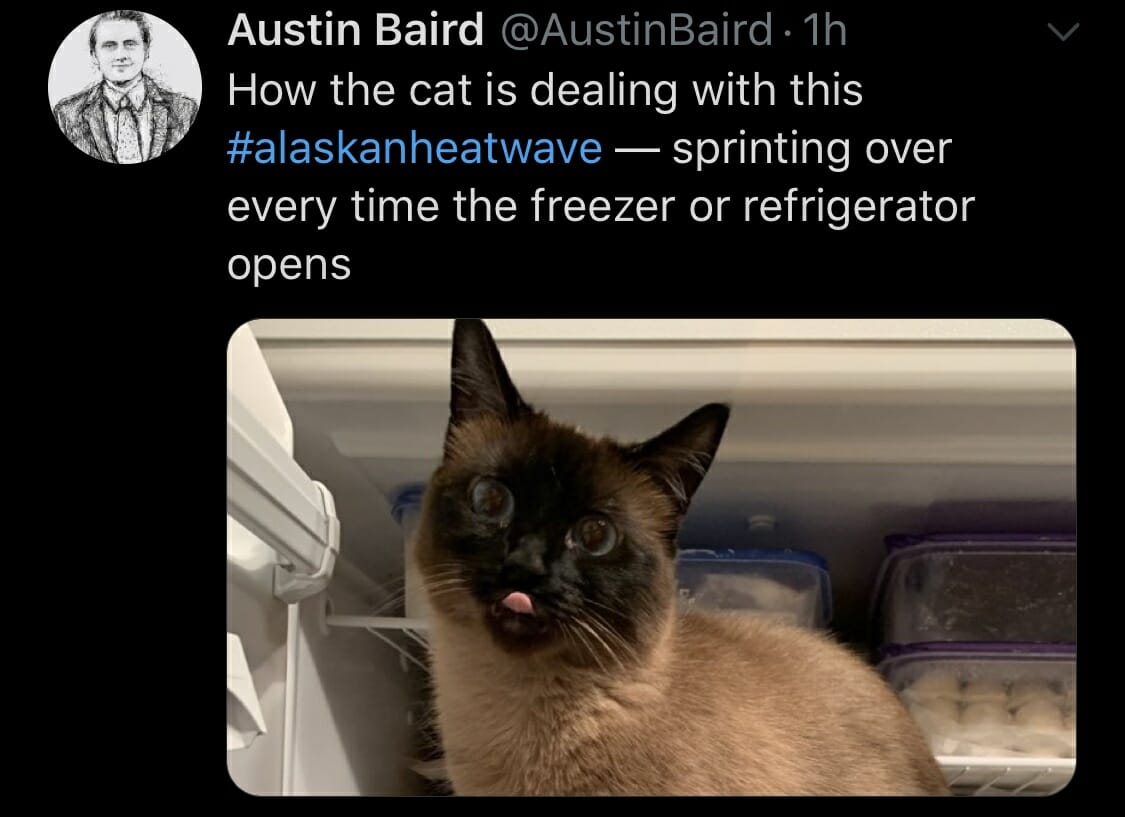 ---
Down on the Kenai, Representative Gary Knopp was so hot he volunteered for the dunk tank.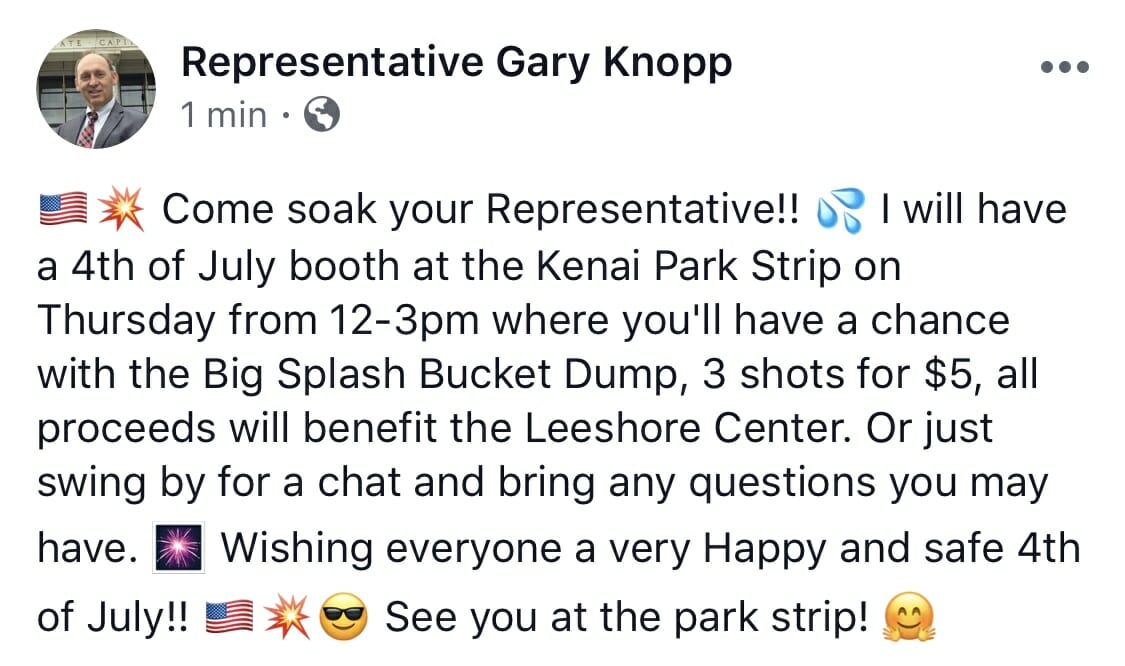 ---
OMG. Did Representative DeLena Johnson dunk Gary?!

---
Up in the valley, it was in the high 80's! Former Representative Lynn Gattis was unable to cool down and very concerned with the "tinder dry conditions."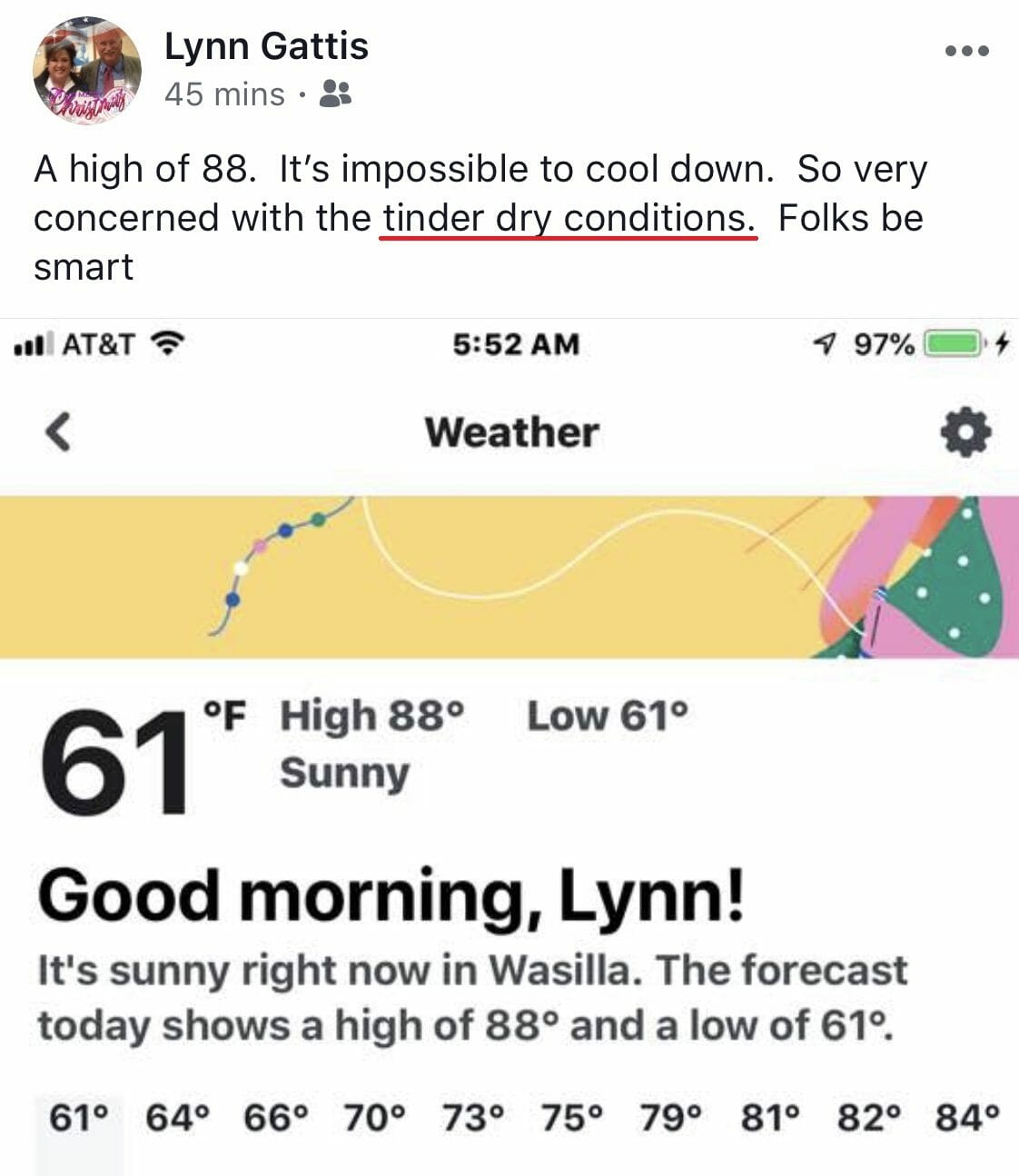 ---
I'm also very concerned with the condition of Tinder.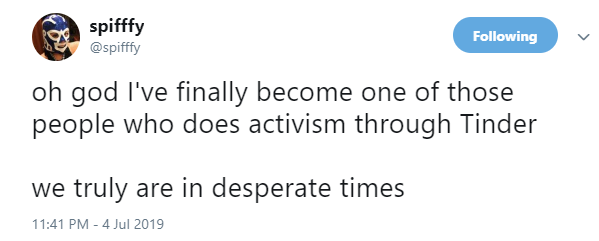 ---
I mean, I'm married, but is this really what the kids are doing on dating sites these days? And we wonder why birth rates are at record lows…

---
With record wildfires burning across Alaska we might need to rethink our smokefree promise to tourists. ?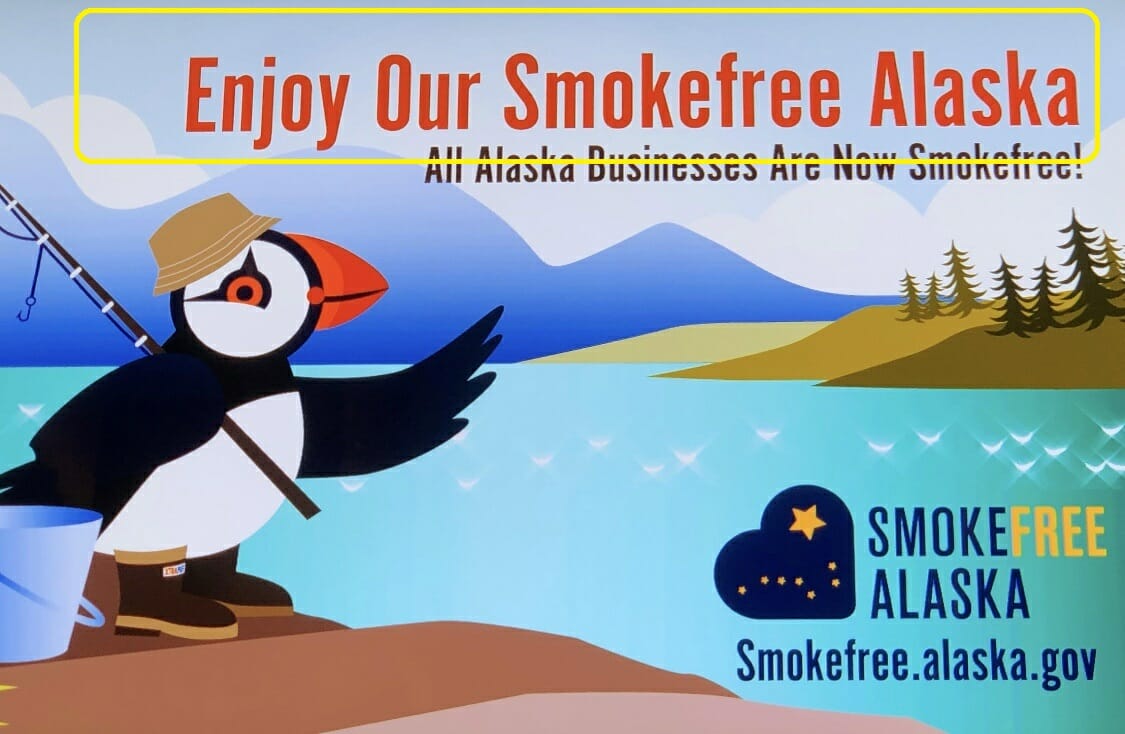 ---
---
In Anchorage there have been several house fires, a couple brush fires, and reports of people lighting stuff on fire at Cuddy Park and near Elmore. The 25-acre MLK fire was reported to have been "human caused." While fire officials haven't yet named a specific cause, they have ruled out… volcanoes??? I would lava to hear more about what caused the fire, not knowing is magma me crazy! Sorry guys, you can't force a volcano pun. A volcano pun should flow. ?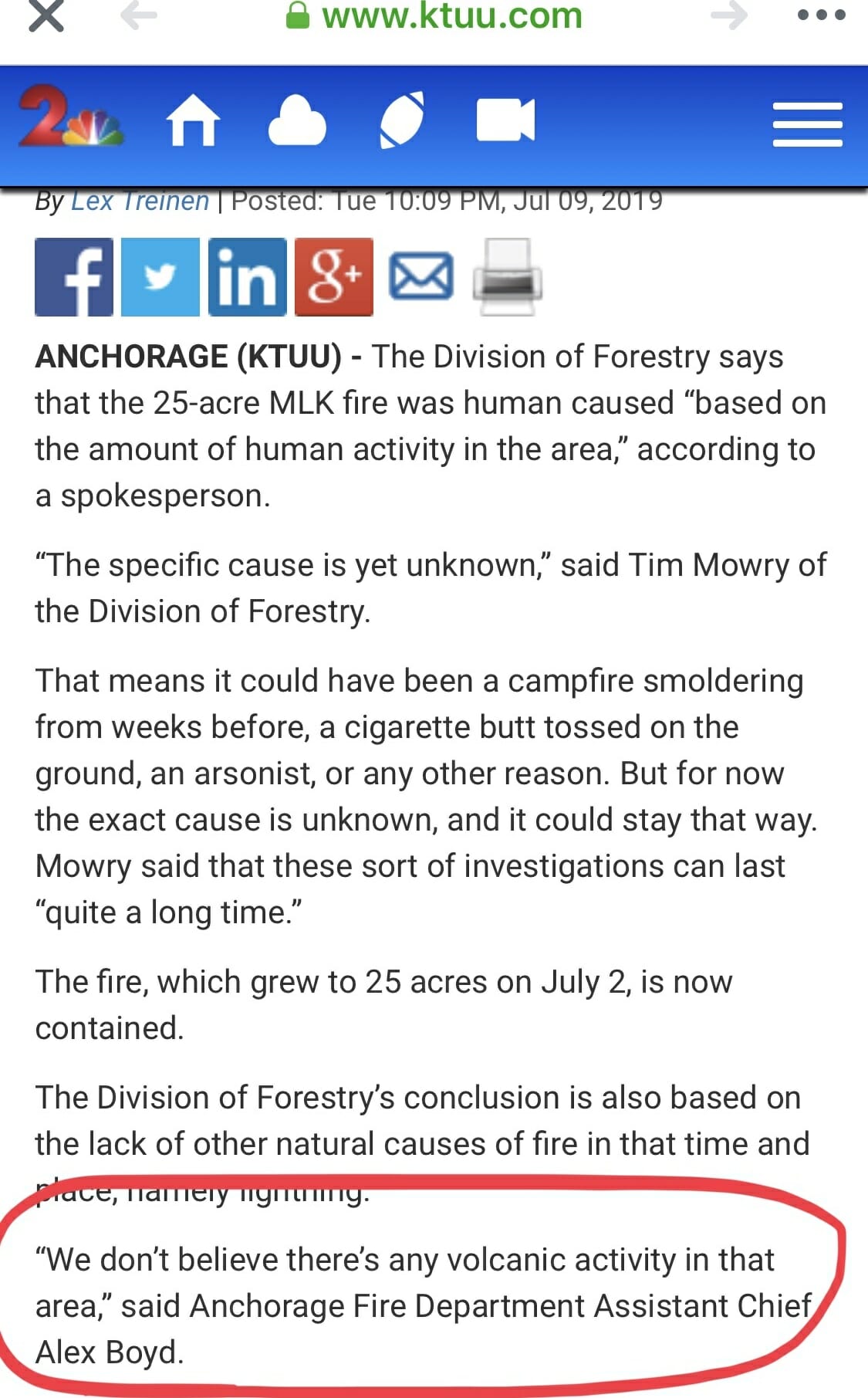 ---
My biggest takeaway from Assemblymember Felix River's response to the multiple "human caused" fires in his district is, if anyone runs against him, they'll win.
---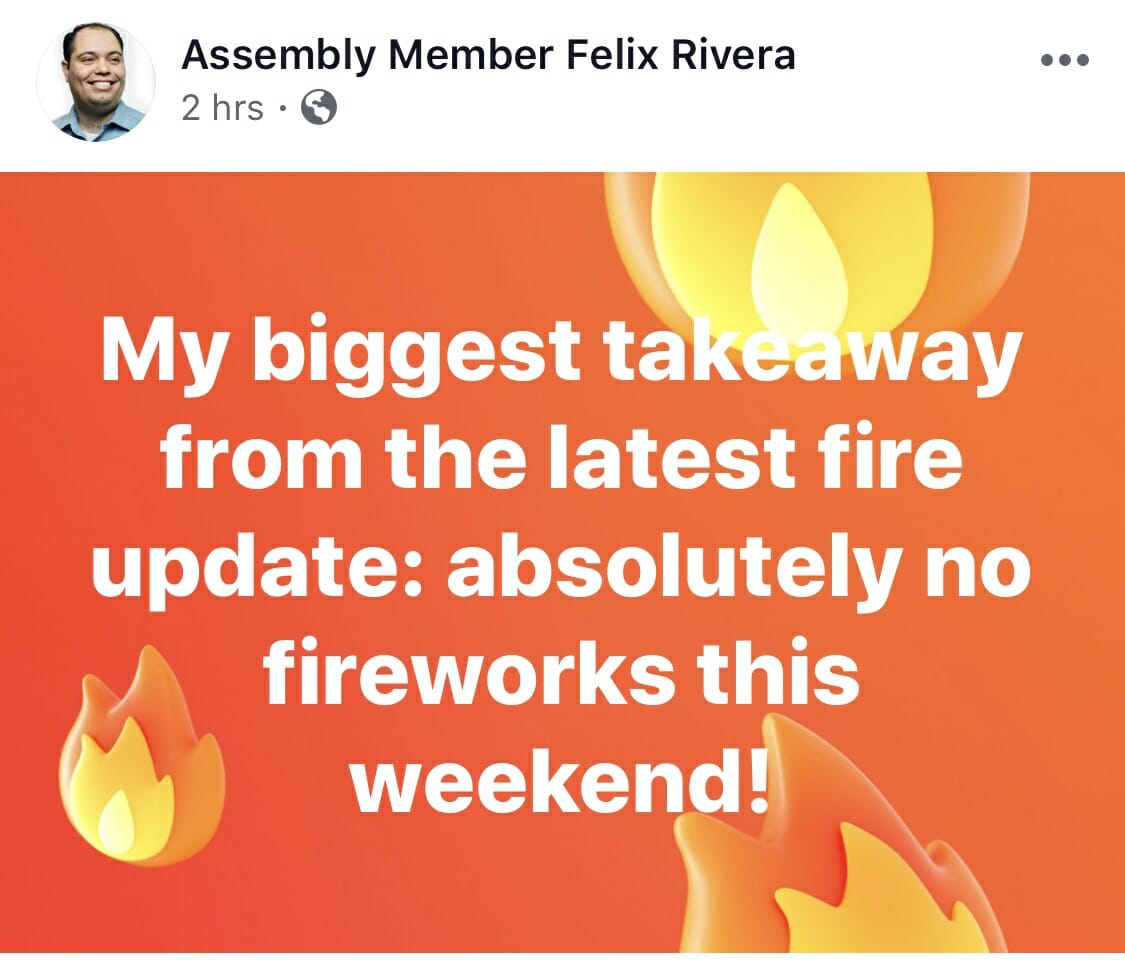 ---
You guys, I think I may have discovered congressional candidate Alyse Galvin's secret Reddit account. ?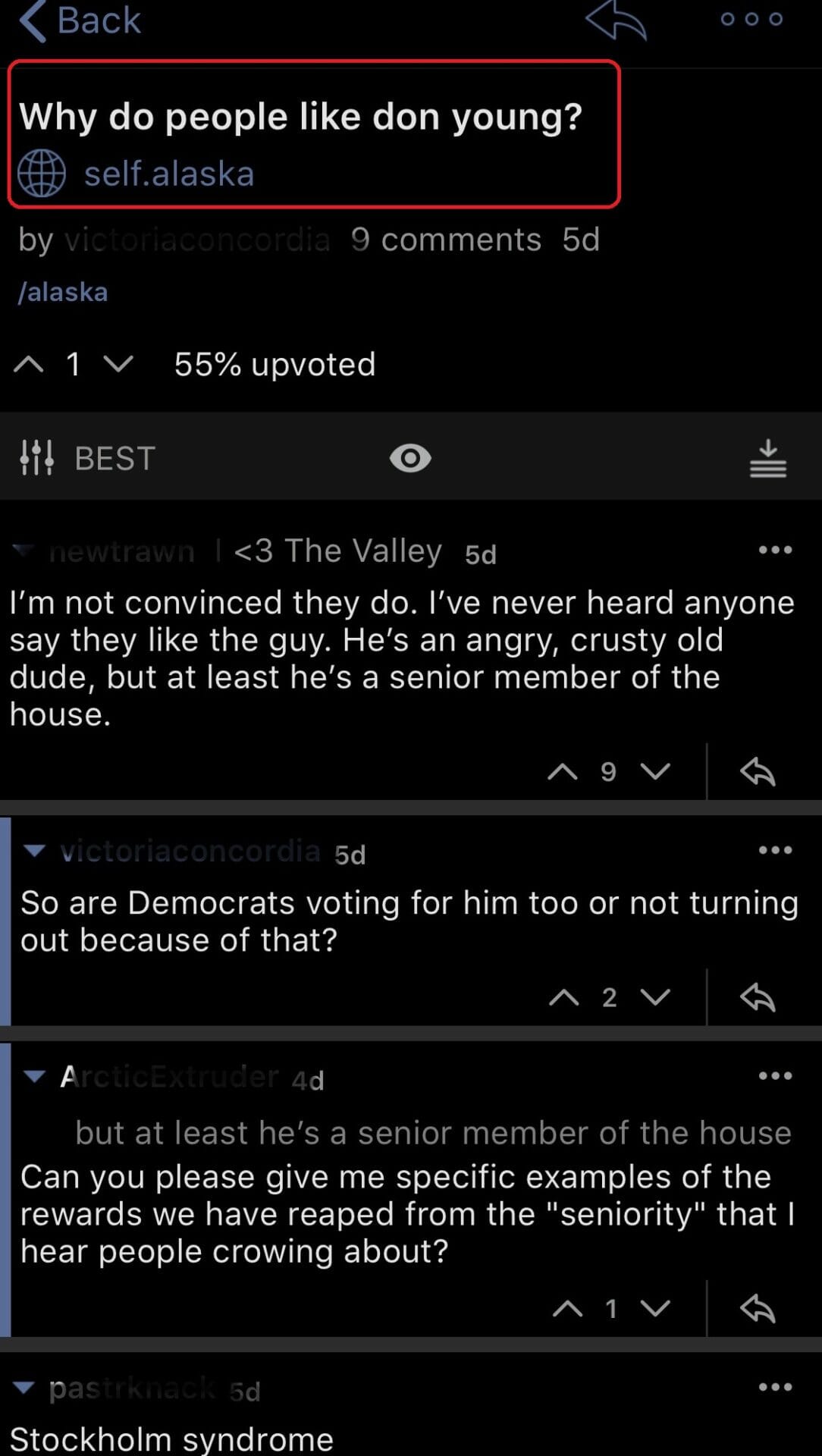 ---
Dr. Al Gross has officially filed to run for U.S. Senate against Senator Dan Sullivan. Has anyone asked him about the time he fought a grizzly bear!? I need to know more.
---
Wait a second ? Last week Al had fought one grizzly. This week it's MULTIPLE GRIZZLY BEARS? Is anyone in the media going to challenge him on this serious flip flop? We deserve to know the truth.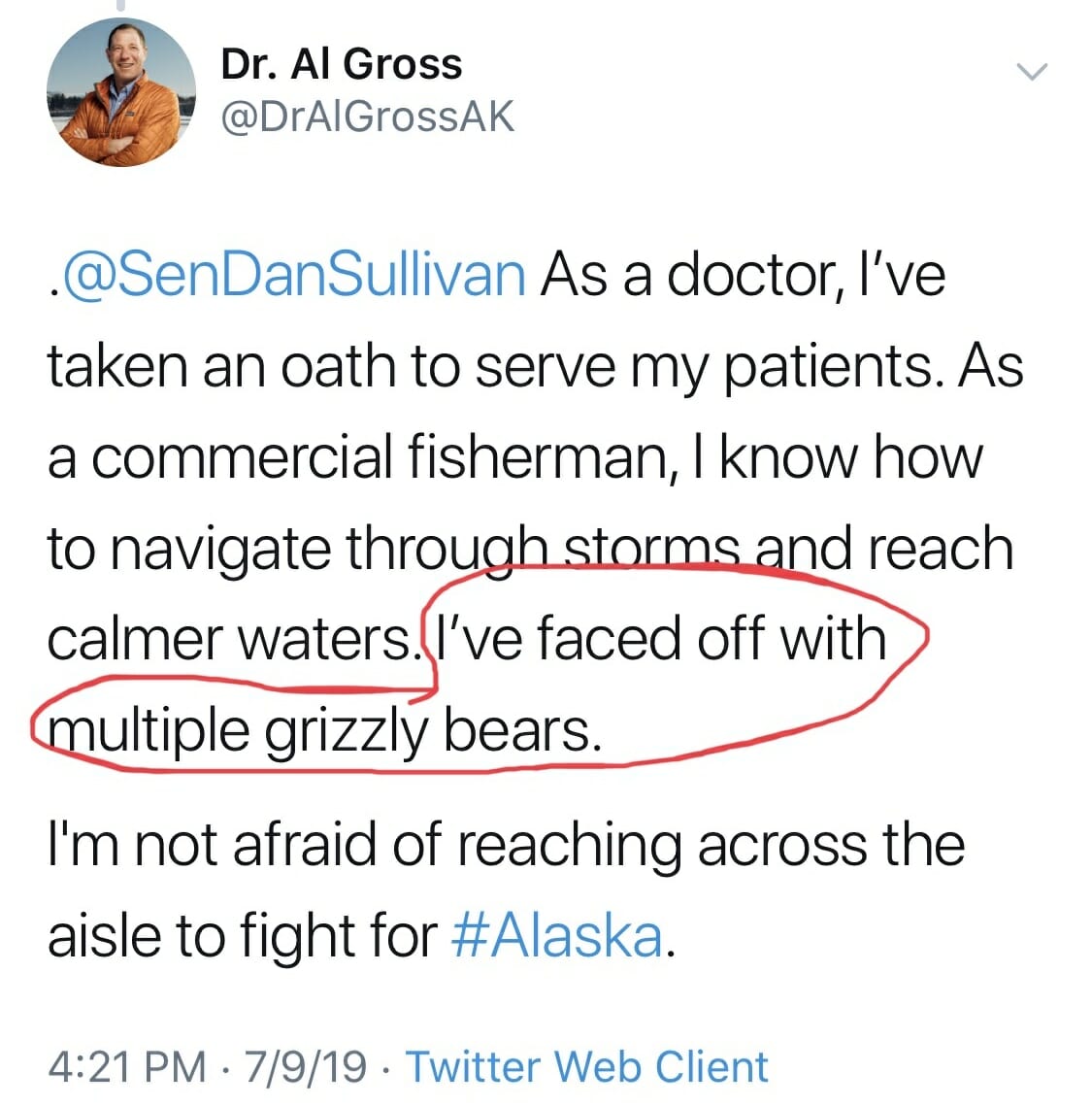 ---
While he may not #saveourstate, Governor Mike Dunleavy did save our State Fair. Cheers to that. ?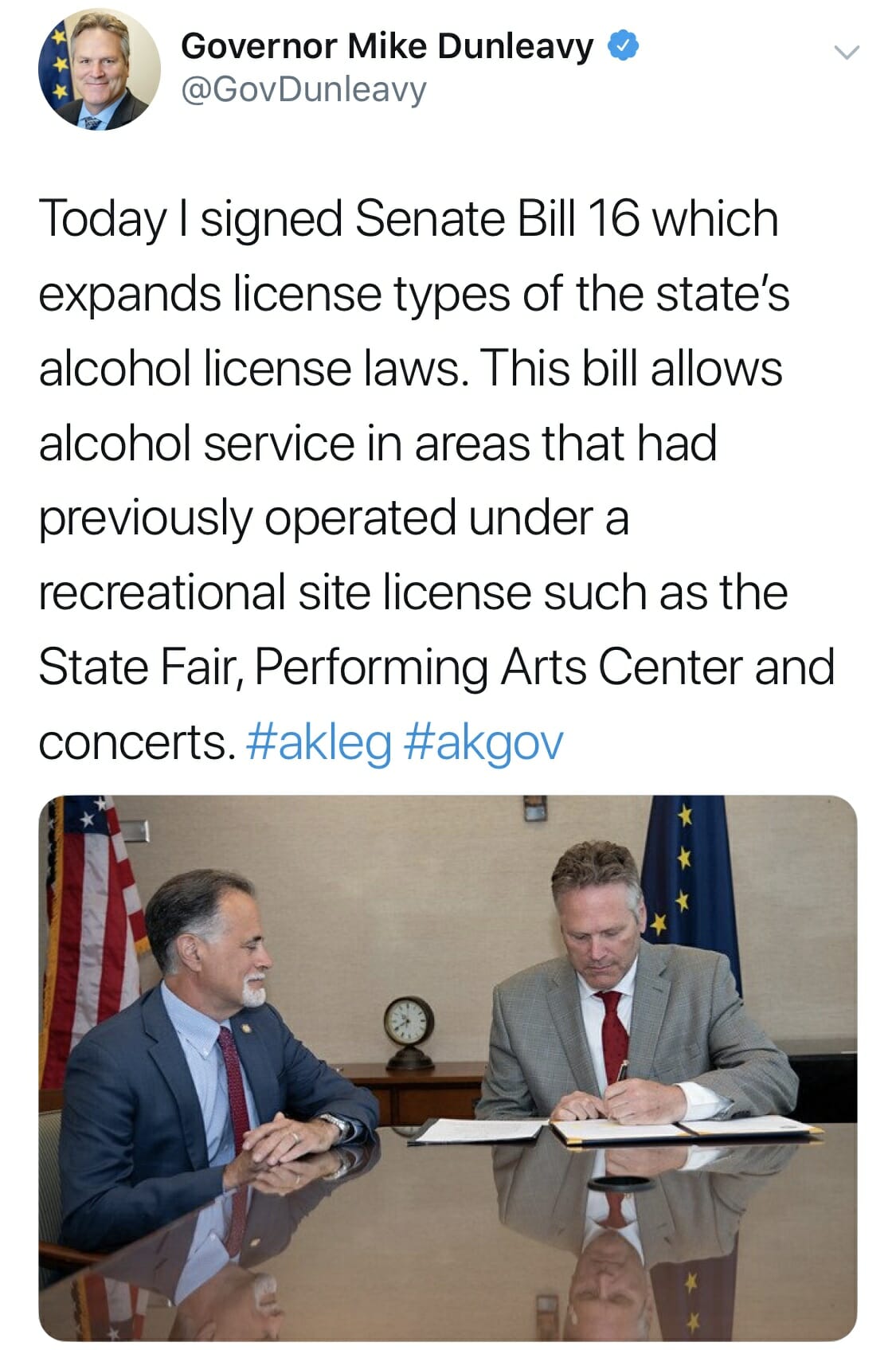 ---
A Stalker shout out to the tipster who sent us this. Apparently the special session is also a super secret session, too. What do you think the password is?
A: Babcock4ever
B: Prometheus123
C: 3000$PFD

---
Very disappointed in Lt. Governor Kevin Meyer for leaving out an important detail about Lake Iliamna. The #Alaskafact of the week should read, "Alaska's largest lake is Iliamna Lake which is about 80 miles long and 25 miles wide and home to the infamous and well documented Lake Iliamna monster." Not good, Kevin.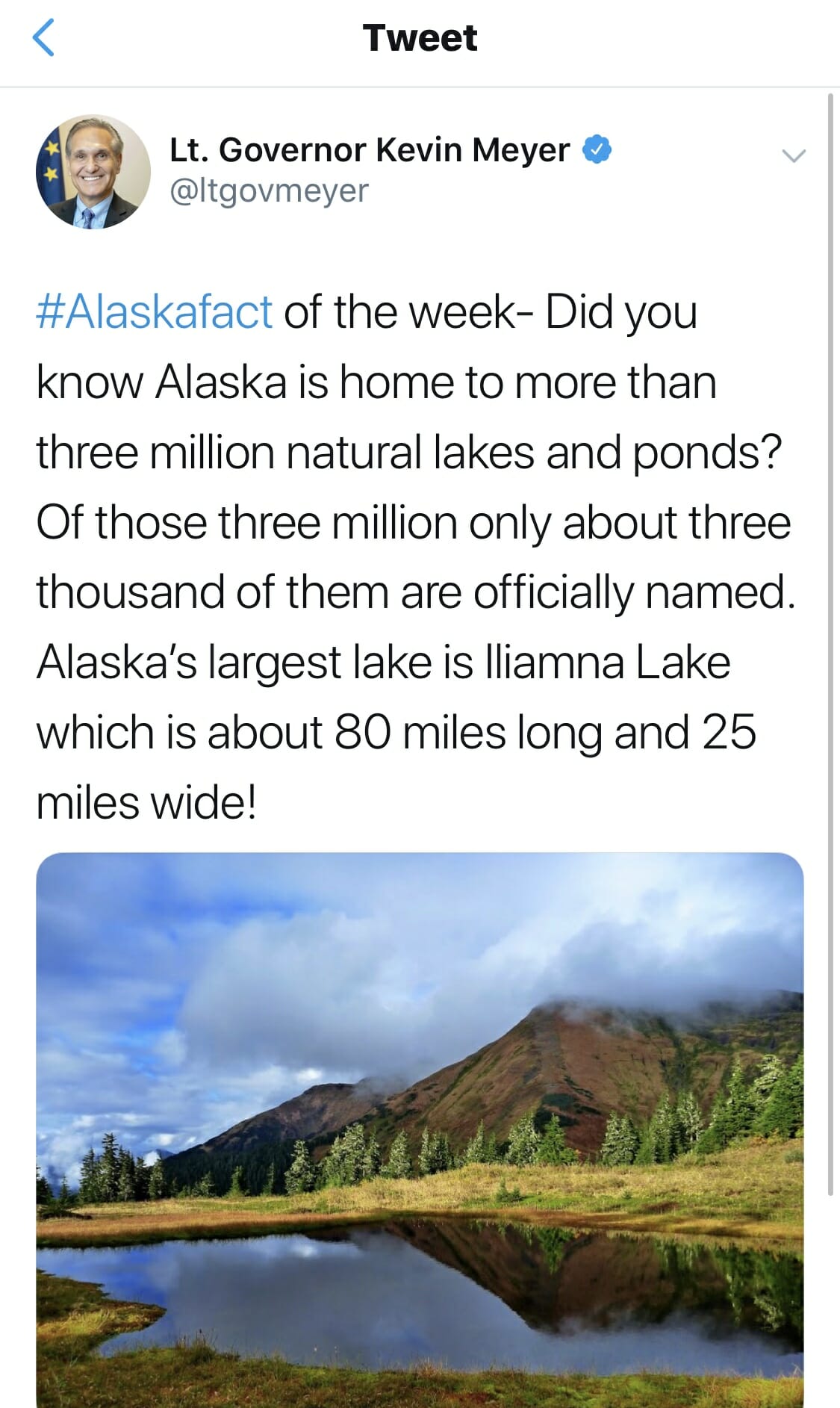 ---
Tempers are running high and bad decisions are being made online, on both the Left and Right. First there's this pretty awful incitement to violence from former staffer to Senator (then Representative) Scott Kawasaki and recent protest participant at Wasilla Middle School. This is a friendly Stalker reminder that violence is never okay, even if you're on the left.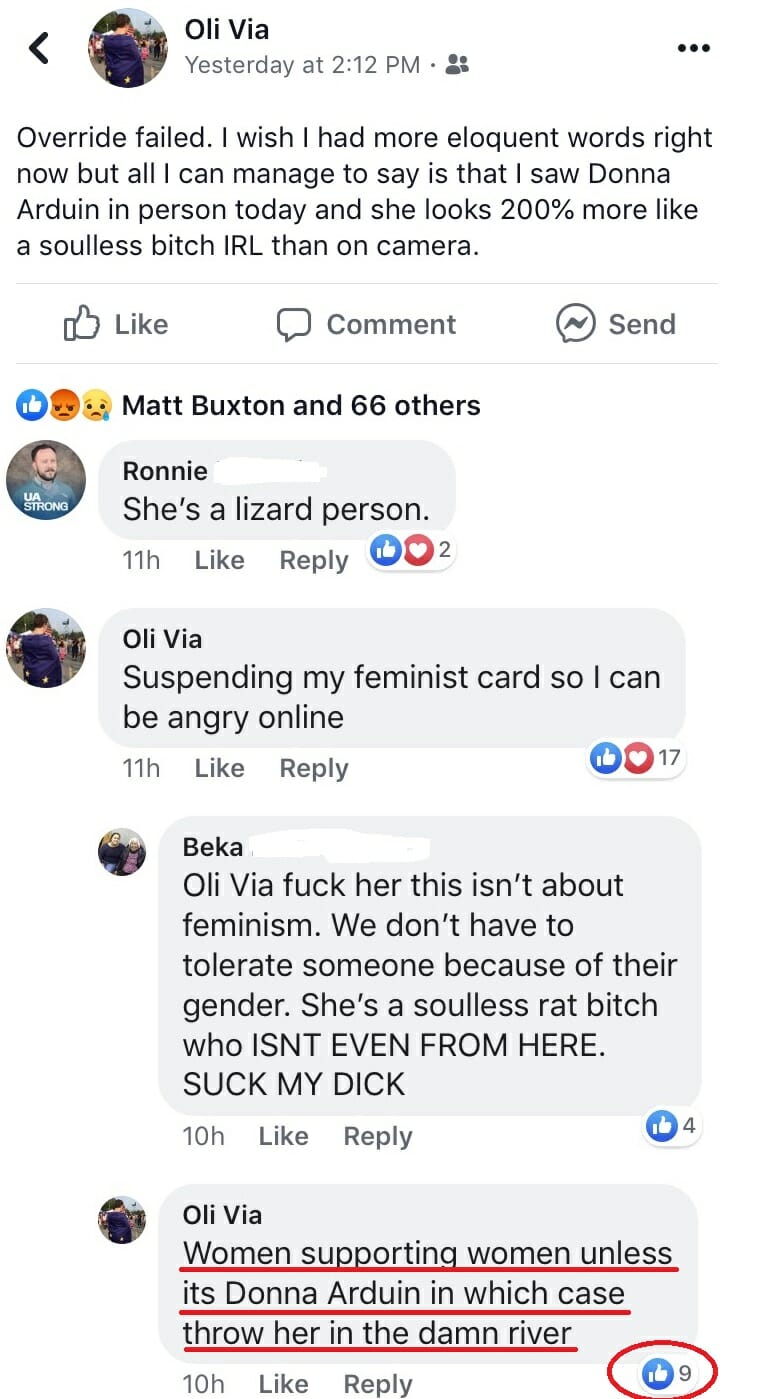 ---
---
And then there's Representative and Minority "Leader" Lance Pruitt. Here are photos of Lance laughing with House Republican Press Secretary, Zach Freeman, and of him taking selfies without permission of a clearly distraught protester at Wasilla Middle School. There is a way to handle protesters, who have every right to be there, but this isn't it.
I cannot get over how utterly unbecoming of an elected official this is. If that wasn't bad enough, Lance even posted the selfie online, clearly mocking the protester. How does his campaign jingle go again? 
?Lance Pruitt, he blew it

What a jerk maneuver. ?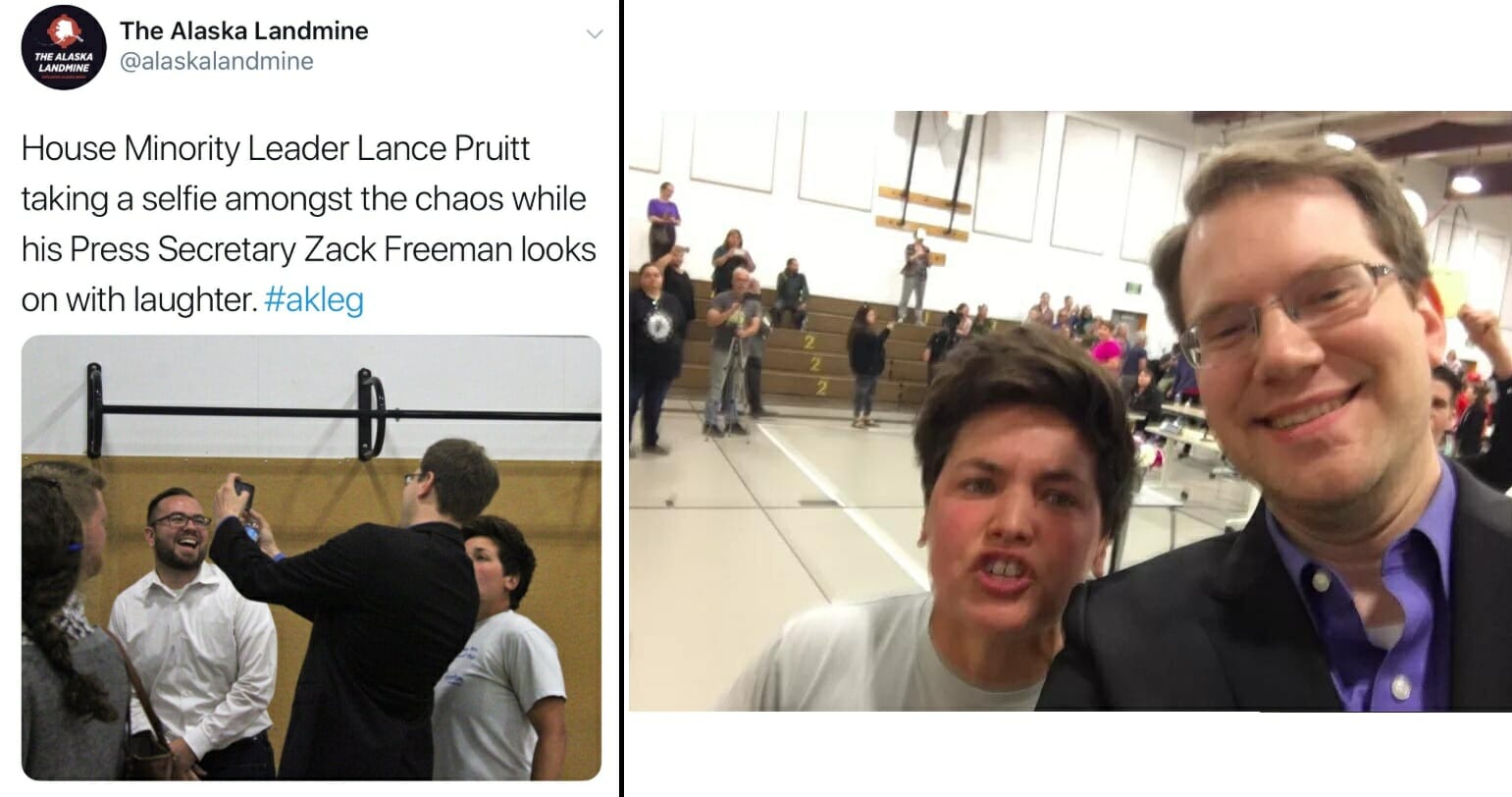 ---
Deep breath. After this week, we all need a cuteness break. Thanks Representative Ivy Spohnholz for the reminder. Does "Iris's dog" have a name? We also love the very Alaskan ATV doggy bed. ??
---
We are aware of several block-happy Senators, Representatives, and Assemblymembers. We're with Senator Scott Kawasaki – this will be an interesting one to watch.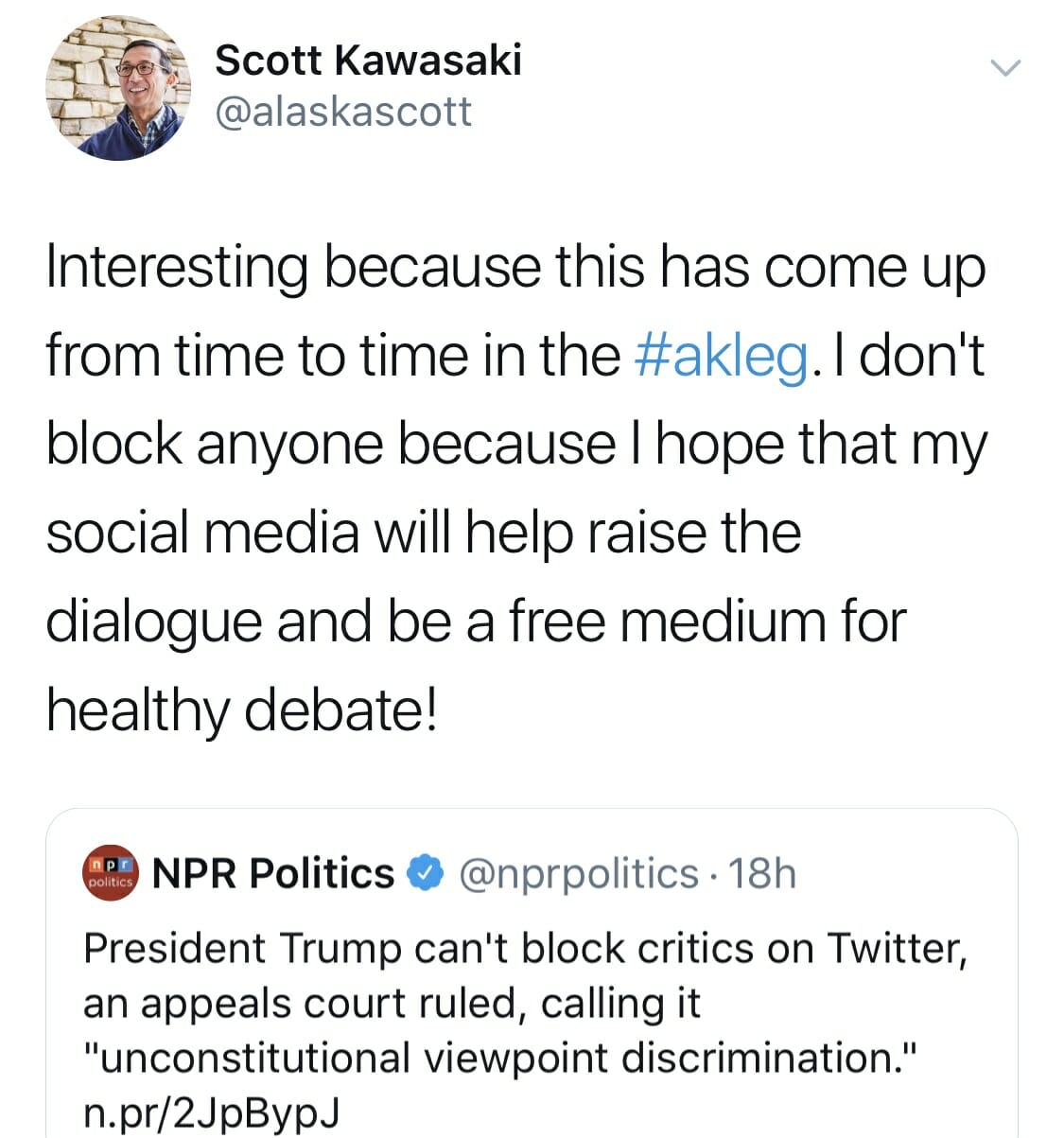 ---
Check out Representative Cathy Tilton going full honey badger and including a link on how to file against her in a letter to constituents. Wow.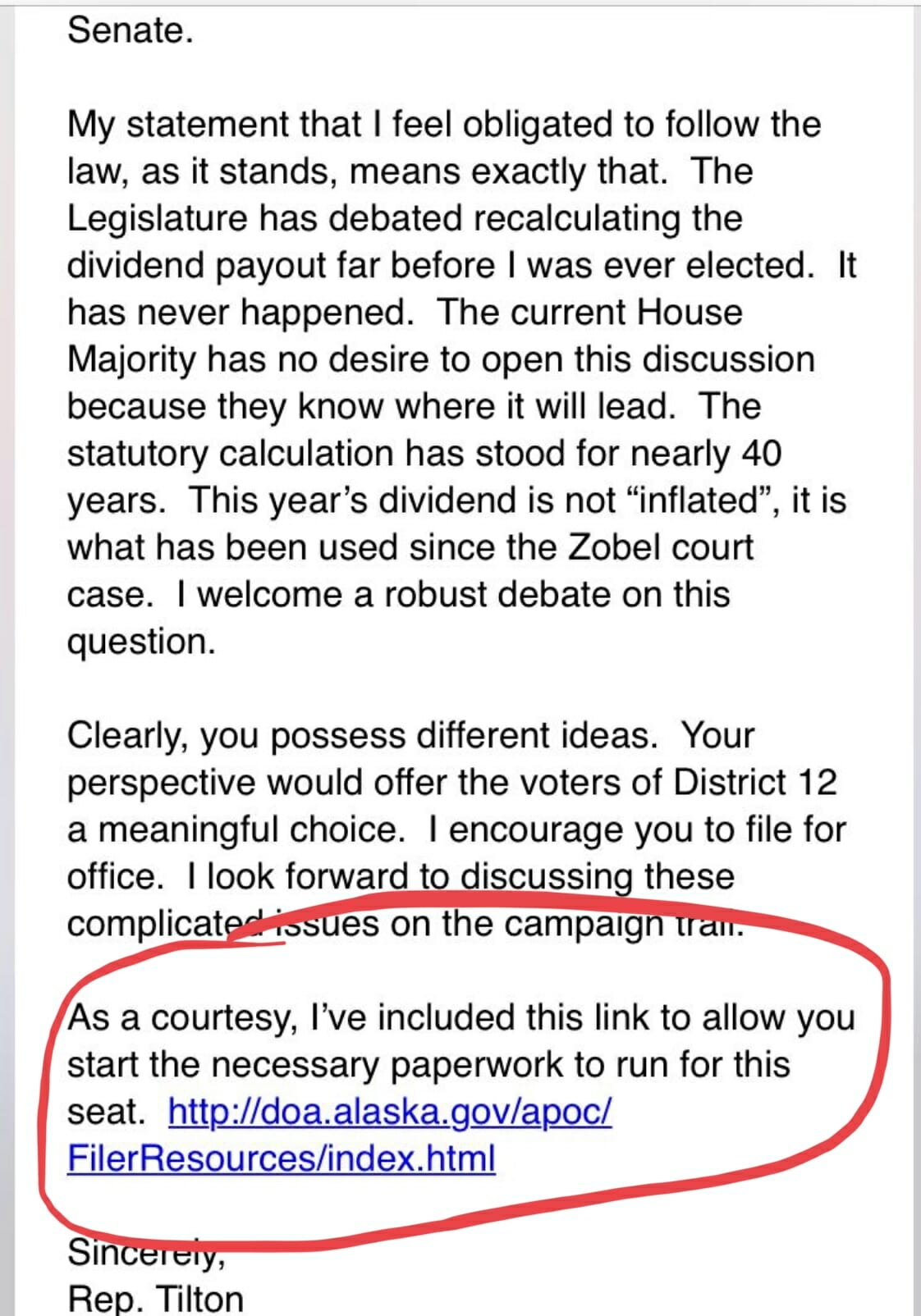 ---
Senator Lora Reinbold took a more passive aggressive approach and posted this photo of her colleagues, Senators Natasha von Imhof and Chris Birch.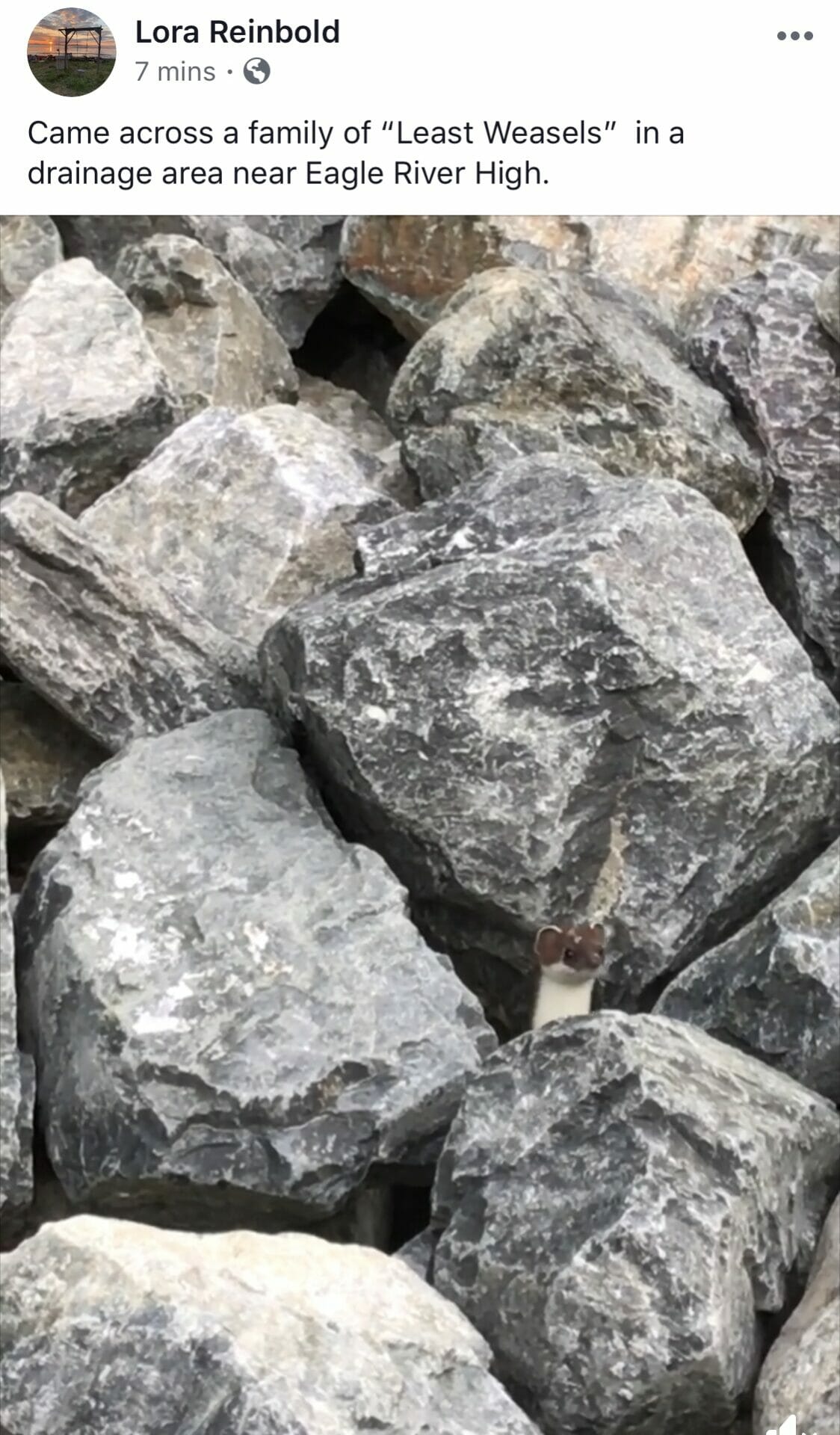 ---
In a bizarre twist on this season of AK Leg, progressives are stanning hard for Republican Senator Natasha von Imhof after she went after Governor Dunleavy during a floor speech on Tuesday.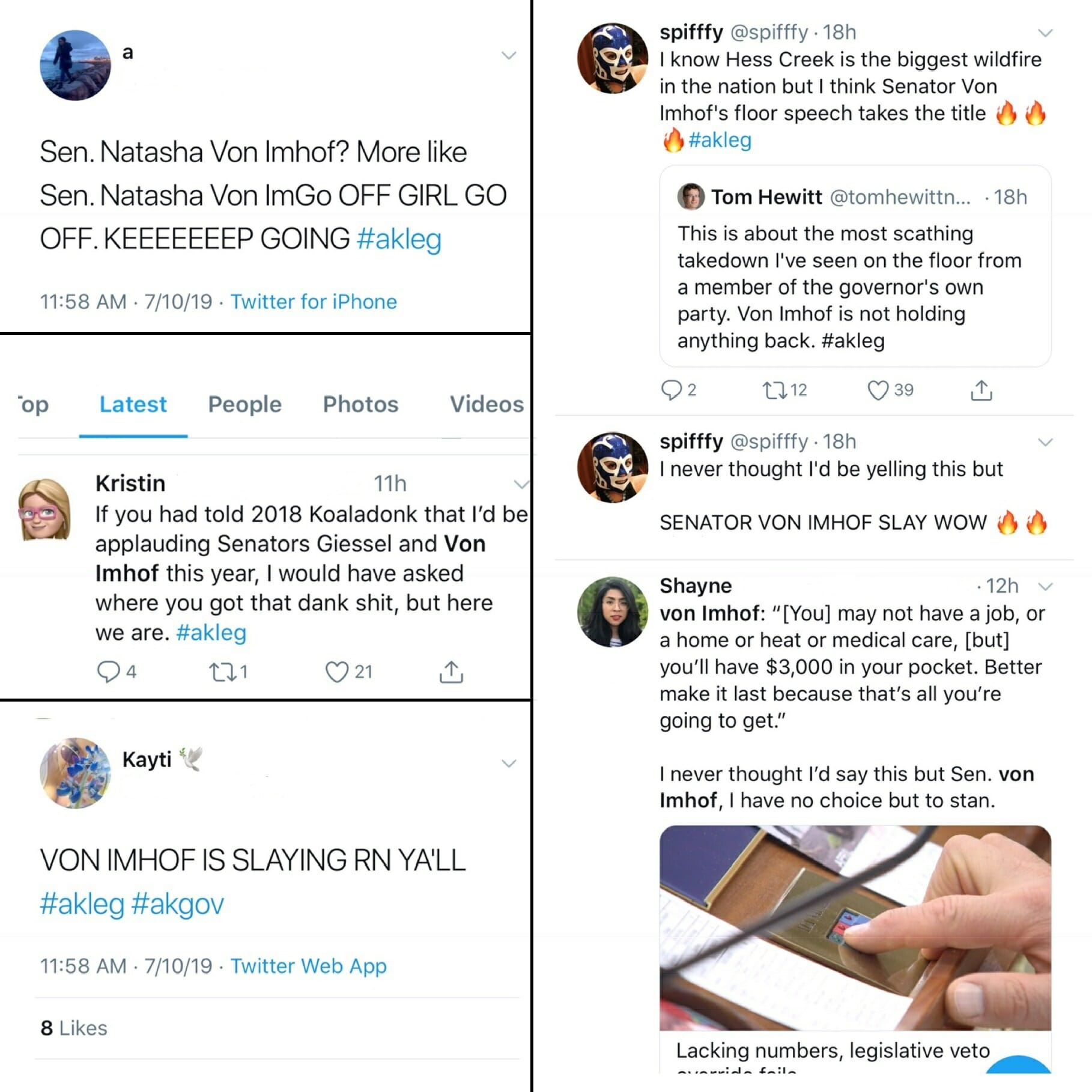 ---
When the going gets tough, Senator Peter Micciche tenderly brings out his favorite chainsaw to let off some steam.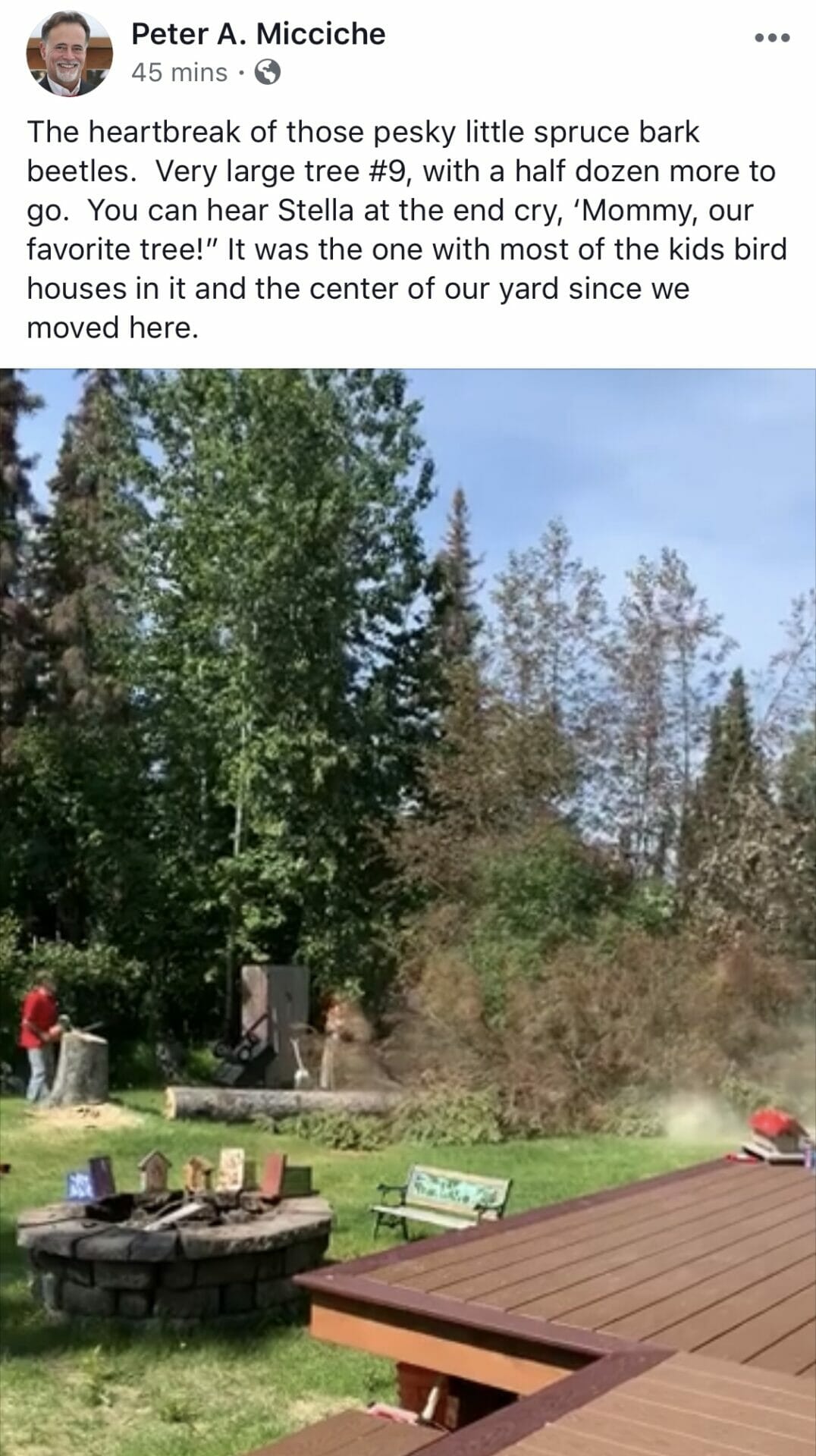 ---
I think I have some of Peter's wood chips in my eye. What a wonderful story. Congratulation Hughes family – members new and old. <3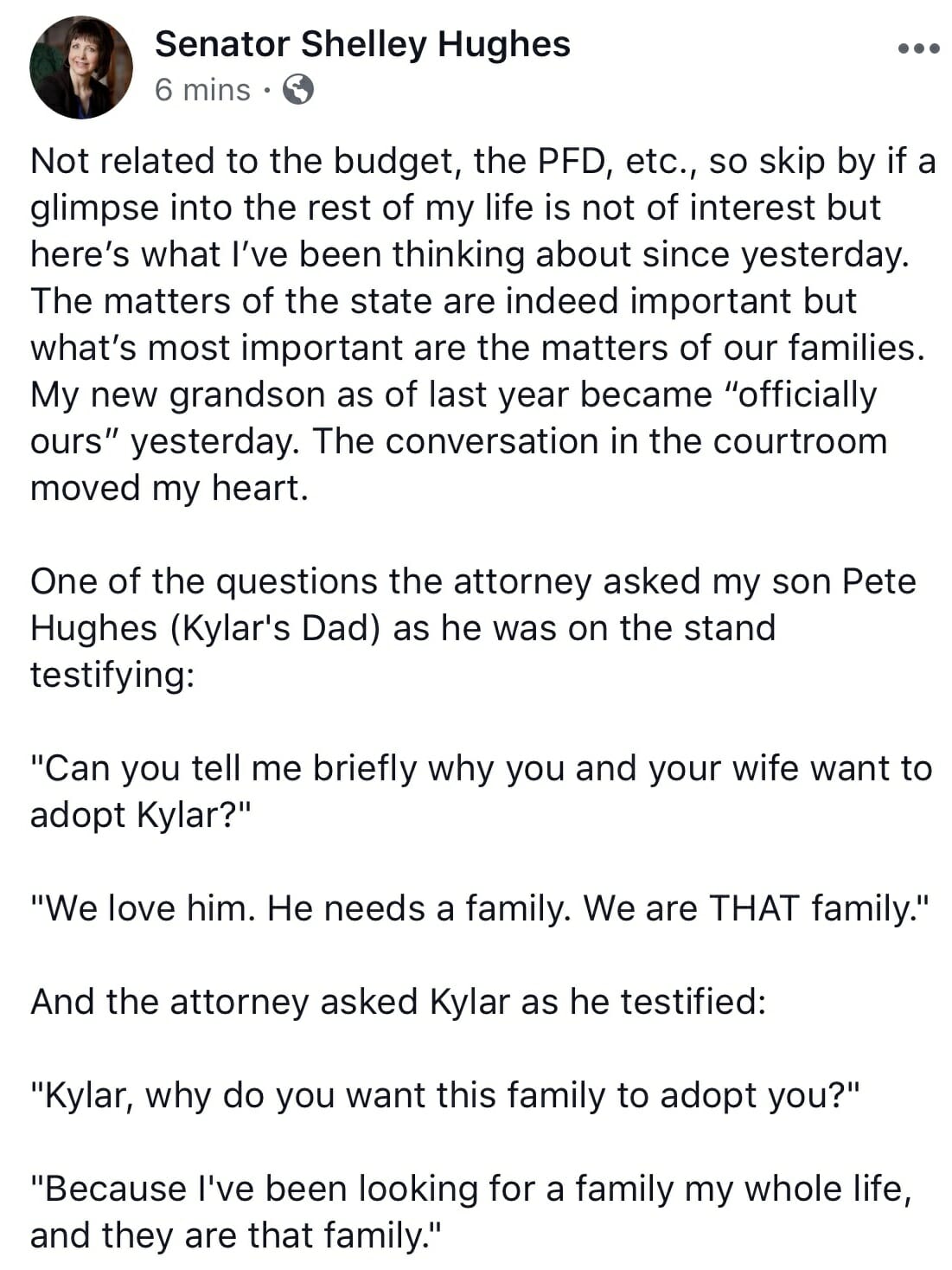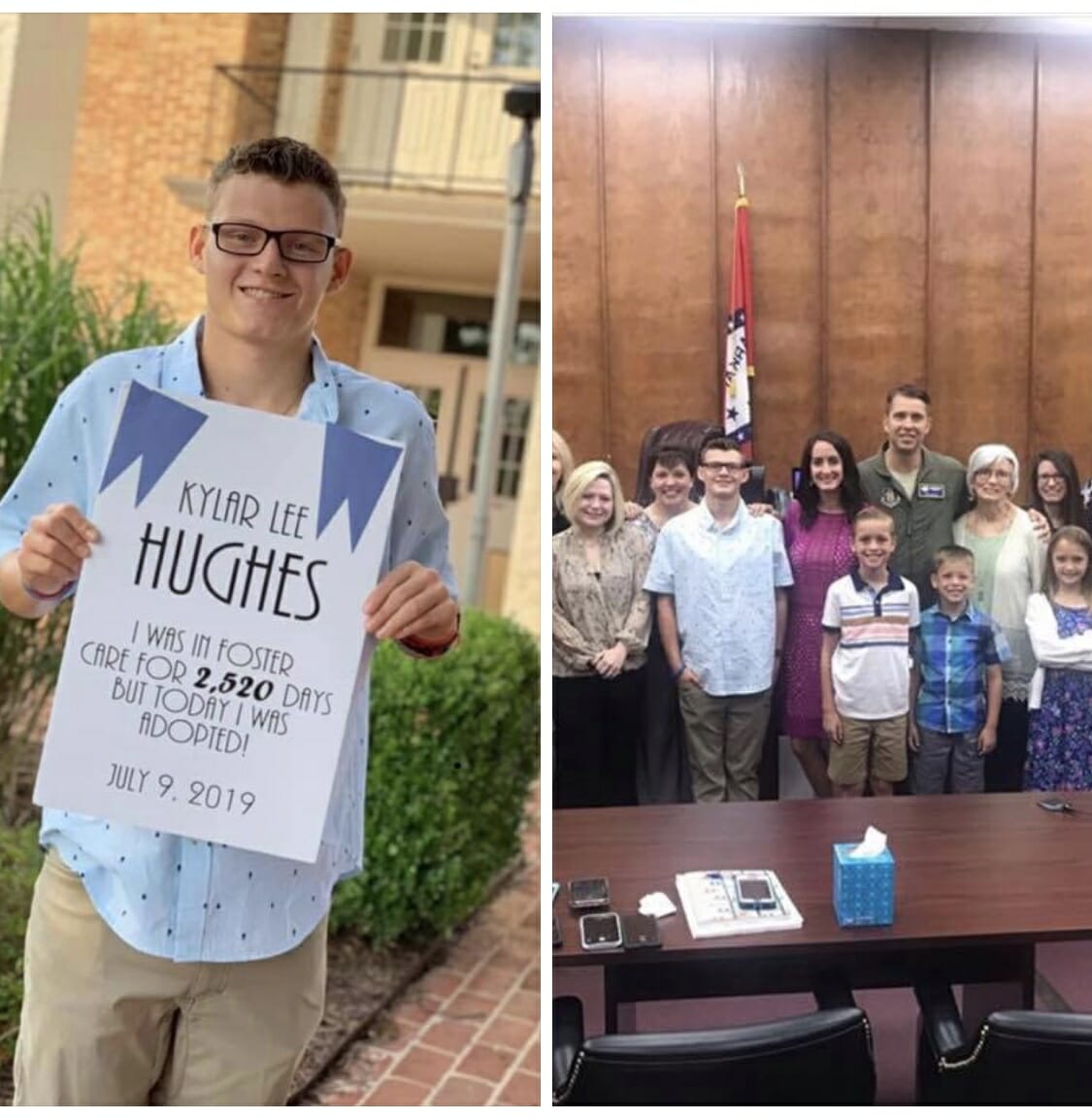 ---
---
Over in the House, Representative Sara Rasmussen is really being put to the test as a new legislator.

---
Stalker pro tip: always push the "See More" button. LOL!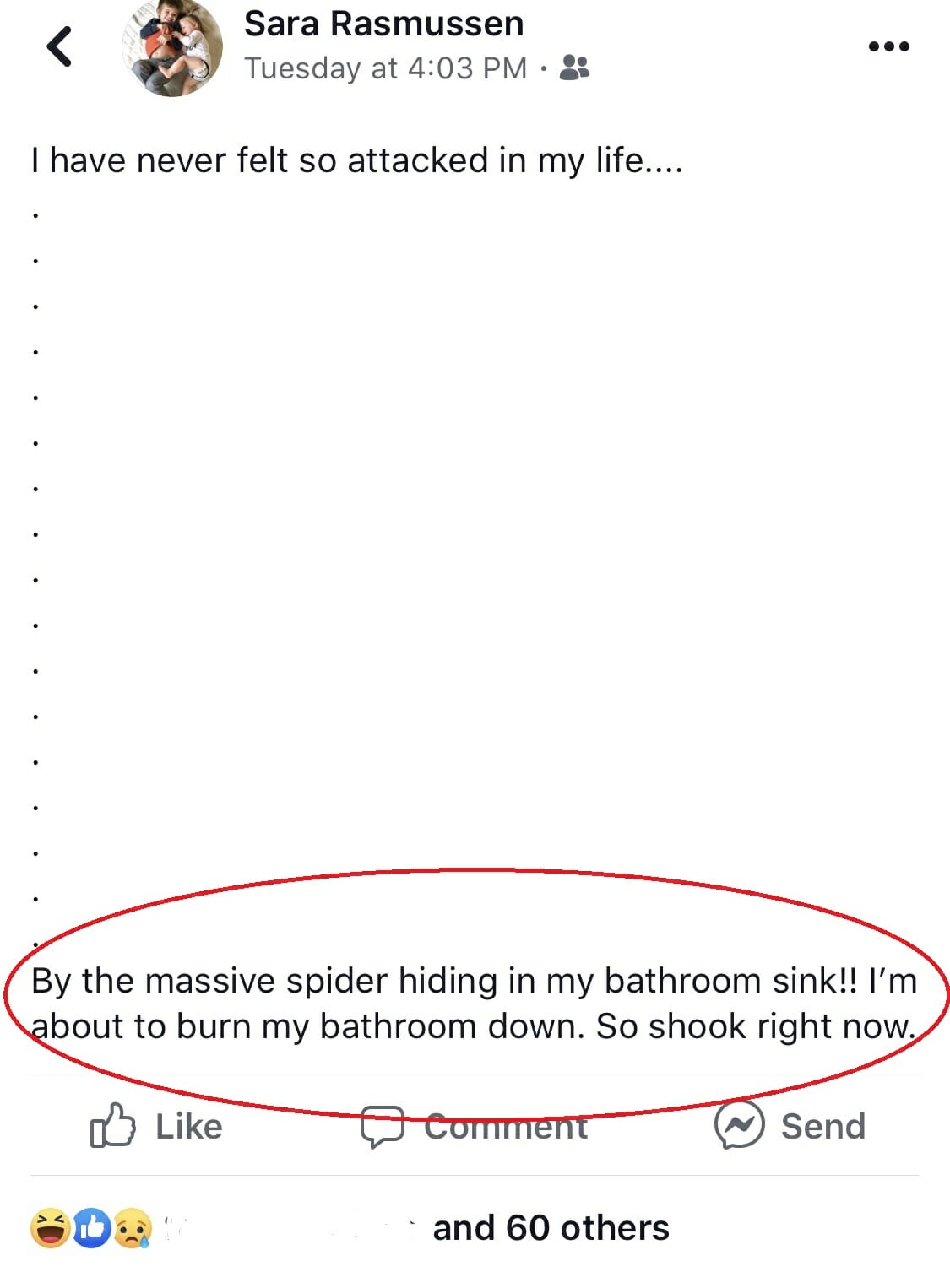 ---
---
Leave it to Senator Reinbold to not actually read all of the information before overreacting. ???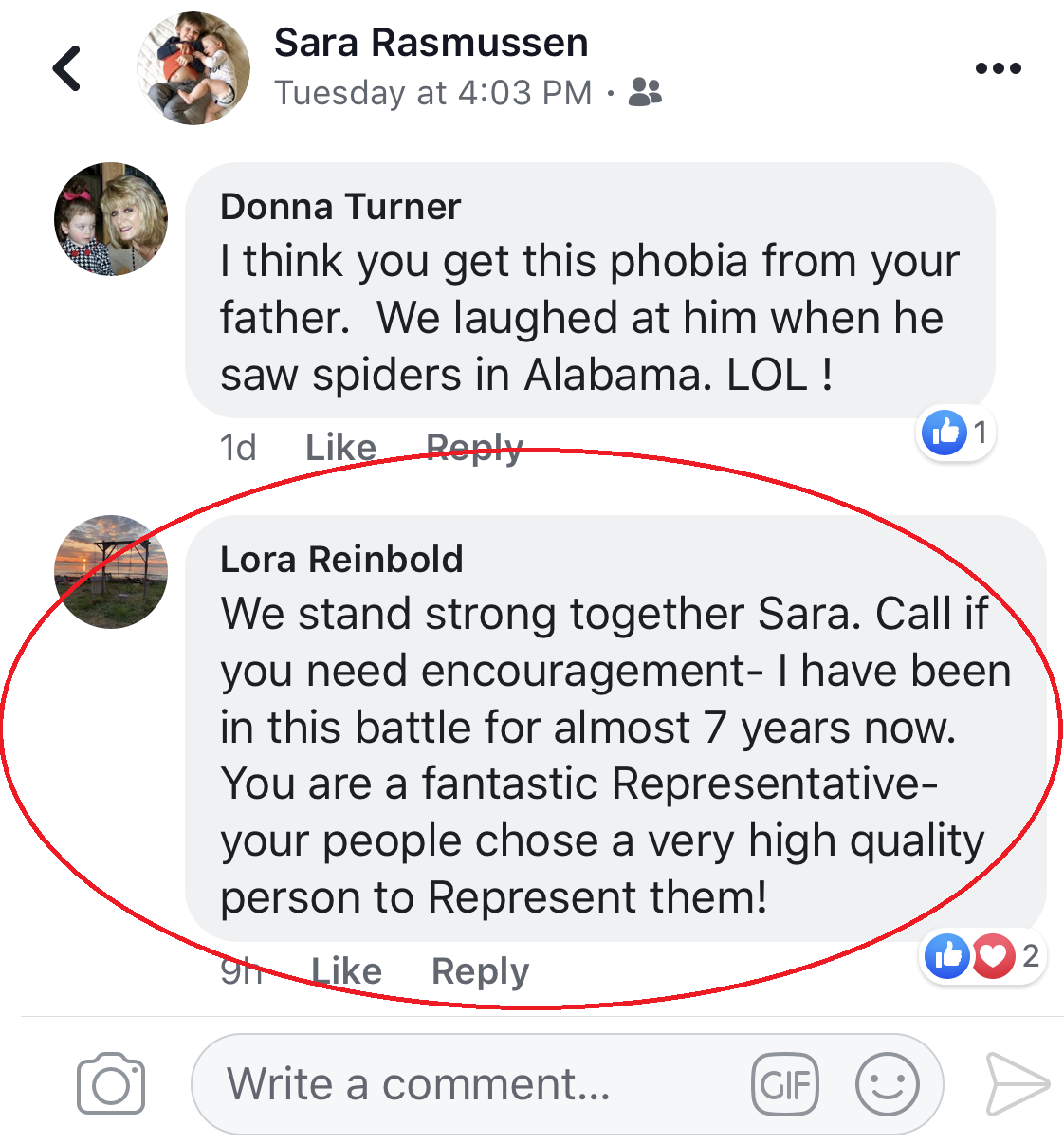 ---
We almost believe you!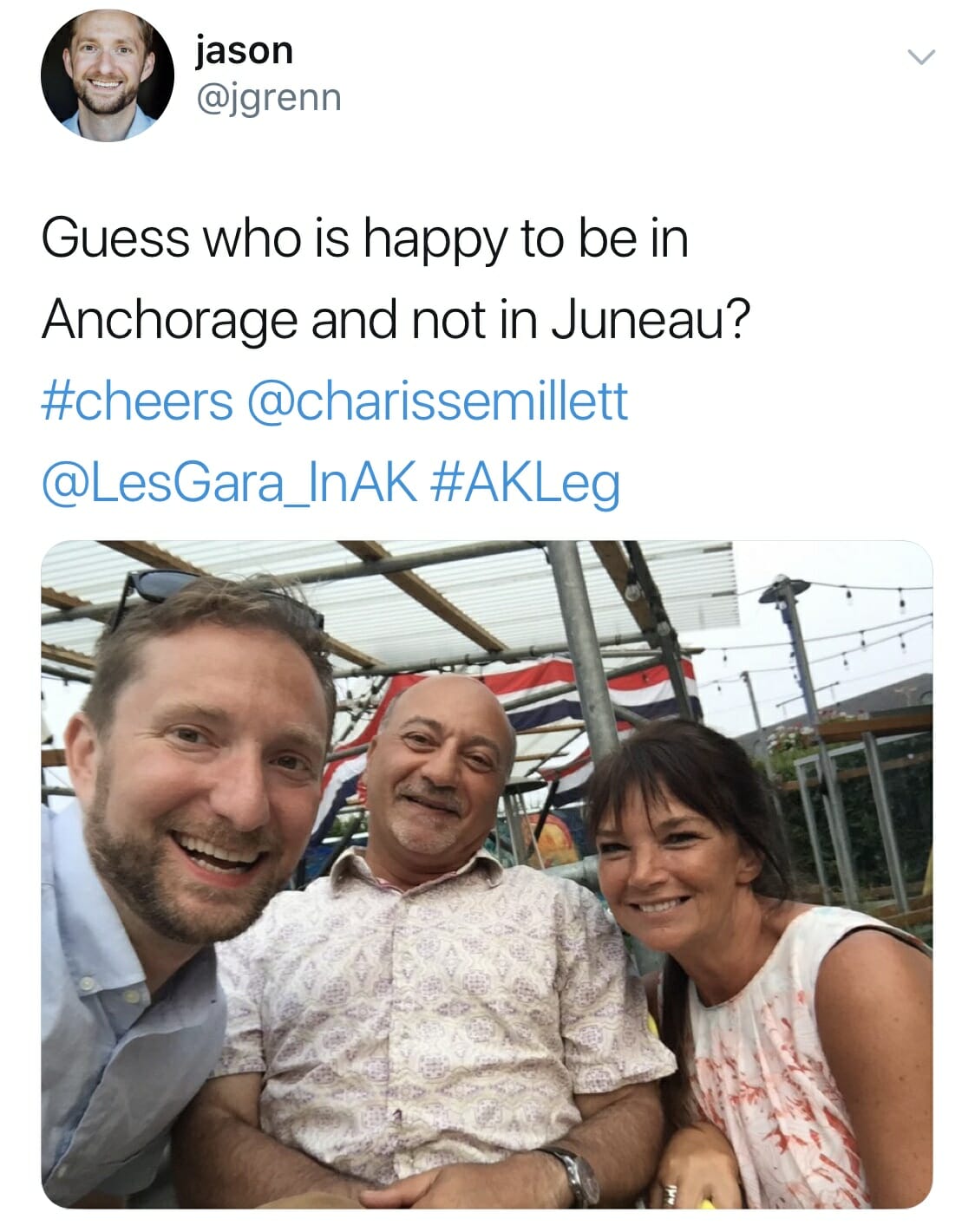 ---
A warm Stalker congratulations to former Representative Les Gara on celebrating 29 years of marriage. Here's to 29 more years!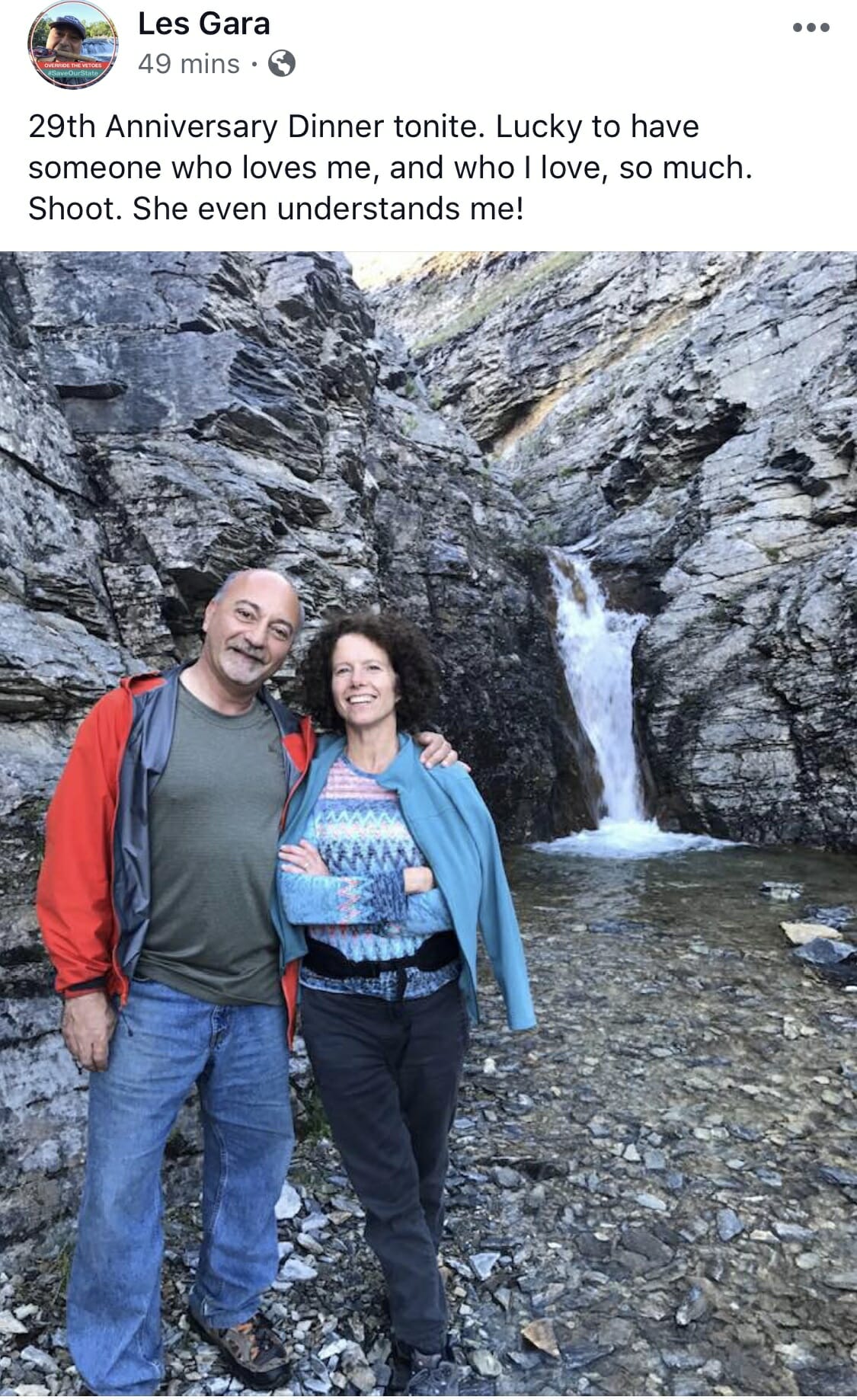 ---
I'm a born and raised South Anchorage gal. But, after seeing this snapshot via Nextdoor of life in South Addition, we are intrigued. We suggest Mayor Ethan check out the kayak post to see if it's one of his recently stolen kayaks. And, if anyone has more information on the "lemons from heaven," please email me at [email protected]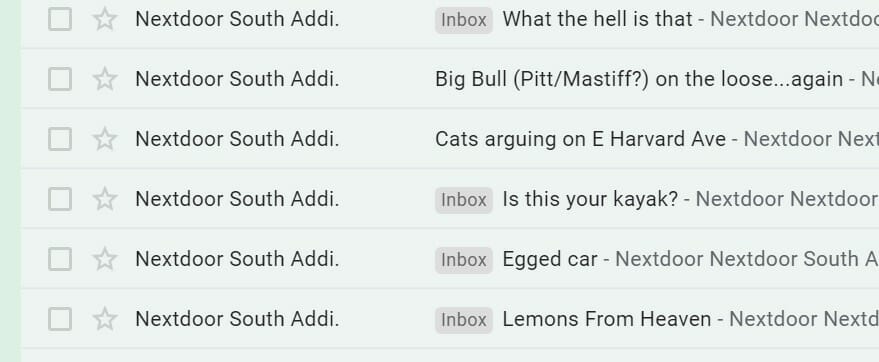 ---
The election for Juneau Assembly is heating up. So far we're big fans of Carole Triem's "Triem Team" tagline for her campaign.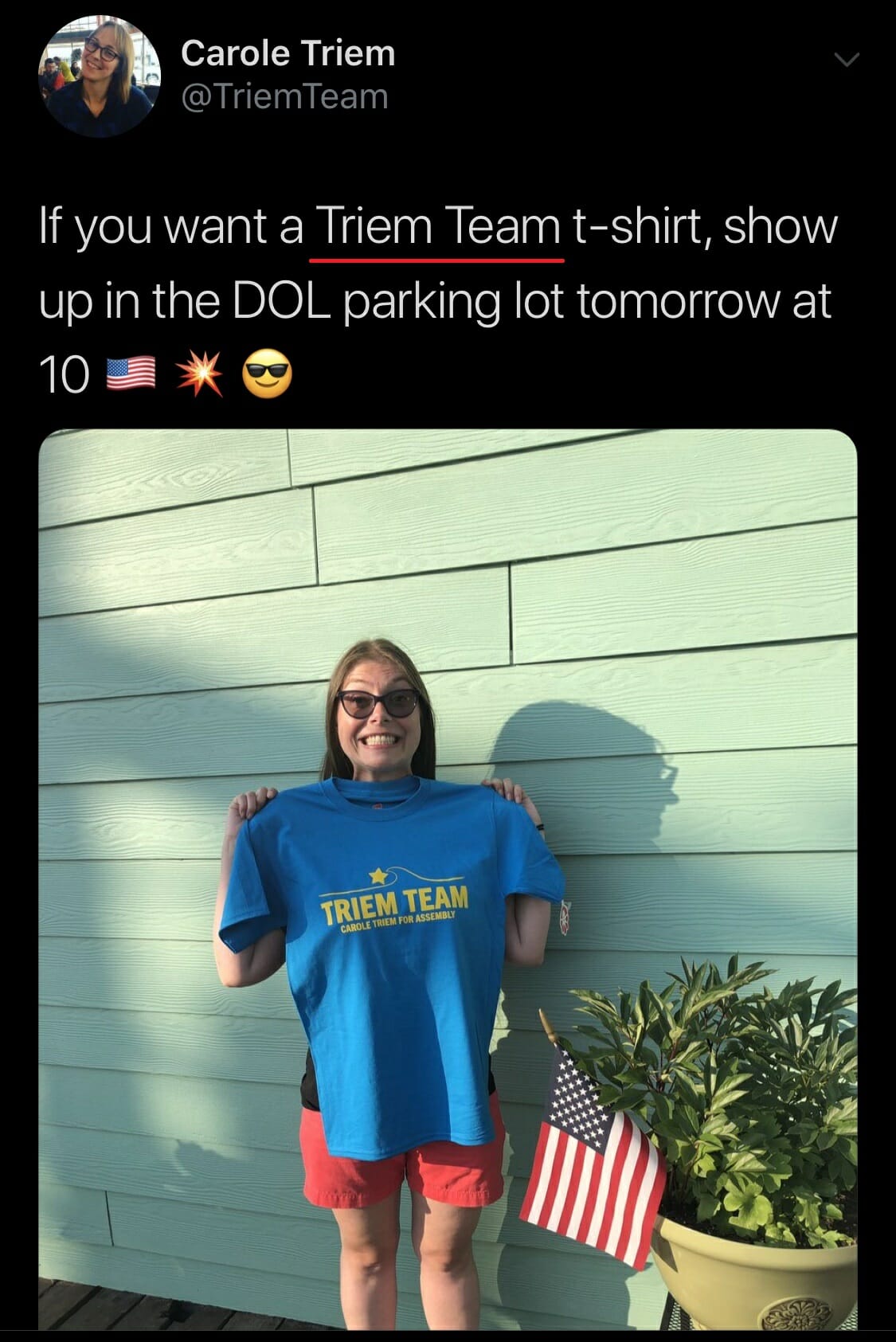 ---
Cue every Alaskan's heart bursting with pride. I know we've all seen it a thousand times, but in case you haven't watched them win gold in the past week, here's a link.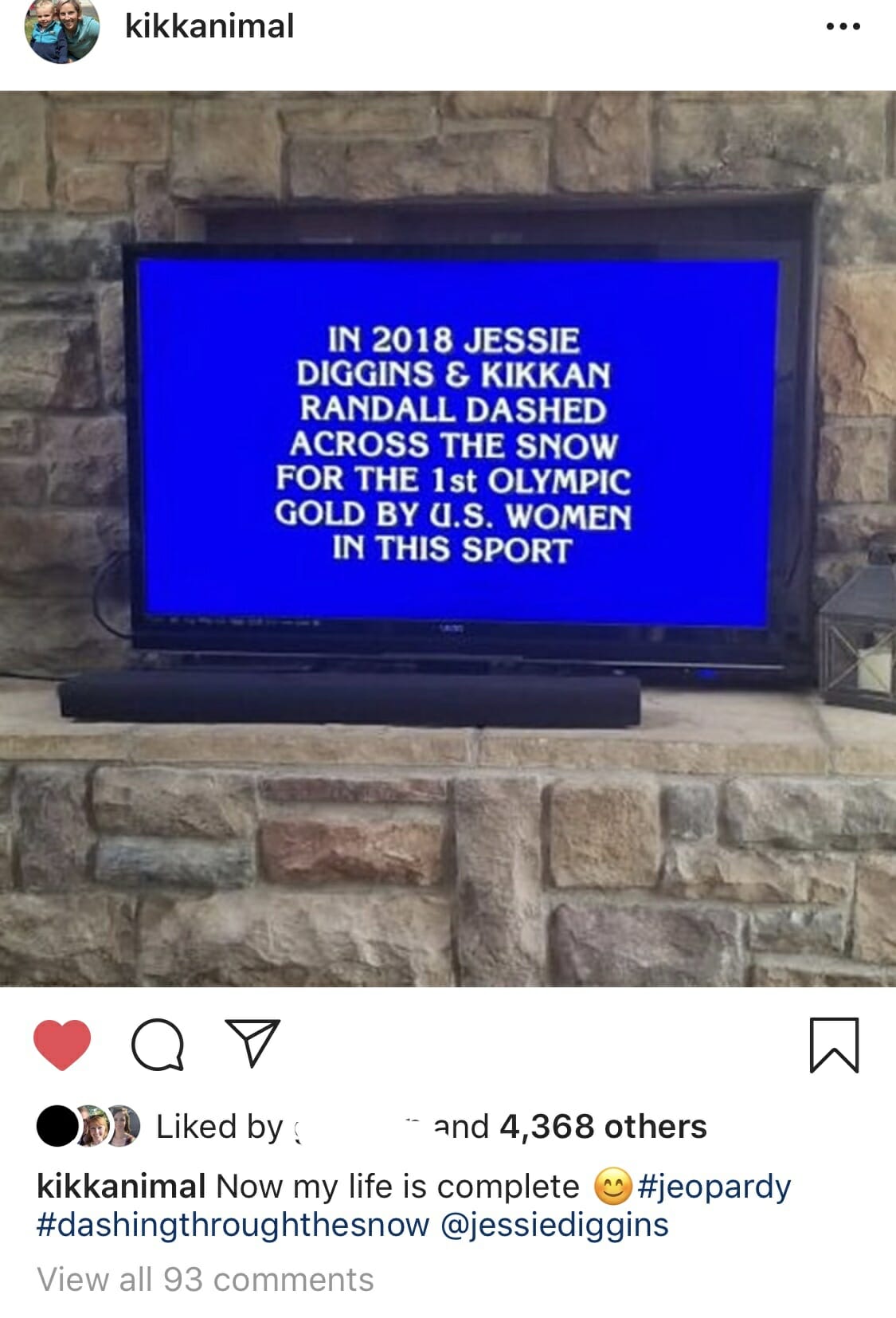 ---
As many of you know, there was a high energy free concert rally this week with Portugal. The Man. The Alaska Landmine covered it here. Our favorite part was the story and video of how Malie D. from KGOT ended up leading everyone singing the Alaska Flag song. Unlike some band I know, she actually lives here and knows the lyrics. ?‍♀️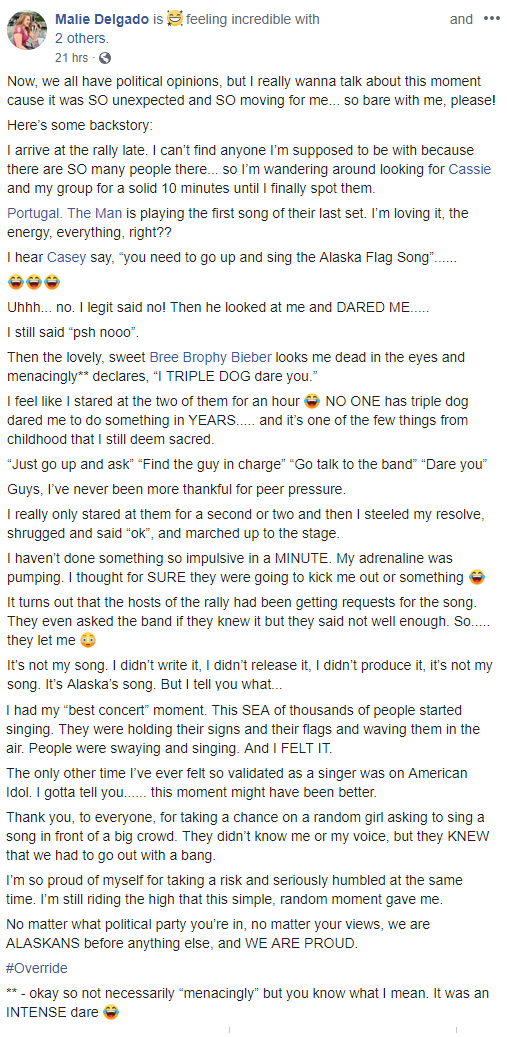 ---
---
Spotted at Koots: Budget Director Donna Arduin dancing to ska at a Nervous Rex show. According to our tipster, "She's a really good dancer."
---
---
Spotted at Hearth Pizza after the Save our State Rally: Former State House candidate, Liz Snyder. It looks like she might be getting the band back together for another run, 'cause she was also spotted this week with her 2018 campaign manager Allie Banwell.
---
Spotted on Channel 2 news: THE MAN IS BACK!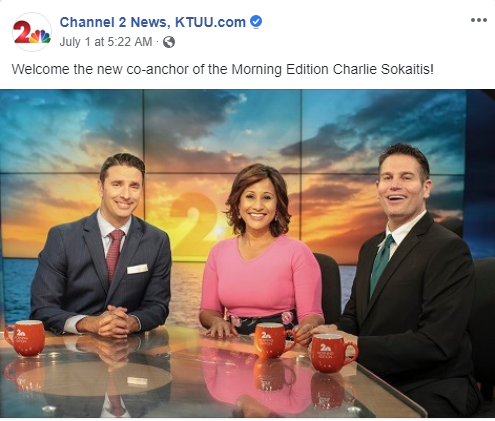 ---
Overheard downtown Anchorage: If Andrew Halcro and Senator Natasha von Imohof are in the same room, then who's the smartest person in the room? ?
---
---
Overheard in Juneau: "Mia is M.I.A."
---
Overheard by a legislator: "I do appreciate how disingenuous Tammie Wilson can be."
---
Overheard on the airwaves:
Dan Fagan mistakenly calling Anchorage Mayor Ethan Berkowitz "Governor" Berkowitz.
Ethan: "Not yet!" ?
---
The Alaska Stalker was born and raised in Alaska, and lives in South Anchorage with her husband, daughter, and son. She is not Jeff Landfield.