Welcome to this week's edition of the Alaska Stalker, a lighthearted round up of the best and worst of Alaska's social media landscape.
***
If you enjoy the Alaska Stalker, please consider supporting working moms like me by sending in hot tips, overheards, and spotted ins. You can reach me at [email protected] As always, thanks for reading.
***
Happy New Year! It's 2020, and that means one thing… It's an election year!!! Campaigns across our state are heating up, and the Alaska Stalker promises to be with you every flubbed debate, scandalous overheard, or screen cap along the way.
***
I have a confession… Did you see it? You know, the "cookie video?" I didn't hate it. ¯\_(ツ)_/¯ It was dorky, the Governor was definitely chewing with his mouth open the whole time, and yes he "looked" at a pretend watch. But it was refreshing to see Gov. Dunleavy try something fun online for once. There are much worse things than a sweet and heartfelt message on Christmas Day. Maybe it depends on which social media site you frequent: Alaska Twitter almost universally lambasted it, while on Facebook it got over 700 "likes" or "hearts" and mostly positive comments. I guess Alaska is a lot like the country these days. Divided.
***
No one:
Literally nobody:
Sen. Dan Sullivan: I like to go for a run in -20 degree temperatures!
***
The upcoming elections are starting to creep into politicos' posts. Finally! I can't count the number of "help us reach our goal" or "time is running out before our deadline" posts I saw in the days leading up to December 31st. I have to give it to Sen. Shelley Hughes for her blunt, but RHYMING, plea for donations. So bad it's almost good.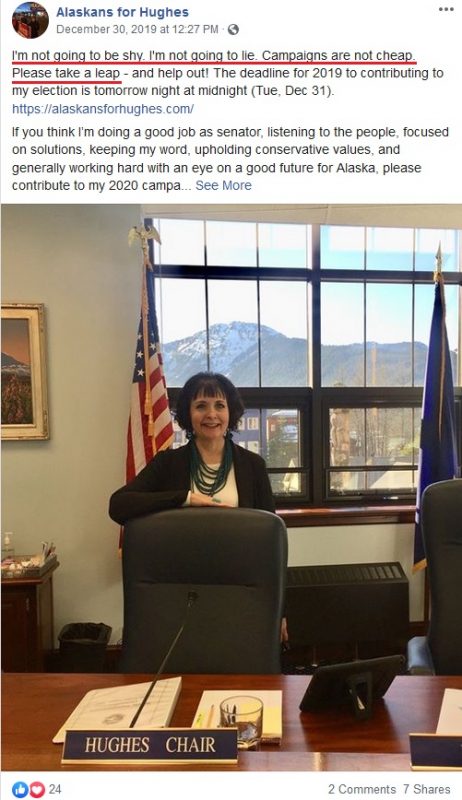 ***
Meanwhile Sen. Scott Kawasaki has a TMI resolution for 2020. ???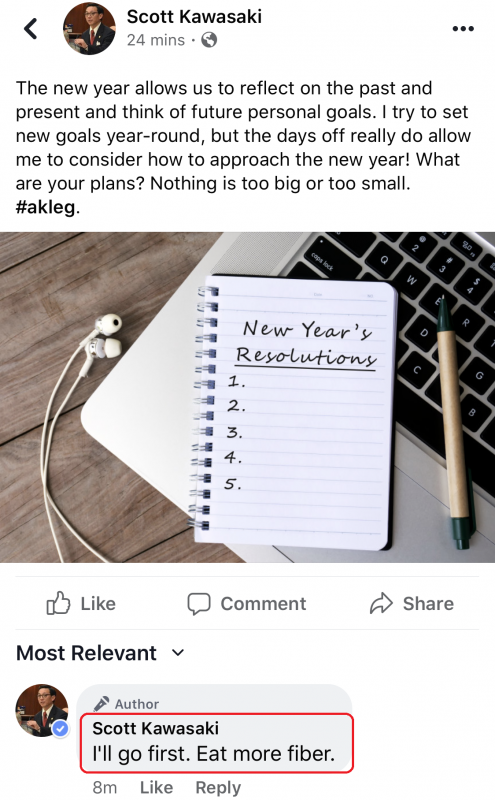 ***
Sen. Josh Revak and his wife Marta celebrated their 14th anniversary in December. Do yourself a favor and read "Marta's" Facebook post. ??? Well done Josh, and congrats to the both of you! ?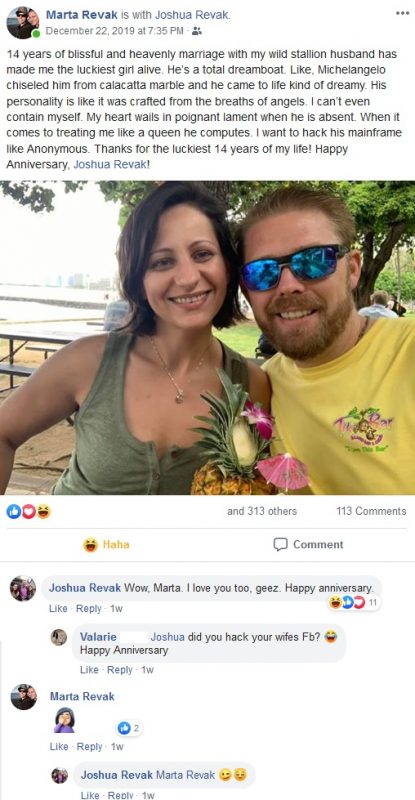 ***
Welcome home, Monster! Kudos to Sen. Mia Costello for adopting a rescue cat. He looks like an absolute sweetheart. ??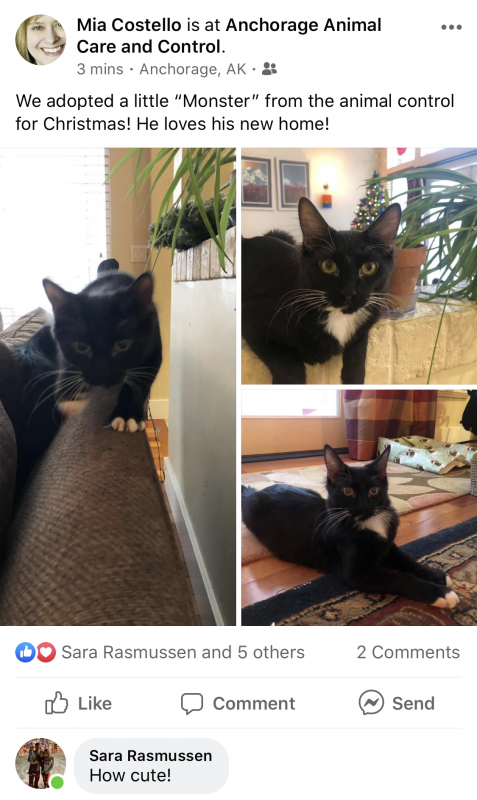 ***
It's not every day you see a sitting state representative wade into the Facebook comments to debate the merits of… child beauty pageants? That honor now belongs to former pageant contestant, Rep. Sara Rasmussen. Local personality, Chadwick Stroh, has a popular yet controversial Facebook page with a focus on current/local events as well as true crime. Recently Chad posted a photo of tragically murdered child beauty pageant star, JonBenét Ramsey, without stage makeup on, commenting on his negative feelings towards child beauty pageants and stage parents. Things got heated in the comments.

***
Did Rep. Zack Fields negatively compare Anchorage to a third world country? Woah. While snowplowing has always been the focus of constituent's ire, now-a-days you can just wait a day or two and it will all melt. Thanks climate change! I did find it very curious that Anchorage Assemblymember Christopher Constant seemed to agree with Zack's controversial comparison. ?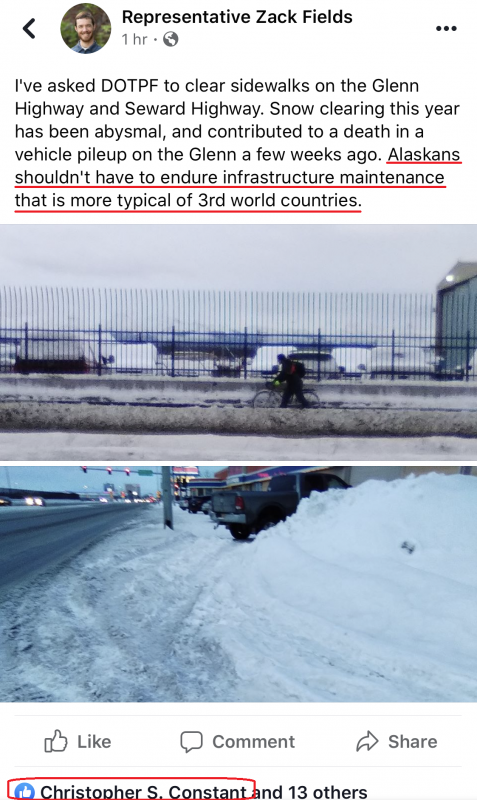 ***
The only thing that seems to disappear around here more quickly than the snow (fingers crossed this latest batch will stick around) is Candidate for Anchorage Assembly, Jamie Allard's, posts on how global warming is a hoax. The Stalker lives for deleted posts. Keep those screen caps coming, folks!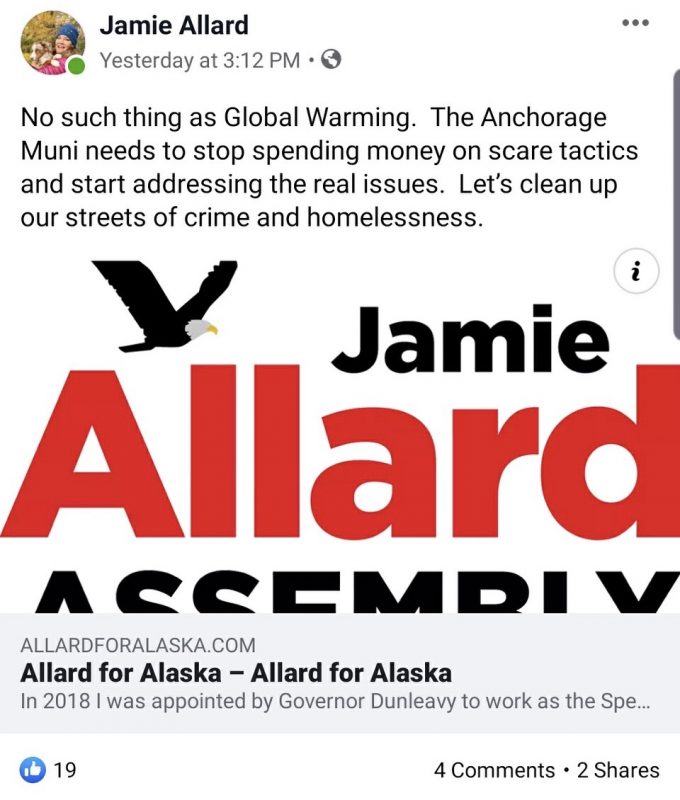 ***
I don't think I've seen Rep. Geran Tarr happier in my life. You goat, girl! ?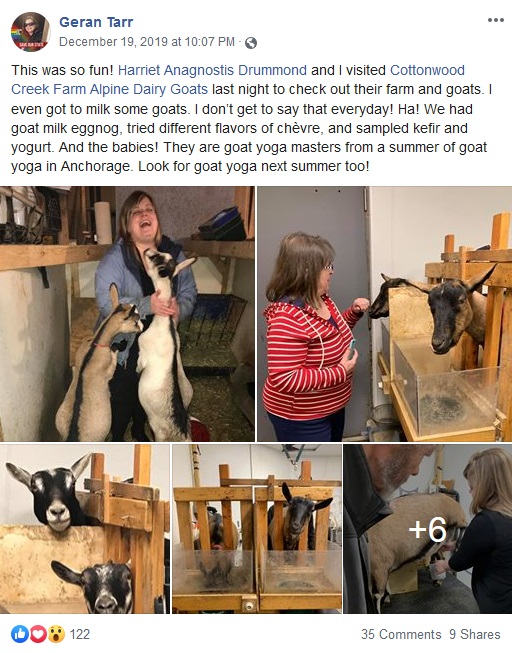 ***
Who isn't a sucker for old Alaska campaign signs? While I most frequently hear of them being used as target practice, Rep. Sara Hannan is using hers to side her shed. Very on brand. ♻️
***
Anchorage Assemblymember and current Anchorage mayoral candidate, Forrest Dunbar, has a new sponsored Facebook ad out for his campaign. One tipster wrote, "I was hoping it was the same jacket in both pictures. Carhartt jackets are expensive enough! Imagine having two and sponsoring a post about them!" That's a fair point, but I'm more interested in the #lifelongAK hashtag. Forrest, this is fake news. Everyone knows you were born in Oakland. The Stalker demands a retraction!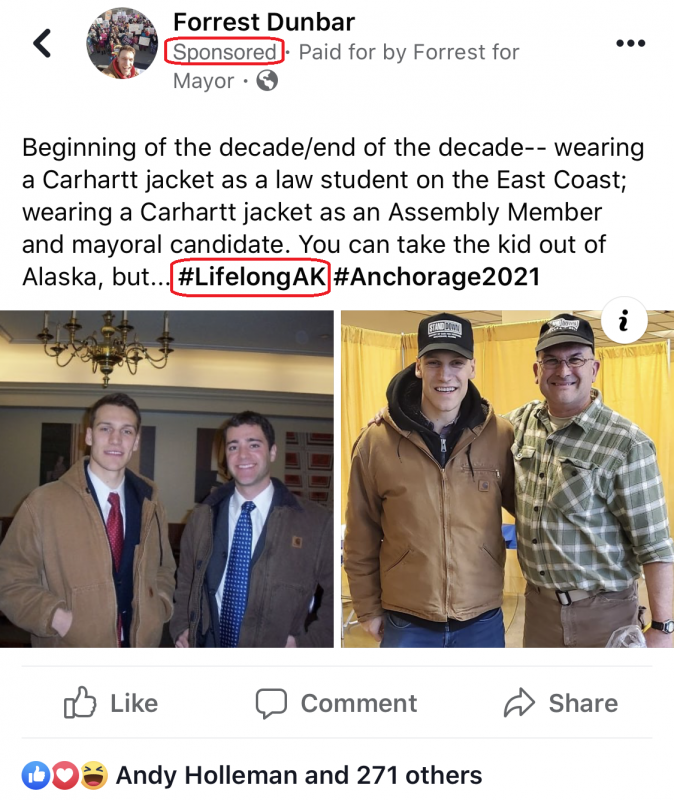 ***
How wonderful! It seems Anchorage Assemblymember Christopher Constant is turning over a new leaf on social media in 2020: more dog selfies and less partisan politics.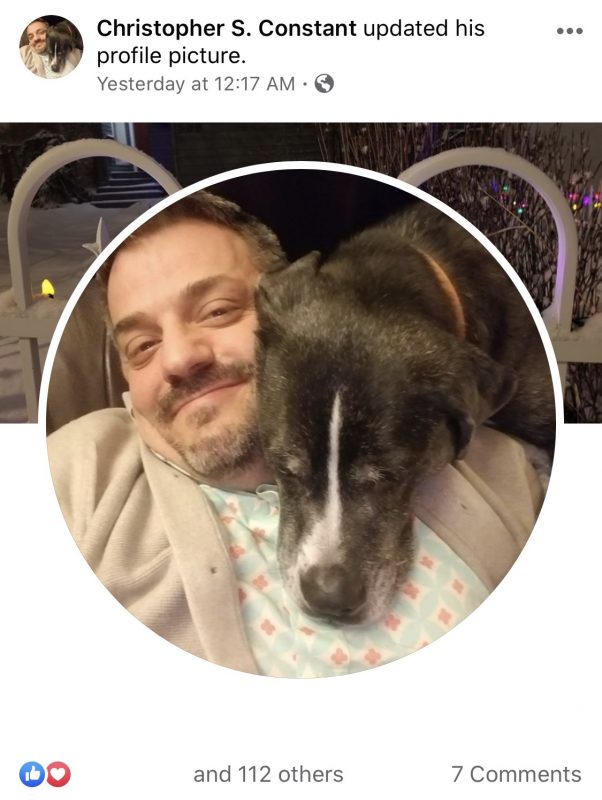 ***
Oh. It seems I spoke too soon. Chris gonna Chris. ?

***
A broken clock is right twice a day. You've to give it to perennial candidate and typo king, David Nees, for catching this siiiiick typo via KTVA. Spanish FLUE. You could say I'm dying.???
***
I know Christmas is over. But, if Congressional candidate Alyse Galvin wanted to trade in her signature yellow blazer for matching family Christmas jammies, I am so here for it. ?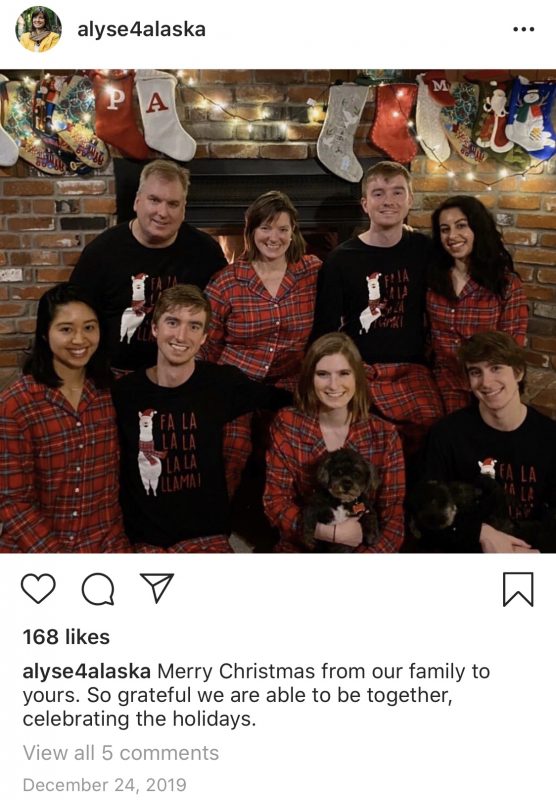 ****
Don't miss local politico and filmmaker Cale Green's Instastory. He was almost mistaken for a French rapper at a wedding in Equador!
***
And last but not least, here's your feel good moment of the week: lobbyist John Bitney pictured playing picking an impressive guitar solo at the Green Forest Cowboy Church in Arkansas.
There's even video! Scroll to 17:10 to see John on lead guitar and singing traditional gospel song "Just a Closer Walk with Thee." Bravo, John! The rendition is wonderful but the pre-song banter really puts it over the top. Some gems include:
"Get up off your laurels there, John!"
"You're twisted, son."
"You got me all flustered."
***
Spotted driving westbound near Northern Lights and A St.: Sen. Elvi Gray-Jackson in her pristine, freshly-washed, beautiful black SUV with the vanity plate "Elvi." ❤️
***
Spotted walking on the roof of the Aviator Hotel: Former Sen. Mark Begich with a group of business-looking folks.
***
Spotted at Kincaid Grill's annual 7-course New Year's Eve Dinner: Gov. Mike Dunleavy's community relations liaison, Dave Stieren with his wife, Darci. Local politico D.J. Fauske was dining at another table with a large group.
***
Spotted biking southbound along Spenard Rd. sporting a pair of fashionable seal skin mittens: Alaska Public Radio legend, Steve Heimel.
Speaking of Steve, it was good to hear him return to Talk of Alaska, even if it's for just one night a year. #Alaskatraditions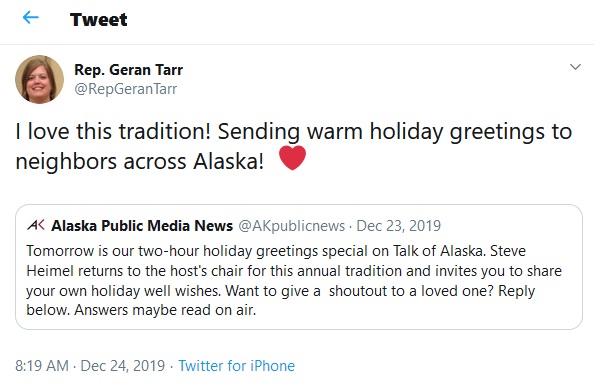 ***
The Alaska Stalker was born and raised in Alaska #LifelongAK, and lives in South Anchorage with her husband, daughter, and son. She is not Jeff Landfield.