Welcome to this week's edition of the Alaska Stalker, a lighthearted round up of the best and worst of Alaska's social media landscape.
***
If you enjoy the Alaska Stalker, please consider supporting working moms like me by sending in hot tips, overheards, and spotted ins. You can reach me at [email protected] As always, thanks for reading.
***
It's official, Gov. Mike Dunleavy finally won a debate against legislators in Juneau! Congratulations to Mike for picking a winner and to the Chiefs on their victory.
***
***
The big game also held a fun surprise for Alaskans: the town of Sitka was featured in a Super Bowl commercial for Google. Click here if you missed it.
***
While some of us raised an eyebrow at the phrase, "that little town off the coast of Juneau," the commercial was a tearjerker, and for many of us a proud Alaska moment.
***
And then there was the half time show. While posting Babylon Bee articles is very on brand for Rep. David Eastman's official Facebook page, I can't help but giggle at the irony of Eastman posting a photo of the very same attire he's admonishing. ?

***
Thank you Sen. Scott Kawasaki for paying homage to revered Alaska holiday, Marmot Day. If you have a minute, I highly recommend checking out the Marmot Day Wikipedia page.
***
I was shocked when "all Alaska all the time" Sen. Lisa Murkowski posted about Groundhog Day and not Marmot Day. Maybe she had other things on her mind this week?
***
Let's check in on Lisa, shall we? Oh. ?
***
Gov. Mike Dunleavy and Sen. Josh Revak were both spotted at a fundraiser for AOC. Wait…. What?! Carl, I'm not sure AOC is the best acronym to use in Alaska. Might want to stick with Alaska Outdoor Council from now on. ❄️❄️❄️

***
Just when you get used to Rep. Matt Claman's snoozefest of a Facebook page, he drops a very aggressive selfie of him chillin' at the Alaska Ski for Women. Way to up your game, Matt! Next time post some of the epic costumes.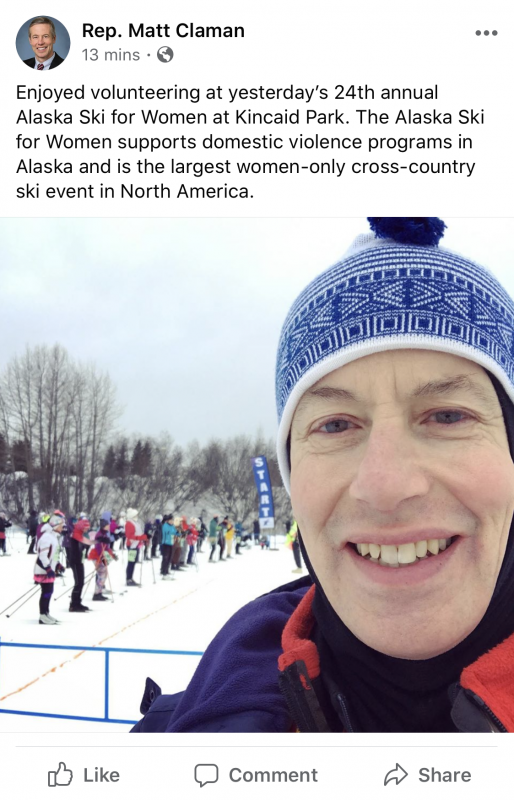 ***
Not to be outdone, fellow social media snoozefester, Rep. Lance Pruitt, uploaded some major food porn: 100 pounds of ooey gooey cinnamon roll goodness. Lance, this is the content your constituents dessert, I mean deserve!

***
Lions and tigers and newlyweds, oh my! Rep. Grier Hopkins and his wife, Kristina, saw all that and more on their recent African safari honeymoon. Kristina even planting a big 'ole smooch on Jessica the friendly Hippo's snoot!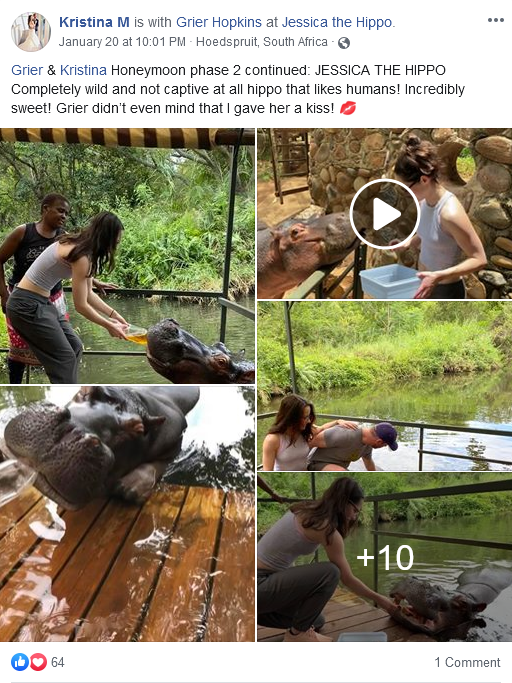 ***
One tipster wants to know, "Grier, who took the bath photo?!" ?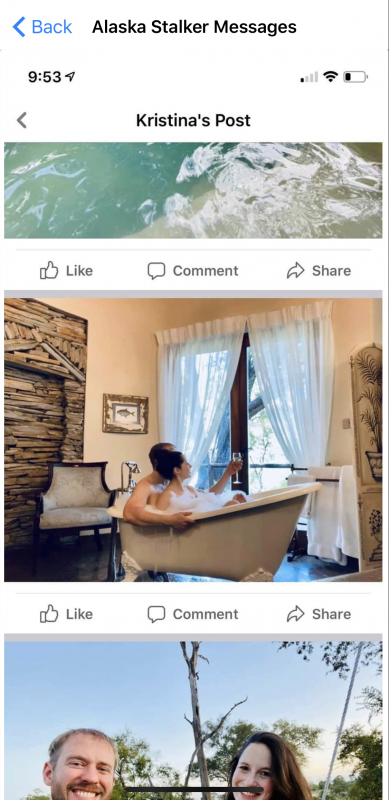 ***
Former Gov. Bill Walker had a high level visitor on his first day at Harvard: Alaska's first woman Lt. Governor, Fran Ulmer. But check out Bill's post. "…first (and only so far) female lieutenant governor…" ? OMG. What about Lt. Gov. Valerie Davidson?!!! William, you appointed her yourself! ?‍♀️ Good thing he corrected his post almost immediately. Just not fast enough for the Alaska Stalker!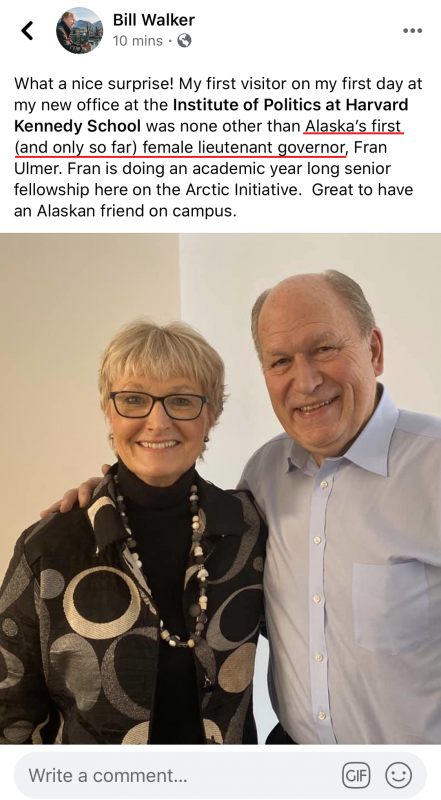 ***
And now for another installment of "guess the politician!" Hint: she's currently running for reelection in Anchorage. To find out who it is, click here or scroll to the end.
***
Candidates for the upcoming Anchorage Assembly race are set, and the election will be held in April. Congratulations to Alaska Stalker content machine, Assemblymember Christopher Constant, on his impending victory – he's running unopposed.

***
The Bartlett Club's first political forum for Assembly candidates was this afternoon. Imagine my surprise when they spelled both Austin Quinn-Davidson and Nick Danger's names wrong, but got MoHagani Magnetek correct.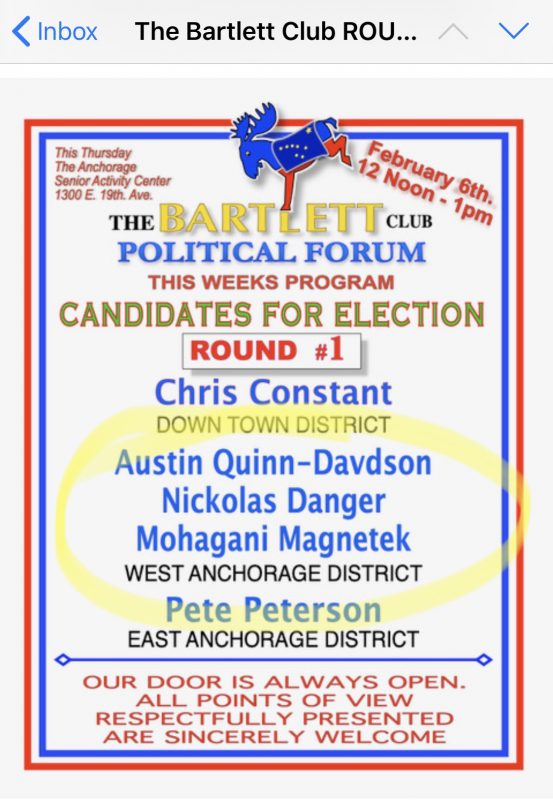 ***
The Alaska Stalker will be on an unapologetic "goodbye Fred Dyson tour" for the next several weeks until his last day serving on the Anchorage Assembly. If anyone has more Dyson gems like this, please send them my way.
***
While Bernie Zaletel has yet to let us know his thoughts on the Alaska Democratic Primary's switch from a caucus system to ranked-choice voting, something tells me the little guy has paw-sitive feelings about the switch. I would also like to schedule a meeting with Bernie to discuss some concerns. Does he too use a

Reagan

calendar?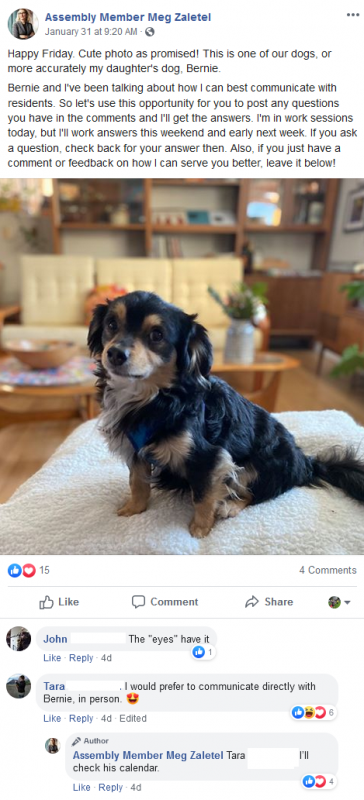 ***
Does this mean Juneau Assemblymember Carole Triem doesn't believe in ferries? Or support medicare for all? I'm shook.
***
Good to see the Anchorage Democrat Socialists of America folks trying to get the word out about local political jobs. Oh wait.. Is she joking? I don't think she's joking… ?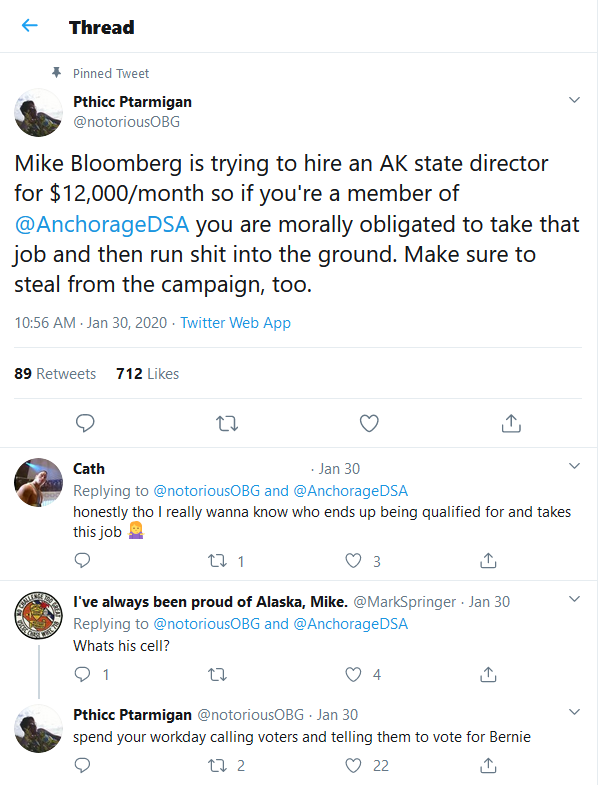 ***
Overheard on the Dan Fagan Show:
Mark Begich calling in to discuss the Iowa "debacle."
Dan: "You know Mark, people are saying you look like Mayor Pete."
***
Overheard in Anchorage: "I've been waiting patiently for Forrest Dunbar to Tweet about Star Trek: Picard. The public has a right to know what he thinks."
***
Overheard in the Capitol:
"I just met with my legislator and I really think I made a difference!" Bless that person.
***
Spotted eating separately at Jens' Restaurant: former Assistant Interior Secretary Joe Balash, former conservative talk radio host turned community relations guy for Gov. Dunleavy, Dave Stieren, and former State Parks Director, Ethan Tyler. According to our tipster, Joe ended up eating alone after looking like he was waiting for someone. Sad!
***
Spotted on a commercial flight from Seattle to Anchorage: Former Gov. Sarah Palin!
***
The answer to "Guess the Politician" is Anchorage Assemblymember Suzanne LaFrance.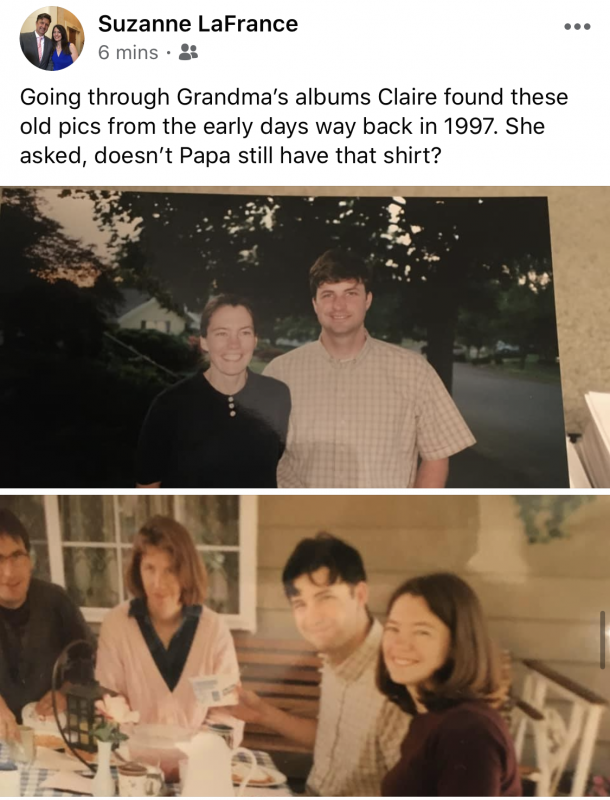 ***
The Alaska Stalker was born and raised in Alaska, and lives in South Anchorage with her husband, daughter, and son. She is not Jeff Landfield.