Week six of the legislative session has been rather normal compared to the previous five weeks, but still pretty bizarre when compared to previous sessions. And, with the vacant senate and house seats now filled, we are almost back to a complete legislature. It's about time.
The Legislature
Mike "Dozer" Shower was appointed to the senate seat that Mike Dunleavy resigned from by Governor Bill Walker, well kind of. After he was initially appointed, the Landmine discovered he was registered as Undeclared rather than Republican, chaos ensued. There was some confusion about when he actually changed his registration from Undeclared to Republican. Once Shower was officially Republican, Governor Walker appointed him again and then the senate confirmed him. A fitting end to the Senate Seat E mess. Shower graduated from the U.S. Air Force Academy and served as a fighter pilot. Many are hoping that the "at ease" music for senate floor session will be changed to the song "Danger Zone" from Top Gun.
In what may be the most normal legislative replacement of the session, Governor Walker appointed Tiffany Zulkosky of Bethel to the District 38 seat that Zach Fansler recently resigned from. After the messy process between the District 40 and Senate Seat E replacement, it appears the third time is the charm. House Democrats still need to confirm Zulkosky before she is seated.
Update: House Democrats did vote to confirm Zulkosky. Word is she will not be in Juneau until early March, when her swearing in will take place. Just in time for the budget!
Zulkosky is a former Mark Begich staffer and the current Vice President of Communications for the Yukon-Kuskokwim Health Corporation. Walker has hired a number of former Begich people, which begs the question – Is he trying to neutralize Begich from running for governor by scooping up all of his people?
The Capital City Republican Women delivered cakes to all the Republican legislators this week. Except they left out Representatives Gabrielle LeDoux (R – Anchorage), Louise Stutes (R – Kodiak) and Paul Seaton (R – Homer). Super mature Capital City Republican Women. This is in line with the Alaska Republican Party's position for attacking LeDoux, Stutes, and Seaton for caucusing with Democrats to form the current Alaska House Majority. Luckily Senator Gary Stevens (R – Kodiak) is not as mean spirited as them and shared his cakes with LeDoux, Stutes, and Seaton.
Senate President Pete Kelly (R – Fairbanks) introduced a bill for a defined benefit pension plan for police and firefighters. Yes, you read that right. Pete Kelly introduced a defined benefit pension bill. Many found that quite surprising based on his previous votes and comments regarding state employees. Let' just say he is no ally to public employees. I have a theory why he did it, and it's only two words – Scott Kawasaki. Representative Scott Kawasaki (D – Fairbanks) is challenging Kelly for his senate seat this year. Kawasaki has received support from public employee unions in the past. You gotta do what you gotta do, Pete.
What's up with Representative David Guttenberg's (D – Fairbanks) tie?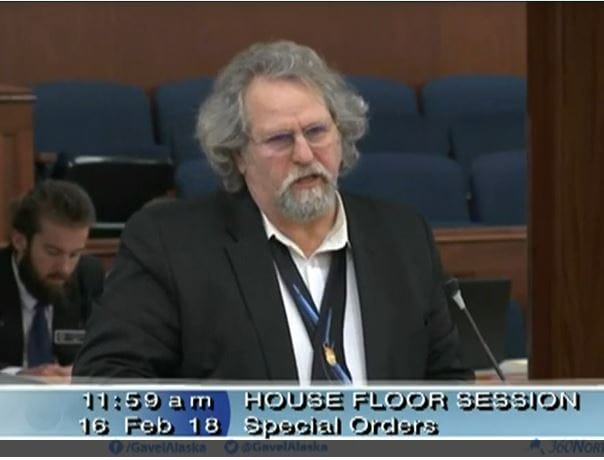 Senator Natasha von Imhof (R – Anchorage) had some confusion on an abortion bill vote during a Senate Health and Social Services Committee meeting this week. The committee seemed eager to send the bill to the Senate Judiciary Committee. But, when it came time to vote, von Imhof initially said, "no recommendation", to the surprise of her colleagues, who then informed her she had to vote yes or no. She then voted no but soon after switched to yes. That has to be some kind of record. Then they had to go to an "at ease" because her vote was still unclear after the vote tally. Check out the bizarre vote here below. Their faces are priceless when she says no recommendation.
Senator von Imhof's confused abortion bill vote
Maybe Senator von Imhof is getting tired of the senate because sources tell me she is seriously considering running for governor. I'm sure her dad, Ed Rasmuson, would be happy to throw down a few million for an independent expenditure if she decides to run. If she runs and wins, maybe she can appoint me to her senate seat… #NotHoldingMyBreath
Another person rumored to be considering a run for office is D.J. Fauske. D.J. is the son of the legend Dan Fauske, who passed away last year. Fauske lives in Representative Les Gara's (D – Anchorage) and word has it he is thinking about challenging him. Fauske grew up in Barrow, worked for Senator Lisa Murkowski, and is the Director of Government and External Affairs for the North Slope Borough. He is a registered non-partisan.
Representative Sam Kito (D – Juneau) has had a rough few weeks. The frustration seems to be getting to him. On Friday morning (2/23/2018), Kito apparently went rogue and flipped some chairs over outside of his office. He was angry people were sitting on them and talking. Kito removed the chairs a while back but they mysteriously appeared again. I'm pretty sure House Rules Chair LeDoux is in charge of where chairs go, and not Kito. I think someone is having some fun trolling him but he does not seem amused. Maybe it's his new beard. The chairs remained flipped over all day Friday. No word if they have been returned to normal sitting mode. I wonder how normal people work in the Capitol. #ChairGate
Other Happenings
Anchorage mayoral candidate Rebecca Logan had a rough week. A KTVA article, "Docs show mayoral candidate's arrest, wage garnishments, lawsuits" came out on Tuesday (2/20/2018). Word is the Alaska Republican Party is reviewing their endorsement of Logan. She is having a fundraiser next week at La Mex.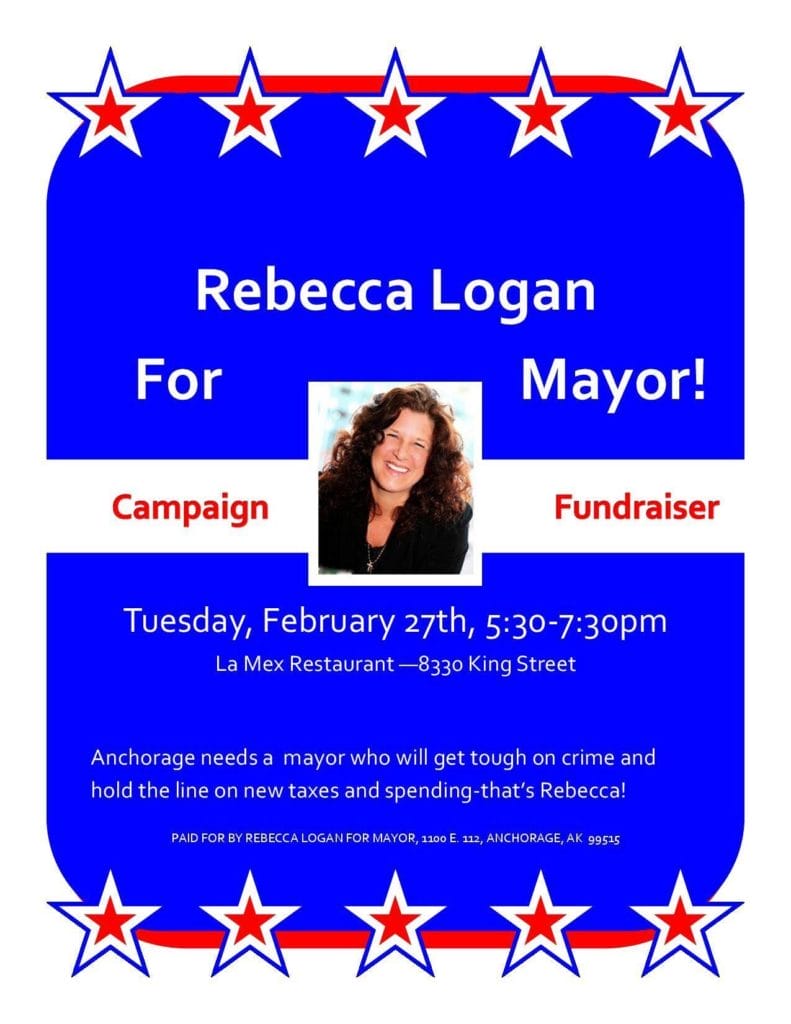 Not a penny was spared on that fancy graphic design work.
What the hell is going on with the plowing situation in Anchorage? Many city streets have gone totally unplowed since the snow started falling. Mayor Berkowitz – Can't we have police AND snow plowing?
Republican candidate for governor Scott Hawkins held an event at City Diner on Tuesday (2/20/2018). It was well-attended by many of the usual suspects. During his speech, while he was talking about the crime problem, police sirens could be heard loudly driving nearby. Is that an omen?
The Alaska Municipal League (AML) met this week in Juneau. A bunch of the Valley members were invited to an "informal gathering" of the Mat-Su legislative delegation on Wednesday (2/21/2018) night from 7-9 pm. When the AML people showed up, many were surprised to find out it was a legit meeting with an agenda. Let's just say not everyone was sober and there were a lot of red faces. You decide if this sounds like an invite to a meeting with an agenda: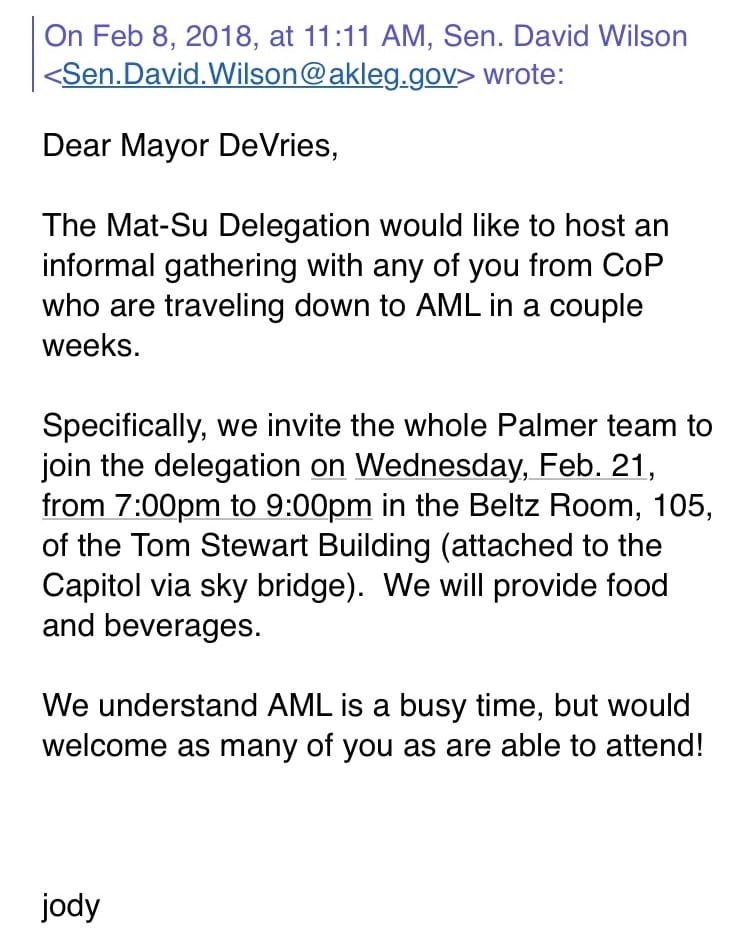 Reporter Samantha Angaiak announced this week that she will be leaving KTUU to take a job with the Division of Elections. I wish her all the best at her new job. She joins a long list of KTUU folks who have recently left KTUU. Pretty soon no one will be left over there.
This Week's Loose Unit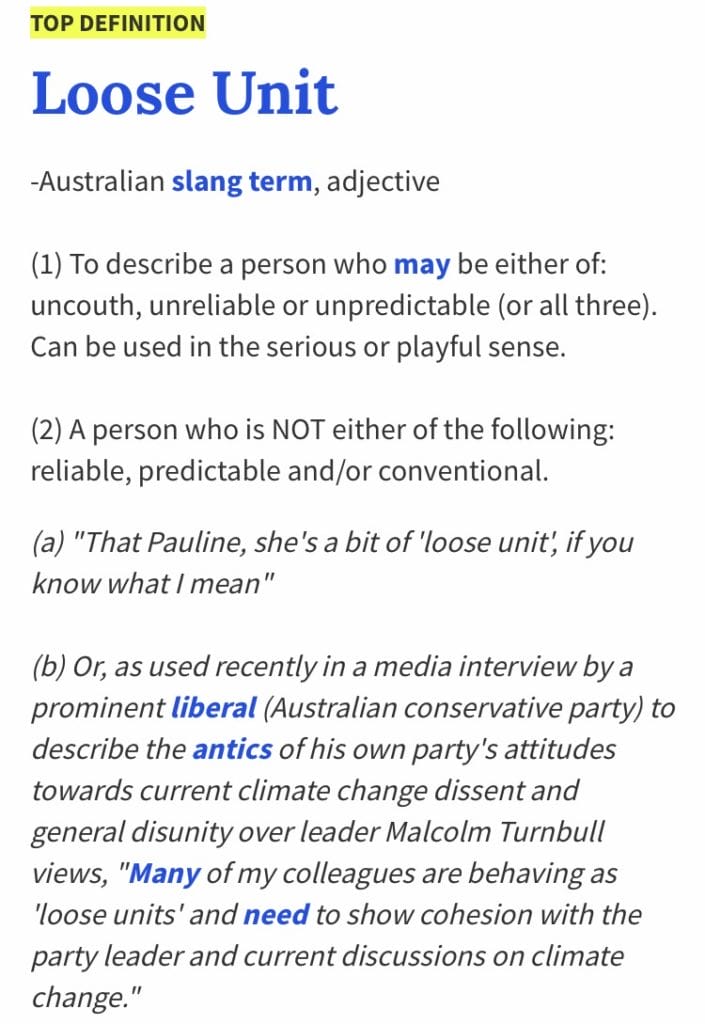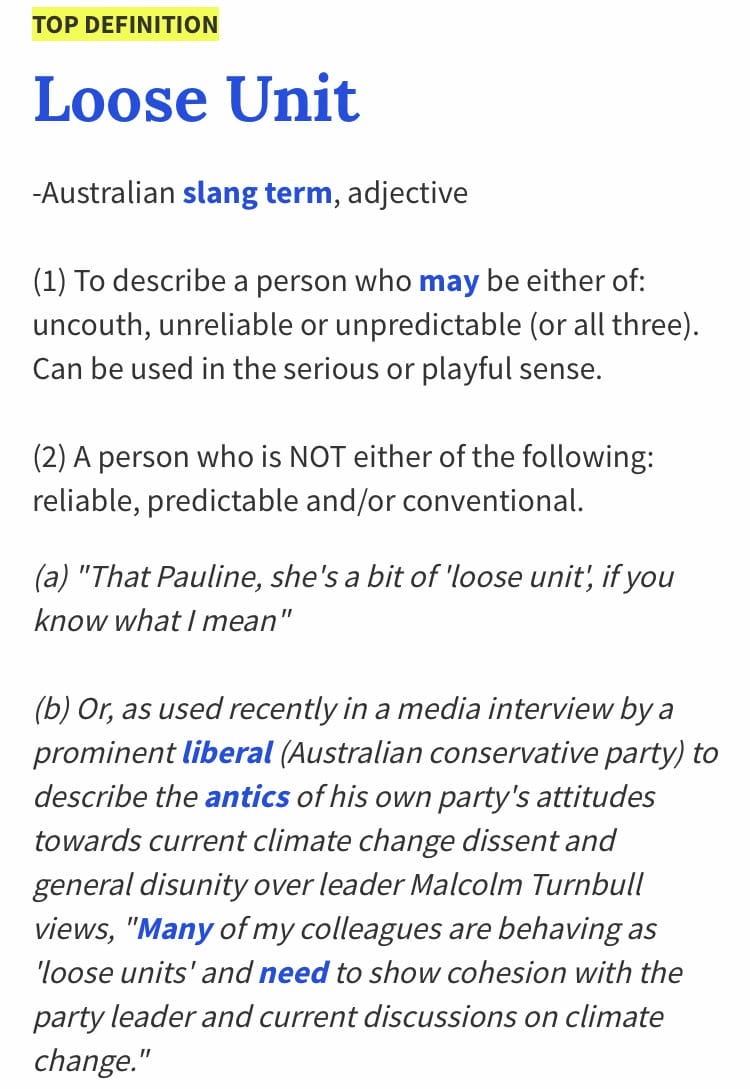 As usual, there were a number of deserving candidates this week but an incident on Thursday in Juneau solidified this week's winner, Dimitri Shein. Shein is a Democrat running for congress against Congressman Don Young. Young was in Juneau giving a speech to the Alaska Municipal League. Shein rolled up to the meeting with some campaign staff. He is not a member of AML but that did not stop him from asking Young a question about guns and school safety. During Young's answer, Shein interrupted him and said, "But what are you doing, what are you doing?" Young, and others in the room told Shein to shut up. Young then told him if you don't like what I have to say, vote against me. Shein responded, "I will." I don't think Young knew Shein is even running against him.
Later, AML Executive Director Kathie Wasserman addressed what happened. She told the group that AML meetings are open to the public but the stunt Shein pulled was not acceptable. She went on to say he would not be allowed back in when Senator Lisa Murkowski would be addressing the group. A candidate for congress getting banned from an AML meeting, classic Loose Unit. One of the members jokingly asked if Dimitri is part of the Russian election interference (Dimitri is Russian). It was then said that he probably needs a drug test (Russian Olympic doping reference). The whole room laughed.
After I posted about it on Twitter and Facebook, Shein started making comments.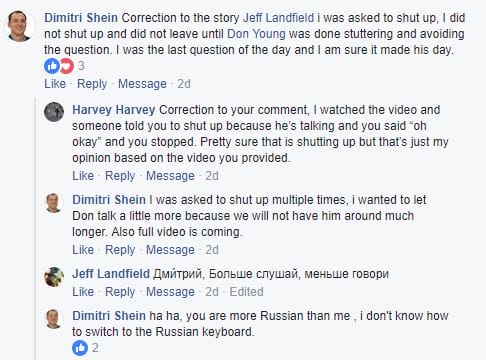 Then on Friday (2/23/2018), Shein thought it was a good idea and posted a video of the interaction, likely taken by a campaign worker, on his Facebook page. Check out the video here:
Damn, what a Loose Unit.
If you have a nomination for This Week's Loose Unit, or if you have any political news, stories or gossip (or any old pics of politicians or public officials) please email me at [email protected]