On Thursday, Senator David Wilson (R – Wasilla) held a press conference that was, well, bizarre. The audio from the press conference can be found here:
Senator Wilson Press Conference Audio
The press conference was unique as it was just Senator Wilson. Usually press conferences are organized through the senate press office. Senator Wilson set this one up on his own and had no staff with him. The last time a senator held a rogue press conference was probably when Senator Mike Dunleavey (R – Wasilla) held one at the Muldoon Fred Meyer parking lot in October 2016. I was there and that one was also bizarre. However, Senator Dunleavey did not appear to use state resources for his press conference (parking lot) while Senator Wilson did (Anchorage Legislative Information Office).
Interesting to note that well known political gadfly Paul Kendall was at both events, and did not disappoint at either one. Here is an ADN article about that Dunleavey one. A portion of the article states, "Kendall, wearing bath slippers and shorts, later accused Dunleavy of defending his Republican Senate colleagues' "assault on the Permanent Fund" by playing a "tricked-up game of semantics." I guess he thought Senator Wilson's conference was about something else because he first asked about moving the capital. He went on to say, "I have no clue who this accuser is. How old she is? Is she married? Is she with children?" Only in Alaska.
In the press conference, Wilson referenced a report he has not yet seen which he said exonerates him from claims that he sexually harassed a staffer in June. He said he discussed the report with Senate President Pete Kelly. He called for Speaker Edgmon and Rules Chair Gabrielle LeDoux to step down. He asked for a prime time apology from KTVA reporter Liz Raines, who put out a statement of what she saw back in June. He says she is lying. He also asked for the report and the security footage of the incident to be released. I first reported on this incident in my first Sunday column on October 22 and continued to report on it. Since then most of the media has covered it.
Senator Wilson's story about why he was in that hallway has changed. Alaska GOP mouthpiece Suzanne Downing wrote in this article:
"As Wilson told Must Read Alaska, he was hanging around the hall in front of the House Speaker's Chambers, where the Democrat Majority was having a private meeting behind the large double doors. Wilson had been in the area in search of a 16-ounce paper cup when he started chatting with people.
A KTVA film crew was outside the room as well. Wilson lingered because he could hear loud music and wondered where it was coming from."
In the press conference he said he was looking for some large cups, no mention of the music. He also added that he was talking to a cameraman about places to eat lunch in Juneau. No mention of that in the Must Read Alaska article. He also said he was not trying to listen in on the private meeting of the Alaska House Majority. At the time of the incident, a person in the Capitol saw him trying to listen in on the meeting. They took a picture (that Suzanne Downing has been using in articles she has written on the topic) and posted on Twitter.  Her tweet said, "I just missed the pic of Sen Wilson listening at the door.:) #akleg". I guess Suzanne forgot to include that part in her articles.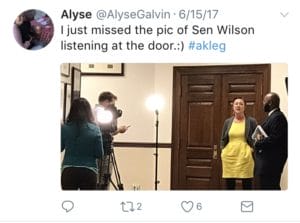 He told Juneau Empire reporter James Brooks (who also witnessed the incident) in this article, "I put my ear to the door, yes, I did that, but I did not, did not, in any way, shape or form do any kind of misconduct or any kind of sexual  harassment whatsoever," Wilson told the Empire. "That is not true." His story seems to change depending who he is talking to.
After the press conference, Representative DeLena Johnson (R – Palmer) posted on her personal Facebook page that she was glad Senator Wilson had been exonerated. I posted a picture of the Alaska Senate Majority press release and asked "Who exonerated him?" since, you know, you can't exonerate yourself without evidence. No response yet. By the way, it seems that Representative Johnson forgot to mention that her daughter works for Senator Wilson.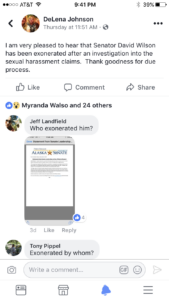 Representative Colleen Sullivan-Leonard (R – Wasilla) also put out a press release after the press conference. She put out the below tweet with a link to an Alaska House Republicans press release where she says she stands with Senator Wilson and requests the release of the security footage of the incident. The press release can be seen here.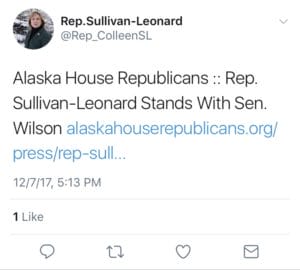 But then, 4 days later, she put out a press release titled "Rep. Sullivan-Leonard Seeks Independent Investigation of Sexual Harassment Claims." This one targets the Alaska House Majority, no mention of the senate.
During the press availability, Senator Wilson directly attacked a single source, reporter Liz Raines. Two reporters saw the incident and gave their accounts, Liz Raines and James Brooks, and yet there was no call out or mention of Brooks during the press conference. Multiple reporters have covered this and yet he called out just one in particular. Senator Wilson has set up a situation with clear winners and losers. Professional reputations are at stake, and it's his versus Liz Raines. At this point, at least with how he's set up the stage, he's pitted his word against Liz's. If he's right, and in fact the tape and report does clear him, I don't see how Liz could continue to work in politics in Alaska. She would be looked at as the definition of fake news. If he's wrong, after having viewed the tape with his legal council, and still deciding to call a reporter who told the truth a liar – I don't see how he could do anything other than step down from his seat.
I'm not holding my breath that the tape will ever be released to the public, but it definitely should. Legislative Council spent 6 hours in executive session and only allowed 2 parties to see the tape, Senator Wilson with his legal council and Legislative Affairs Agency Human Resources Manager Skiff Lobaugh. Tomorrow the Senate Rules Committee is scheduled to meet to discuss the release of the report. Will it be in public or will they go in executive session? It will be interesting to see if the report is released and what it says. If the report does not come out, how convenient for Senator Wilson, who has not seen it but says it totally exonerates him.