Not long after the first special session of the 31st Alaska Legislature concluded, Governor Mike (I am calling him Mike again, that Michael J. nonsense is weird) Dunleavy (R – Alaska) issued a proclamation for a second special session – this time at Wasilla Middle School! Here is the official proclamation: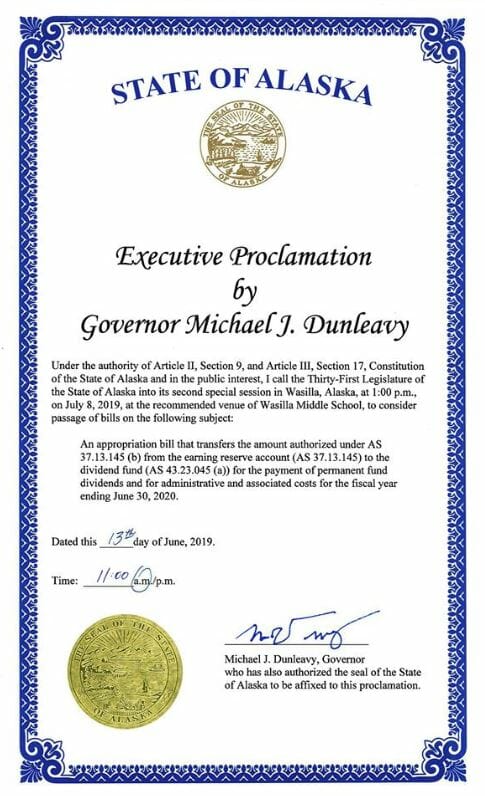 It's all about that dividend! The House and Senate passed a capital budget before the special session ended. However, the House was unable to get the required 3/4 vote to draw from the Constitutional Budget Reserve to fully fund the budget. It's interesting he did not put that on the call for this session.
At least he is giving everyone a few weeks off and scheduled it AFTER the 4th of July. However, teachers are back in school on August 15, and the Legislature would need at least a week to break everything down. So if it lasted the entire 30 days they could potentially cause logistical issues for the school.
Dunleavy has made it clear he wants a fully funded dividend.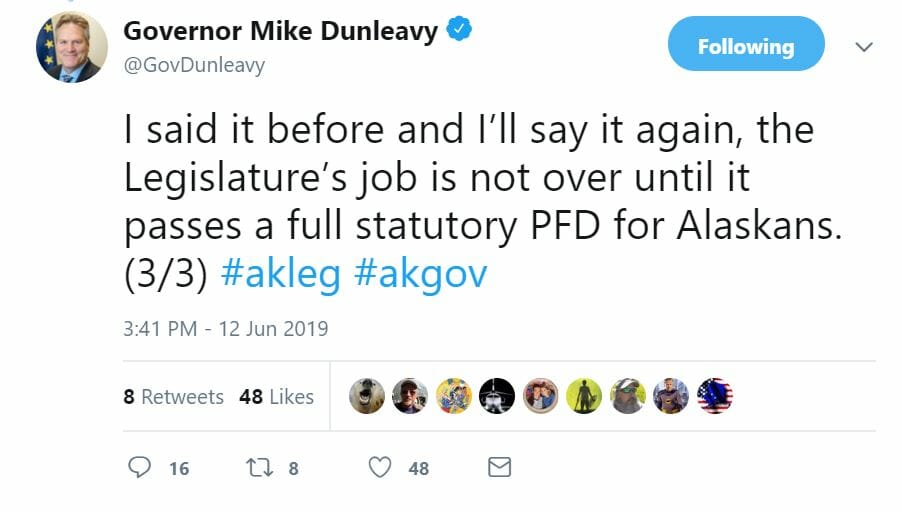 The House Majority has made it clear they do not support a $3,000 dividend. A recent vote on an amendment to the capital budget in the House for a full dividend failed to pass on a vote of 15-21. The Senate is dead split on the issue 10-10.
The other issue is voting to override any budget vetoes from Dunleavy. According to the Article 2, Section 16 of the Alaska Constitution, Action Upon Veto, the Legislature has five days to vote to override any vetoes. Budget items require a 3/4 vote of a membership of a joint session, which is 45 votes.

Many legislators have expressed concern with holding a session at Wasilla Middle School. Issues include the cost of holding it there, security, and logistics. Senate President Cathy Giessel (R – Anchorage) had commented, "Middle schools were not created for governing bodies to meet."
Representative Colleen Sullivan-Leonard (R – Wasilla) made this Facebook post today. Check out those comments. They have since been deleted.
In theory, the Legislature could gavel in in Wasilla, gavel out, and then gavel back in in Juneau. But the clock starts ticking on the five days for the veto override vote. It hinges on how much Dunleavy decides to veto and how he does it. He could veto the entire budget and demand a full dividend. Or he could line item veto. In that case, each line item would require a separate vote.
The Legislature could also call themselves into a special session to deal with any potential veteos. But that gets tricky because of the timing. The end of the fiscal year is June 30. So if Dunleavy issues line item vetoes, or vetoes the entire budget before that, but the Legislature is not able to meet to vote on veto overrides, agencies will be unsure of what programs will or will not be funded. How many pink slips will be issued by vetoing all or part of the budget?
If he waits until July to act, there will theoretically be a government shutdown until he decides what to do with the budget. I say theoretically because there has never been a government shutdown in Alaska. I don't know what will happen if the Governor has a budget that he has not acted on after the end of the fiscal year. What if he were to veto the entire budget because there is no dividend? The budget was transmitted to him today. Twenty days (not counting Sundays) is July 6, two days before he called them back into a special session. No one I have spoken to in the Legislature knows what he is planning to do.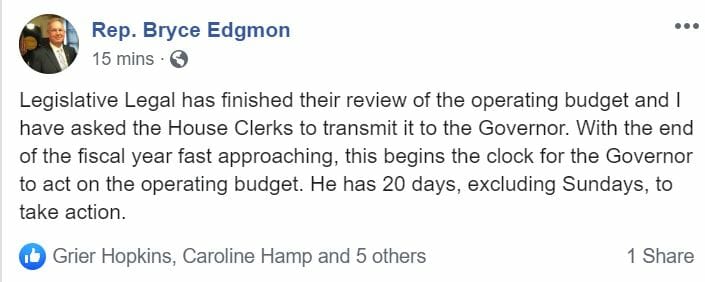 Dunleavy is demanding a full dividend. The Legislature does not support that. The Legislature also undid most of Dunleavy's proposed cuts. They are as far apart as they can be. Look for things to get very loose in the Valley. If you have not seen our video on Dunleavy's Rally in the Valley last week, check it out below. It is a good preview of what is surely to come.