By now you have probably heard about the loose situation in Eagle River. Last week, Governor Mike Dunleavy appointed newly elected Republican Representative Nancy Dahlstrom as his Commissioner for the Department of Corrections. Dahlstrom was going to replace Representative Dan Saddler (R – Eagle River) in House District 13. Saddler lost to Representative Lora Reinbold (R – Eagle River) in the Republican primary for the Eagle River senate seat. Funny enough this is not the first time Dahlstrom has left the legislature to take a position with an administration. In 2010 she quit the house to take a job with then Governor Sean Parnell. A month later the appointment was determined to be likely unconstitutional and she resigned. Last time she served for seven years in the house. This time she won't serve at all.
Enter Dan Saddler. Last Friday (12/7/2018) he resigned from his house seat to take a job with the Dunleavy administration in the Department of Natural Resources. He may face the same issue Dahlstrom had when Parnell appointed her. Legislators are barred from taking a job in state government for one year after they leave office if the job was part of a budget they voted on. In Saddler's case, it appears the Dunleavy administration changed the name of the job from "public information officer" to "communications director." Saddler has a written opinion from the Department of Law saying it's ok to take the job. But Dahlstrom also had an opinion from the Department of Law when she took her job with the Parnell administration. A month later they revised the opinion and she resigned.
Saddler's resignation means Republicans in District 13 need to meet and decide on three names to send to Governor Dunleavy. Dunleavy will then pick one (technically he can pick any eligible Republican in District 13) and Republicans in the house will need to confirm the person with a majority vote. Which won't happen because they are currently not in session and there is only a month left before the new legislature gavels in. At which point they will have to repeat the entire process to replace Dahlstrom, who will not be taking the seat.
There is another likely reason that Saddler resigned. It had to do with the fragile 21 member Republican majority in the house. Republicans would argue that the person they picked to replace Saddler would be the same person as who would replace Dahlstrom. That would have likely allowed them to organize their majority before session starts. But the day after Saddler resigned, Representative Gary Knopp (R – Kenai) announced he was leaving the House Republicans. This ended the newly formed Republican majority. If Saddler knew Knopp was going to do that he would have almost certainly remained in his seat until the new legislature gavels in.
Which brings us to the Alaska Republican Party rules. Section 8 (oddly appropriate) of their rules, Legislative Vacancies, plainly state the process to fill a vacancy: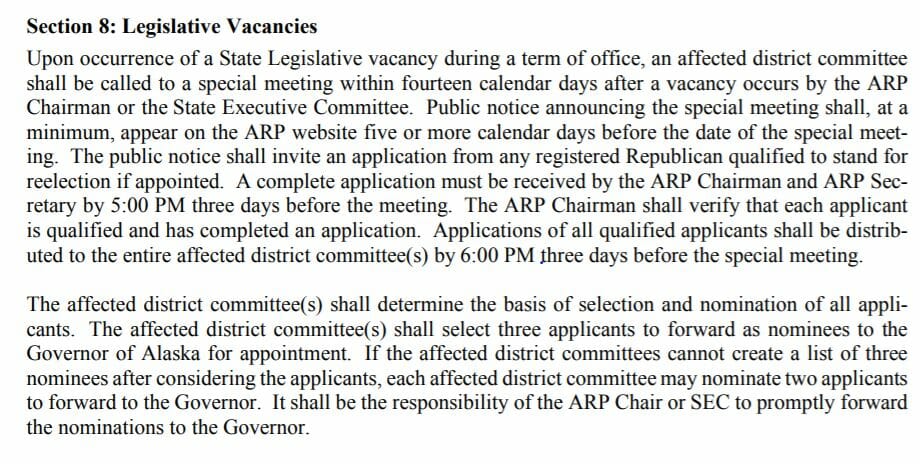 Strike 1
The rules state, "Public notice announcing the special meeting shall, at a minimum, appear on the ARP website five or more calendar days before the date of the special meeting." Saddler resigned on Friday. The meeting is tomorrow (12/11/2018) in Eagle River. That is four calendar day, not five.
Strike 2
The notice is not posted on the ARP website. It was posted by on Must Read Alaska by Suzanne Downing, the de facto Alaska GOP mouthpiece and communications person. So I guess they could argue that one! The District 13 and 14 Republicans did post it on their Facebook page, which clearly shows the rules violations.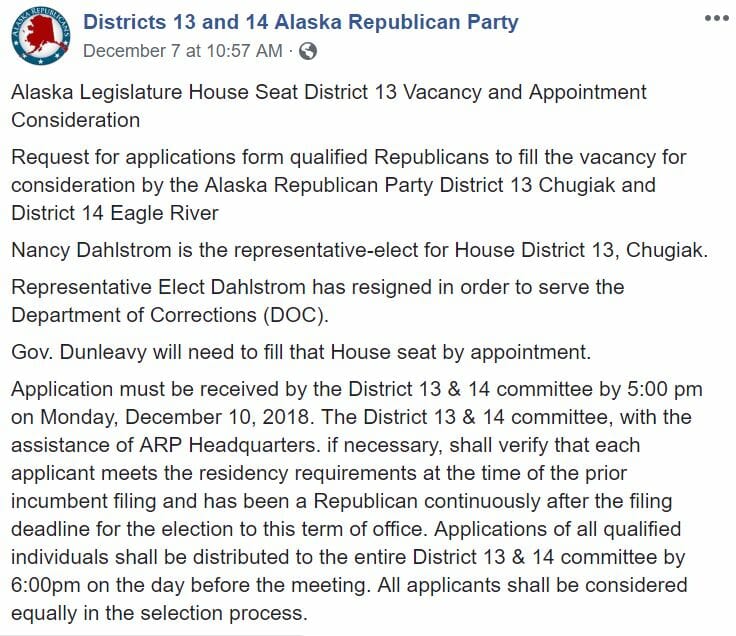 Strike 3
The rules also state, "A complete application must be received by the ARP Chairman and ARP Secretary by 5:00 PM three days before the meeting. The ARP Chairman shall verify that each applicant is qualified and has completed an application. Applications of all qualified applicants shall be distributed to the entire affected district committee(s) by 6:00 PM three days before the special meeting." The problem there is applications were due Monday (12/10/2018) and the meeting is Tuesday (12/11/2018). That is one day, not three.
So much for the rules!
The other issue is Eagle River Republicans have combined Districts 13 and 14, for reasons that are unclear to me. A bunch of people from District 14, including Representative Lora Reinbold, are demanding a say in deciding what names District 13 sends to Governor Dunleavy. The meeting is tomorrow night in Eagle River at Piccolino's Restaurant at 7 pm. It is sure to be entertaining.