We have all come to expect dishonesty and vitriol from Suzanne Downing's Republican propaganda blog, Must Read Alaska. But something she wrote in her newsletter today truly marks a new low.
It stems from an unfortunate incident that occurred this weekend at a Juneau bar, when a legislative aide snapped and sucker punched me in the face, resulting in a black eye. There were multiple witnesses, and the staffer was immediately removed from the bar by security. He has since apologized, and his boss, Representative Josh Revak (R – Anchorage) publicly acknowledged the incident: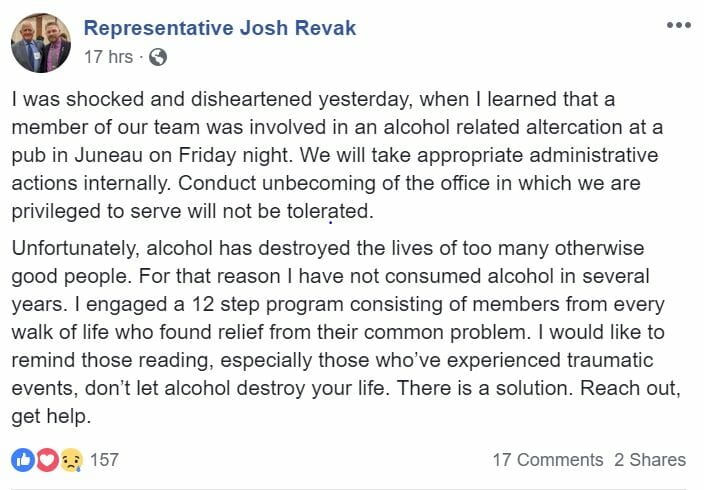 Now, here is what Downing had to say about it:

This is not the first time she has criticized me for my weight and baselessly accused me of misogyny. Last summer she published a disgraceful, absurd article about me titled "Enter the woman hater." This is what I wrote in response, "My Response to Baseless Attacks from Alaska GOP Mouthpiece." Suzanne's article failed to damage my reputation or halt the growth of the Landmine.
She also tried to get me fired from my job by needlessly printing the name of the company I worked for, as well as the name of the owner. The company had no relevance to my political work or my website. She also contacted advertisers on my website and asked them to stop working with me. This tactic was also ineffective.
In her post today, she writes "This is the third year in a row for him, and his fourth bar-related incident on record…" Again, she is simply making things up to fit her narrative. This is my first session in Juneau. I was here last year for a weekend to see legislative skits. After skits, a legislative staffer came up to me at SALT and punched me in the collarbone because he was mad about something I had written about another staffer. He later apologized.
And then there's her insane assertion that I punched myself in the face to make the black eye look worse. You can't make this stuff up.
But it's what she said next that crossed the line.
Remember Platinum JAXX, 2012?
Yes, Suzanne. Unfortunately, I will remember it for the rest of my life. It was October 28, 2012. This was the night my good friend, Said Beshirov, was murdered. We were out celebrating for Halloween, and when the bar closed, everyone poured outside onto the sidewalk. I was walking away with a group of friends when I heard gunshots. I ran back to see what had happened and if everyone was ok. At first I thought someone had just fired a gun in the air. I soon saw that I was wrong. I will never forget seeing a bunch of my friends circled around a body. It felt like time had frozen.
I rushed over to find my friend Said laying on the ground, unconscious. He had been senselessly shot twice. I immediately started trying to revive him by performing CPR. Because he had been shot in the neck and chest, blood poured out of the wounds after every compression. I did CPR until the paramedics arrived. He died that night.
I had met Said not long after moving to Alaska in 2004. He had moved to Anchorage from Russia, around the same time I moved from New Mexico. We became good friends. His death deeply affected me, his friends, and his family. I traveled to Russia a few months later to see his gravesite, as well as his brother, father, and friends. That was a difficult trip.
It took eight months to find and arrest the suspect. The trial took even more time. It was hard for all of us to relive that night. The prosecution showed that Said was only trying to intervene after a man had pushed a woman to the ground. That was the kind of person he was. He paid for his kindness with his life. His murderer was convicted in June of 2015. He was sentenced in December of 2015 to 65 years, with 20 suspended. More than three years after Said had been murdered.
Remember Platinum JAXX, 2012?
Yes. I remember, Suzanne, and now others will too.
The Alaska Republican Party and the Dunleavy administration have attached themselves to Suzanne Downing. They are happy to use her to disseminate information and attack their opponents. I suspect things will continue as normal because they have clearly shown they are fine with her tactics. You can tell a lot about people by the company they keep.
One more thing:
Hey Suzanne, fuck you.