What a week this has been. Things in Juneau are as loose as ever. The Legislature is still trying to decide on the amount of the PFD, passing and funding the capital budget, funding the crime bill, and reversing the sweep. The Inlandboatman's Union went on strike, shutting down the Marine Highway. And Moody's downgraded Alaska's outlook from stable to negative. Hard to imagine a worse week in Alaska's recent history.
A friendly message and reminder to all our readers, the Landmine is made possible by myself and a team of awesome Alaskans. It takes a lot of work to provide the content we do. If you enjoy the content we provide, please consider making a one time or recurring monthly donation. You can click here to donate (or on the image below) via PayPal. We would really appreciate it. And thanks to everyone who has been supportive!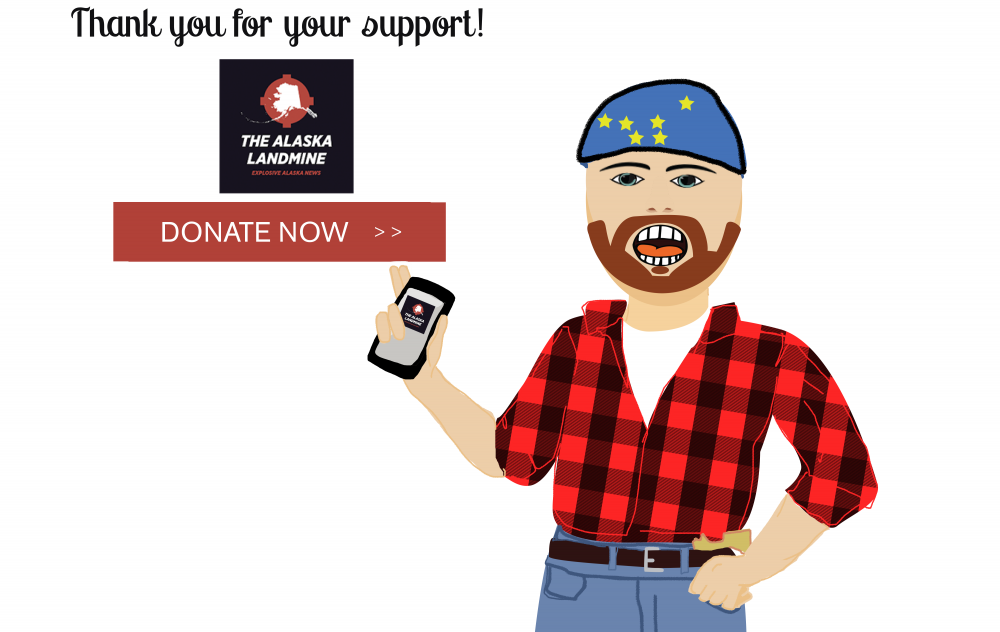 The Legislature
The Legislature continues to meet in Juneau for the second special session. This week it was mostly the House doing stuff. They passed two separate bills. One restores about 75% of Governor Mike Dunleavy's (R – Alaska) vetoes. The other funds a PFD of around $1,600. But yesterday the Senate Finance Committee combined those two things into one bill, and passed an amendment 5-4 that funds a $3,000 PFD. Tomorrow the bill will be on the Senate floor. Look for things to get very loose. The million dollar question is will an amendment putting the PFD back at $1,600 pass on the floor. The deciding vote will be Senator Lyman Hoffman (D – Bethel). He voted no on the full PFD amendment yesterday in the Finance Committee. He's now the Majority Leader, a leadership position. If he votes yes on the amendment for a $1,600 PFD it will likely pass 11-9.
I wonder how Senator Mike Shower (R – Wasilla) is going to vote… That Wielechowski like tho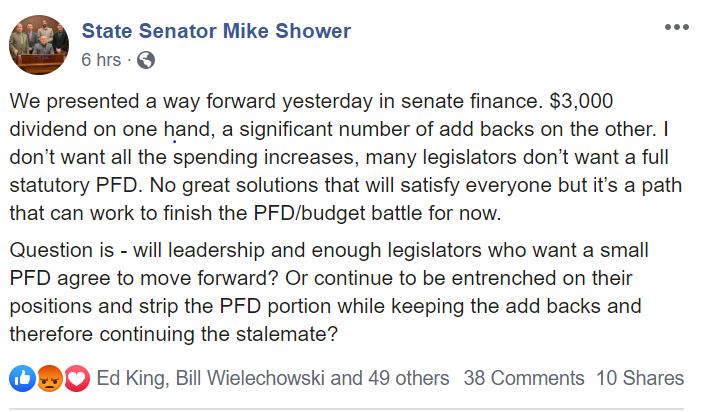 The House will also have their last chance to vote tomorrow on funding the capital budget, the crime bill, and reversing the sweep. Because funding the capital budget and reversing the sweep requires a 3/4 majority, it needs 30 votes to pass the House. It passed the Senate 19-0. The first time it got 25 votes, the second time it got 29 votes on a reconsideration vote. Tomorrow's vote will rescind the previous action and allow for one more vote. It's the last chance to vote on the bill. If it does not pass, the bill dies and they will need to start from scratch.
For a more complete analysis of this week's events, check out this article I wrote yesterday:
Even if everything goes smoothly tomorrow, Governor Dunleavy might still veto it all again and demand a full PFD. Then it's back to the veto override scenario. At least if that vote happens the Legislature will all be meeting in one place. On the last vote, a bunch of them were at the pretend session in Wasilla and were not able to vote on the veto overrides. Imagine if you were a tourist or someone reading about this from another state. They probably think we are insane.
In the midst of all of this, Governor Dunleavy spent most of the week in Aspen at the Republican Governors Association retreat. His legislative director – who is typically the lead person to communicate and negotiate with the Legislature on behalf of the Governor – is on a vacation in the Cayman Islands. And the deputy director of the Office of Management and Budget is in London at her graduation. So that's nice.
Budget Director Donna Arduin is in town though! This interaction really happened. There was even a witness. I gotta say, I kind of respect that stone cold attitude. At least she owns her persona. Donna, wanna get a drink sometime?
???OMG! I Just saw @donnaarduin in the stairwell in the Capitol. She was wearing the zebra coat! I asked her if she would take a picture with me, and said if she did I would leave her alone. She responded, "But I don't want you to leave me alone." This really happened. #akleg

— Jeff Landfield (@JeffLandfield) July 25, 2019
Ferry Strike
Unless you have been under a rock this week, you know about the ongoing ferry strike. The Inlandboatman's Union (IBU) decided to strike because they have not been able to reach an agreement with the State on a contract for wages, schedules, coffee at work (that's real) and a few other things. This has been going on for almost three years. This has shut down the Marine Highway system, stranding people all over SE Alaska.
The ferry has three unions, the IBU, the Marine Masters and Pilots (MMP) and the Marine Engineers Beneficial Association (MEBA). If anyone of them strikes, things shut down. The last time this happened was 1977. Very loose. It's at the peak season for traffic. I guess if you are going to strike now is the time to do it. Many in the labor community aren't happy about the strike. Also, the huge cuts to the ferry system proposed by Governor Dunleavy, which were somewhat reduced by the Legislature, is probably a factor in the strike. Many of the workers probably won't have jobs this winter anyway.
Thousands of tickets have been refunded, costing millions of dollars. Department of Administration Commissioner Kelly Tshibaka (Chewie) has maintained that the strike is illegal. The IBU says it's not. I was on some media conference calls with her this week. She is not someone I ever want to get into an argument with. During the second call there was either some tech issue or someone was being an idiot. A recording of what was previously said was playing back on the call. It was really bizarre. Matt Shuckerow ended the call because of it.
The State and IBU met all day yesterday and are currently meeting today. I think progress is being made because both sides are abiding by the media gag order put in place by the federal mediator. When this is all over I really need to do a podcast with that mediator!
There is a lot of emotion and frustration on both sides. The back and forth they have been having in the media and through letters to each other is very loose. At least they are now talking. Not sure this ad, calling the strike illegal and paid for by the Governor, helps though. So much for "good faith." This ad is still running on Facebook.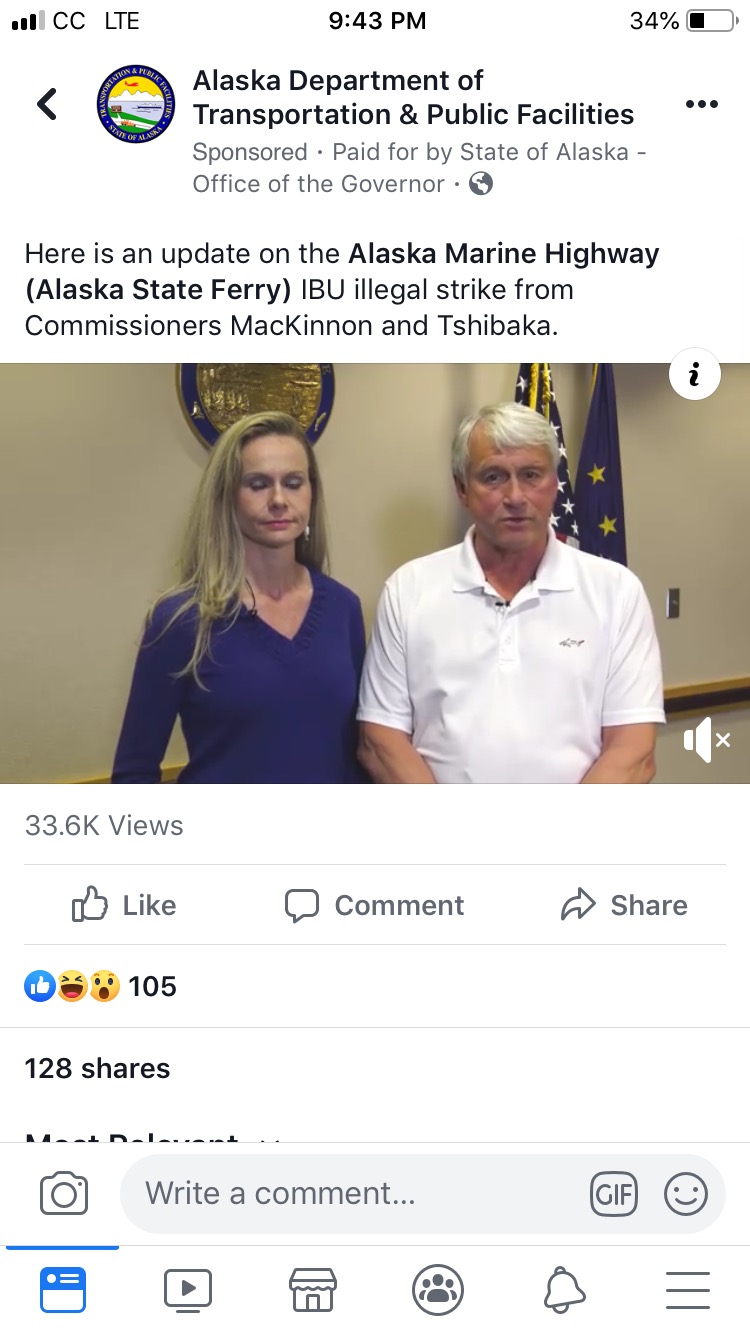 Other Happenings
The National Republican Congressional Committee has listed Congressman Don Young (R – Alaska) as a vulnerable incumbent in their Patriot Program. Alyse Galvin be like OMG!
Anchorage Mayor Ethan Berkowitz declared a civil emergency in Anchorage this week. It's due to the budget cuts that will impact crime and homelessness. The Anchorage Assembly then extended it to next week. It allows the city to bypass certain protocols for staffing, procurement, and zoning.
Laura Stidolph is now working for Speaker Bryce Edgmon (I – Dillingham). She was previously working for Representative Colleen Sullivan-Leonard (R – Wasilla). Stidolph is a long time staffer and is well liked by everyone in the building. Her two little kiddos are ADORABLE!
Want to see what leadership and a mic drop speech looks like? Check out Representatives Bart LeBon's (R – Fairbanks) floor speech on Wednesday (7/24/2019) about the PFD. Click here to watch.
Marilyn Stewart was removed this week as executive director for the Alaska State Commission for Human Rights. Word is it was on a vote of 4-3. She was just hired two weeks ago after turmoil with the previous executive director involving a 'Black Rifles Matter' bumper sticker. No one is saying what went down. Looks like they have a meeting scheduled on July 30 to consider an acting executive director. There is definitely more to this story.
Sources confirm Marilyn Stewart was removed as the ED of the Human Rights Commission. She started 2 weeks ago. This was on the agenda for July 30, but it already happened. Sounds like some of the commissioners scheduled a special meeting to remove her. Still looking into why. pic.twitter.com/urswiH6qGA

— The Alaska Landmine (@alaskalandmine) July 26, 2019
Representative Zack Fields (D – Anchorage) continues to get vulgar and threatening voicemails. Imagine if Senator Shower or Representative Lance Pruitt (R – Anchorage) got these! Propagandist Suzanne Downing would have an article up five minutes later saying Antifa has invaded Alaska. These sound like some really fine people…
Speaking of old Suzanne. She must be running out of things to write about. She wrote an article yesterday saying her Facebook poll on the PFD drew copycats. She is really sensitive. Yes, I ran the same poll on the Landmine, and even mentioned she was running the poll. I guess she felt the need to write about it. Classic snowflake. But she left something out. On June 29 I ran a Facebook poll about overriding cuts to the University. Literally the next day she ran the exact same poll. You can't make this shit up. Cool story copycat Suzanne.
People just can't stop writing about me. In a recent Mat-Su Valley Frontiersman article titled, "You might be a liberal if…," Dennis Anderson wrote about how sad he is that people think he's a liberal. In the article he wrote:
You might be a liberal if… you actually believe Jeff Landfield's "story" about Amy Demboski and Tuckerman Babcock. No sources were harmed in this "story" since none were actually cited. Can you actually lay claim to Australian slang if all you ever were to Australia was a tourist from New Mexico?
Dennis, I know it must be hard running a newspaper that does not break stories or publish things that matter. Keep trying! I'm sure it is even tougher trying to keep your paper afolat from Colorado, where you live. Maybe focus more on keeping the Frontiersman and failing Anchorage Press alive and less on whining from Colorado. Did you hang out with Big Mike when he was in Aspen this week? Or does he not hang out with liberals?
Ed Rasmuson and Andrew Jensen both hit Big Mike pretty hard this week. Jensen, a conservative columnist and managing editor of the Journal of Commerce, wrote a scathing piece about Dunleavy titled, "The messianic arrogance of isolation." Love the Al Pacino references, Andrew. And Ed Rasmuson did an interview with Alaska Public Media where he said he regretted supporting Dunleavy. Not a great week for Big Mike. I'm sure Aspen was nice though.
This Week's Loose Unit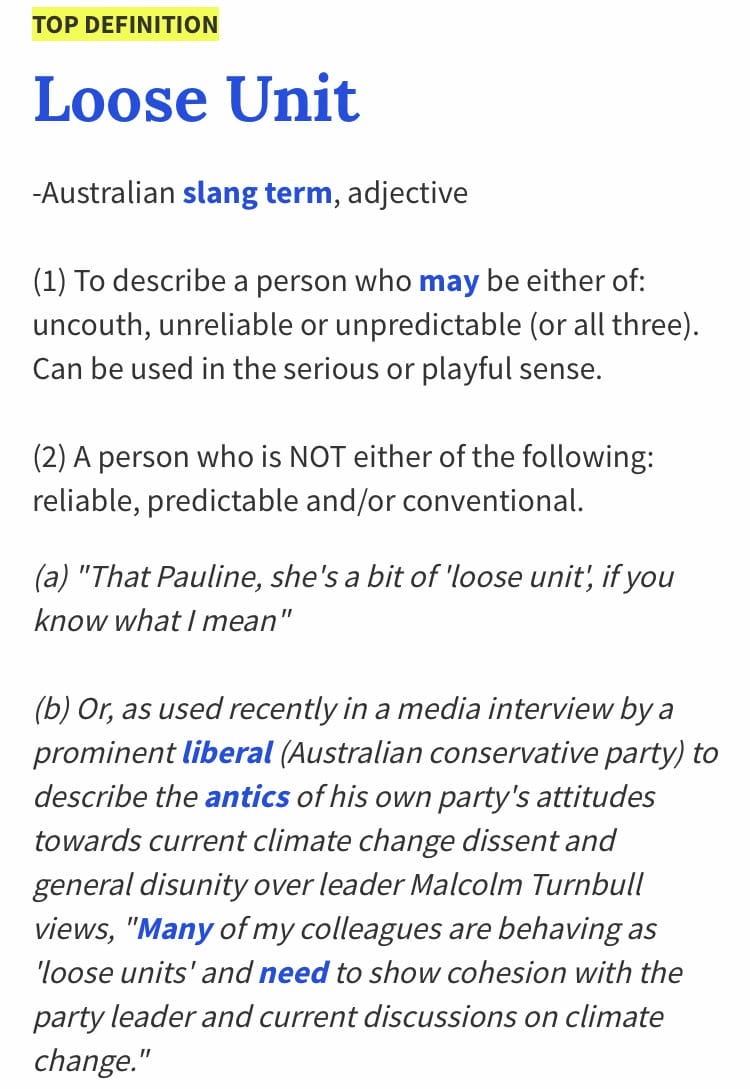 This has been yet another week with so many deserving candidates. The IBU going on strike and the back and forth with Commissioner Tshibaka was definitely very loose. But something that happened on Monday (7/22/2019) locked up this week's winner. This week's Loose Unit is Representative Tammie Wilson (R – North Pole). Wilson served as Co-Chair of the House Finance Committee until she left the caucus earlier this month. Showing up to the pretend session in Wasilla, and voting against overriding the vetoes, which was basically voting against the budget she helped create, was the poison pill. The House Majority even offered her to stay on the Finance Committee as Vice-Chair, but she opted instead to leave the caucus. Now she's a member of the Republican Minority.
But that's not what earned her Loose Unit status this week. It is a floor speech she gave on Monday. Wilson spoke about about SB 2002 on Monday. This is the bill that funds the capital budget, the crime bill, and reverses the sweep. During her speech she said a lot. Stuff like, "Why not use general funds, which only requires 21 votes, and not the Constitutional Budget Reserve to fund the capital budget." She said, "Why has it become so freakin political? It doesn't need to be." She added, "Someone in the building decided we needed to go beyond the simple process." She also said, "How low can we go in the CBR before we can't pay our bills?" All good questions. Except there is just one small problem. She literally introduced this bill. Like it is the bill she introduced when she was Co-Chair of Finance. That is LOOSE! Speaking against the bill she freakin introduced. Damn. "Someone in the building decided we needed to go beyond the simple process." Tammie, it was you! Classic Loose Unit. Here is her speech.
If you have a nomination for this week's Loose Unit, or if you have any political news, stories or gossip (or any old pics of politicians or public officials) please email me at [email protected]