In a bizarre move, Governor Mike Dunleavy (R – Alaska) announced today at a press conference that he chose Representative Josh Revak (R – Anchorage) to fill the vacant District M Senate seat. Dunleavy had to pick another name after Senate Republicans rejected his first pick, Representative Laddie Shaw (R – Anchorage).
Revak was among the eight applicants that District M Republicans interviewed in order to send names to Dunleavy to choose from. That process was something else. This Landmine article explains that. Revak and Shaw – who both applied for the seat – sat in on the interviews of their competitors. They are both voting members of the District as they are both elected Republican representatives. Neither recused themselves from the process and both voted. The whole process was done in secret, which violated Alaska Republican Party rules.
The three names that were sent to Dunleavy were:
Representative Laddie Shaw
Albert Fogle
Dave Donley
You may recall that former Governor Bill Walker went off list when he chose Randall Kowalke to fill Dunleavy's Senate seat after he resigned to focus on his gubernatorial campaign. Senate Republicans rejected Kowalke. They eventually confirmed now Senator Mike Shower (R – Wasilla) after a fraught process.
Sources who were part of the interview process said that when Revak was interviewed he told them that he did not want to be in the Senate, and thanked everyone for not voting for him. In fact, my sources informed me that Revak received the least amount of votes at the Republican meeting.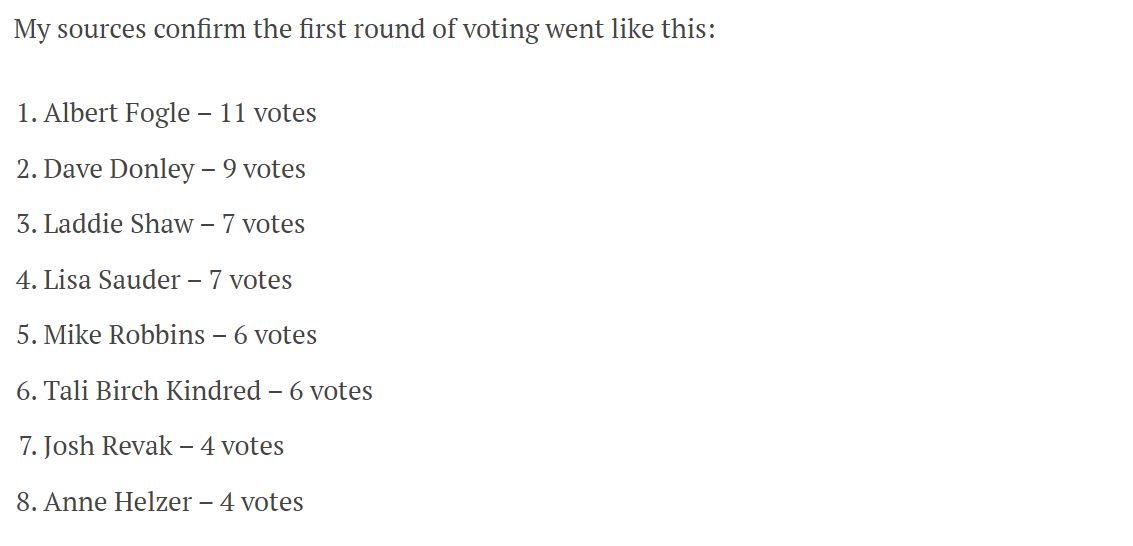 I spoke with Revak earlier today. He said that Dunleavy called him on Wednesday and told him that he was considering appointing him, and asked if he was interested. Revak said he was caught off guard but told Dunleavy he was open to being appointed. Revak said that Dunleavy called him yesterday and informed him that he was going to appoint him. Revak said that Dunleavy did not ask him any questions about his positions or put any conditions on the appointment.
Full disclosure, I ran an independent expenditure group last election cycle that supported Revak. I like Josh. I think he made some bad decisions this year, and I have told him that. It's unfortunate that the Governor is using him. Revak holds the same position as Shaw on the PFD. Senate Republicans will likely reject him. Then the Governor and his agents will push the narrative that certain Senate Republicans do not support veterans. Shaw has been on nearly every talk radio show this week pushing that precise narrative.
Update: To clarify, what I meant above is that conservative radio talk shows, most of which Shaw went on this week, have been pushing the anti-veteran narrative about the senators who voted against him. This was both before and after he went on. Shaw criticising Senators John Coghill (R – North Pole) and Gary Stevens (R – Kodiak) – both veterans – for voting against him contributed to that.
This appointment will have a major impact on the balance of power in the Senate. The late Senator Chris Birch was outspoken about a reduced PFD in order to balance the budget and not levy new taxes. He was one of the loudest voices against a full PFD. Dunleavy has stated that Senate Republicans have put a "PFD litmus test" on this confirmation. That is humours. Dunleavy ran on a platform of a full PFD and has been ardently promoting that since he was elected. You could say Dunleavy is the architect of the PFD litmus test.
What this is really about is next year's primary elections. This will be used to attack some of the Republican senators they plan on primarying. It is also about the Governor being able to have an excuse for not being able to call a special session for a supplemental PFD. During today's press conference, Dunleavy said he will not call or decide on a special session – to try and get a full PFD – until this seat is filled. He explained that people in Senate District M deserve to be represented. But if Revak is confirmed, it will create a vacancy in his House seat. This would take several weeks to fill in the best case scenario. By that point a special session would be unlikely as it would overlap with the holidays.
Dunleavy knows there are not the votes in the Legislature for a full PFD. By saying he will not call a special session until there are no vacancies in the Legislature, he is attempting to distract his supporters by shifting the blame to certain Republican senators. It seems he has gone nuclear and given up on his legislative agenda until 2021 – hoping that he will have a friendlier legislature to deal with.